Hatsan Gladius Reviews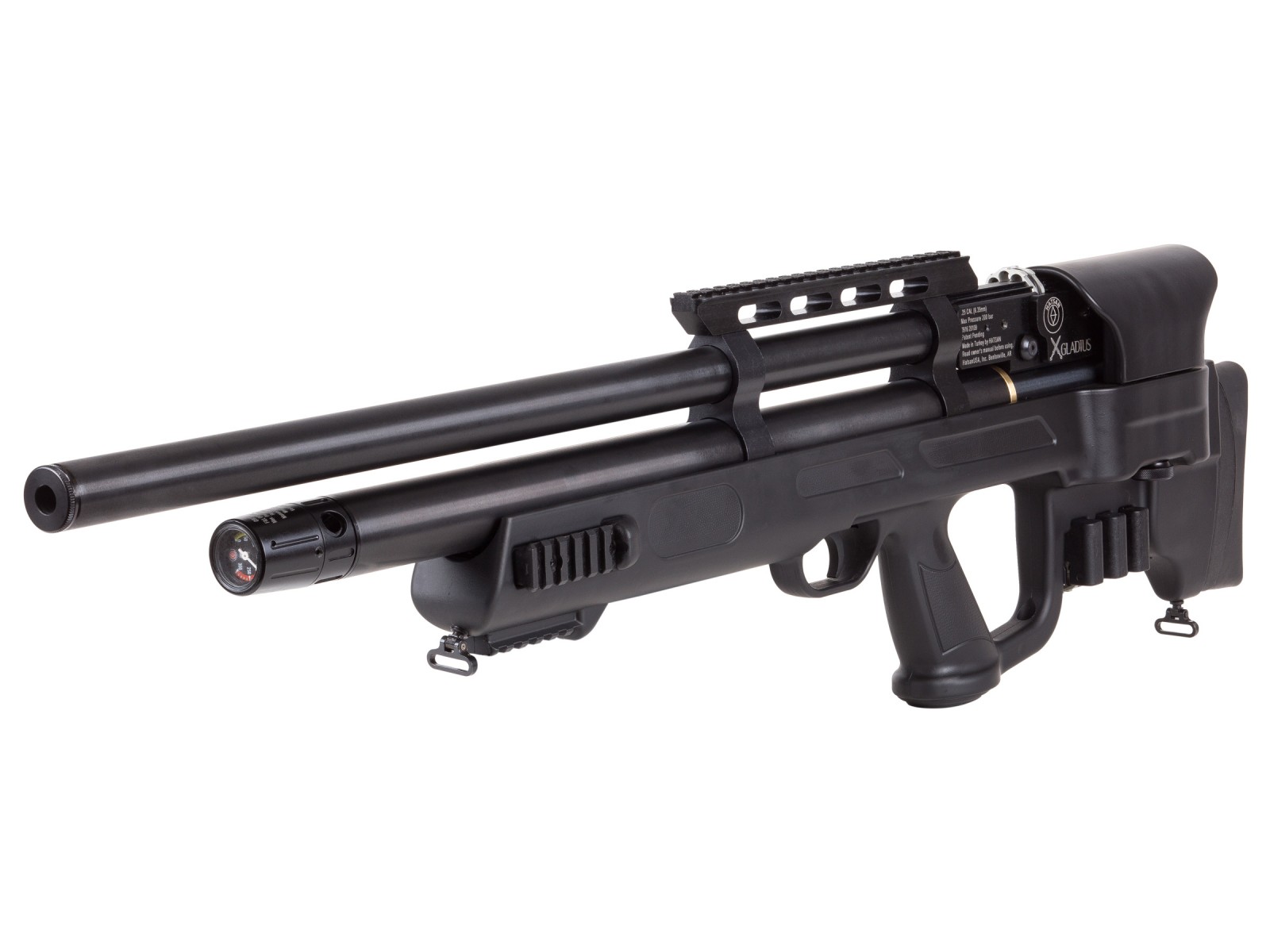 Average Customer Review
4.5
(28 reviews)
Create an online review   and share your thoughts with other customers
The most helpful favorable review
2 of 2 people found the following review helpful:
By oats from USA on 2016-03-19 20:37:49
Things I liked:
Hatsan finally installed a power adjustment on this bullpup, a welcome addition. I choose the 25 caliber long version.It has many great features , similar to my at 44 QE long in many ways , very accurate . I installed a Hawk tactical 6.5 x 20 scope with a one piece mount, it only took me about 8 rounds to sight in (impressive).Its really hard to beat these scopes if your budget allows you won't be disappointed. I looked at many other bullpups and picked this one because you get so much for your money, couldn't be happier . I personally would have a hard time paying more than a 1000.00 for an airgun , you could buy a real firearm for that .This fits the bill for me.
Things I would have changed:
So many others go on about the weight at 10 plus pounds without a scope( it is a handful .) Could it be made lighter ? Yes it could but you couldn't buy it for under a 1000.00 dollars. I have seen some bullpups that cost well over 2500.00 (DAM) for an airgun ? Really ? To make it lighter would take more effort and maybe use different materials thus making it more expensive.Does anyone know of a bullpup for under a thousand dollars that is lighter ? With these features? I doubt it . It is what it is take or leave it . Quit belly aching. Don't like it buy something else . I have two other Hatsans and there not light either. I hunt with mine , it is made to do just that, and i have a bipod on it to. With my scope it probably weighs close to 12 pounds easy. I don't mind the weight.
What others should know:
About 7 inches of the total length is devoted to the suppressor / moderator assembly and it works very well . Backyard friendly plus a power adjuster that can be dialed down to save air and get more shots.
The most helpful critical review
0 of 0 people found the following review helpful:
By michael from USA on 2016-11-19 20:51:51
Things I liked:
Looks great and good balance
Things I would have changed:
I have tried everything to get the accuracy others have posted. Thirteen different pellets, my best Hawke scope. cleaned the barrel and removed the baffles to ensure the pellet was not hitting the baffles or the end cap. I am still getting three to five inch groups. Sadly I have had the rifle past the thirty day return period. I could get a tune and a regulator, however that would add an additional $400.00 to the cost. I am stuck with a useless air rifle.
What others should know:
Pay for the ten shot test by Pyramid.