Kalashnikov AK47 Premium Reviews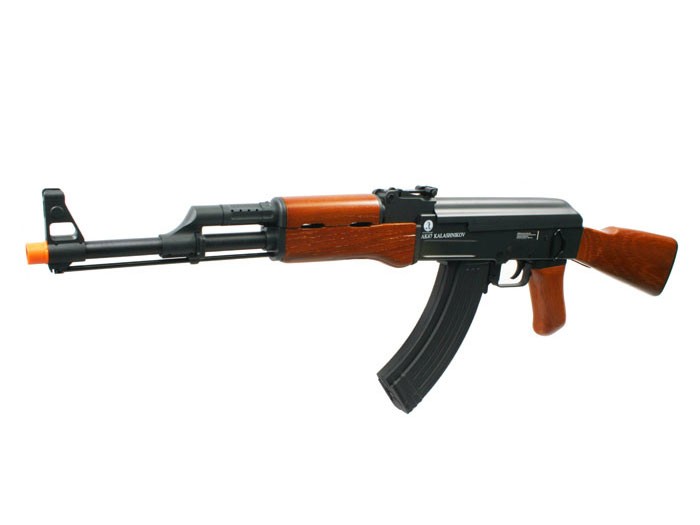 Average Customer Review
5.0
(17 reviews)
Create an online review   and share your thoughts with other customers
The most helpful favorable review
3 of 3 people found the following review helpful:
By Oliver from USA on 2011-01-29 19:06:59
Things I liked:
The FPS is killer. This thing is so strong and hurts so bad. It is very accurate for an assault rifle and can hit people from about 200ft away. The mag holds a large amount of BBs and is easy to wind. This thing looks BEAST! The blowback is cool and the full metal and real wood make this thing seem real.
Things I would have changed:
The battery doesn't last very long on full auto so I suggest you buy a new one. Also get a scope or sight because the sights on this gun don't always work.
What others should know:
Be careful! This thing leaves a mark on anyone hit by it. If you are thinking about using it at a local airsoft arena, forget it. This thing shoots too hard and many places won't allow it. But if you are gonna shoot targets or your friends, pick this and LIGHT THEM UP!
The most helpful critical review
1 of 1 people found the following review helpful:
By Mason W from USA on 2011-10-30 18:50:44
Things I liked:
i liked the feel and look of the gun it has great accuracy and amazing rate of fire
Things I would have changed:
i would change where the battery is held because its pretty tough to get in
What others should know:
i got this gun a few days ago and i have had a problem with the battery. i charged it fully and put it in to the gun and i had to hold the trigger for around 1 minuet before it would start to shoot. i had to do this every time i havent shot it for awhile