Umarex T.D.P. 45 Reviews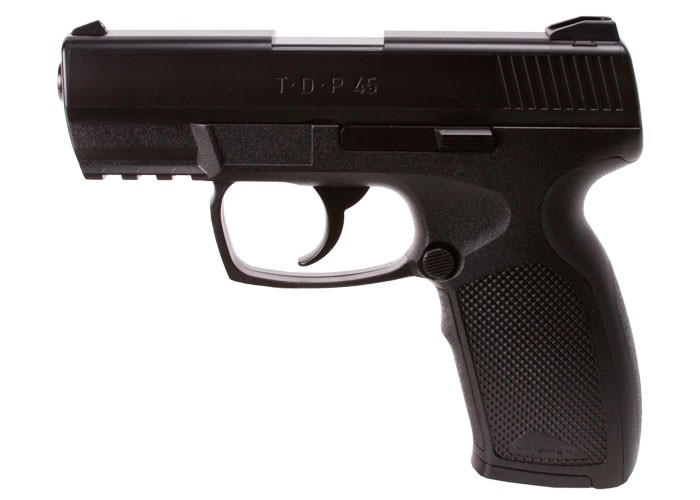 Average Customer Review
4.0
(14 reviews)
Create an online review   and share your thoughts with other customers
The most helpful favorable review
1 of 1 people found the following review helpful:
By Robyn from USA on 2014-01-20 20:31:10
Things I liked:
On opening the pistol today I shot exactly 135 shots out of a single crosman 12 gram powerlet before removing the cylinder and got a little "spisht" sound when I took the pressure off. All shots were high powered the last magazine seemingly as powerful as the first and to me that's just incredible. Especially under today's less than ideal 55 degrees. The accuracy at 5-10 meters was dead on. Resting the bottom of the soda can on top of the 3-dot sights I proceeded to make Swiss cheese of it in short order. This pistol has a wonderful feel and the sights, metal magazines, and CO2 trap door are all excellent features.
Things I would have changed:
Not a thing for $29.99 or maybe even twice that.
What others should know:
If you understand DAO pistols and why it has the long somewhat hard trigger pull I don't see much to complain about. It sure didn't hinder my ability to hit the target and my skills are average at best. I also had no problems with the magazines of which I have three. The loaded easily and stayed loaded. If it's hard, you may be going about it wrong. Eats Daisy Zinc BBs like candy. Best $29 gun on the planet! Feels/shoots like more than $29. I can't speak to its longevity yet and will update in the future.
The most helpful critical review
0 of 0 people found the following review helpful:
By Gary from USA on 2020-12-25 09:46:43
Things I liked:
The size & appearance.
Things I would have changed:
Cheaply made , chamber were Co2 goes arrived broken.
What others should know:
Will spend more to get better product next time