H&N Hornet Pellets, .177 Reviews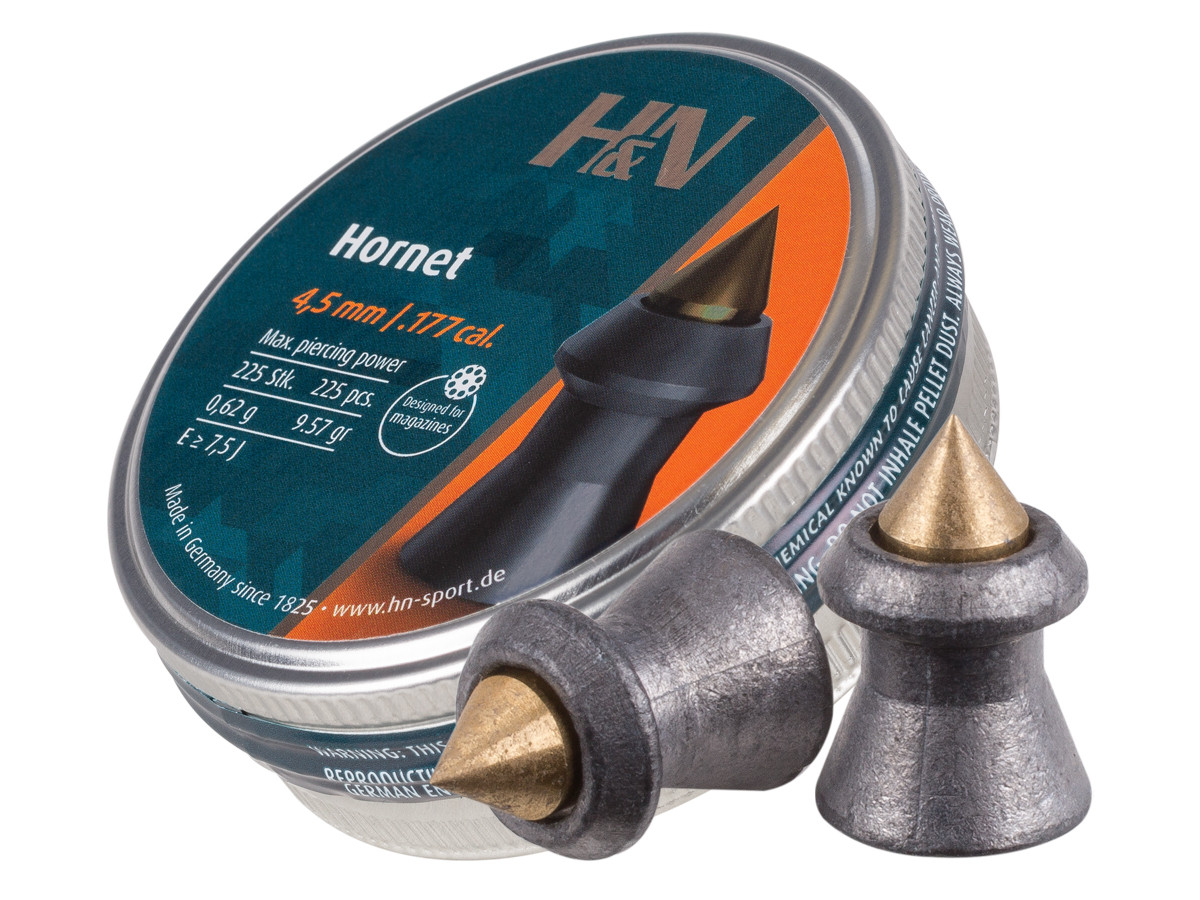 Haendler & Natermann H&N Hornet Pellets Review
4.0
(16 reviews)
Create an online review   and share your thoughts with other customers
The most helpful favorable review
2 of 2 people found the following review helpful:
By Dean on 2018-04-03 22:38:07
Things I liked:
I use these pellets pretty much exclusively. My break barrel gun loves them and I have my scope set perfectly. I regularly take squirrels at up to 45-50 yards. No exaggeration . I know these are rated for 30yards but the heavier 10.06grain weight allows it to go even farther with precision if.you practice a bit. Uniform shape , as with any pellet you may come across a misshapen one or two at random but for the most part you get to shoot every pellet in the tin no problems or factory errors.
Things I would have changed:
They are a bit pricey for what they are. But I guess if you figure in : they are made in Germany and thus have to be imported, they have brass metal in them. And they are meticulously made in a uniform consistency. Very well made pellets. I can't even really write a bad section about them.
What others should know:
When I first got these they were a bit inconsistent as far.as shot groupings they produced. But after properly zeroing my scope to these particular pellets with sighting targets I can now make dime sized groups at 45-50yards (again no exaggeration I know these are rated for less but they can do much better than advertised. Taking small game should be no problem if that is your goal. And targets should reflect great accuracy with any gun that "prefers these pellets" (any avid air gunner knows certain guns like certain pellets they are all different) Great purchase. The tin is a little misleading as they have "safety inserts" But there are indeed the advertised number of pellets in the tin
The most helpful critical review
0 of 0 people found the following review helpful:
By Frederick from USA on 2020-09-17 15:41:37
Things I liked:
Has lots of punch when it hits the target. Seem a bit more accurate than the ones I was using. Packaging is excellent.
Things I would have changed:
I am using these in my favorite air gun this month, a Sig Sauer P226. These rounds are nicely pointed and that's the problem. They're a bit long and bind as the magazine turns to put the next round in position. I have to file the tips a bit for the rounds to have enough clearance. So, while these are the correct size, according to packaging description, they're just a bit too big. I figure I'll use these up and switch to another brand.