JSB Diabolo Exact, .20 Reviews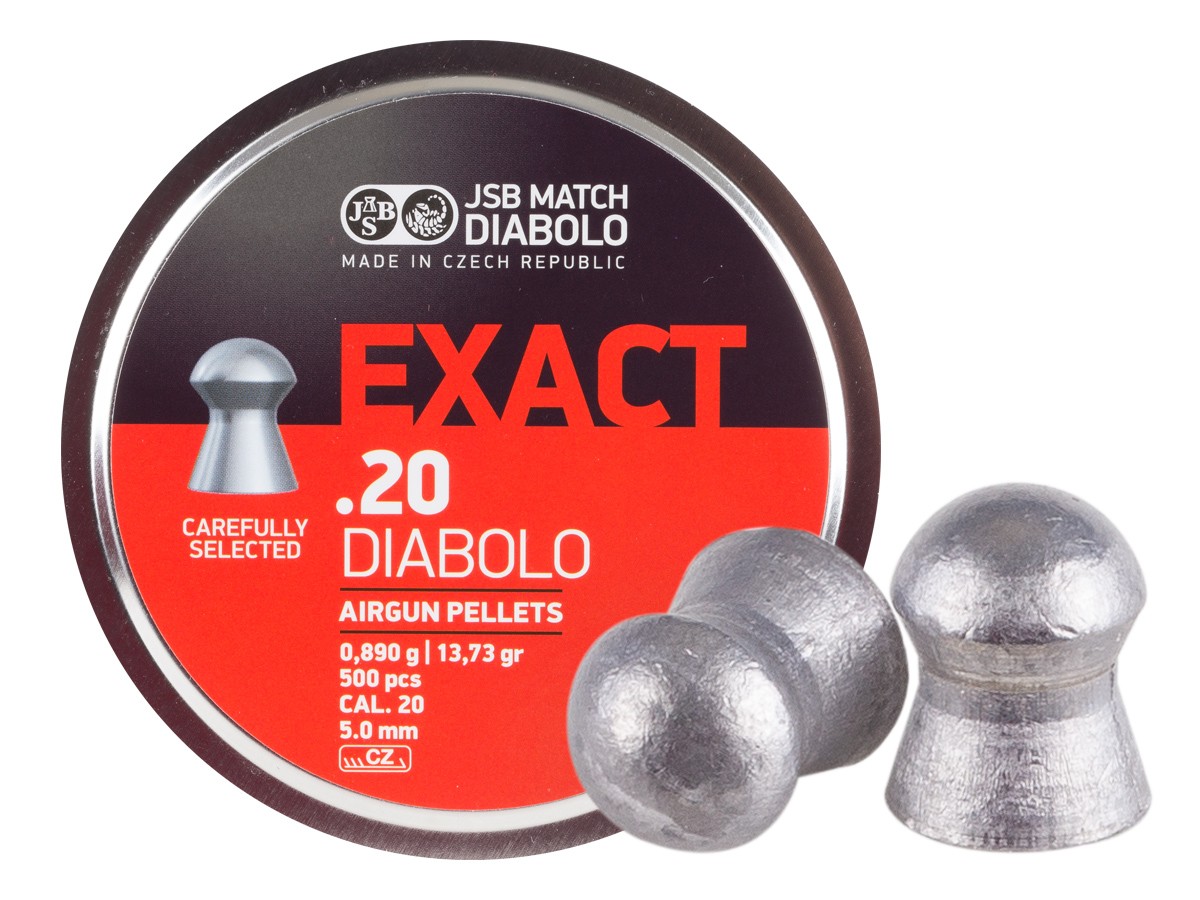 Average Customer Review
5.0
(111 reviews)
Create an online review   and share your thoughts with other customers
The most helpful favorable review
2 of 3 people found the following review helpful:
5.0 5.0
4.0 4.0
5.0 5.0
By Airgun Papa from USA on 2012-01-30 10:24:19
Things I liked:
This product has a secure lid! It isn't a screw on but it has detents all around the circumference of the lid and it takes a deliberate effort to get it off. The pellets are well formed, free of defects and reasonably clean.
Things I would have changed:
There is nothing I can think of to improve on this product. The price is very good compared to other offerings, the accuracy better than more expensive pellets tested alongside these, and the downrange performance was the best. Maybe a pellet weighing about 15.5 to16.0 grains for higher energy transfer would be nice.
What others should know:
I test pellets extensively firing thousands of rounds each year, recording the results and collecting them in a database on my computer. One of the things I do is to Chronograph the muzzle velocity and the 20 yard velocity and then calculate a performance factor which can be used to determine how well the pellets maintains its velocity downrange. These pellets are the new champions of velocity retention! I have records of 44 pellets thus far and none equal the velocity retention of these. Their accuracy was also first or second among 7 pellet products tested in both my Sheridan Blue Streak rifle and E-20 series Sheridan CO2 pistol. The initial velocities were slightly lower than anticipated from both guns but they made up for that very quickly in the first ten yards of travel. Interestingly, the former 1ST place velocity retention champ had the same characteristic and was also made in the Czech Republic.
The most helpful critical review
0 of 1 people found the following review helpful:
3.0 3.0
4.0 4.0
2.0 2.0
By pelletking from USA on 2019-11-08 09:26:52
Things I liked:
these were freebys from the sale of a blue streak now I know why kant hit the braud side of a barn if your standing inside flyers every 3rd or 4th one the ones that were on paper were fairly good3/4 to1 in at 30 yrds leaning on doorjam
Things I would have changed:
again make them in graduated sizes like h&n 's trophy's are
What others should know:
my weirouch 97 k loves them but you have to seat them