JSB Exact Monster, .177 Reviews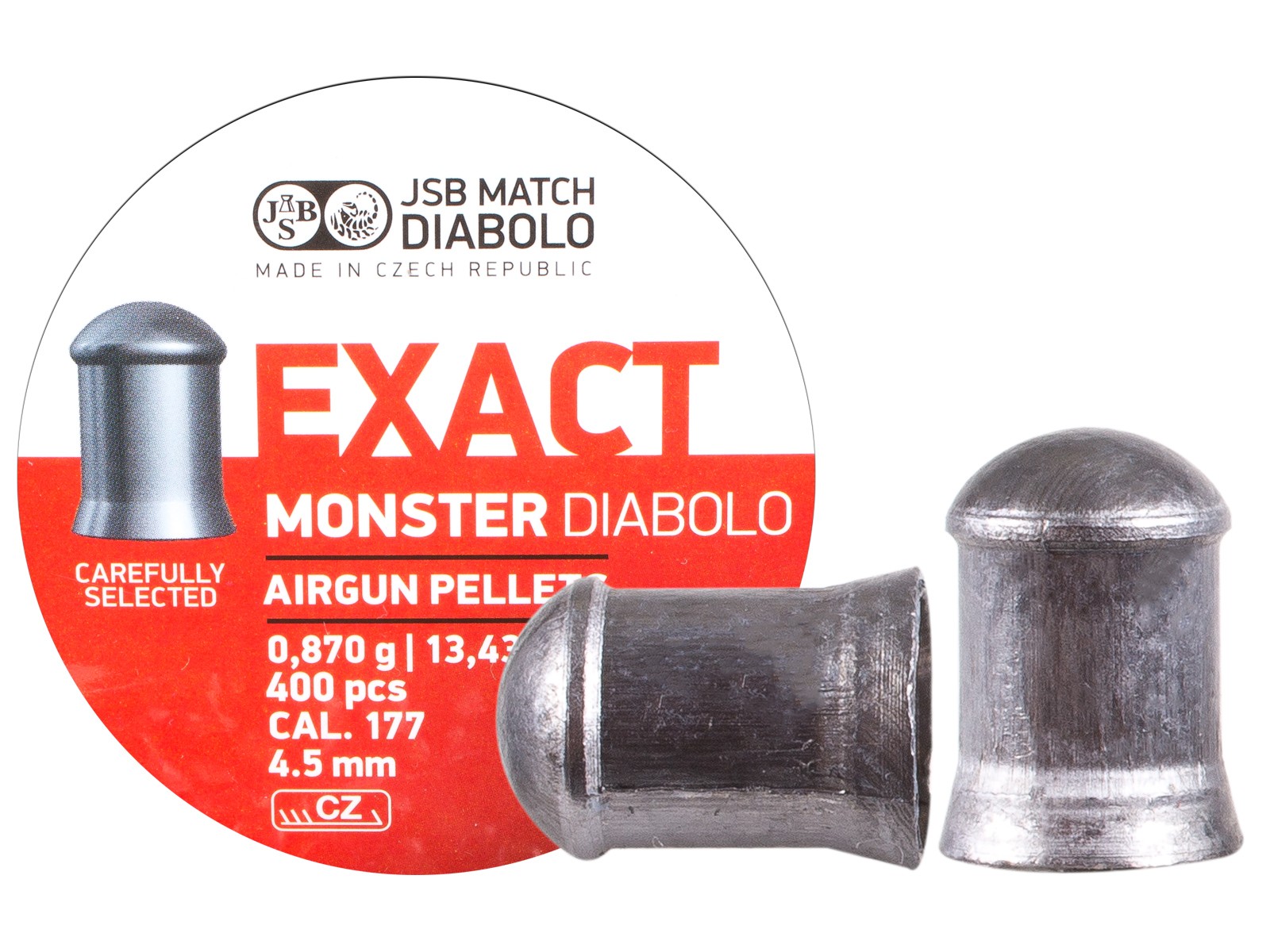 Average Customer Review
5.0
(133 reviews)
Create an online review   and share your thoughts with other customers
The most helpful favorable review
3 of 3 people found the following review helpful:
By Patricia from USA on 2011-05-28 00:11:43
Things I liked:
I liked Everything, Consistency was the most amazing thing about these pellets NO flyers at ALL, all pellets hit the Point of Impact (POI) I zeroed it to hit... Dead-on Every time!!!!! The group size itself is very small as well, 1/8" groups Consistently at 30 yards I mean its unreal how these pellets perform, made the accuracy of my Benjamin Discovery match the accuracy of A Benjamin Marauder, also increased the foot-pounds of my .177 version of the Benjamin Discovery (16.25 ft-lbs) (using 7.9 gr pellets) almost to that of the .22 version of the Benjamin Discovery (20.00 ft-pounds) (using 14.3 gr pellets) my .177 version now deliver a nasty 19.25 ft-pounds at the muzzle and with the weight of these they keep most of that energy for a longer range than a lighter pellet would which would make these the best hunting pellet on the market. The shape of these are VERY close to .22 lr round which is pretty cool and the overall length makes them very easy to load. Cleanliness and Quality control of the pellets were also very nice which leads to better accuracy of course but thats to be expected from JSB. I have to officially declare these THE BEST pellets on the market TODAY for high-powered .177 PCP Air Rifles. Thats exactly why I bought 7 tins of these today. :)
Things I would have changed:
Screw Cap That it and thats all.
What others should know:
Best accuracy and consistency in a pellet I have yet to try and that plus the weight makes them a very good hunting pellet, you have a very small chance of shooting a flyer with these. So if you want to have trust in your ammo when your out in field hunting BUY THESE they may be a Little pricey but to me hitting your intended target is priceless.
The most helpful critical review
0 of 0 people found the following review helpful:
By Paul from USA on 2020-03-08 03:54:25
Things I liked:
Nothing waste of money. Will give them away to a Jr shooter. Finally have a lot number on the tins.
Things I would have changed:
Quality of the pellets junk. At 25 yards pellets would not group in 1 inch. Went back to a lot from 4 years ago shot a match 3 250's with 16-18 X per card!
What others should know:
Not like they use to be, will have to find a different brand of pellets!