JSB Match Diabolo, .25 Reviews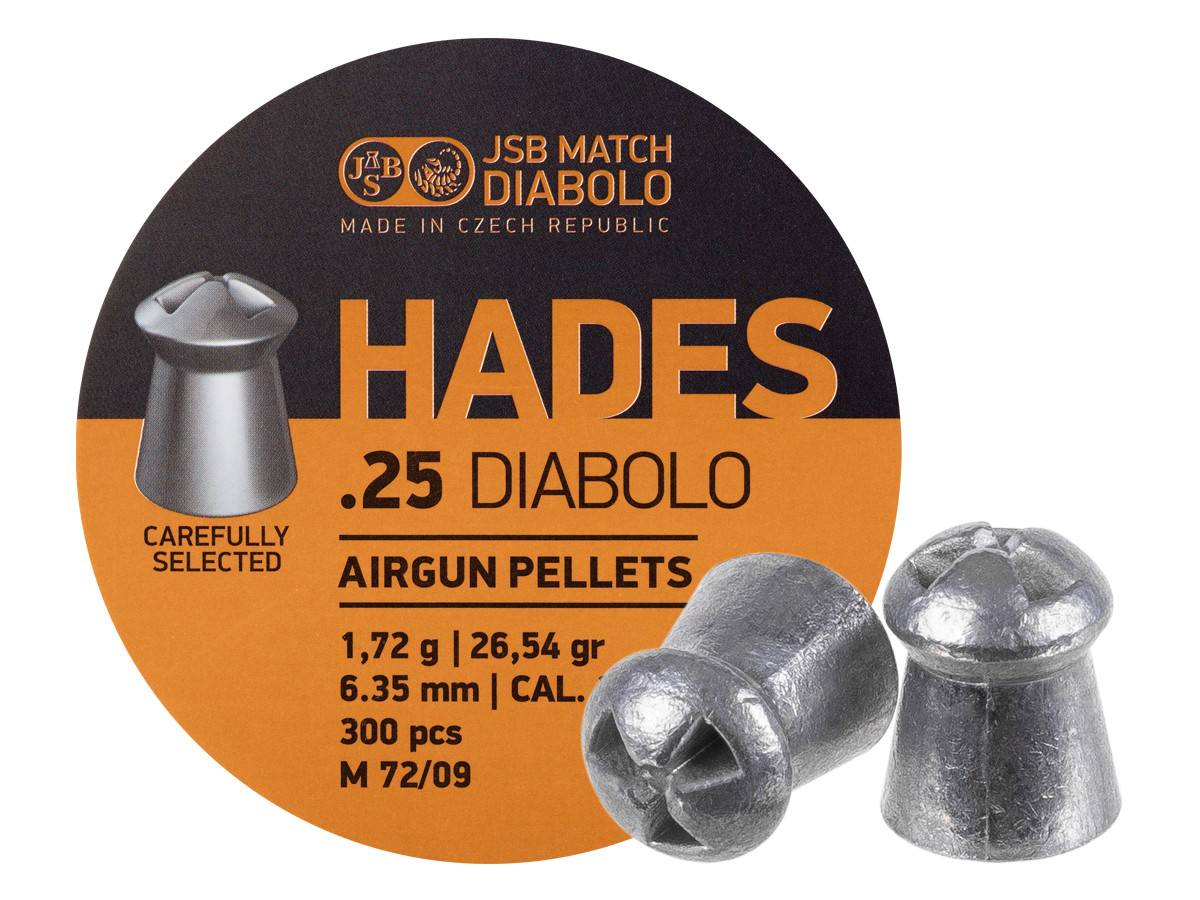 JSB Match Diabolo Review
4.5
(59 reviews)
Create an online review   and share your thoughts with other customers
The most helpful favorable review
1 of 1 people found the following review helpful:
By Eric from USA on 2020-01-02 20:25:46
Things I liked:
Excellent accuracy out of my fx impact. Groups are comparable to JSB exact diabolo 25.39 gr. I used these for hunting. One cottontail rabbit and 8 eurasian collared doves were felled with one shot each. None were headshots, all were pass-throughs. Ranges varied from 20 to 40 yds. Soft tissue damage appeared to be greater than the domed pellets. The impacts were significantly more audible than with traditional domed pellets. I like them and will continue to use them for hunting.
Things I would have changed:
Price. Same as the other reviewers.
What others should know:
I had to re-zero my scope for these. They hit 2 Inches low at 30 yds compared to the JSB 25.39 gr domed. Not certain they actually expand or fragment on game because they were not recovered. Some of the skirts are slightly dinged (in shipping, I presume.) The same shots taken on the same game with domed pellets would have given the same results, most likely. I shot one Eurasian with a .22 FX hybrid slug from my Kral puncher knight. It fell, dead, from the tree also. The slug did not make a loud WHOP like the Hades .25 when they hit a dove.
The most helpful critical review
0 of 0 people found the following review helpful:
By Aaron from USA on 2021-09-23 17:41:51
Things I liked:
None
Things I would have changed:
The Hades were not accurate compared side by side with the Match Kings or the Predator Polymags. I expected them to be almost the same as the kings. Looking at the base, the skirts of the Hades are much thinner which caused many of the skirts to be damaged. They should change the die to improve reliability of shipped pellets.
What others should know:
A large quantity of the pellet skirts are dented and damaged.