by B.B. Pelletier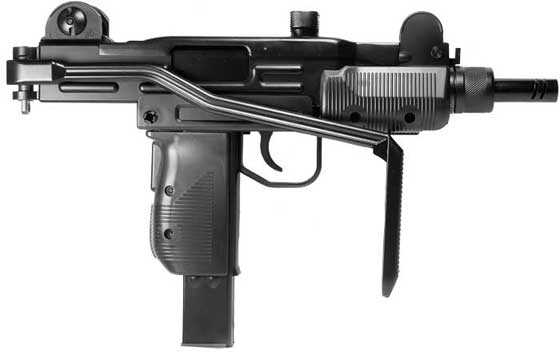 Cybergun brings us this Mini Uzi BB submachine gun. Owners think it's accurate and today we'll find out.
Today is accuracy day with the Mini UZI CO2 BB Submachine Gun by Cybergun and I have been awaiting this day with great expectations. That's because almost every owner review I've read about this gun emphasizes how accurate it is. Today, we'll find out.
To be the most accurate BB submachine gun I have tested, this gun will have to beat the EBOS from Umarex that I tested for you in November 2010. That gun was truly phenomenal at 15 feet on full-auto. About 40 full-auto shots could be covered by a half-dollar.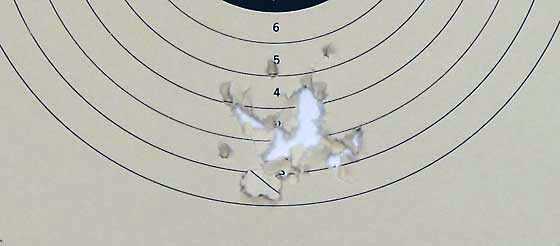 Forty shots from the EBOS on full-auto at 15 feet made this ragged little group.


Ten Daisy zinc-plated BBs from the EBOS went into this little screamer.
I don't normally compare guns, but this one time it seems right to do so because we're talking about accuracy with a BB gun, which is usually nothing special, and other features like firing modes and realism of the guns. So, just this once, I'm relaxing my rules and making comparisons.
And, the Cybergun UZI is coming out looking pretty good. The recoil sensation is so sharp that the wire stock actually stung my face every time I shot the gun. I had to pad it with a shop rag, because at first I thought I had been hit in the cheek by a rebounding BB — it's that sharp. Holding the gun tight into the shoulder helps a lot, but I think you'll also need a pad. One of the old jell pads that Pyramyd Air used to sell would work perfectly for this.
Aside from the face slap, that heavy bolt really does jar you when it moves. No other BB submachine gun has a sensation to match this one.
If this was a pellet gun, I would test several different pellets for accuracy, but most BBs are very similar — especially the ones we can buy here in the U.S. I went with Daisy zinc-plated BBs, which were the same ones I used in the velocity test in Part 2.
The first target was shot at the regulation 15 feet and, as I was getting slapped in the face by the wire stock on every shot, I'm afraid my concentration was not at its best. Still, the 10-shot target was very encouraging. In fact, it encouraged me enough to step back two feet so I could use a doorframe as a support to see how much better I could do.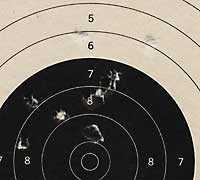 Not a bad target for the first try. I was encouraged.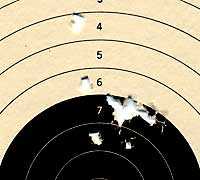 This target was shot from two feet farther back (17 feet) and proved that the gun can shoot!
The second target was a real good one, with a group almost as small as the best EBOS group. As you can see, however, the shots are striking the bull a little high, so I adjusted the front sight down four clicks to see what would happen. One more group would tell the story.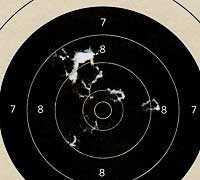 The shots moved down in the direction of the sight adjustment. This is another good group, but not as tight as the best EBOS group.
This gun has excellent sights. Coupled with the accuracy, which is well above average, those sights can get you on target a lot farther out than 15 feet. I imagine you could roll pop cans at 20 yards with one of these.
The bottom line
I have to give the accuracy edge to the EBOS. It shot the best groups, hands-down.
But for realism and fun, this Cybergun Uzi is hard to beat. I'm glad they didn't have BB guns like this when I was a kid, because I couldn't have afforded to keep them in ammo! And, I would have gotten into a lot more trouble than I did.
by B.B. Pelletier

The new EBOS is a loud, powerful BB submachine gun.
Today, I'll finish the test of the Umarex Electronic Burst of Steel — the Umarex EBOS. This is accuracy day, and the test runs exactly as it has for the other two BB submachine guns I've tested — the HK MP5 K-PDW and the Umarex Steel Storm. That means 10 aimed shots at 15 feet on semi-auto, followed by several bursts of full-auto fire.
I have three BBs to test today, and the EBOS brings us a complex set of operating parameters. You can select from either one shot, which simulates semiautomatic fire, a 4-shot burst or an 8-shot burst. But there's also the rate of fire to select. It can be set for 300, 400 or 500 rounds per minute (RPM). I discovered very quickly that 300 RPM is too much like shooting an M3 grease gun, which bounces around in your hand without much possibility for accurate aimed fire. So I did what every EBOS owner will eventually decide to do. Set it to 8-shot bursts and 500 RPM. Once I did that, I made no attempt to test the other rates or the lower burst count. Nor would a cigarette boat owner use a trolling motor for better fuel economy!
At first
In the beginning, I was just trying to adjust the rear sight so the groups would be centered on the bull. The rear sight is fiddly and I found it difficult to adjust. When I shot, I felt the rear notch was too close to my eye for good accuracy, but the gun proved me wrong on that count. I've had the same problem with 9mm MP5s, and they always seem to hit their target as well. Apparently, mine are just the ramblings of an old dog who cannot learn new tricks.
Once the rear sight was centered in adjustment, the gun shot to the point of aim. I wish there was an elevation adjustment on the rear sight as well, but I suppose most owners will slap a red dot on the top Picatinny rail and be done with it.
Crosman Copperhead BBs
The first BBs I tried were Crosman Copperhead BBs. As I fired 10 semiauto shots, I was impressed by how smooth the EBOS trigger is. That's no doubt due to the electrical drive unit in the pistol grip. All the trigger has to do is make contact and the gun fires.
The first group was impressive, especially in light of the tests of the other two guns. You can't even see 10 holes in the target, but one hole at the bottom of the group is clearly larger than the rest, and apparently swallowed four BBs.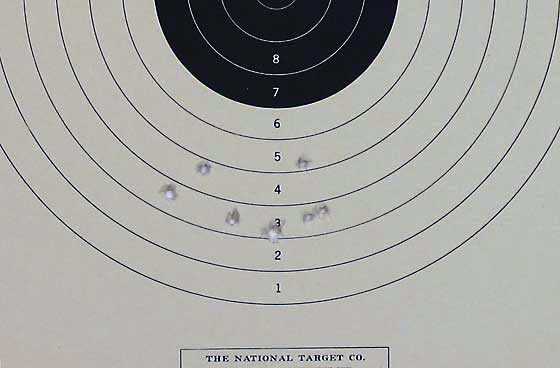 An impressive group that demonstrates the EBOS stability in the semiauto mode.
Then, I switched to rock 'n' roll. I first tried 300 RPM rate of fire and a 4-round burst, but it soon became obvious that wasn't the way to go. So, all the switches were set to the max, and that's the way the rest of the test was conducted.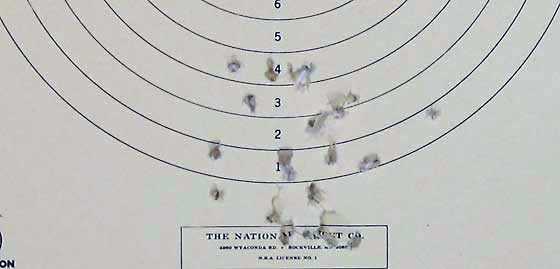 Compared to the other tests, this constitutes a screamer target for full-auto.
Daisy zinc-plated BBs
Next, I loaded Daisy zinc-plated BBs and ran a second 10-shot semiauto test. Oh, my gosh! I got accuracy that's not too far from the Avanti Champion 499 target gun! And this was with the sights I was complaining about! Imagine what this gun could do with dot sights!


Now, THAT is a group! For a BB gun, you aren't going to do much better.
At this point, I was wondering what would happen when I switch over to warp drive. Well, you know the answer. I switch and the gun continued to group tight. I kept shooting and reloading, shooting and reloading. At this point, my test design was blown because I hadn't tested the other two guns the same way, nor am I going to. But I figured a part of this evaluation was the fun factor, and any day you can keep my finger on the trigger of a full-auto gun, you know I must be having fun!

Holy cow! I'm not that good a shot. This gun shoots like it has radar or something.
RWS BBs
Finally it came time to test the new RWS BBs. You may recall from the Steel Storm test that these BBs were almost as good as the Daisy zincs, and I said that more testing would be needed. Well, look at what happened with the EBOS.


Every bit as tight as the Daisy target on semiauto fire.
When I switched to overdrive with the RWS BBs, something wonderful happened. The group stayed the same size. It just has about four times as many BBs through it. I could not stop shooting, and I know the full-auto group has at least 40 rounds in it.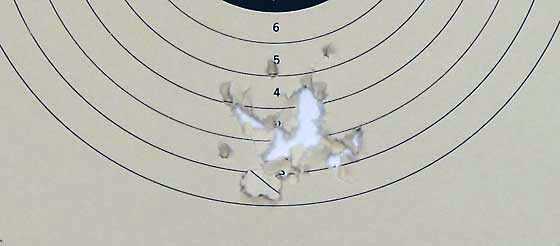 Oh, boy! Now we're having fun!
Crosman 850 trap
Wow! It's been a while since an airgun made me smile like this one does! And do you remember that I said I would be using the Crosman model 850 BB trap for this test? Well, I did, and despite the power of the EBOS, the trap did not suffer one bit.
So, now I've tested all three BB submachine guns completely. And here's my assessment. The Steel Storm is the best value, but the EBOS is THE boss!
by B.B. Pelletier

The new EBOs is a loud, powerful BB submachine gun.
Well, this report is somewhat overdue, but I've been waiting for some of the new RWS BBs to test for you, because of some good things I've heard about them. Looking at these BBs under a 10x loupe, they appear smoother than even the Daisy precision ground shot made for the 499 BB gun.
I plan to test this shot in several ways for you with guns we have a baseline on. But that will be later. Today, we'll look at the Umarex EBOS velocity. And velocity it has! The specs say 540 f.p.s. and by golly that's what I saw!
The EBOS is run by a battery-powered electric motor, so many of you are considering it as a replacement for the Drozd. I'm no expert on the Drozd, but I'll report on the EBOS as it operates similar to the Drozd and let you judge for yourselves. What I mean by being run from a motor is that the firing function is controlled by that motor. The power that propels the BB comes from CO2, of course, and the EBOS uses the big 88-gram CO2 cartridges that give hundreds of shots. But the electric motor takes care of firing the gun once you pull the trigger.
A word on loading
The EBOS has a large BB reservoir that's used to fill up a smaller forced-feed magazine located on the left side of the gun when you take action to fill it. When it's full, you have up to 24 shots available. After that, you must manipulate the larger reservoir to refill the magazine. This process goes very quick and easy with no jams noted in my test. If you take the time to look inside the large reservoir when it's empty, you can see the hole that connects it to the BB magazine, so you'll know what to do to load the gun. But no worries — both loading and unloading are easy!
Power!
Get ready for magnum power with the EBOS, because it really delivers on its promises. While that may evoke some smiles, it also means you must take extra care to prevent ricochets and bouncebacks, because they'll be both painful and dangerous. Eye protection is mandatory for everyone in the area and the eyewear MUST be a pair of certified safety glasses. Regular prescription glasses will turn to dust with a single shot from this gun.
For this test, I shot into a Quiet pellet trap, because a regular BB trap like the Crosman model 850 is a little on the light side for a gun this powerful. Please understand that I was shooting at less than 24 inches from the trap in my office. When I move back to 15 feet for the accuracy test, I DO plan to use the Crosman 850. But, at this close range, the velocity is too high for a steel BB that could rebound. I waited between 15 seconds and 30 seconds per shot. The one time that I shot a shot right away, the gun lost 20 f.p.s. Remember the lesson of the cooling effects of CO2.
Daisy zinc-plated BBs
The first BBs tested were Daisy zinc-plated BBs. They averaged 539 f.p.s., and the spread went from 528 to 548. So, right there, the EBOS met its advertised velocity. By the way, that works out to a muzzle energy of 3.29 foot-pounds.
Crosman Copperhead BBs
Next to be tried were Crosman Copperhead BBs, which are a little smaller and a trifle lighter than the Daisys, though both are listed at 5.1 grains. Copperheads averaged 523 f.p.s. and ranged from 503 to 532 f.p.s. This was the BB that I shot right away after the last shot, which gave me the low reading of 503 f.p.s. They produced an average 3.1 foot-pounds of muzzle energy.
RWS Match Grade BBs
That's quite a claim in the name of these BBs, but after examination I must say they look as uniform as ball bearings. Pyramyd Air doesn't carry them at the moment, but that could change. These BBs all weigh 5.2 grains, with no variation. In the EBOS, they averaged 504 f.p.s., with a spread from 498 to 521 f.p.s. We'll see how well they shoot in the accuracy test, plus I'm going to test them in the Steel Storm and the HK MP5 as well.They produced an average of 2.93 foot-pounds of energy at the muzzle.
Shooting impressions
The EBOS trigger is very smooth. It's a long single-stage pull with no warning before the break. You'll feel some recoil with this gun, as there's so much gas pushing out the barrel with every shot. The fastest rate of fire goes higher than an M3 grease gun, so the gun is very controllable. I believe it'll be an easy gun to hit with. And I like the sights. Although the stock pull is okay at 13.75 inches, the rear sight notch is too close to the sighting eye. However, I think I may get some good accuracy from this gun because of these sights anyway.
The EBOS is powerful and loud! Respect the power and shoot safely at all times. Don't use hard backstops such as trees, because the BBs will bounce back wildly. And, enjoy the noise! On the fastest rate, which is 500 rpm, the bursts sound very realistic.
by B.B. Pelletier
Well, it was inevitable. Just as I was reporting on the Umarex Steel Storm, somebody said they had heard that the new Umarex EBOS (Electronic Burst of Steel) was the better BB submachine gun. If you go looking for the EBOS, don't look among the air pistols. Even though the firearm it is copied from probably fires a pistol cartridge, the presence of a fixed shoulder stock has caused Pyramyd Air to place this BB gun among the rifles.
There will probably be debate over which of these three new BB submachine guns is the best for a long time to come. I won't get into that, but I'll review the same things on all of them so you can make up your own mind.
And a word on the accuracy testing of all three guns. I have ordered some RWS BBs that one reader praised for extra accuracy. I want to include these BBs in the accuracy tests of all three guns, plus I will also test the Daisy No. 25 BB gun. If there's a good enough result, I will show it. I will not test them with Daisy Avanti BBs because of the price and the fact that these are submachine guns.
For those of you who were wondering where the Drozd fits in among these new BB submachine guns, the EBOS would seem to be its direct competition. It has an electrically driven action that allows for two sizes of automatic bursts as well as semiautomatic fire. It also offers three rates of automatic fire during the two bursts — 300, 400 and 500 rounds per minute.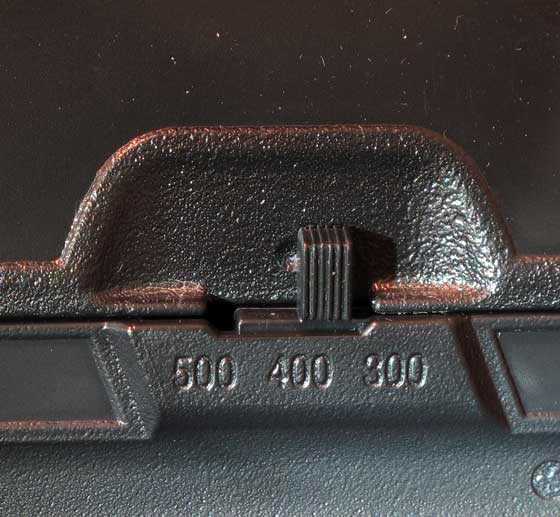 Three rates of fire are selectable. Semiautomatic fire (one shot per pull of the trigger) is selected by a different switch on the other side of the gun.
In reading the user comments, I see where someone has requested that the cyclic rate be increased to 800 r.p.m., so perhaps this gun will seem realistic to me after all. If it is, it will be much more to my liking, because I was trained on automatic firearms that shot from 400 to 900 r.p.m. I don't relate very well to the "carpet-rippers," as the high-rate guns are often called.
The EBOS advertises a muzzle velocity of 540 f.p.s., which, if true, will make it the hottest BB gun I've ever tested. The previous record-holder was an Anics pistol that's been obsolete for about five years. A velocity this high in a BB gun is almost a liability, what with the way steel BBs ricochet. I'll have to give some thought to how this gun needs to be tested, lest I blow through my Crosman 850 BB trap.
The EBOS uses 88-gram CO2 cylinders, or what Crosman likes to call AirSource cartridges. Of course, you don't want to forget that Umarex has their own Walther-brand cartridges. These larger cylinders fit into the part that becomes the stock of the gun. The gun features a built-in, 24-shot forced-feed BB magazine fed from an onboard 400-shot reservoir.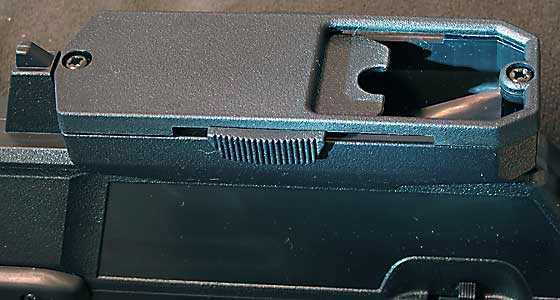 Just pour in up to 400 steel BBs.
Now I am going to do something I almost never do, but in this case the facts are so blatant that they warrant a comment. The price point of the EBOS is so much lower than the Drozd Blackbird that I seriously wonder if it is going to cut into the sales of the Russian gun. Usually, when there's a small difference, even up to $50, there wouldn't be much competition, but the EBOS is nearly one-third the cost of the Drozd Blackbird, which also accepts 88-gram cartridges. That may change demand in the market.
Some design features explained
Of course, this gun is mostly plastic on the outside and very lightweight — 3 lbs. without BBs and a CO2 cartridge installed. And I want to draw your attention to two design features that are visually misleading. What appear to be Picatinny mounts on both sides of the gun are simply decorative embellishments. They will not hold any thing. The two true Picatinny rails are on top of the receiver and at the bottom. Also, what appears to be a thread pattern behind the muzzle is actually a series of concentric plastic circles that do not accept any muzzle attachments.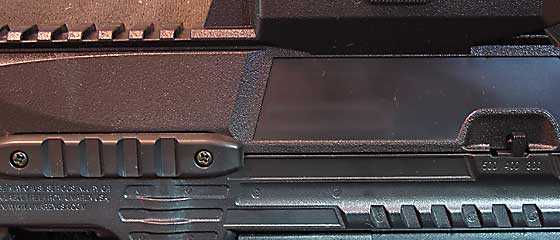 Although the sides of the gun appear to have Picatinny rails, they're simply decorative. The real Picatinny rails are at the top and bottom of the gun.
Sights adjust
There has been some criticism of the top-loaded BB reservoir, and I don't understand why. The adjustable sights clear it fine and so will most dot sights. It isn't a hindrance in any way I can see. The rear sight is adjustable for both windage and elevation, and I can't wait to try it out. This is the only one of the three BB submachine guns I'm testing that has a stock. That makes the open sights workable.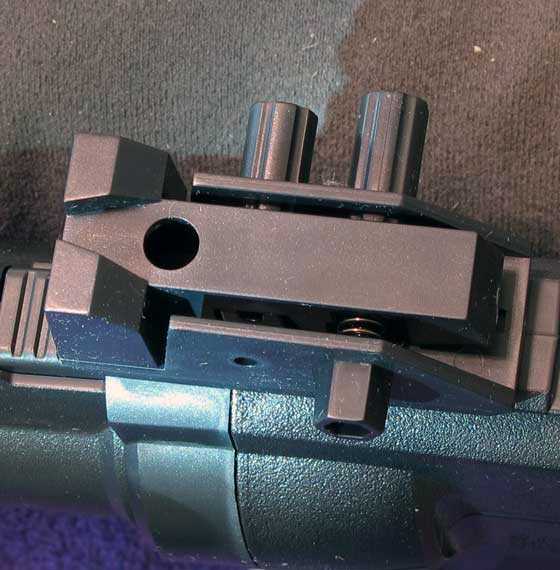 The rear sight adjusts in both directions.
The EBOS seems to be the biggest and baddest of the three newcomers. But testing will show all.