by B.B. Pelletier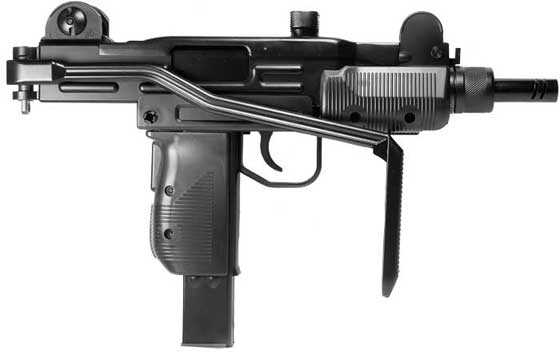 Cybergun brings us this Mini Uzi BB submachine gun. Owners think it's accurate and today we'll find out.
Today is accuracy day with the Mini UZI CO2 BB Submachine Gun by Cybergun and I have been awaiting this day with great expectations. That's because almost every owner review I've read about this gun emphasizes how accurate it is. Today, we'll find out.
To be the most accurate BB submachine gun I have tested, this gun will have to beat the EBOS from Umarex that I tested for you in November 2010. That gun was truly phenomenal at 15 feet on full-auto. About 40 full-auto shots could be covered by a half-dollar.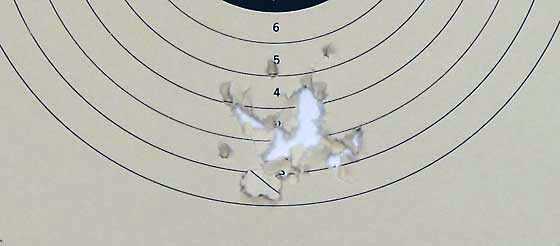 Forty shots from the EBOS on full-auto at 15 feet made this ragged little group.


Ten Daisy zinc-plated BBs from the EBOS went into this little screamer.
I don't normally compare guns, but this one time it seems right to do so because we're talking about accuracy with a BB gun, which is usually nothing special, and other features like firing modes and realism of the guns. So, just this once, I'm relaxing my rules and making comparisons.
And, the Cybergun UZI is coming out looking pretty good. The recoil sensation is so sharp that the wire stock actually stung my face every time I shot the gun. I had to pad it with a shop rag, because at first I thought I had been hit in the cheek by a rebounding BB — it's that sharp. Holding the gun tight into the shoulder helps a lot, but I think you'll also need a pad. One of the old jell pads that Pyramyd AIR used to sell would work perfectly for this.
Aside from the face slap, that heavy bolt really does jar you when it moves. No other BB submachine gun has a sensation to match this one.
If this was a pellet gun, I would test several different pellets for accuracy, but most BBs are very similar — especially the ones we can buy here in the U.S. I went with Daisy zinc-plated BBs, which were the same ones I used in the velocity test in Part 2.
The first target was shot at the regulation 15 feet and, as I was getting slapped in the face by the wire stock on every shot, I'm afraid my concentration was not at its best. Still, the 10-shot target was very encouraging. In fact, it encouraged me enough to step back two feet so I could use a doorframe as a support to see how much better I could do.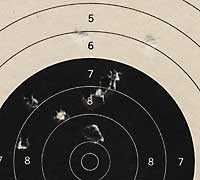 Not a bad target for the first try. I was encouraged.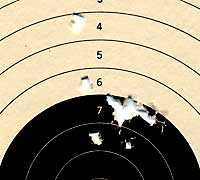 This target was shot from two feet farther back (17 feet) and proved that the gun can shoot!
The second target was a real good one, with a group almost as small as the best EBOS group. As you can see, however, the shots are striking the bull a little high, so I adjusted the front sight down four clicks to see what would happen. One more group would tell the story.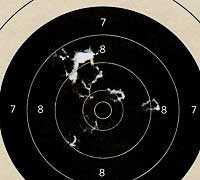 The shots moved down in the direction of the sight adjustment. This is another good group, but not as tight as the best EBOS group.
This gun has excellent sights. Coupled with the accuracy, which is well above average, those sights can get you on target a lot farther out than 15 feet. I imagine you could roll pop cans at 20 yards with one of these.
The bottom line
I have to give the accuracy edge to the EBOS. It shot the best groups, hands-down.
But for realism and fun, this Cybergun Uzi is hard to beat. I'm glad they didn't have BB guns like this when I was a kid, because I couldn't have afforded to keep them in ammo! And, I would have gotten into a lot more trouble than I did.