Posts Tagged 'precharged pneumatic'
by Tom Gaylord, a.k.a. B.B. Pelletier

The $100 PCP is built on a Crosman 2100B chassis.
This test was very interesting! It began last week at my outdoor rifle range. Blog reader GunFun1 asked me to try shooting steel BBs in this gun because it was originally built to handle them (when it was in its Crosman 2100B form). I didn't want to do it because this rifle launches the first couple shots at over 900 f.p.s., and steel BBs rebound like crazy (You'll shoot your eye out), but I did relent. Last week, I took this rifle to my outdoor range and stuck a 12-inch Shoot-N-C target on the plywood target backer. I then paced off 10 meters and fired 10 BBs at this target.
I thought the BBs would probably miss the target altogether. I said as much to GunFun1 in my comments a few weeks ago. But they didn't!
I was wrong about this. Shooting offhand with open sights, I put 10 Daisy Premium Grade steel BBs into 1.56 inches. It was actually 11 BBs. I must have miscounted during shooting. I was astounded! This isn't just good — it's great! You don't shoot BB guns at 10 meters when you're shooting groups!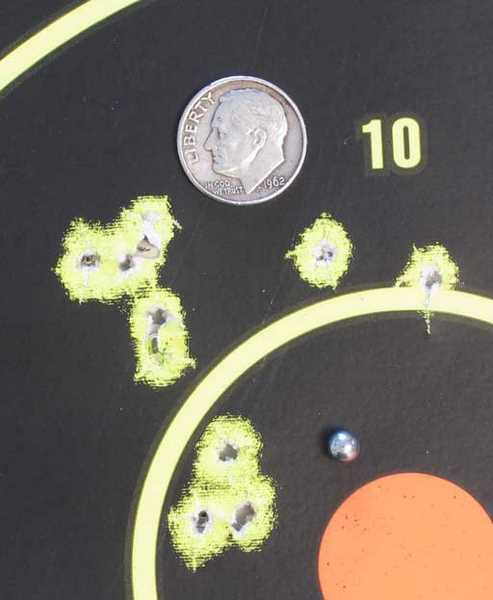 There are actually 11 Daisy BBs in this 1.56-inch group. Shot offhand with open sights at 10 meters.
Incidentally, all 10 BBs apparently went through the plywood target backer. Of course, there are other bullet holes there, so the wood isn't always present or at its thickest; still, it shows those BBs are moving!
That got me wondering just how accurate this rifle could be. I decided to shoot from 25 yards with open sights, only. I'll come back and shoot with an optical sight of some kind, but this test is just open sights.
I filled the gun to 2,000 psi for every 10 shots, including for the BBs shown above. After 10 shots, the gun's pressure has dropped to 1,000 psi.
Crosman Premier lite
The first group of 10 shots was shot with Crosman Premier lites. Based on the 10-meter results for the last test, and also from where the BBs went, I adjusted the rear sight to the right just a little. After the first shot, I looked through the spotting scope to affirm it hit the target. It did, was high above the bullseye and fairly well-centered left and right. So, I left the sights where they were and fired a second shot. When I looked through the spotting scope, I saw it had gone through the same hole as the first! Wow! That was starting out well!
The first 4 shots all went into the same hole. Then shot 5 went higher for some reason.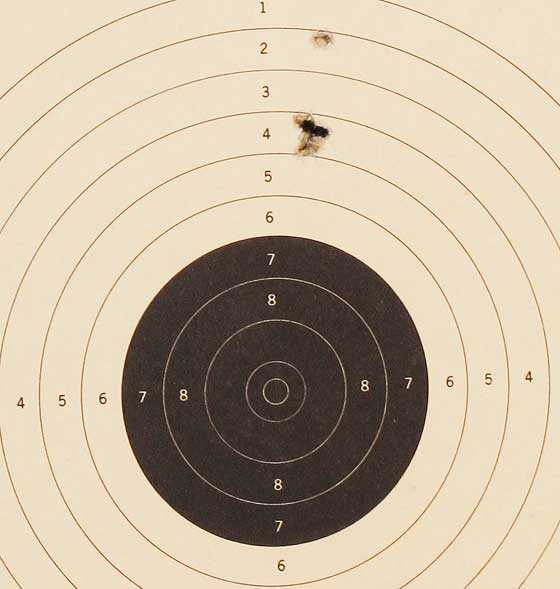 The first 4 shots are in 0.179 inches. Shot 5 opened it up to 0.838 inches.
After taking the picture of the first 5 shots, I shot the remaining 5 shots. That was informative because all the shots spread out to the left. Having the first 5 shots on record allowed me to see that the second 5 were the ones that actually spread out. The 10-shot group measures 1.358 inches between centers.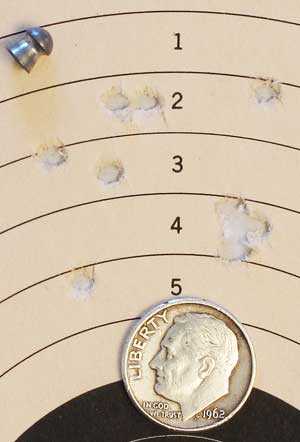 Ten Crosman Premier lites went into 1.358 inches at 25 yards. That's rested and using open sights. See how the last 5 went to the left and opened up?
RWS Hobbys
Next up were RWS Hobby pellets. They did quite well at 10 meters, but 25 yards is about the maximum distance at which wadcutter pellets hold their accuracy.
I adjusted the rear sight down one notch before shooting this group. Once more, I photographed the target after 5 shots.

The first 5 RWS Hobbys looked pretty good. Shot 1 was a 10!

So Hobbys held together fairly well at 25 yards. Ten went into a group measuring 1.144 inches between centers.
Air Arms Falcons
The last pellet I tested was the Air Arms Falcon pellet. This time, the first 5 pellets didn't seem to do that well. And when we see the final 10-shot group, it isn't that much larger.

The first 5 Falcon pellets didn't do so well.

This is one of those rare instances where 10 shots are not much larger than 5. Ten Air Arms Falcons went into 1.912 inches.
Conclusions so far
This experiment is turning out much better than I had hoped. Not only have we demonstrated that it's possible to make a precharged pneumatic rifle that can retail for under $100, we're now showing that it can really perform! Of course, the production gun will get many more shots on a fill than the 10 I'm getting, but I do think the maximum fill pressure should be held to 2,000 psi. That will make it easier to build an affordable hand pump, which Dennis Quackenbush is thinking about right now.
The discharge noise of this rifle is quite loud. I was going to recommend not putting a shroud on the gun, but I'm going to change my mind on that point. The customers for this gun will be suburban shooters who need a quieter air rifle, so some sound dampening is necessary.
The trigger on the rifle is heavy, and I would leave it the way it is. I would also leave the bolt-action exactly the way it is on the 2100B. The same goes for the sights. These are refinements people can pay for on higher-priced PCPs. We want to hold the cost of this gun to less than $100 retail.
I do plan on returning to test this rifle at least one more time with an optical sight. That will show the maximum accuracy potential, although I believe we've already seen a good indication of it in this test.
The $100 PCP will never replace the higher-priced PCPs that are already selling. It isn't supposed to. It's supposed to provide that entry-level step for those who are curious about precharged airguns and don't want to spend a fortune to find out. I think it's a very feasible goal and, quite possibly, a profitable one, as well.
by Tom Gaylord, a.k.a. B.B. Pelletier

The PCP built on a Crosman 2100B chassis.
Today, we'll start looking at the accuracy of the $100 PCP. This is the test that has concerned me most since we began this experiment. I knew that a Crosman barrel could be very accurate because of the success of the Benjamin Discovery. But the $100 PCP is a job we threw together quickly just to test the concept. And when I say "we," I mean Dennis Quackenbush, of course. It isn't fully developed. Will it shoot well or fail miserably? Today, we'll find out.
Loose barrel
Since this is a lash-up job, there's nothing connecting the barrel to the reservoir. This is a real free-floated barrel, but that's not a good thing in this case.
I discussed this with Dennis, who advised me to attach the barrel to the reservoir tube with JB Weld. I was concerned that if I didn't get the barrel fairly straight, problems would crop up when I scope the rifle. The open sights are mounted to the top of the barrel, so they'll stay aligned at all times; but the scope base is on top of the receiver. The barrel is separate from that, and that could present a problem.


The barrel isn't attached to anything and flexes to the left …


… and to the right. This had to be addressed before testing.
Thankfully, I'm a highly skilled craftsman, as long-time readers of this blog know all too well. My solution was to install a precision shim between the barrel and reservoir to maintain separation, and then to attach the 2 parts with several strips of linear adhesive material.
In other words, I put a piece of cardboard between the barrel and reservoir tube and then wrapped both with Gorilla tape.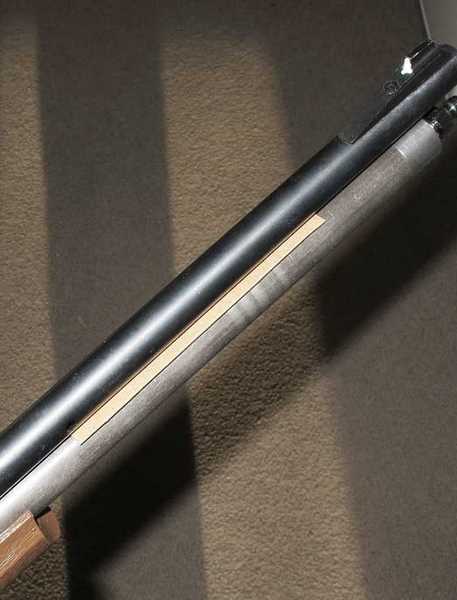 A precision shim of technical cardboard was slipped between the barrel and reservoir tube.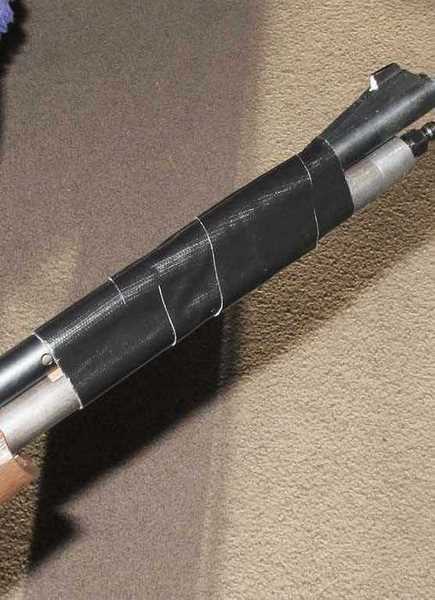 Then the barrel was taped to the reservoir with Gorilla tape.
Naturally, I don't expect the blog readers to be capable of skilled work like this. I'm just showing it to you so your repair center will have the information when they do a similar job for you!
Test time
Now, it was time to test the rifle. I shot only pellets, of course, and I decided to start at 10 meters with the open sights that came on the rifle. If I was testing a Crosman 2100B, that's how I'd start.
First fill
Right away, I messed up and over-filled the gun on the very first fill. I'm not used to the needle on the gauge stopping at the 2,000 psi mark, so I went over and filled to about 2,300 psi. Thankfully, Dennis over-built this rifle, but I didn't want to test that aspect! Nevertheless, the rifle was filled without incident, so I fired the first 10 shots.
Premier lites
Crosman Premier lites were the first pellets I shot because this is a Crosman rifle, after all. I've found that pellets and airguns made by the same manufacturer often do well together.
The first pellet landed to the right of the bull and about right for elevation. I left it alone and fired shot No. 2. Since the pellets were in the white, I could see them without a spotting scope (this was only 10 meters); and they were landing close to each other. I settled in and completed the first 5 shots.
I was so concerned that the pellets might walk as the pressure dropped in the reservoir that I photographed the first group after just 5 shots. Then, I photographed it again after all 10 shots were fired.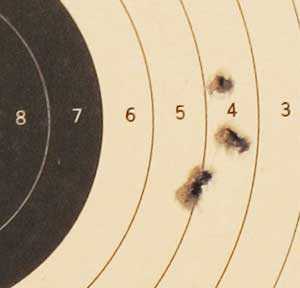 The first 5 shots looked promising. I hoped the group wouldn't open up too much when all 10 shots had been fired.
After photographing the first 5 shots I returned to the bench and shot the other 5. When I went downrange to change the target I was surprised to see that the final 5 shots hadn't enlarged the group at all! This is not a common occurrence, and it made me think that I should re-shoot the Premiers with a correct 2,000 psi fill, just to be sure. But I decided to wait until the end of the test to do it.
The first 10-shot group of Premiers measures 0.726 inches between centers. As noted, that size was reached in the first 5 shots.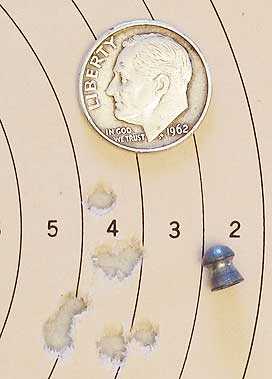 Ten Crosman Premier lites went into 0.726 inches at 10 meters. Not bad for a start!
RWS Hobbys
After the first group, I adjusted the rear sight to the left, to get the pellets striking inside the bull. Then, I fired the second group with RWS Hobby pellets. After confirming the first pellet did hit in the black, I didn't look at the target again until going downrange to change it. What I saw was both thrilling and astounding. With open sights, the $100 PCP had put 10 Hobbys into a group that measures 0.534 inches between centers. This isn't just a good group — it's a great group when you consider that open sporting sights were used. Granted, I'm only shooting 10 meters here and the group will be larger when the distance increases to 25 yards, but will it be that much larger? I'll be using a scope, after all. And maybe I haven't even found the best pellet yet.

Ten RWS Hobbys went into 0.534 inches at 10 meters. This is amazing!
After this group, I adjusted the rear sight up one step. Since the next pellet is a heavy one, that would probably keep it is the same place.
H&N Baracuda Match
Although this rifle is producing only 12 foot-pounds of energy, I thought the H&N Baracuda Match pellets might work well. So, I gave them a shot. Ten went into a 0.855-inch group. That's not terrible; but in light of the others, it's not as good, either.

Ten H&N Baracuda Match pellets made a 0.855-inch group.
Air Arms Falcon pellets
Next up were the Falcon pellets from Air Arms. Ten of them went into 0.683 inches. Since this is a domed pellet, it may group better at long range than the Hobby.

Ten Air Arms Falcon domes made a 0.683-inch group.
Premier lites
I then shot a final group of Crosman Premier lites — this time with the rifle filled to just 2,000 psi. Ten pellets went into 0.615 inches, making the second-best group of the day, with Hobbys being the best.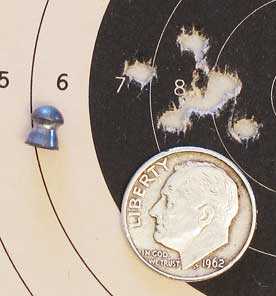 Ten Crosman Premier lites went into 0.615 inches at 10 meters.
Overall performance
The rifle's pressure dropped about 800 psi for the 10 shots in each group. So the valve is far from optimum at this point. And the reservoir could stand to be a lot larger.
The trigger is the 2100B trigger. While it does have a long pull, I didn't find that it caused me any problems. I think it should stay as it is.
The rifle cracks much louder than a Benjamin 392 on 8 pumps. Crosman could shroud the barrel, but I'm going to recommend they don't. I want to keep the price of the gun down below $100. Let the people who buy them figure out how to quiet their guns. They're going to anyway.
The verdict?
I'm going to address these next comments to Ed Schultz at Crosman. The $100 PCP tests out the way we both thought it would. You can see the shortcuts I took to stabilize the barrel for today's test. I would want more than 10 good shots from a rifle like this. I would want at least 20 good, accurate shots of 7.9-grain Premiers going at 850 f.p.s., give or take.
I'm going to continue to test the rifle at greater distances, so there are more reports to come. But there's no longer any doubt that this is a viable airgun.
by Tom Gaylord, a.k.a. B.B. Pelletier

The PCP built on a Crosman 2100B chassis.
Today is Media Day at the range, and I will be shooting many of the new airguns that will be coming out this year, plus a lot of firearms — I hope. Tomorrow the 2014 SHOT Show starts, and there's a special first-day report all set for you.
Let's look at the performance of the $100 PCP that big bore airgun maker Dennis Quackenbush created on a Crosman 2100B chassis. I read some comments about the gun in Part 1. Before we get started, I need to address one of them. Some of you say you want a PCP that operates on 100 psi, so you can run it on your shop compressor. Gentlemen — such an airgun doesn't exist and cannot exist as you envision it. That is simply not enough pressure to push a pellet to the kind of velocities we want. You can shoot t-shirts into the grandstands with that kind of pressure or perhaps run a pneumatic tube delivery system, but not a pellet gun.
I know that the airguns of old used lower pressure than we use today. They got amazing power from 500 to 800 psi. But they weren't shooting smallbore caliber pellets. They were shooting .40 to .70 caliber round lead balls and they got them up to 450-600 f.p.s. They did that because the area of the projectile is much larger than a .177 pellet, and also because they used very long barrels (30-36 inches).
You can shoot tennis balls with shop air, but not pellets. I did report on a .25-caliber pellet rifle that worked with 800 psi air, but that's a lot different than 125 psi air. You can't pressurize air to 800 psi with a shop compressor. So, we're going to have to confine our research to what is physically possible. I'm not trying to shut you down for thinking outside the box, but this is a very real physical constraint.
On with the test
Today, we're looking at the velocity of this rifle with air for both pellets and BBs. Pellets are our principal concern, but I'll test BBs, as well, since they can be used in this airgun.
Dennis told me what the performance curve looked like, but I'm going to approach this as if I know nothing about this gun. Where do I begin? Well, I may not know much about this particular PCP, but I've used enough other PCPs that I'm not completely in the dark. I filled the reservoir to 800 psi, as indicated on the gauge of my carbon fiber tank and then started loading Crosman Premier lite pellets and firing through the chronograph.
800 psi
1…..539
2…..509
3…..474
4…..441
5…..409
5…..361
Stop
Okay, the velocity dropped with every shot, so the valve is not on the power curve, yet. It wants to see more air pressure.
1,000 psi
1…..654
2…..634
3…..582
4…..556
5…..525
7…..483
8…..453
9…..417
10…384
11…345
Stop
Look at the velocity increase from just an additional 200 psi of pressure! That's an indication that we're quite far from the power curve. It took 5 shots before the rifle was shooting as slow as in the first string, so that extra 200 psi really added shots.
A word about the next part of the test is appropriate. The gauge on my tank doesn't show even divisions of pressure as closely as I would like. Instead of adding another 200 psi, I found myself guessing that I added another 300 psi. If I had a more accurate gauge, I could do this with greater control; but it's all going to turn out in the end. You'll see.
1,300 psi
1…..722
2…..695
3…..659
4…..did not record (DNR)
5…..593
6…..550
7…..516
8…..488
9…..DNR
10…423
11…DNR
12…DNR
13…309
Stop
This was interesting because there wasn't such a big increase over 1,000 psi as there had been when going from 800 to 1000, despite adding 300 psi rather than 200 psi. It took just 3 shots for the velocity to become equal to the 1,000 psi string (compare shot 3 from this string to the first shot of the previous string). The extra air pressure isn't doing as much as it did before.
1,500 psi
1…..791
2…..765
3…..751
4…..DNR
5…..706
6…..677
7…..645
8…..605
9…..570
10…542
11…500
12…466
13…428
14…DNR
15…357
Stop
1,800 psi
1…..808
2…..796
3…..786
4…..763
5…..753
6…..721
7…..699
8…..661
9…..625
10…600
11…566
12…524
13…DNR
14…442
15…405
16…366
Stop
Okay, look at the first 5 shots in this string. See how little velocity they lose compared to the first shots in previous strings? That's significant. It means the valve is beginning to operate more efficiently at this pressure level. Dennis told me that when he reached 1,800 psi, the rifle stabilized for him, as well. What we don't know and cannot know for sure is what pressure either Dennis or I actually used because neither of us has a calibrated pressure gauge. We're just guessing based on the inexpensive small gauges that come with all pressure tanks. But, whatever the exact numbers are, they're pretty much in the same ballpark.
We have a PCP that operates at 1,800 psi — or so. But when I say "operate," it isn't really operating the way we want a PCP to operate. We want to see a nice string of shots that are fairly consistent — some a little higher and some a little lower, but a nice string where the velocity is stable. We don't have that yet. What we have is a rifle that wants to operate at this fill pressure but probably needs a number of tweaks to get where we want it to be.
There's one more thing to do. Dennis and I talked about this, and he said if there's a weakness in this rifle, it's at the threads where the air reservoir is threaded to the brass valve. While the reservoir is way overbuilt, those threads are a place where not too much more strain can be applied. Dennis feels that it will be safe to 2,000 psi but not much higher. I agreed with him on that, so I did one last test at 2,000 psi.
2,000 psi
1…..853
2…..833
3…..823
4…..825
5…..820
6…..809
7…..799
8…..780
9…..762
10…746
11…717
12…687
13…654
14…624
15…588
16…550
17…513
18…472
19…434
20…397
21…DNR
22…298
Stop
Okay, adding 200 extra psi increased velocity significantly, plus it also gave us a greater number of consistent shots. I would call the first 7 shots fairly consistent, and the velocity doesn't really start to plummet until after shot 9. What this tells me is that the valve return spring is way off. It's probably too heavy. And Dennis has already criticized the valve itself. It's a poppet shape (looks like a top hat) instead of a valve with angled sides that mate with an angled valve seat.
Add to that an enlargement of the valve port (through which the air flows) that might help lower the operating pressure, and the new valve would handle the pressure better than this stock one that got pressed into service for which it wasn't designed.
What about BBs?
Okay, I can't end without giving you some BB velocities. Since the rifle works so well at an indicated 2,000 psi, I decided to skip all the early stuff and go straight to the string we're all interested in.
For this test, I used Daisy Premium Grade BBs that I know from measurement are both the largest and also the most consistent steel BBs on the American market. Since steel BBs run 0.171 to 0.173 inches in diameter, they're considerably smaller than .177-caliber lead pellets, no matter what their packages say. BBs are NOT 4.5mm!
2000 psi
1…..910
2…..900
3…..891
4…..871
5…..DNR
6…..856
7…..DNR
8…..DNR
9…..809
10….786
11….763
12….DNR
13….698
14….DNR
15….DNR
16….599
17….577
18….533
19….484
20….441
21….408
22….340
Stop
Like the pellets with a 2,000 psi fill, the first several shots with BBs are close to each other and after, perhaps, shot 6 or 7, the spread opens up. Of course, you have to realize that steel BBs going over 800 f.p.s. are extremely dangerous. Lead pellets start to disintegrate at velocities above 600 f.p.s.; and at 800 f.p.s., they almost vaporize when they hit a hard target such as metal. But BBs not only hold together, they absorb the energy of the impact and bounce back at nearly the same velocity. Believe me — you don't want to be hit by one!
What have we learned?
So far, we know this rifle works but is not a fully functional precharged pneumatic because it does not shoot a string of shots at a steady velocity. However, that doesn't stop us from proceeding with accuracy testing.
What's been proven by this test is that the idea of a $100 precharged pneumatic rifle is completely plausible. The needed changes have been pointed out; but as we proceed further, no doubt, other things will be revealed. That's the way of product development.
Remember this is a testbed — not a production rifle. Also remember the rifle that it was built from. We should expect accuracy to be similar to the Crosman 2100B, which is fully acceptable at this price point. And I'm going to select a string of shots whose velocities are relatively close to each other, so I probably won't be shooting 10-shot groups.
I'll need to do some things to the gun before starting the accuracy test, but I'll tell you about those things in the next report.
by Tom Gaylord, a.k.a. B.B. Pelletier
Airgun manufacturers: If you read this blog, today's report is one you'll want to pay attention to! When I announced last Friday that I would be writing this, I received more interest than any subject that's ever been raised on this blog. That makes this a subject of primary importance to anyone who wants to know what the consumer wants.
Blog readers: Many of you have not read or perhaps not understood all that I've said about this project. I am therefore going to explain it now in clear terms, so that everybody will know what I'm talking about. This project is a proof of concept. It is not a new airgun that's about to be built. I don't know if it will ever be made; and if it is, it probably won't look like what you're about to see. This is a single airgun that incorporates the features I've envisioned in a PCP that could retail for less than $100. A lot less, if you follow carefully.
The base gun used as the starting point for the project is a Crosman 2100B. That's a multi-pump pneumatic that has a lot of plastic on it and a soda-straw barrel. It's one of those dual-ammo rifles that shoots both BBs and pellets but has a rifled bore. As this report is written, Pyramyd Air has them priced at $59.95.

Dennis Quackenbush turned a Crosman 2100B multi-pump into a PCP by adding a reservoir where the pump mechanism used to be.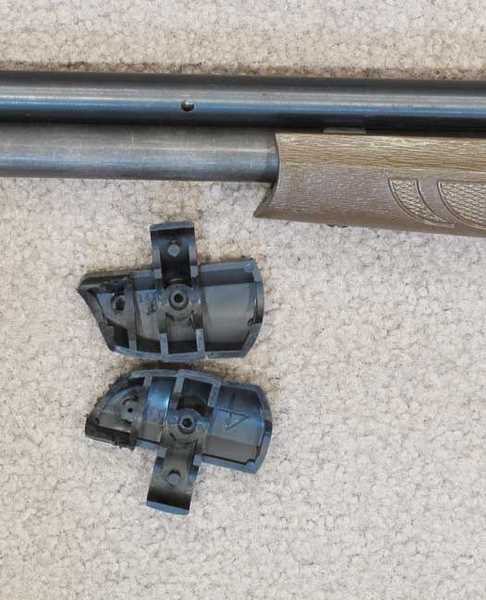 The forearm tip no longer has anything to attach to. It used to be the anchor for the pump pivot.
To convert the rifle, Dennis had to remove the multi-pump mechanism (pump linkage, pump anchor, pump head and rod and connecting hardware), including the tube that houses it. A steel hydraulic tube was installed in its place. Dennis chose SAE 1026 tubing that's 0.75″ diameter on the outside and has a wall thickness of 0.083 inches. That gives the tube a burst pressure rating of 14,386 psi — more than enough for this project. In fact, to use Dennis' words, it's overkill.
A tube with a thinner wall thickness would have more internal volume, but it would be marginal for the threads that Dennis cut inside the tube to attach to the brass firing valve. Thinner tubing would have to be pinned instead of threaded. It would still work fine and the burst rating would still be many times the expected operating pressure.
To complete the gun, Dennis had to thread the other end to accept a fill nipple. He also had to change the firing valve return spring because the thick-walled tube didn't allow sufficient clearance for the factory spring.
Cost to build
What are we looking at? The gun costs $60. The new reservoir tube has a nominal cost of $10. The fill nipple has a small cost, along with some other small parts. And Dennis has to get paid for his time to remove the factory parts, thread the new tube on both ends, install the new tube and seal it on both ends. He also had to turn the pump arm that swings into a forearm that attaches to the pressure tube. A special barrel hanger had to be made so he didn't need to drill and tap holes in the pressure tube. Takes about a minute to write about all the work and maybe 6-8 hours to do it. Do several and you'll find ways to shorten the time to perhaps 4 hours.
So — those who expect Dennis to go into business making this airgun want him to fork out $75 and spend 4 hours of his time to make $25. Does that seem fair? Of course not! Even if he could cut a deal with Crosman or a distributor to lower his out-of-pocket expenses for the starter rifle, he's still working for peanuts.
Crosman, on the other hand, could do something like this with great efficiency! They could make small adjustments to the manufacturing process upstream, so this gun wouldn't cost them any more to build than the 2100B — or if it did cost more, the difference would be quite small.
So, why don't "they" do it? Well, I expect our comments will provide some answers. For starters there will be those who find plastic on airguns to be poison. No plastic for them! And the soda-straw barrel will also turn them off. What are "they" trying to foist on us? Don't "they" know that plastic and cheap barrels turn us off?
Well, I'm not doing this project for people who feel that way. This is a precharged airgun that can retail for less than $100, and corners have to be cut. We don't ever skimp on safety, but performance? Forget performance! You're going to get a soda-straw barrel and lots of plastic for under $100, and you'll be happy with it.
Believe it or not, there are a lot of shooters out there who would be thrilled to get a PCP for under $100. They would accept the thin barrel and the plastic, knowing that this is the only way they will ever get close to their goal of an affordable PCP. Those are the ones I'm doing this project for. The others can buy the more expensive PCPs and make all the comparisons they want.
So what?
Is such a PCP worth the effort? What kind of velocity will it have? What kind of accuracy? How many good shots will it have per fill? Is it an airgun worth having, or is it just a dream that was poorly executed? We talk about these things on this blog all the time — but today, thanks to Dennis Quackenbush, we actually have one we can test.
I thought you readers would really enjoy the rifling twist-rate test I did this year and last. I published 13 parts of that report; and by the end of it all, I was standing alone in my field, listening to the crickets chirp. I also published the entire test in Shotgun News as a feature article and, while the editor got excited along with me, there were more crickets chirping. It's clear that I don't always know what will turn your crank.
However, if the comments that came in when I merely mentioned this test was coming are any indication, many of you are very interested. And now you understand what this is.
This gun has a cheap soda-straw barrel (one made from very thin steel tubing). It's rifled with a compromise rifling that's good for both lead pellets and steel BBs. The trigger is the same one that's on the Crosman 2100B that I tested for you. So, expect accuracy like you saw in that test. It wasn't that bad, as you will see, if you bother to read that report. As for velocity, well, I already know what it is, but I'm not telling today. That will come in Part 2, like it always does.
My goal
The point of this test is to see if a gun can be made this way, and, if it can, how will it perform? I'm not going to tune this rifle to turn it into a viable air rifle, if it isn't one already. I just want to know if it works. If it does work, does it work good enough that it would be worth building a commercial rifle just like it? In short — is this worthwhile?
I haven't mentioned numerous things. Things like the fact that larger-diameter tubing could have been used, if the design was altered upstream in the manufacturing process. The cost wouldn't have been that much more because the alterations would have been made with cost control in mind. Obviously this rifle could also be made as a .22. Is that of interest to anyone? There is a Crosman 2200, you know. A better trigger could be made if there was corporate support for one.
I also haven't talked about the obvious point that the fill pressure of this gun will be lower than even that of the Benjamin Discovery. Because of that, the wall thickness of the pressure tubing can be much thinner than what's been used here, meaning a production rifle could hold a lot more air than this one. So, whatever shot count we see here can easily be increased with very little additional cost, if any.
And the valve can be modified by an engineer to work best at the pressure that's available. The new valve will be different than the one in this test rifle, but it doesn't need to cost any more money.
In short, I'm testing a concept — not a production air rifle. The final rifle can be so much more than the one I test for you, yet the cost to produce can easily be held in check to ensure that a retail price of less than $100 is entirely possible. I'm tired of being told by airgun companies why something can't be done, and now Dennis Quackenbush has made it possible that I don't have to. None of us do.
But this is not a high-quality air rifle that's made of wood and steel. You can't build a PCP for under $100 and have those things. This is an air rifle for those guys who want to try out PCPs but don't want to spend large amounts of money getting them. And also for guys who just don't have the money to spend — period. That doesn't mean that it has to be inaccurate — but don't expect a Lothar Walther barrel. And accept plastic for what it is. You accept it on Glocks — expand your horizons.
This project promises to be quite interesting. It will answer questions I've wondered about for close to a decade. Because there's a real air rifle to test, it will put an end to all the loose discussions and blue-sky dreaming that goes on…because this rifle now exists!
I'll end with a thought from Dennis. If this rifle is worth making, then a lower-cost hand pump (that would fill only to a lower pressure) would also be extremely good to have. He's thinking about that one right now.
by Tom Gaylord, a.k.a. B.B. Pelletier
We're back to the BSA Scorpion 1200 SE. When we last tested it, we looked at the velocity and discovered this is a 30 foot-pound air rifle. So, its primary purpose is hunting. I thought that meant I should test some heavy .22-caliber pellets, but I also included a middleweight.
This test was done at 50 yards. I never shot the Scorpion indoors at 25 yards because it's so loud. I went straight from mounting a scope to shooting at 50 yards. As it turned out, that cost me several more shots than normal to get on paper.
I scoped the rifle with the UTG 6-24X56 AP scope with illuminated reticle.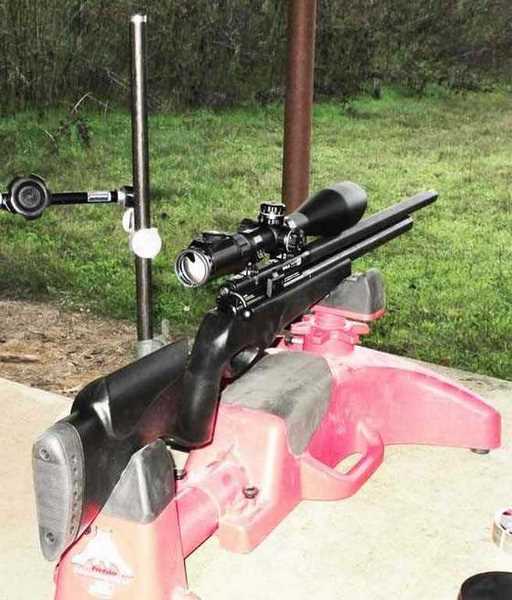 The rifle is scoped with the UTG 6-24X56 AO. It compliments the range of this rifle well.
I knew the scope would be right for the Scorpion because BSA PCPs are very accurate. I wanted a lot of power in the scope to compliment the long-range capability. This scope gave me what I was looking for.
Beeman Kodiak
The first pellet I tried was the 21-grain Beeman Kodiak. The first group wasn't good because the wind kicked up just as I fired a couple of the shots. Sure enough, the 10 holes had a horizontal spread. They measure 1.006 inches between centers, which isn't bad, but I felt this pellet deserved a second chance.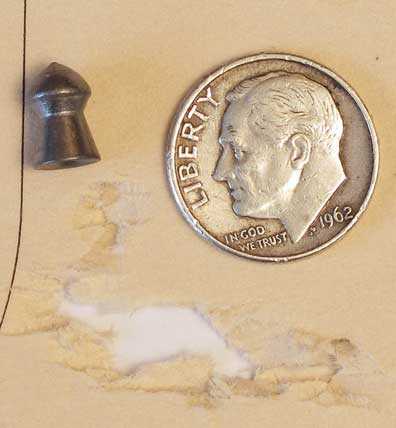 The first group of Beeman Kodiaks measures 1.006 inches between the 2 farthest centers.
The second group of 10 Kodiaks measures 0.926 inches between centers. Although that isn't that much smaller than the first group, this group is rounder; and I feel it's representative of what Kodiaks will do in this rifle.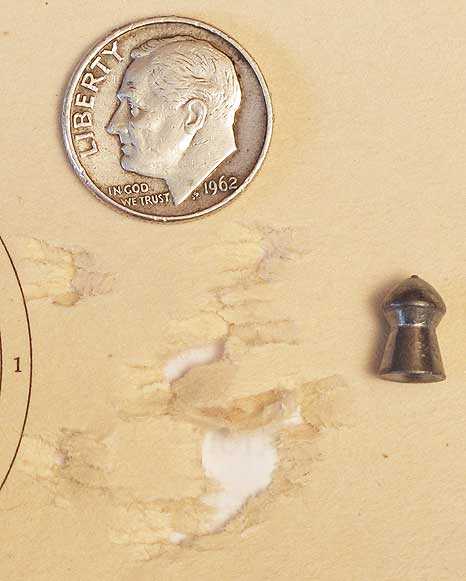 The second group of Beeman Kodiaks measures 0.926 inches between the 2 farthest centers. It is much rounder than the first group.
Eun Jin dome
I said during the velocity testing that the 28.4-grain Eun Jin dome would probably be good if you were seeking the maximum knockdown power at long range. They developed an additional foot-pound of muzzle energy. They've never been the most accurate pellets, but in some PCP rifles they do deliver credible accuracy.
Not in the Scorpion 1200 SE, though. The Eun Jin gave a large groups with a pronounced vertical spread. It measures 1.488 inches between centers and was the largest group of the test. I don't recommend this pellet in the Scorpion 1200 SE.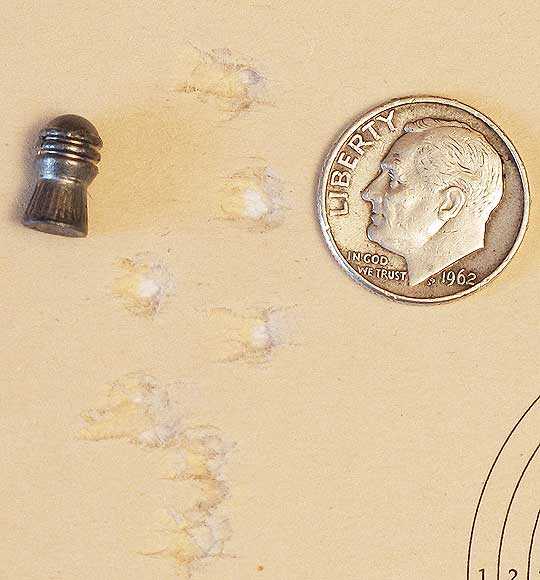 Ten Eun Jin domes went into 1.488 inches at 50 yards. The group is very vertical.
JSB Exact Jumbo Heavy, 18.1 grains
Next, I tried the JSB Exact Jumbo Heavy domed pellet. This one is between the medium-weight JSB Jumbo and the heavier Beeman Kodiak, so it gives better velocity with some good power retention. If it shoots at least as well as the Kodiak, it would be worth choosing.
But it doesn't just shoot better — it shoots WAY better than the Kodiak in the Scorpion 1200 SE. Ten pellets made a group that measures 0.792 inches between centers. The group is very round, as you can see, so we know this pellet is a keeper!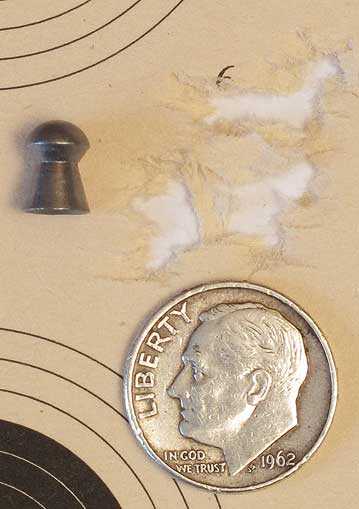 Ten JSB Exact Jumbo Heavys went into this 0.792-inch group at 50 yards. This is the best group of the test, and this pellet is the clear choice for this rifle.
JSB Exact Jumbo 15.9 grains
The last pellet I tried was the 15.9-grain JSB Exact Jumbo. Sometimes this pellet is the best in a PCP rifle, so it had to be tried. This time, however, was not one of those times. Ten pellets made a 1.332-inch group that was not as tight as the Kodiaks or the 18.1-grain Exact Jumbo Heavys. And no wind caused the horizontal spread of these pellets.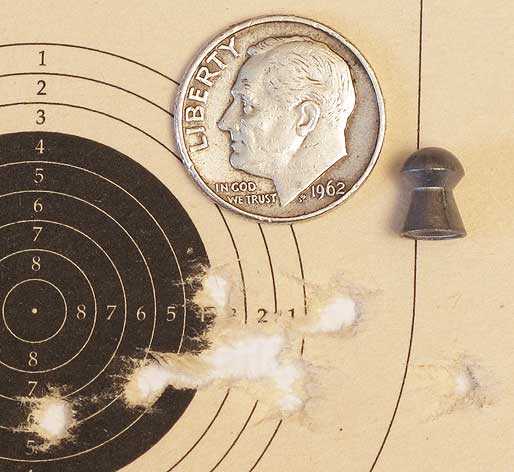 Ten 15.9-grain JSB Exact Jumbos went into this 1.322-inch group at 50 yards. It's very horizontal. Nothing seen here makes me want to use this pellet in the Scorpion 1200 SE.
Conclusions
The BSA Scorpion 1200 SE certainly has the power and accuracy needed to be a good hunting rifle. I like the way the stock balances in my hands when shooting, as it's heavy at the muzzle. I don't care for the fact that it needs 232 bar of fill pressure because that drains even a carbon fiber tank quicker than a 200 bar fill. It does, however, get a reasonable number of powerful shots per fill (25).
The 10-shot magazine is flawlessly reliable. There was never a misfeed in the entire test. And the magazine is below the top of the receiver, so it never interferes with the scope. The trigger is light enough, but I don't care for the stage 2 creep that I found impossible to adjust out.
I would recommend this rifle to all who like its looks and features.
by Tom Gaylord, a.k.a. B.B. Pelletier
It's been some time since I did Part 3 of the Evanix Rainstorm 3D bullpup rifle. Just to remind you of where we left off, I found the gun difficult to shoot with the UTG 3-9X32 Bug Buster rifle scope because of the medium-height scope rings. I removed that scope and mounted the UTG 3-9X40 True Hunter rifle scope that comes bundled with high 2-piece Weaver rings. They were better, but even they seemed a bit too low because of the bullpup configuation. This is the same scope I used in the test of the Hatsan AT P1 PCP pistol.
Today's test was done at 50 yards on an outdoor rifle range. The weather was perfect, without a hint of breeze. I didn't sight-in the scope before going to the range, so I sighted-in at 50 yards. Luckily, the scope wasn't that far off, and I was on target in 3 shots.
The 25-yard test that was done in Part 3 showed that only 2 pellets were worth trying at 50 yards. I shot just them and nothing else.
I also want to remind you that the rifle likes to be filled to 2,900 psi according to my tank's gauge. It has more than 10 shots on a fill, but it does go through air pretty quick. So, just for continuity, I refilled after every group.
JSB Exact 15.9-grain domes
I sighted-in with the best pellet from the earlier test, which was the 15.9-grain JSB Exact Jumbo Heavy. Since the third shot landed where I wanted, I continued to shoot and made an 8-shot group for starters. That group measured 0.961 inches between centers. I noted that the bullpup-style stock made the rifle difficult to hold steady on target, so this group was as steady as I was able to hold. I was fighting the trigger, which breaks at 6 lbs., 10 oz. It's hard to hold on target with a trigger this heavy. Also this rifle is tall and narrow, so it wobbles from side to side when you hold it. I didn't see a way around that at first, but then I figured it out.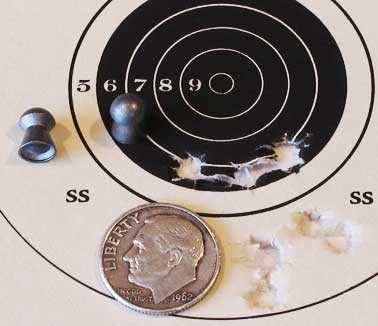 Eight JSB Exact 15.9-grain domes landed in 0.961 inches at 50 yards. The shots are a little low, so I adjusted the reticle up a couple clicks after shooting this group.
Next, I shot a 10-shot group with the same JSB Exact Jumbo Heavy pellets. The rifle's circular magazine holds 11 pellets, but I loaded it with only 10 to keep things consistent with most of my other 50-yard tests.
The scope had been adjusted higher for this group, so the shots landed higher on the bull. Ten pellets made a 1.501-inch group. I must comment that during this group I saw the crosshairs move around on the bull a lot more than I would like. That heavy trigger caused it. In the group that resulted, I see 2 separate points of impact that are one above the other. That isn't what I would expect a sideways wobble to produce, but something was wrong with my hold. I had to solve that first.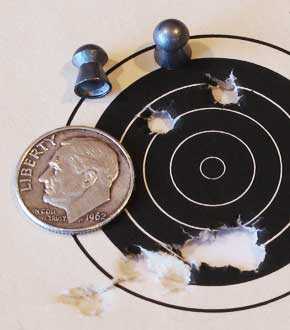 This is the first full 10-shot target that was fired at 50 yards with the Rainstorm bullpup. It measures 1.501 inches. Eight pellets went into 0.941 inches.
Toward the end of the first full group, I found a way to stabilize the rifle pretty well. I was shooting off a sandbag rest that helped with stability, and I found that if I gripped the frame tight (where the forearm would be on a conventional rifle) the wobble stopped. That made me more confident that the group I would be getting was what the rifle could actually do.
Following that group, I shot a second group of 10 JSB Exact Jumbo Heavies that measured 1.406 inches between centers. This one is fairly well centered on the bull and doesn't have the 2 separate points of impact like the first group. I think the improved hold was responsible, although I can't see why a sideways wobble would do what I'd seen before. Maybe the wobble was greater than I thought?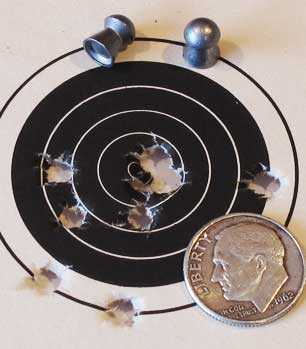 The second full group was a little smaller than the first — at 1.406 inches between centers. I felt the rifle was held well for this group. This is as good as this pellet can do (in general) in this rifle with me on the trigger.
Beeman Kodiaks
Next, it was time to try 10 Beeman Kodiak, which was the second-best pellet at 25 yards. It didn't do as well. The first few shots scattered all over the place, landing far to the left of the aim point and also a bit lower. When all 10 shots were finished, I had a 2.32-inch group that looks more like a shotgun pattern than a group from a rifle. However, I must note that 9 of those shots did land in a 1.331-inch group. But the one lower shot that opened the group wasn't the last one. It was the third shot. Based on that, I would scratch Kodiaks for this rifle and stick with the JSB Exact Jumbo Heavies.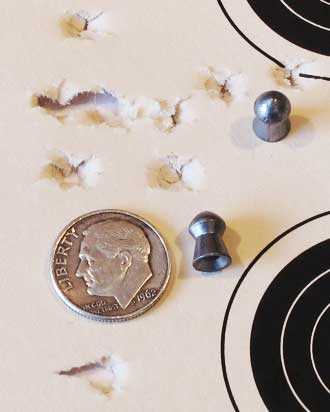 Beeman Kodiaks went all over the target. Ten made this 2.32-inch group, although 9 of them passed through 1.331 inches.
Overall impressions
I've come to the end of my test of this air rifle. It's been an interesting journey, and I've learned some things from it. First, when you scope a bullpup, get the highest scope rings you can. Ring risers might be a good idea. Second, the idea that bullpup actions have poor triggers is apparently true. And finally, when the cross-section of your rifle is as flat as a flounder, it will be harder to hold steady.
The Evanix Rainstorm 3D bullpup rifle is definitely a different beast! It holds different and shoots different than a conventional PCP. If you're looking for the bullpup styling, then either this or the Evanix Max bullpup is the airgun you want. It will produce acceptable accuracy out to 50 yards when you do your part. Just remember that the trigger is stiff and creepy, and the rifle needs a firm hold.
by Tom Gaylord, a.k.a. B.B. Pelletier
We're back to the BSA Scorpion 1200 SE. My hand has finally healed, and I can now work the Hill hand pump, but I stopped part of the way through the first fill and made the necessary changes to the carbon fiber tank hose, to attach BSA's proprietary fill probe. I gave up because I just got tired of pumping! Those who encouraged me to do this from the beginning have won me over, I guess.
This PCP rifle takes a fill to 232 bar, which is 3,365 psi. We've looked at fill pressures for pneumatics a lot over the past month, and today we'll see what this BSA rifle manages to do with its fill. The advertised number of shots is 25 per fill.
Because of the power potential of this rifle, I switched my backstop to the tough one blog reader Jim Contos made for me. If you want to read about this fine homemade quiet pellet trap that's strong enough to stop the most powerful smallbore air rifle, here's the link.
Familiarization with the magazine
After 10 minutes of trying (and failing) to load the 10-round spring-loaded magazine, I was prepared to blast BSA for creating a magazine that's impossible to load. What we had, instead, was a B.B. who refused to learn new ways. The magazine loads easily once you do it the right way! I took a photo of the correct hold, so you won't have the problems I did. Hold it like this and realize that BSA has designed this mag so the last pellet loaded holds the spring-tensioned drum in place until you're ready to load the next pellet, and everything will be fine.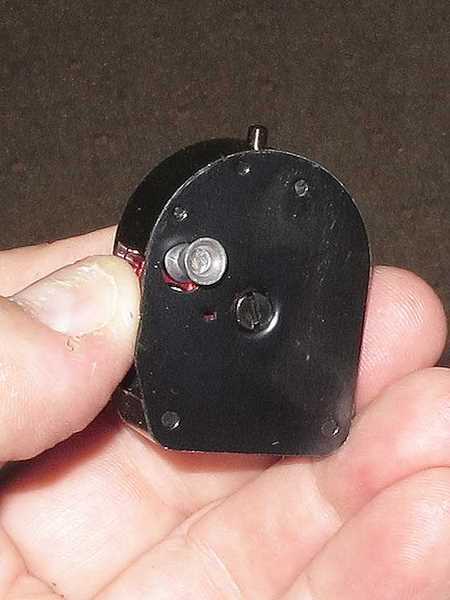 I'm holding both sides of the spring-loaded drum, making it easy to advance to the next pellet chamber. Once a pellet is loaded, it holds the drum in place until you advance it.
The magazine accepted all 3 of the pellets used in this test without a problem. They're among the heaviest and longest .22-caliber pellets on the market, so I think you'll be satisfied no matter what you try to shoot.
Pellet 1 — JSB Exact Heavy and the shot count
The 18.1-grain JSB Exact Jumbo Heavy pellet averaged 883 f.p.s. in the rifle. The velocity ranged from 875 to 888 f.p.s. over 25 shots. And 25 shots proved to be the limit, exactly as advertised. After shot 25, the next 5 pellets went this fast.
Shot….Velocity
26………876
27………870
28………866
29………866
30………860
Clearly, the rifle has just fallen off the power curve but in slow motion. So there are actually 30 safe shots on a fill, and that equates to 3 full magazines. I'm so glad BSA publishes accurate figures for these things, as many other airgun companies seem to have no clue what's right!
At the average velocity, this pellet produced 31.34 foot-pounds of muzzle energy. And I bet this pellet is also accurate, though that has to wait until I get out to the range, because this rifle is too loud for shooting inside the house. I took a risk by chronographing it for today's report, but that's as far as I'm willing to go.
Pellet 2 — H&N Baracuda
The second pellet I tested was the 21.3-grain H&N Baracuda Match. These are longer pellets that sometimes have difficulty feeding through rotary magazines like the BSA's, but there was no problem today! They averaged 815 f.p.s. and ranged from 811 to 819 f.p.s. At the average velocity, they produced 31.42 foot-pounds of energy at the muzzle.
The Baracuda is another pellet that should prove very accurate in this rifle. They should be the best pellet at 50 yards, but that remains to be seen.
Pellet 3 — Eun Jin
The third and final pellet I tested was the 28.4-grain Eun Jin dome. This is a very long pellet and may be the longest that will work safely in the BSA magazine. But they did fit perfectly and had no hangups once I learned how to load the magazine correctly.
Eun Jins averaged 718 f.p.s in the test rifle. They ranged from a low of 713 to a high of 726 f.p.s. At the average velocity, they produced 32.52 foot-pounds of energy at the muzzle. In other rifles, these pellets have never been the most accurate at 50 yards, but they have often been accurate enough to use as hunting pellets. However, as close as H&N Baracudas are in power, I would choose the most accurate of the 2 pellets after we test them at distance.
The velocity remained very tight throughout the entire fill with all 3 pellets that were tested. That means BSA has balanced their valve to work with exactly the amount of air they recommend using. And the fact that they got exactly the number of powerful shots they advertised was a welcome bit of news. Also, 25 shots is a good number for a rifle in this power class.
Adjusting the trigger
I mentioned in the first report that I would be adjusting the trigger in this report. To do that, the action is removed from the stock. The sear is a direct-contact type, so care must be exercised to not get the engagement surfaces too small, or the trigger will be in danger of jumping off from a bump.
The owner's manual is a single sheet of paper printed on both sides, but the instructions for adjusting the trigger are good and thorough.

The screw on the left adjusts the trigger-pull weight of the second stage. The nut and screw in the center adjusts the sear contact area and then locks in place. That adjustment affects the length of the second-stage pull. The screw under the trigger blade on the right adjusts the first stage and should not be touched, according to the manual.
I adjusted the trigger as light as it would go and set the sear as close as it would go and still be safe. The trigger still has significant creep in stage two, but it's light and breaks at 2 lbs., 4 oz. I can work with it set this way.
50 yards next
Because of the rifle's power, I'm going to skip the 25-yard test and go straight to 50 yards. If I'm successful, we should see accuracy that will override shooting at 25 yards, anyway. If I discover that's the wrong way to do the test, I'll change at the range and shoot at 25 yards first.