The Gauntlet 2 precharged rifle from Umarex.
Part 1
Part 2
Part 3
Meopta MeoPro Optika5 2-10X42-PA: Part 1
Part 4
Part 5
This report covers:
The baseline
Small gauge onboard
Today's test
What just happened?
Trigger still pings
Trigger sticks in place
Next time
I was all set to do an accuracy test with the FWB 600 today when I discovered that the rifle's front sight is a running target sight. It is way too tall for the standard 10-meter target rifle and, with the rear sight adjusted as high as it will go, the rounds still hit the target 5-inches or more low. I put in a call to Scott Pilkington to see what can be done and I moved on to today's topic — the Umarex Gauntlet 2 precharged pneumatic rifle.
Today I'm going to answer that little question of how many shots can be gotten from the Umarex Gauntlet 2 on a 3,000 psi fill. You may recall that this rifle should be filled up to 4,500 psi or 310 bar. But that presents a problem for many shooters who want to fill from a hand puimp because they don't have a high-pressure compressor or a carbon fiber air tank that goes that high. And in Part 2 we learned that the Gauntlet 2 gets a lot of shots on a fill.
Reader Halfstep asked if I would test the rifle on a 3,000 psi fill. He also mentioned filling it that high from a hand pump, but 74-year-old BB doesn't need to stress himself that way when he owns both a compressor and two carbon fiber air tanks. I thank several other readers for setting me straight on that one.
The baseline
When we tested the regulated Gauntlet 2 for velocity in Part 2 we found that it got 76 powerful shots from a 4,500 psi fill. Across all those shots the JSB Exact Jumbo Heavy pellet varied from a low of 846 to a high of 867 f.p.s. That is a 19 F.P.S. difference. We will use those numbers for a baseline as we look at today's test.
Small gauge onboard
The onboard pressure gauge is too small to use when filling this rifle. I used the larger gauge on my air tank. After filling and allowing 15 minutes for the reservoir to cool down I noted that the onboard gauge read 3,000 psi. It's too small to watch while filling, but when things aren't rushed it does work.
Today's test
For today's test I used the Same JSB Exact Jumbo Heavy pellet. Here are the results.
Shot…….Velocity
1…………..871
2…………..854
3…………..873
4…………..860
5…………..860
6…………..855
7…………..866
8…………..871
9…………..863
10…………863
11…………861
12…………855
13…………858
14…………859
15…………860
16…………854
17…………854
18…………852
19…………848
20…………859
21…………857
22…………857
23…………858
24…………858
25…………864
26…………858
27…………857
28…………845
29…………858
30…………857
31…………855
32…………850
33…………856
34…………no pellet came out
At this point I removed the magazine to see if it was functioning correctly. Apparently it was because the next pellet to be fed was in line waiting for the bolt.
Shot…….Velocity
35…………850
36…………838
37…………840
38…………841
39…………did not register
40…………814
41…………829
What just happened?
There are several ways to look at this. First, we can say that a 3000 psi fill of the Gauntlet 2 gives 35 good shots. If we arbitrarily select shot number 35 as the final one, the slowest shot in the string was number 28 that went out at 845 f.p.s. The fastest shot was number 3 that went out at 873 f.p.s. that is a difference of 28 f.p.s. across 35 shots. It's a little more variation than we saw when I filled the rifle all the way (76 shots that varied by 19 f.p.s.), but it's still not that bad.
If 28 f.p.s. is too wide a variation you could stop at shot number 27 and then the variance would be from 848 (shot 19) and 873 (shot 3) — a difference of 25 f.p.s. It's not really that much better and you lose 8 shots doing it.
Or you could get really anal and say that you will stop after the first 15 shots. That gives you a string where the low is 854 and the high is 873. That's 15 shots with a variance of 19 f.p.s., which is identical to what we saw for 76 shots when the rifle was filled to 4,500 psi. If you look at it that way, maybe filling to 3000 psi doesn't seem like such a good thing, because you only get 15 shots when a 4,500 psi fill gives 76.
What I'm explaining is there are several different ways to look at this. While achieving the Gauntlet 2's 4,500 psi fill is restrictive for some shooters, you can get by with a 3,000 psi fill and do okay if you are willing to make allowances. And don't overlook this — if I was to run a second string of 76+ shots on a full fill, who is to say the variance wouldn't be greater than 19 f.p.s.?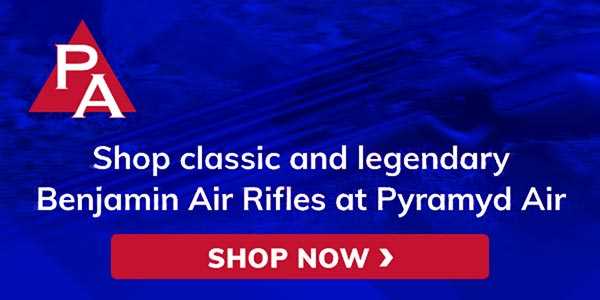 Trigger still pings
Remember I said the trigger makes a pinging sound just before the rifle fires? That still happens, which will help me shoot the smallest groups possible.
Trigger sticks in place
Several times in today's test the trigger blade stuck in the back position. I had to pull it back again to get it to release and go forward again.
Next time
Now that I have answered the 3,000 psi fill question I want to do another 25-yard accuracy test. The rifle comes with a single-shot tray and that's what I want to test next.