RAW HM-1000X precharged air rifle: Part 5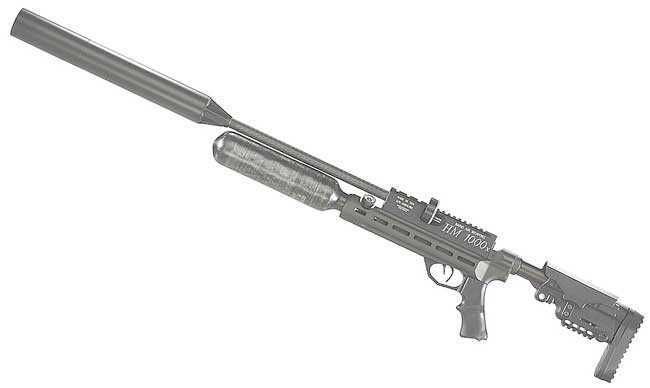 The new RAW HM-1000X chassis system.
This report covers:
The test
H&N Field Target Trophy
Air Arms Field Heavy
Predator Polymag 16 grain
JSB Ultra Shock
H&N Baracuda Match 5.53mm
H&N Slug HP
H&N Baracuda 18
JSB Hades
Discussion
Summary
Today I test the RAW HM-1000X Chassis System at 25 yards. I will refine the sight settings and seek good pellets.
The test
I shot 5-shot groups off a sandbag rest from 25 yards. I tested eight different pellets, and the results encourage me to run this test again. You will see what I mean.
I will post each pellet with its group and then make a general discussion.
H&N Field Target Trophy
I've not had any luck with H&N Field Target Trophy pellets. Today the HM-1000X put five in a 0.643-inch group at 25 yards. When you see what the other pellets did this group will look really poor.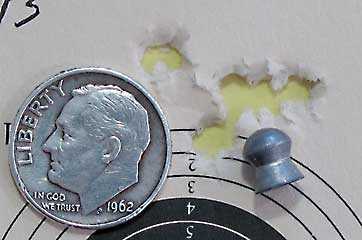 The RAW HM-1000X put five Field Target Trophy pellets into this 0.643-inch group at 25 yards.
Air Arms Field Heavy
The RAW HM-1000X put five Air Arms 18-grain Field Heavy domes into 0.126-inches. As someone yesterday predicted, the 10-meter results would be extended to 25 yards. I really need that widow's mite! And I have ordered one, but it's not a Lepton. Instead I found a neat little silver coin from India that is smaller and more uniform. The problem with the widow's mite is they weren't struck well and some are larger than the gold dollar.
After the first group I cranked in some down elevation. Didn't want to hit the center of the bull, but to at least get the pellets inside.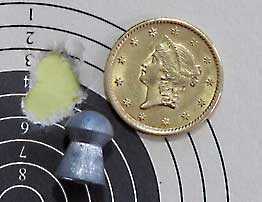 From 25 yards the RAW HM-1000X put five 18-grain Air Arms domes into 0.126-inches.
Predator Polymag 16 grain
The next pellet I tested was the Predator Polymag 16-grain hollowpoint. The second shot blew my aim point away and I do believe I could have done better if it hadn't. Still, five pellets made a group that measures 0.302-inches between centers.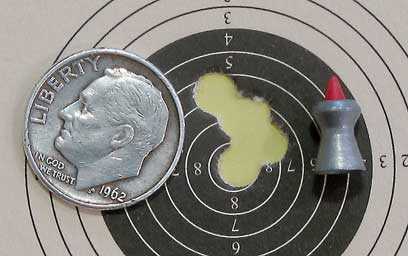 Five Polymags went into this 0.302-inch group at 25 yards, but shot two blew the aim point away.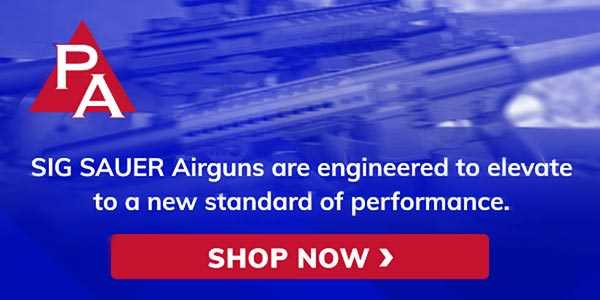 JSB Ultra Shock
The next pellet I tried was the 25.39-grain JSB Ultra Shock. Five of them went into 0.337-inches at 25 yards. I knew they would go lower because they are so heavy.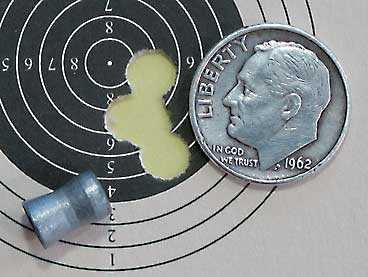 The RAW put five JSB Ultra Shock pellets onto a 0.337-inch group at 25 yards.
H&N Baracuda Match 5.53mm
Next to be tested was the H&N Baracuda Match dome with a 5.53mm head. The RAW HM-1000X put five into 0.065-inches, which is not only the smallest group of this test but it's also one of the smallest 5-shot groups I have ever shot!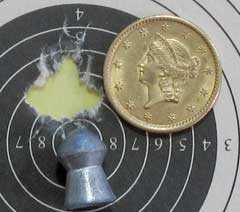 Five H&N Baracuda Match pellets went into 0.065-inches at 25 yards.
H&N Slug HP
Next to be tested were five H&N Slug HP bullets. These are the 0.218-inch bullets that weigh 23 grains. Five went into 0.20-inches at 25 yards. So close to the trime, and yet just too large.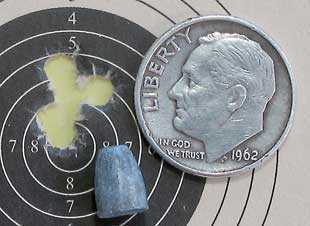 Five H&N Slugs went into 0.20-inches at 25 yards. As you can see, my aim point was just barely preserved.
H&N Baracuda 18
The H&N Baracuda 18 pellet has shown remarkable promise in the past several tests it has been in. Today it shot the second-smallest group of the test — five pellets in a mere 0.075-inches at 25 yards! This RAW can really shoot.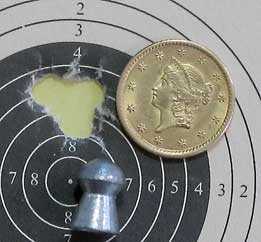 Five H&N Baracuda 18 pellets went onto 0.075-inches at 25 yards.
JSB Hades
The last pellet I tested today was the new JSB Hades hollowpoint. In past tests they have done quite well, but not this time! Five made a 0.636-inch group at 25 yards. Hardly the pellet for this rifle, given what we have seen.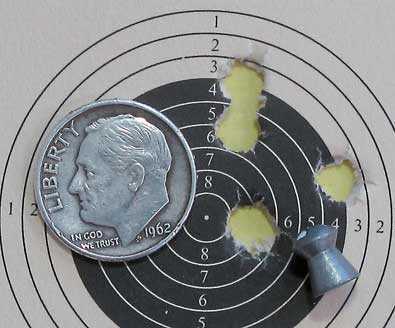 Five Hades pellets made this 0.636-inch group at 25 yards.
Discussion
Somebody is bound to say something like, "Well, that's what a $1,900 air rifle should do!" I suppose it is, but you go out and find another that does this well. Not all of them do. Out of 8 pellets tested, three got the gold dollar that is awarded to groups smaller than 0.15-inches between centers. And a fourth pellet that is actually a bullet is on the cusp of getting a trime, which is reserved for groups that are smaller than 0.20-inches between centers. And all of this was shot at 25 yards!
Yes, these are only 5-shot groups that really aren't the best test for accuracy, but they sure do show a lot of promise! In fact they show so much promise, and BB is having so much fun with this RAW (and doesn't want to give it back!) that he plans to conduct a second 25-yard test, just to select the best pellets to move on with.
Summary
A week ago I was starting to feel like I was only writing about spring-piston airguns. This series has changed that! Don't give me any grief about how expensive it is. I know that, too. But I can always drag out one of my Sharpshooter rubber band guns to shut you all up!
Tags In
Tom Gaylord is known as The Godfather of Airguns™ and has been an airgunner for over a half-century, but it was the 
Beeman
 company in the 1970s that awoke a serious interest in airguns. Until then, all he knew were the inexpensive American airguns. Through the pages of the Beeman catalog, he learned about adult airguns for the first time. In 1994, Tom started
The Airgun Letter
 with his wife, Edith. This monthly newsletter was designed to bring serious reports about airguns to the American public. The newsletter and
Airgun Revue
, a sister magazine about collectible airguns, was published from 1994 until 2002, when Tom started
Airgun Illustrated
-- the first American newsstand magazine about airguns. Tom worked for three years as technical director at
AirForce Airguns
, the makers of the 
Talon, Condor, and Escape
 precharged air rifles. Today, he writes about airguns and firearms for various publications and websites. He also makes videos, and you'll find short clips embedded in some of his artices on Pyramyd Air's website. Tom is a consultant to Pyramyd Air and writes under the name of B.B. Pelletier.