Posts Tagged 'target rifle'
by B.B. Pelletier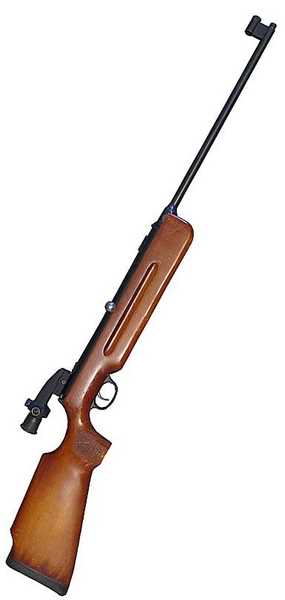 The Haenel 311 is the world's only bolt-action spring-piston 10-meter target rifle.
Today is accuracy day for the Haenel 311, and the day holds a couple surprises and should be a fun read. Because of the crude design of this rifle, I don't shoot it that often and I forget just how well it shoots.
The 311 is a recoiling spring-piston air rifle and, as such, has to be held with the artillery hold for best results. I needed to be reminded of that.
Also, I tend to shoot smaller groups with the Ballard .38-55 rifle at 100 yards when I wear my glasses. But when shooting a 10-meter rifle I tend to do best without them. Since I haven't shot at 10-meter targets in a while, that was another point that needed to be remembered.
Finally, the 311 rear sight adjusts for lighting conditions. But it only works if you remember to adjust it.
So the first few groups I shot were horrible because I held the rifle too tight, wore my prescription glasses and didn't adjust the peep size. Then, I figured out all three things at about the same time and the rifle caught fire — at least with one pellet. And that was the other thing that surprised me in this test. The cheap eastern-European target rifle scorns high-priced target ammo from the best pellet makers. Instead, it loves the cheapest wadcutters on the market. I know that will disappoint many of you, but that's how it is.
RWS Hobbys
I sighted-in with RWS Hobby pellets. Why a 10-meter rifle ever needs to be sighted-in is beyond me, because what other things would you do with them besides shoot them at 10-meter targets? Well, maybe not you. I guess I'm talking about me. Nevertheless, the rifle was hitting the edge of the bull when I started and required about 30 clicks of left adjustment to get the pellet close to the center. As I'm not really keeping score, I stopped when the first pellet was close enough.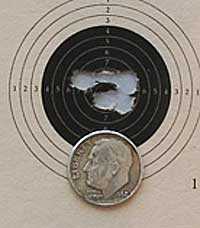 Five RWS Hobby pellets at 10 meters. Not very impressive for a target rifle. This was shot when I was doing everything wrong.

And this is the very next group of Hobbys after I took off my prescription glasses and made the rear sight aperture smaller for greater depth of vision. This is still not a good group, but it does look better than the first one. Hobbys are probably not a good pellet for the 311.
H&N Finale Match Pistol
The next pellet I tried was the H&N Finale Match Pistol pellet. This pellet has always been good in my 10-meter rifles. Maybe it's not the best in every rifle, but it's among the top three almost every time. Well, I used perfect technique to shoot the group you are about to see.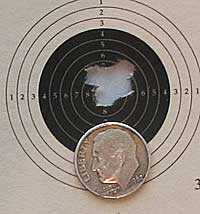 H&N Finale Match Pistol pellets did this at 10 meters. It looks like a group fired by an Avanti 853 to me. It would be acceptable for a junior target rifle, but not for a precision-class rifle. The technique was perfect, so this is not a good pellet in my 311.
Gamo Match
I said I would try the new Gamo Match wadcutter in the 311, even though I didn't hold out a lot of hope for it. As I shot the first group, I was holding the rifle in a good soft artillery hold and pulled the fourth shot. It was so obvious that I exclaimed, "Oh no!" aloud and Edith heard me in her office. You can see the results of pulling that shot on the target.

And that's what it looks like when you pull a shot and are able to call it. The four are in a very nice group, however, so I decided to shoot another group using (hopefully) perfect technique.
Since the four shots were in such a tight group, I decided to shoot another group, and this time watch both my technique and the sight picture very carefully. Before I show you the group, I want to answer the question that some readers are asking right now. Isn't this what I'm supposed to do every time I shoot? Yes, it is; and if I were a world-class shooter, I would be able to do it. However, that takes a state of concentration that I've never achieved. Shooters who compete will understand.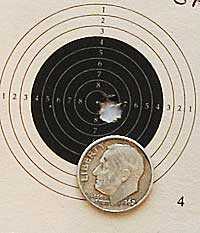 And there it is. This is the best 10-meter group I've ever shot with any target rifle. It's so close to zero that I won't even attempt to measure it. Five Gamo Match pellets went through that little hole.
I told you there were some surprises in today's report. Will I ever be able to repeat that group? Probably not. Is the group representative of what the 311 can do? No, I don't think that it is. Everything had to be perfect for a group like that to be shot — even from a rest at just 10 meters! But I was curious about the possibility of repeating it, so I shot another group of Gamo Match, just to see.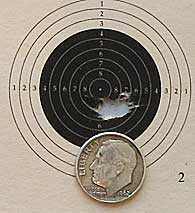 Here's the very next group. I held just as steady and sighted just as well. This is probably representative of what the 311 can do with these Gamo Match pellets. This 5-shot group measures 0.163 inches between centers.
Wrap-up
So what can I say about the Haenel 311 target rifle? Well, it's more accurate than its styling would seem to indicate, but it's a crude rifle from the standpoint of ergonomics and powerplant operation. Yes, it can shoot alongside the FWB 300S, but it takes a huge amount of technique to do so. The 300S is easy to shoot, in comparison.
The Haenel has a heavier trigger than I like in a target rifle. It's very positive, but I would like it to be a few ounces less and have a positive stop after the release.
All things considered, the Haenel 311 is a swell target rifle for just $59. That was all it cost when they were first available to American buyers. You'll now pay $250 and up for the same gun, and I think that's still a bargain.
For shooting while standing, this is a great and inexpensive way to go.
by B.B. Pelletier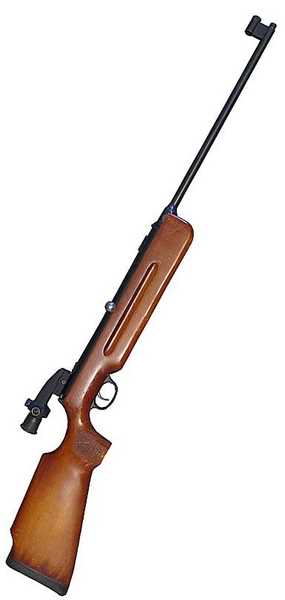 The Haenel 311 is the world's only bolt-action, spring-piston 10-meter target rifle.
Let's look at the velocity of my Haenel 311 target rifle. Because of the way it cocks, this rifle is low-powered. It isn't possible to put a long-stroke piston or a stout mainspring in the mechanism when the rifle is cocked by pulling back on a three-inch bolt handle. You don't pull it straight back, either. The base of the handle pivots like a fulcrum, and the handle rocks back to pull the piston into the cocked position. As I mentioned in Part 1, it's so difficult to cock that the gun is destined for adults, only.
However, a short piston stroke and a weak mainspring combine to give very low velocity. Since this is a target rifle, velocity doesn't matter. But this wouldn't be the gun to choose as an all-day plinker. Get a Diana 27 for that, or any one of the Haenel breakbarrels. Save the 311 for its intended purpose.
If it sounds like I'm making excuses for the gun, that's not what I want to do. I just want the reader to understand it in the right context.
Since this rifle has a leather piston seal, I dropped several drops of oil into the loading tap, then closed it and stood the rifle on its butt for several days before this test. For those who are new to airgunning, leather seals need lots of oil to do their jobs. Synthetic seals need a lot less oil, and it needs to be silicone chamber oil so it won't detonate with the high heat it can generate.
In a rifle of the 311′s power, you can use plain old household oil for the seals, because the rifle doesn't generate that much heat. But using silicone chamber oil won't hurt anything, so that's what I used. And there's one additional reason for oiling the gun before shooting. The loading tap has to have some clearance to be able to move and do its job. When you oil the gun at the tap, some oil gets on the tap itself and helps to seal it when the rifle fires.
Velocity test
A note to the new reader. I test rifles with a range of pellets appropriate to that rifle. There will be a weight spread among the pellets I use, so you can gauge the power of the gun from what I use. But bear in mind that some pellets will work better in certain guns and the lighter pellet won't always be the fastest. I also won't test a gun with a pellet that I deem inappropriate for the gun, such as Beeman Kodiak heavyweight domed pellets for this target rifle. For a 10-meter target rifle, I'll test with wadcutters since they're the only pellets that are legal to use in a 10-meter match.
Let's get right to it. The first pellet I tested was the Gamo Match wadcutter. This pellet used to be a viable and inexpensive pellet for target guns, but the design was changed a few years ago. While it's still inexpensive, it doesn't perform as well as it used to in many guns. Still, I thought it was worth a try.
This pellet averaged 462 f.p.s., but the spread was quite high — going from 439 to 479 f.p.s. At the average velocity, the rifle puts out 3.66 foot-pounds with this pellet. The wide velocity spread makes me think this one won't be that accurate, but we'll see.
Next I tried RWS Hobby pellets. At just seven grains weight, they should be among the fastest lead pellets in this rifle. Hobbys averaged 490 f.p.s. in the 311, and the spread went from 478 to 497 f.p.s. That's tighter than the Gamo Match. At the average velocity, the energy developed at the muzzle was 3.73 foot-pounds. Sometimes, Hobbys are very accurate in certain guns and are worth trying in this one.
The last pellet I tried was the H&N Finale Match Pistol pellet. At 7.56 grains, you'd think they'd be slower than the Hobbys that weigh a half grain less, but these pellets averaged 492 f.p.s. in the 311, and the spread went from 480 to 501 f.p.s. They're clearly faster and more efficient. At the average velocity, they produce 4.06 foot-pounds of energy at the muzzle.
Seeing the efficiency of this pellet gave me an idea. What if I used a pellet seater to iron out the skirts of this pellet? What would happen to the velocity then? I say that because a taploader tends to allow some air to blow past the pellets before they're blown into the bore. Enlarging the skirts is a possible way to minimize this.
I tried enlarging the pellet skirts with the ball end of a pellet seater. However, the results surprised me. Instead of boosting velocity, this knocked it back to an average 474 f.p.s. for the H&N Finale Match Pistol pellets. However, the extreme spread ran only from 472 to 478 f.p.s., so the overall velocity was a lot tighter from shot to shot.
The bottom line is that the Haenel 311 is a target rifle and nothing more. Because of the design, there's no way to soup it up for greater performance; and as I noted in Part 1, this is a rifle you want to stay out of.
Next time we'll look at the accuracy of this Cold Warrior.
by B.B. Pelletier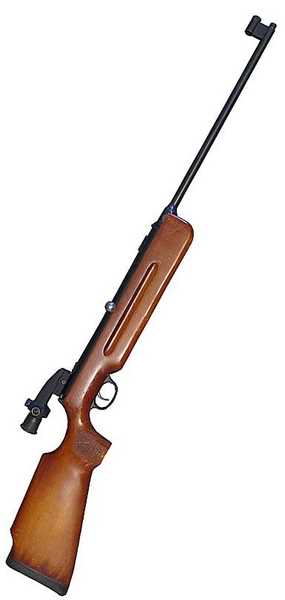 The Haenel 311 is the world's only bolt-action spring-piston 10-meter target rifle.
At the Roanoke Airgun Expo several weeks ago, I saw a Haenel 311 target rifle on one of the tables, which it reminded me that I'd promised myself long ago to give you a full report on this curious air rifle. Today, I'll begin to fulfill that promise.
Back in the days when Edith and I published The Airgun Letter, we were contacted by a pawn shop that was importing target airguns from the former East Germany. We told our readers about them, and thousands of model 310s and 311s and a few 312 sidelevers were sold over the course of a few years. The prices were quite low. As I recall, the 310s went for $49, and the 311s brought $59. I bought several guns to test and as gifts, and the 311 you'll see here is one of those purchased.
The 311 is unlike any other air rifle in the world. It's a .177-caliber pellet rifle that uses an articulated bolt action to cock a spring that powers the piston. It appears similar to the Haenel 310 action except the 310 shoots only round lead balls fed from a magazine, while the 311 shoots standard diabolo pellets fed one at a time though a loading tap. The two guns are very different, except for their cocking levers.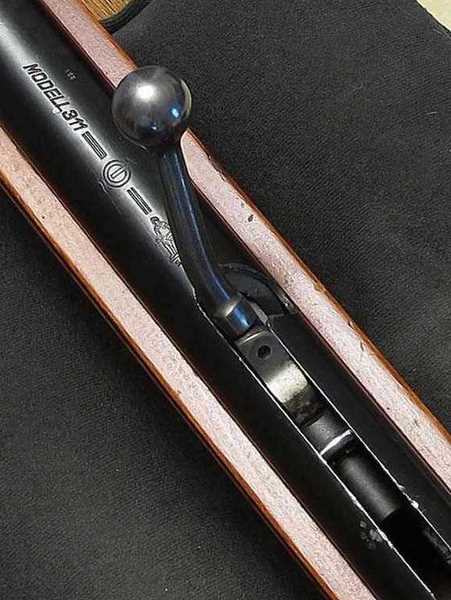 Here the cocking bolt/lever has been lifted out of its stored position and is ready to be pulled back to cock the gun.
The rifle is sized for an adult, with an overall length of 43-7/8 inches and a weight of 7 lbs., 14 ozs. These numbers come from my rifle and do not agree with the information in the Blue Book of Airguns.
The stock is blocky and looks like it was fashioned from a two-by-six piece of lumber. The wood is tightly grained and may be beech, though I'm not certain. It's stained with a thin orange color that does not penetrate the wood to any depth. The finish is a thin shellac that's very prone to chipping and wear.
The pistol grip is hand-checkered with large diamonds in a very crude pattern. The work looks like it was done by a prisoner wielding a not-too-sharp jackknife. There's no checkering on the forearm, but both sides have a long European-style finger groove.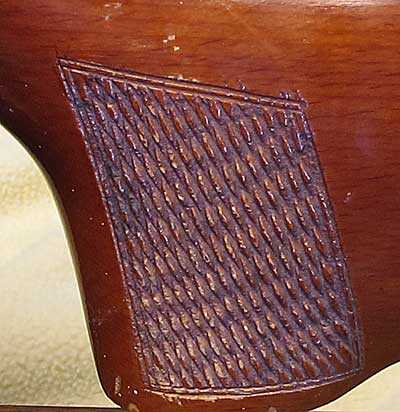 The checkering is clearly hand-cut, and a rough job at that. Overruns and missed diamonds abound.
The metal is very well polished and finished with an even hot blue. You must appreciate that Haenel has a reputation as a fine arms maker, and this rifle is so out of line with most of what they made that it looks like a government job for sure. The rifle began production in 1964, which was at the height of the Cold War, so that assessment is probably right on the money. Production ended in the early 1990s.
The 311 is a 10-meter target rifle, but it is so different from any other 10-meter rifle that it's very difficult to categorize. The cocking effort is very difficult — owing to the short cocking lever — so this is not a three-position rifle in anyone's book. It's meant for offhand shooting, alone. Even then, the shooter must take care where he points the muzzle while he struggles with the cocking lever. It takes 33 lbs. of force to cock my 311, and applying it through the 3-inch bolt handle isn't easy. In the offhand position, I would shoulder the rifle and simply pull the handle back, using my shoulder to hold the rifle in place. It sounds easy, but after a couple shots you start feeling the strain.
Sights
The 311′s sights are very interesting. The rear adjustable aperture sight looks very similar to a Walther target sight of the same era. Though it's designed for inexpensive production, you can see that the designers managed to make it quite precise. It has the swept-back look of the 1930s.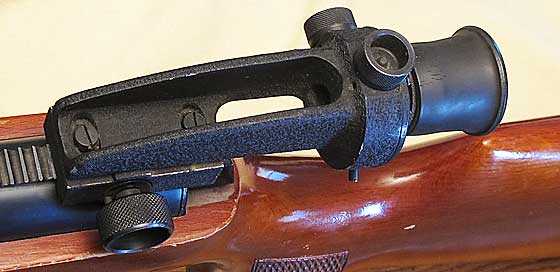 The adjustable rear aperture sight looks like something from a 1930s sci-fi movie. The design is simple but very similar to what Walther was making at the time.
As austere as this sight is, it still contains diopters (peep holes) of different sizes to accommodate different lighting conditions. That's an advanced feature that you don't expect to find on such a crudely finished rifle. And it doesn't end there.
The 311 also has the provision for mounting an intermediate adjustable sporting sight on a base located at the end of the compression tube, just behind the loading tap. Most 311 owners have never seen this sight, but I was able to obtain one with my rifle, so I can show it to you now. This sight must relate to some sporting event the East Germans had for this rifle. The Falke rifle also had provisions for two different types of rear sights, so there must have been a good reason for them. I do know that many zimmerstutzens come with this same provision, and there's a separate sporting match for the zimmerstutzen. It's not too difficult to imagine that there was the same kind of match for air rifles that are equipped this way.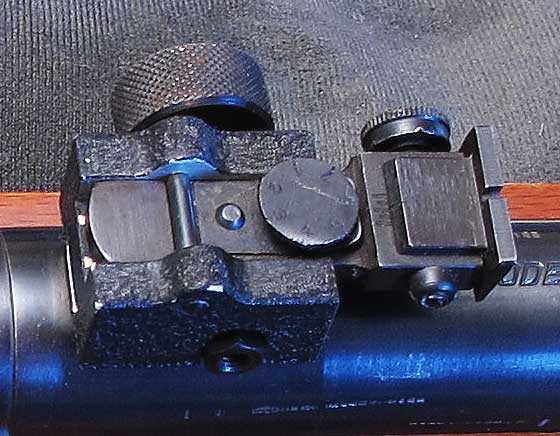 This adjustable sporter rear sight is an accessory few 311 owners have ever seen. It mounts behind the loading tap and is undoubtedly used in different matches than the target sight.
The front sight is a globe mounted on a tall stalk. It accepts different sight inserts, which would be necessary if the sporting rear sight were to be used. My rifle came with an aperture in the front sight.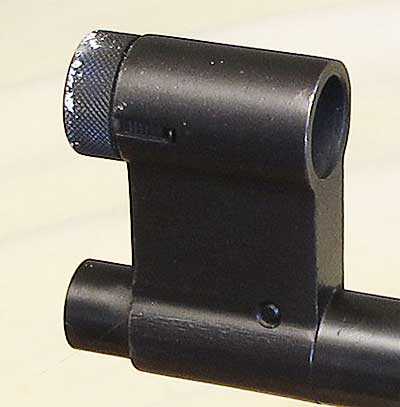 The front sight is a globe with replaceable inserts that sits on a tall stalk.
Loading tap
The 311 loads through a rotating loading tap. That is a strange feature on a target rifle, because the shooter cannot insert the pellet directly into the rifling. The tap is entirely manual and separate from the cocking function, so it can be operated at any time.

The loading tap is manual and not connected to cocking the gun in any way.
One thing about a loading tap is that it requires a different procedure for oiling the piston seal. I put 5-10 drops of silicone chamber oil into the tap, then close it and stand the rifle on its butt for at least an hour. The reason I used 5-10 drops is in case the piston seal is made of leather. I use silicone chamber oil in case it's synthetic. Talk about covering all the bases!
Trigger
The trigger is one place where the Haenel pedigree shines through. It's a multi-lever unit that breaks cleanly if not crisply. It's every bit as nice as the trigger on the Bronco.
Here's a warning to all you would-be tuners. Years ago, I wanted to quiet the vibration of my 311 action, so I started what I thought would be a simple disassembly. When I got inside the trigger, however, the job proved to be anything but simple. I assembled the gun with the automatic safety out of whack and have lived with it ever since. The 311 is not the rifle to take apart unless you have a lot of patience and perhaps a spare rifle to look at when it's time to put it back together.
As for power and accuracy — well, this is only Part 1. I'll test this rifle completely in the established pattern, so you'll get answers to both questions.
by B.B. Pelletier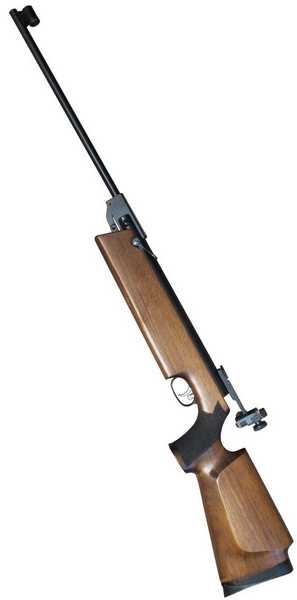 Is this Custom Match the best HW 55 ever made? Read the report to find out.
In the last report, I tuned the rifle and got rid of the objectionable firing cycle. It's always a great pleasure to return to a classic air rifle like this one after testing so many modern airguns, because these oldies are so reserved and well-behaved. I know it's not going to kick, roar and fight me at every turn. It may only be suited to shoot 10-meter target, but sometimes — and by that I really mean often — that's exactly what I need.
Sight-in
I had to remove the sights during the tuneup, so the rifle needed to be sighted-in again. It wasn't that far off, but the indices are so dark on a 55 rear sight and my eyes are so bad that I had to play around until I discovered which way to adjust the sight to go right. In this respect, a modern 10-meter rifle has it all over a vintage one.
The first pellet I tried was the H&N Finale Match Rifle pellet. I haven't had a lot of recent success with this pellet in target rifles, but in the past this was one of two to contend with — the RWS R-10 Match Pistol pellet being the other. This time was different, though. Although the first group wasn't what I wanted, it showed enough promise that I shot a second and a third. By the third group, I could tell this pellet likes this rifle.

Not bad! Five H&N Finale Match Rifle pellets went into this group at 10 meters. Any one of them could be a 10 if the sights were adjusted.
Next, I tried the RWS R-10 Match Pistol pellet, and I gave it the same number of chances, but it never showed me anything. That was a surprise, because I think this pellet is one of the more accurate pellets in several of my other 10-meter rifles.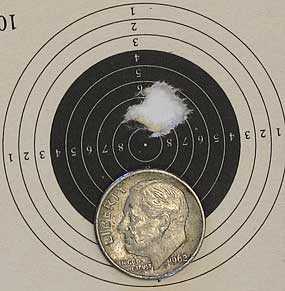 Five RWS R-10 Match Pistol pellets made this nice round group. This is impressive to anyone but a veteran target shooter, who would see that it's about twice the size it needs to be.
Following the R-10, I tried the RWS Hobby pellet, because in my HW 55 SF — the 55 that has no barrel lock — Hobbys do surprisingly well. Again, there was no joy this time. I'm showing the group to contrast with the others in this report.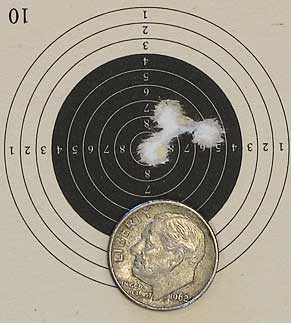 RWS Hobby pellets are just not right for the HW 55CM.
At this point, I was satisfied that this rifle is accurate, though it won't give an FWB 300S any competition. But why stop there?
I next mistakenly loaded some obsolete and nondescript European diabolos that I mistook for JSB S-100 competition pellets. Boy! If you ever wanted to see a comparison between good pellets and cheap ones in a good gun, this was it! How about a three-quarter-inch five-shot group?
Back to serious ammo. The next pellet I tried was the H&N Match Pistol. This is not a Finale Match pellet, and I find that these sometimes vary in weight a lot more than Finales tend to, but there can be surprises. Not this time, though. The best group looked like Hobbys. Oh, well!
After that, I tried H&N Match Rifle pellets. They're the same as Match Pistol, only heavier. But for some reason that nobody understands but everybody believes, they shot great! These are the pellets for this rifle — until I find something better.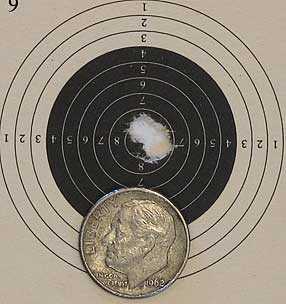 Now, this is what we're after! Five H&N Match Rifle pellets are obviously working very well in this rifle. This would be the pellet to stick to until a better one comes along.
Overall evaluation
The rifle is shooting fine with the new tune. I could live with less power, but what I have isn't bad. The trigger is a joy, because it breaks at just 7 oz., and that's as light as I need it to be. Shooting from a bench in the rested position doesn't give you the full feeling of the rifle. All it shows is the potential for accuracy, and this one's got it.
by B.B. Pelletier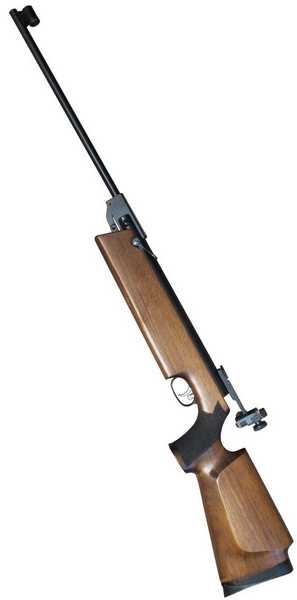 Is this Custom Match the best HW 55 ever made? Read the report to find out.
This is a special Part 3 for the HW 55 Custom Match target rifle. It will be a retest of velocity, following a strip-down and lubrication with black tar to get rid of some uncomfortable vibration when the gun fires. When I tested it for velocity in Part 2, I discovered the rifle was shooting way too fast for an HW 55. Probably the Beeman Company replaced the mainspring when it went back to them for an overhaul. At any rate, when RWS Hobby pellets average 694 f.p.s., as they did for this rifle, you know something is wrong. I'll try to remove as much of the harshness as I can with this tune, and I really don't care how much velocity is lost.
A word about the Part 2 report is needed here. I combined it with Part 2 of the report on Mac's Diana model 60 target rifle because I don't want to crowd the blog with too many reports about vintage air rifles. Since the velocity report goes pretty quick, I just put the two of them together. But, today, the 55 CM gets its own report, because as well as testing velocity I'll be disassembling the rifle and applying a tune. There will be some observations for that, as well as the velocity results afterward, so this work rates a report of its own. Of course, there will still be a Part 4 accuracy test to come.
Disassembly
There were no real surprises when disassembling the rifle, except to find a very canted mainspring. That was where the vibration came from — of that there can be no doubt. I rooted around in my collection of replacement mainsprings and found one that Jim Maccari made for a TX 200! Talk about inappropriate for an HW 55 — but the dimensions of this spring were so great that I had to try it.
I discovered that the trigger was still coated with a drying, tacky layer of factory "tractor grease." I kidded Hans Weichrauch, Jr., about this years ago and he had no comeback. From his perspective, the grease is always fresh and new. I removed everything I could from the trigger but expected no change in performance. This was more of a conservation step than a restorative one.
The new spring was very liberally buttered with black tar, and the rifle was assembled once more. However, when I cocked it the first time, I knew that wasn't the solution. The cocking effort started out light but quickly stacked until I was pulling back around 30 lbs. of effort. That's way too much for a 55 target rifle.
On the plus side, I probably added at least another 50-75 f.p.s. to the velocity. But, with a target rifle, who needs velocity?
So, once more, the action came apart. This time I used a spring that had very similar dimensions to the one that came from the gun — only this one is straight. It got buttered with tar, too and then everything went back together.
How does the rifle feel?
The rifle now requires 26 lbs. of force to cock, compared to the 20 lbs. before — so that part isn't good. The firing cycle, however, feels lighter and much quicker. Gone is the objectionable vibration that came from the canted mainspring. This rifle will now be easier to shoot accurately.
Velocity
The first pellet tested was the RWS Hobby that was such a speed demon with the old tune. Back then, the rifle averaged a blistering 694 f.p.s. with this pellet. That's way too fast and does nothing for the potential accuracy. The extreme spread was 17 foot-seconds with that pellet and tune.
With the new tune, Hobbys average 603 f.p.s., ranging from 602 to 610 f.p.s. for an 8 foot-second spread. That's more like what I wanted, and maybe even on the low side of what I was looking for. But with that tight spread, I know the rifle is doing well with this tune.
Next, I tried H&N Finale Match Pistol pellets. The old tune gave an average 632 f.p.s. velocity with a 14 foot-second spread.
The new tune gives an average of 573 f.p.s. with a 12 foot-second spread that runs from 567 to 579 f.p.s. The spread is pretty close to what we had before, but the velocity is now down where I expect it to be.
The last pellet I tested was the RWS R-10 Match Pistol pellet. With the old tune, the pellet averaged 632 f.p.s. with an 18 foot-second spread that went from 619 to 637 f.p.s.
The new tune sends this pellet downrange at an average 565 f.p.s. with the total velocity spread that runs from 560 to 567. Only 7 f.p.s. separates the slowest shot from the fastest.
Firing behavior
The rifle now seems much more calm and settled when it fires. I can't be sure until I shoot for the record, but I think I've tamed the beast.
Am I satisfied with this tune? Yes, except for the extra cocking effort. An HW 55 should cock at around 15 lbs. of force, and this one takes 26 lbs. That's heavy, even though it doesn't set off any alarms. I would still like to get it back under 20 lbs., but I'm not going to hold up the show just for that.
Accuracy testing is next, and then we'll have complete tests for five popular 10-meter spring-piston target rifles: the HW 55 SF, FWB 150, Diana model 60, Walther LGV Olympia and this HW 55 CM. Guns I haven't yet tested (that I own and have access to) are the FWB 300S and the Haenel 311.
by B.B. Pelletier
Photos and test results by Earl "Mac" McDonald
Announcement: Anthony Stewart is this week's winner of Pyramyd Air's Big Shot of the Week on their facebook page. He'll receive a $50 Pyramyd Air gift card.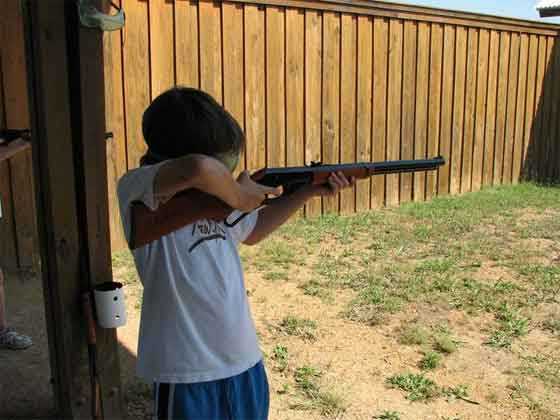 Anthony Stewart's photo of his cousin shooting his Red Ryder is this week's winner of the Big Shot of the Week. I'd say this boy really wants to shoot since it appears he'll do whatever it takes to make a too-big gun work for him.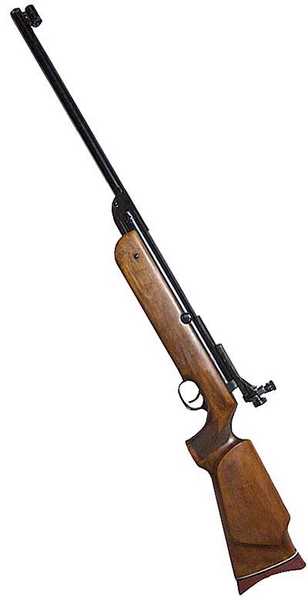 The Diana model 60, which is a Hy-Score model 810 in this case, is a breakbarrel target rifle from the 1960s and '70s.
Today, we're looking at the accuracy of the Diana model 60 recoilless breakbarrel target rifle. In Part 2, I also reported on my HW 55 CM, but now I'm back with the model 60 exclusively. All along, I've been baiting you with the incredible accuracy of this rifle. Today is the day we'll see what that means.
We learned that Mac's model 60 suffers from a loss of velocity over the factory specs. Blog reader Mike Driskill was kind enough to give us the velocities of his two model 60s. The first rifle is one that he suspects still has the original factory springs that came with the gun. It got a new piston seal back in 1999 from RWS USA. It shoots RWS Hobby pellets at an average velocity of 567 f.p.s.
The second model 60 is one rebuilt by Randy Bimrose, who commented that it was the hottest model 60 he had ever seen. That rifle averages 666 f.p.s with the same RWS Hobby pellets.
Mac didn't shoot his rifle with Hobbys, nor did he test with any of the same pellets Mike did, but with H&N Finale Match Rifle pellets it averages 457 f.p.s. I will make an educated guess that his rifle might shoots Hobbys at 495-510 f.p.s., based on that performance. It's slower than Mike's slowest rifle and perhaps it has the original springs with an updated piston seal.
Velocity is not something we look for in a fine target rifle, but nobody wants their gun to be performing substandard, either. Mac still hasn't decided what he will do about the gun, but I believe he will send it off to be rebuilt. Pyramyd Air is now fixing all Giss system rifles and pistols, so Mac knows where to send his gun to get it refreshed.
Back to accuracy — the sights
But today isn't about velocity. It's about how accurate this rifle is. I've made some strong claims for it in the past, so it's time for me to show the evidence.
When we talk about accuracy, naturally the sights come into play. The Diana 60-series rifle sights are interesting and very well-built. Let's begin with a look at the sight base that many of us have mistakenly called a scope base for years.
The Diana rear sight base has grooves running perpendicular to the axis of the action along the top of the entire sight base. To most of us, these look like an interesting but useless detail; but if you own a Diana peep sight, their real purpose springs into sharp relief.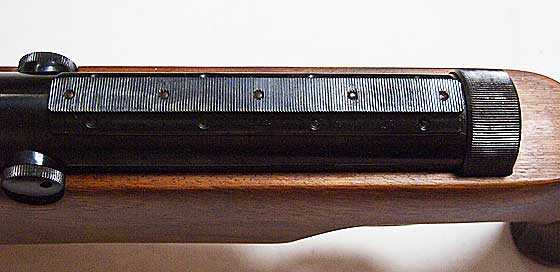 The rear sight base on the Diana model 60 rifle has ridges that run perpendicular to the action of the rifle. They're locking grooves.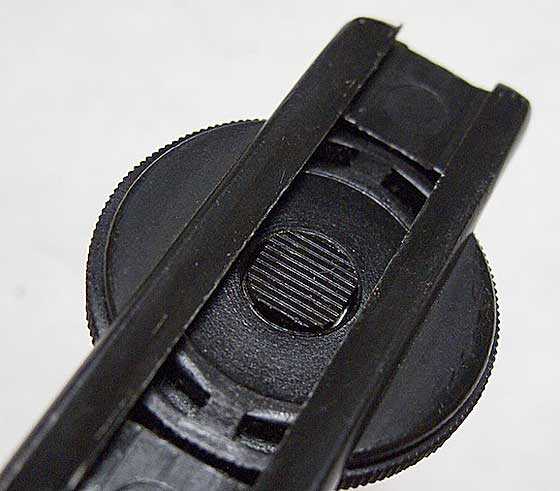 The underside of the target sight has corresponding grooves that mesh with those on the sight base, locking the rear sight in position.
When you see the underside of the target rear sight, you see the corresponding grooves that bear down and intermesh with the grooves on top of the sight base, locking the sight firmly in position. One wonders why Diana never marketed scope rings with the same feature.
Yes, the model 60 is recoilless and probably doesn't need its sight to be locked down, but the same sight base is found on their recoiling sport models made during the same timeframe. It's easier to make the parts the same for all guns, so even the recoilless rifles get this locking feature.
Mac says he's very intrigued by the level of sophistication he finds in the Diana target aperture sight. He took some detailed photos so I could share it with you.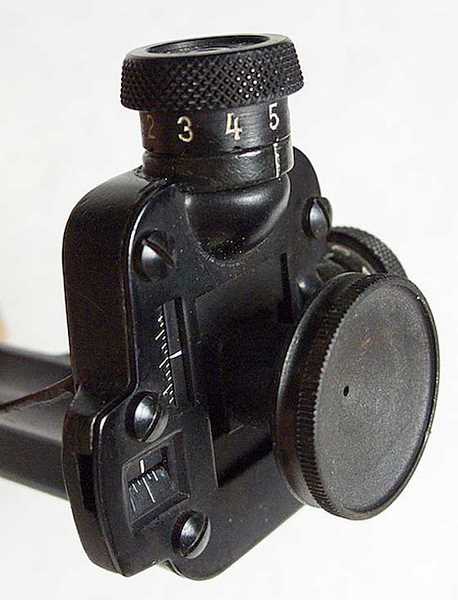 This view shows the back of the rear sight, which contains both scales for windage and elevation adjustment. Both adjustment wheels have click detents that alert the shooter to exactly how far the sight has moved during adjustment.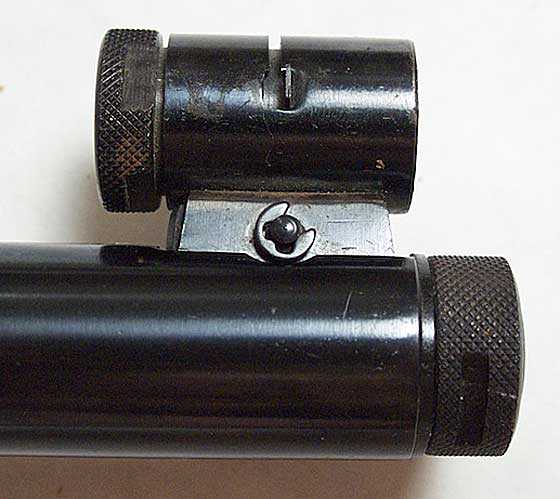 The front sight accepts different inserts, like most target sights of that era. Mac discovered that it also accepts the clear inserts that have become very popular in recent years.
And now the targets
The proof is in the pudding, as they say, so let's see how this target rifle shoots. First up was the venerable RWS Meisterkugeln, a time-honored wadcutter that has been around for most of the modern airgunning age. I used them back in the mid-1970s, and they're still going strong today. Mac found them to be reasonably accurate in his rifle.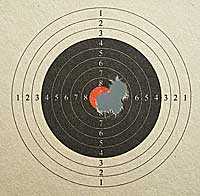 Five RWS Meisterkugeln made this group at 10 meters that measures about 0.19 inches.
Next Mac shot the H&N Finale Match Rifle pellet. It grouped just about the same as the Meisterkugeln , though the group was centered on the target better.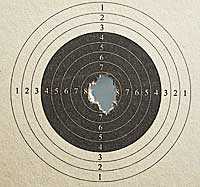 This group of five H&N Finale Match Rifle target pellets is more centered than the Meisterkugeln pellet group but measures about the same size.
So far, the rifle has shown accuracy that is average for a good 10-meter rifle. But next up was the JSB Exact Diabolos, a domed pellet that Mac uses for mini-sniping. The group these pellets shot was so small it was almost impossible to measure; but by being generous with the calipers, Mac estimates that it measures 0.10 inches between the centers of the two shots that are farthest apart. That's the sort of accuracy seen in today's top target rifles, so the model 60 gives away nothing to modern guns except ergonomics.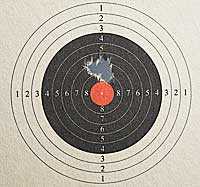 JSB Exact domed pellets gave the best group of all in Mac's rifle. These five appear to have grouped in 0.10 inches at 10 meters.
The bottom line
This report has been about a breakbarrel target air rifle that's just as accurate as any fixed-barrel target rifle we see today. It proves the point that the breakbarrel system can be just as accurate as any other spring-piston system.
The report also reminds us that there are a lot of vintage airguns around that can be every bit as nice as they were 40-50 years ago when they were the latest technology. Fortunately, we live at a time when they are also repairable, so these vintage treasures can continue to serve us well in the years to come.
I'd like to thank Mac for taking the time to test his fine old target rifle and share the results with us in this blog.
by B.B. Pelletier
Announcement: Brendon Krahn is this week's winner of Pyramyd Air's Big Shot of the Week on their facebook page. He'll receive a $50 Pyramyd Air gift card.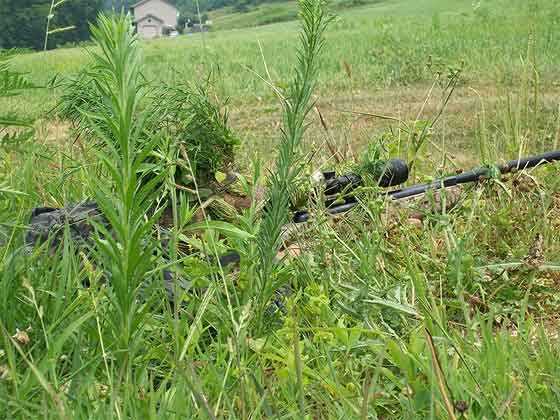 Brendon Krahn is this week's Big Shot of the Week. He's sniping at starlings with his .177 Remington NPSS.
Photos and test results for the Diana 60 by Earl "Mac" McDonald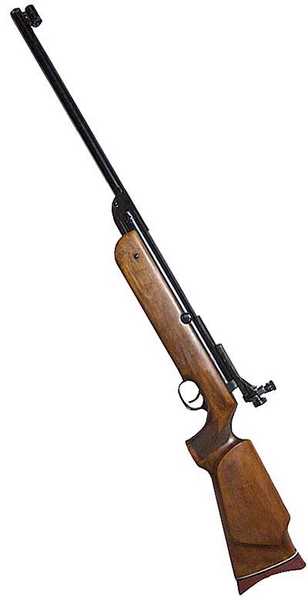 The Diana model 60, which is a Hy-Score model 810 in this case, is a breakbarrel target rifle from the 1960s and '70s.
That's right, sports fans, today you're getting a twofer. For the benefit of our readers outside the U.S., a twofer is slang that means "two for the price of one." I decided to report on both Mac's Diana 60 velocity test and my HW 55 Custom Match velocity test for reasons I will explain in each part. Grab a large cup of coffee and an extra Danish and sit back!
The Diana model 60 target rifle
We'll look at Mac's rifle first. Today, I'll reveal the one thing that's been troubling Mac about his rifle, so it doesn't take a detective to know that it has to do with velocity.
The cocking effort of his breakbarrel rifle is 28 lbs., which seems high to me. Mac says it doesn't feel that high because, for some reason, it gets lighter toward the end of the cocking stroke. He also cautions us to beware of the rack-and-pinion noises that these guns have when they're cocked. To all that I have to say this.
There shouldn't be any noises when this rifle is cocked. I've owned several Giss-system rifles and pistols and shot a lot more, and none of them made any extra noise when they were cocked. That's clue No. 1. And, I'll explain how the Giss system works next.
Clue No. 2 is the lighter cocking effort toward the end of the stroke. That's atypical for a breakbarrel, but Diana has the reputation for breaking mainsprings. When they do, they get smoother. They don't make any noise, nor do they bind during the cocking stroke. I've certainly seen a half-dozen Diana rifles with broken mainsprings and they all acted this way.
How the Giss contra-recoil system works
The Giss contra-recoil system consists of two pistons connected to each other. The real one goes forward when the gun is fired, and a dummy travels to the rear at the same time. The real piston is the only one that has a piston seal, and it's the one that compresses all the air for the shot. The dummy piston has no seal and is just there to provide an equal and opposite reaction to the real piston. When the real piston slams to a stop, the dummy piston does too at the same instant. The EFFECT of this is that the impulse of each piston cancels the other. The first time an airgunner experiences it he's usually blown away because, when the gun is timed right, absolutely no firing pulse can be felt.
Of course, timing is the principal concern in a gun that uses the Giss system. That's why I never recommend a person try to repair his own gun. Sometimes, a mechanical genius like Nick Carter who writes Another Airgun Blog will be able to dive right inside a Giss gun and find no obstacle he cannot understand and overcome, but the average person will just create a basket case.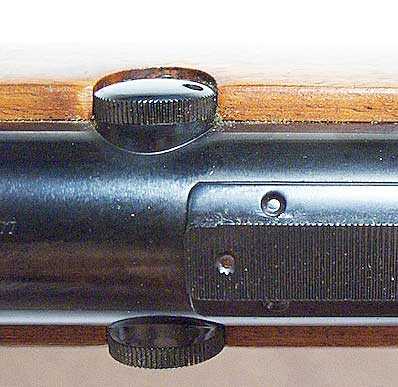 Looking straight down on the top of the model 60 action, we can see the two telltale caps that cover the gears connecting the two pistons to each other. All Giss-system guns have these caps.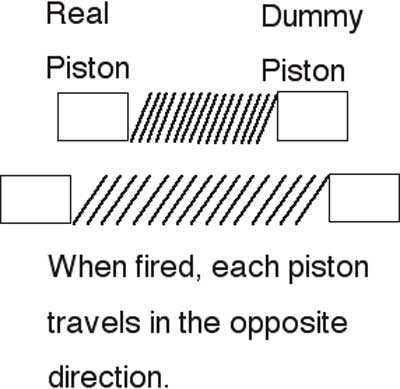 This simple graphic shows how the two pistons oppose each other.
Velocity test
I'll tell you right now that Mac experienced lower velocity than he expected from this rifle. An Air Rifle Headquarters catalog (the original company) from 1973 gives the velocity of the model 60 as 546 f.p.s., without specifying what pellet was used. That would probably translate to about 550-570 f.p.s. with the pistol-weight target pellets we use today. Mac wasn't getting that.
He asked me what I thought about putting a drop of silicone chamber oil through the air transfer port to lubricate the piston. We know that these older target spring guns came with seals that dry-rotted over the years, and chamber oil will speed up their demise, but I figured he had to find out somehow, so he did it. But it didn't cause the seal to destroy itself. It simply boosted the velocity about 12 f.p.s. with no change in how tight the velocity spread was.
The first pellet he tried was the H&N Finale Match Rifle pellet that weighs 8.18 grains. They averaged 457 f.p.s., with a 22 foot-second spread from 445 to 467 f.p.s. The average muzzle energy was 3.79 foot-pounds.
Next, he went with a domed pellet. JSB Exact Diabolos are domed pellets that would not normally be fired in a target rifle unless the target was something other than paper. But Mac also uses his target rifles for mini sniping, so he tested this 8.4-grain pellet anyway. It averaged 474 f.p.s., with a 16 foot-second spread from 465 to 481 f.p.s. The average muzzle energy was 4.19 foot-pounds.
The final pellet Mac tried was the old standard RWS Meisterkugeln pistol-weight wadcutter. Today, they only weigh 7 grains, but Mac had some older ones that weighed 7.7 grains. They were a very loose fit in the breech and averaged 458 f.p.s., with a whopping 37 f.p.s spread from 442 to 479 f.p.s. The average energy generated was 3.59 foot-pounds.
Conclusions
Both Mac and I think the rifle isn't performing up to spec. Mac found some stated velocity figures of 460 f.p.s. in print somewhere, but he thinks it's a transposition of 640 f.p.s., which is where a few of the 1960s and '70s-era target rifles were.
I now believe the rifle has a broken mainspring. Mac thinks it's just a tired one. Either way, the thought that his gun isn't performing up to snuff is getting under his skin, so I advised him to have it repaired by either Pyramyd Air or Umarex USA so he'll know for sure.
Nevertheless, the rifle still shoots as it should and there will be a part 3 coming soon. Let's go to Part 2 of the other target rifle on today's menu.
The HW 55 CM target rifle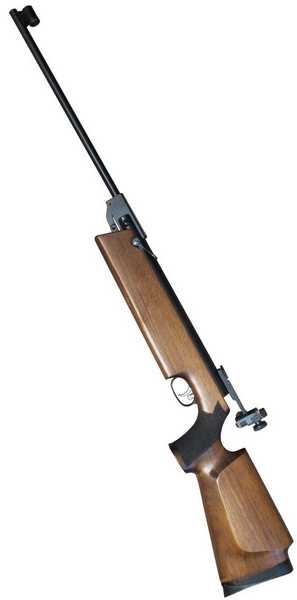 Is this Custom Match the best HW 55 ever made? Read the report to find out.
I'm putting this additional report here for a couple reasons. First, I didn't want to go too long without reporting on it. More importantly, I thought I might have to do an extra report on this rifle. As luck would have it, that's how it turned out. While this is Part 2 and a velocity test, the next part will also be about velocity.
Remember that the HW 55 CM was the rifle that I felt had a harsh firing cycle back in Part 1. After I tightened the stock screws, some of the harshness went away. Even after that, the rifle was still feeling harsher than I felt it should for what it is.
Several of you readers thought that when the gun went back to Beeman for a rebuild, they probably installed the upgraded HW 50 sporter mainspring that would have boosted the power. The only way to find that out is with a chronograph, so that's what I did. According to Air Rifle Headquarters catalog data, once again, a regular HW 55 should shoot H&N pellets at 650 f.p.s. Unfortunately, they don't give a lot more data about the specific pellets they used for the test.
The rifle does still shoot a little harsh. When you're peering through a peep sight, the smallest recoil becomes instantly noticeable. In this rifle, it's unpleasant. The peep comes straight back and bumps into my skull when I fire. My Ballard rifle does the same thing, only its peep is on a tang sight that collapses forward when it contacts my eye. The HW 55 sight, in contrast, remains rigid and allows me to absorb all the impulse of each shot. Well, I'll be danged if I'm going to put up with that!
The plan is to quiet the shot cycle with black tar, if possible. If the gun has extra velocity it doesn't need, I'll be only too happy to do that.
The cocking effort is just 20 lbs. on the nose, and the ARH catalog says to expect a weight of just 15 lbs. There's another small deviation from what would be expected. Even the HW 50 mainspring isn't that powerful, and the long almost-18.5-inch barrel may be providing the extra leverage to reduce the force.
The first pellet I tested was the RWS Hobby, that standard candle of high-velocity lead pellets. At just 7 grains, it's not only light, but often it turns in surprisingly good results downrange. Hobbys averaged 694 f.p.s., with a 17 foot-second spread that went from 684 to 701 f.p.s. The muzzle energy is 7.49 foot-pounds. I would love to say that this speed wasn't expected, but it wasn't far enough out of line to be definitive.
Next, I tried H&N Finale Match Pistol pellets. They weigh 7.56 grains. They averaged 632 f.p.s., with a 14 foot-second spread from 625 to 639 f.p.s. The average muzzle energy was 6.71 foot-pounds. That seems right on the money for a stock mainspring.
The final pellet I tried was the RWS R-10 Match Pistol pellet. Although they're just as light as the Hobbys, they go the same speed as the heavier H&N Match Pistol pellets. That would indicate a bore-fit issue.They averaged 632 f.p.s., with an 18 foot-second spread from 619 to 637 f.p.s. The average muzzle energy was 6.21 foot-pounds.
Evaluation
I can't tell for certain that the mainspring has been upgraded, but I do know that the rifle has way more velocity than I need. The next step is to lube the spring with black tar to see what EFFECT, if any, that has on the shot cycle. While Mac wants more velocity, I'm looking to get rid of some for the sake of smoothness.
I'll break these two reports into separate reports for their respective accuracy tests. But before I do the accuracy test with the HW 55 CM, I'll lube the spring and retest the velocity results, giving this rifle one extra report.