Home
Best Barnett Crossbows of 2022
Known for solid whitetail rigs that won't break the bank, Barnett boasts a wide selection of crossbows, from no-frills, easy-to-use recurves to ultra fast compounds loaded with proprietary technology. All Barnett crossbows feature a Soft-Lok floating bristle arrow retainer, an anti-dry fire trigger, and other safety features. Single-bolt assembly models allow for shooting within minutes right out of the box, while others offering adjustability and picatinny rails provide a custom setup for any hunter.
All crossbows come ready to hunt with arrows, a quiver, and a sight or scope at a significantly lower price point than the competition. And Barnett crossbows are all backed by our 60-day money-back guarantee.
Best Barnett Crossbows of 2022
Best Barnett Crossbow for Hunting: HyperTac 430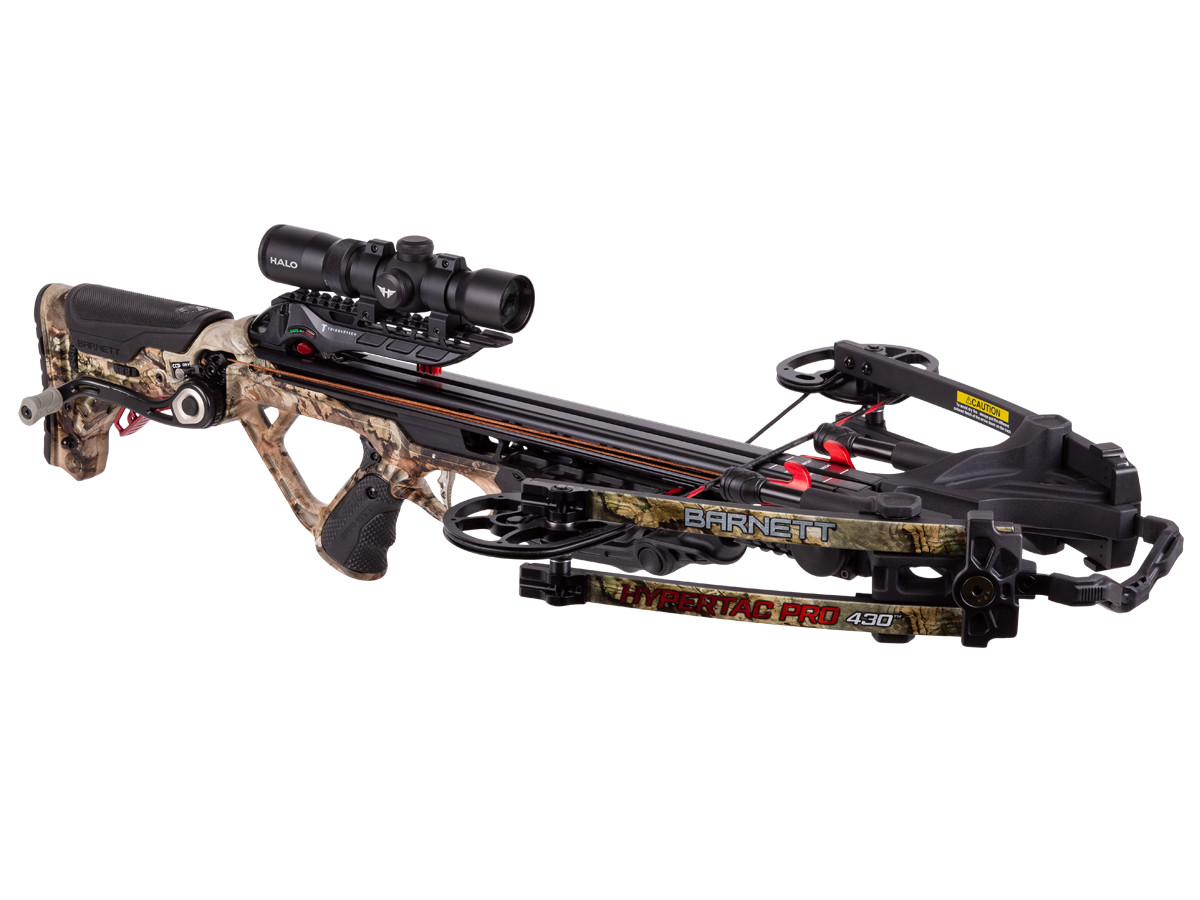 Product Details
Barnett's fastest and smoothest crossbow yet, the HyperTac Pro 430 is equipped with HyperFlite technology for firing small-diameter arrows downrange with incredible speed and precision. The result is 430 fps of buck-stopping power with 25% deeper penetration than the competition. The quick-detach integrated crank cocking device makes the draw cycle fast and easy.
Why We Like It
Engineered for optimal balance and maneuverability, the HyperTac Pro 430 delivers precision performance that can run and gun anywhere. It's fast, compact, and easy to operate. And the premium 1.5-5x32 illuminated speed-compensating scope kicks the accuracy up a notch.
Things To Consider
At just under 9 pounds, the HyperTac Pro 430 isn't Barnett's lightest crossbow, although the overall balance still makes it easier to manage. And HyperFlite Technology means you'll likely be limited to Barnett's proprietary small-diameter arrows.
Best Barnett Youth Crossbow: Explorer XP380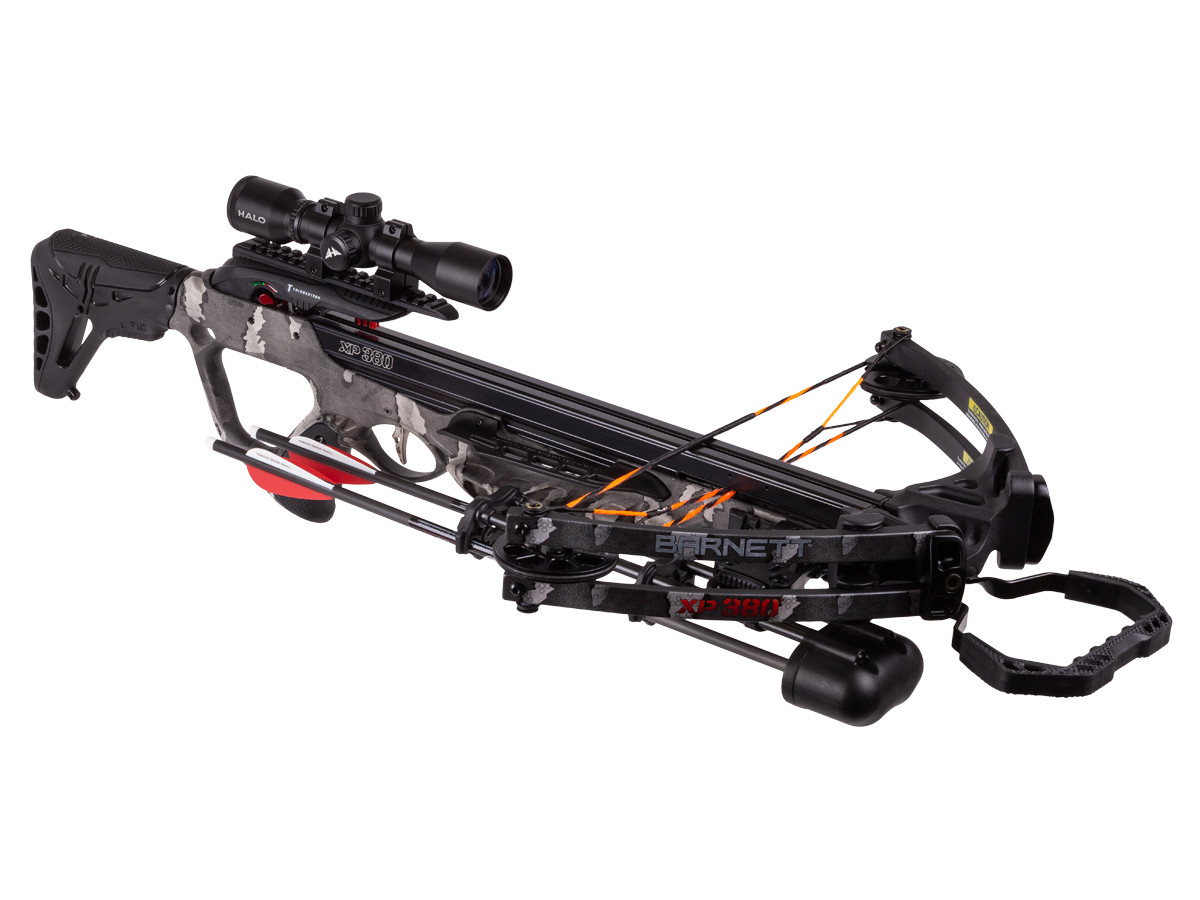 Product Details
Lightweight, fast, and affordable, the Barnett Explorer XP380 is the perfect fit for a growing kid who's just learning the hunting ropes. With durable laminated limbs as well as built-in features for safe, effective firing, the Explorer XP380 can take a beating and protect first-time shooters. It reaches speeds of up to 380 fps in a ready to hunt package.
Why We Like It
At just 6 pounds with an adjustable buttstock, the Explorer XP380 is the perfect fit for youth hunters. Featuring a smooth TriggerTech trigger, single-bolt assembly, and everything your new hunter needs to get started, it's an excellent value at under $400.
Things To Consider
While the Explorer XP380 is lightweight, it's not Barnett's most compact crossbow at 16.25 inches axle to axle when fully cocked, so it may take some getting used to for youth hunters to manage.
Most Affordable Barnett Crossbow: Blackcat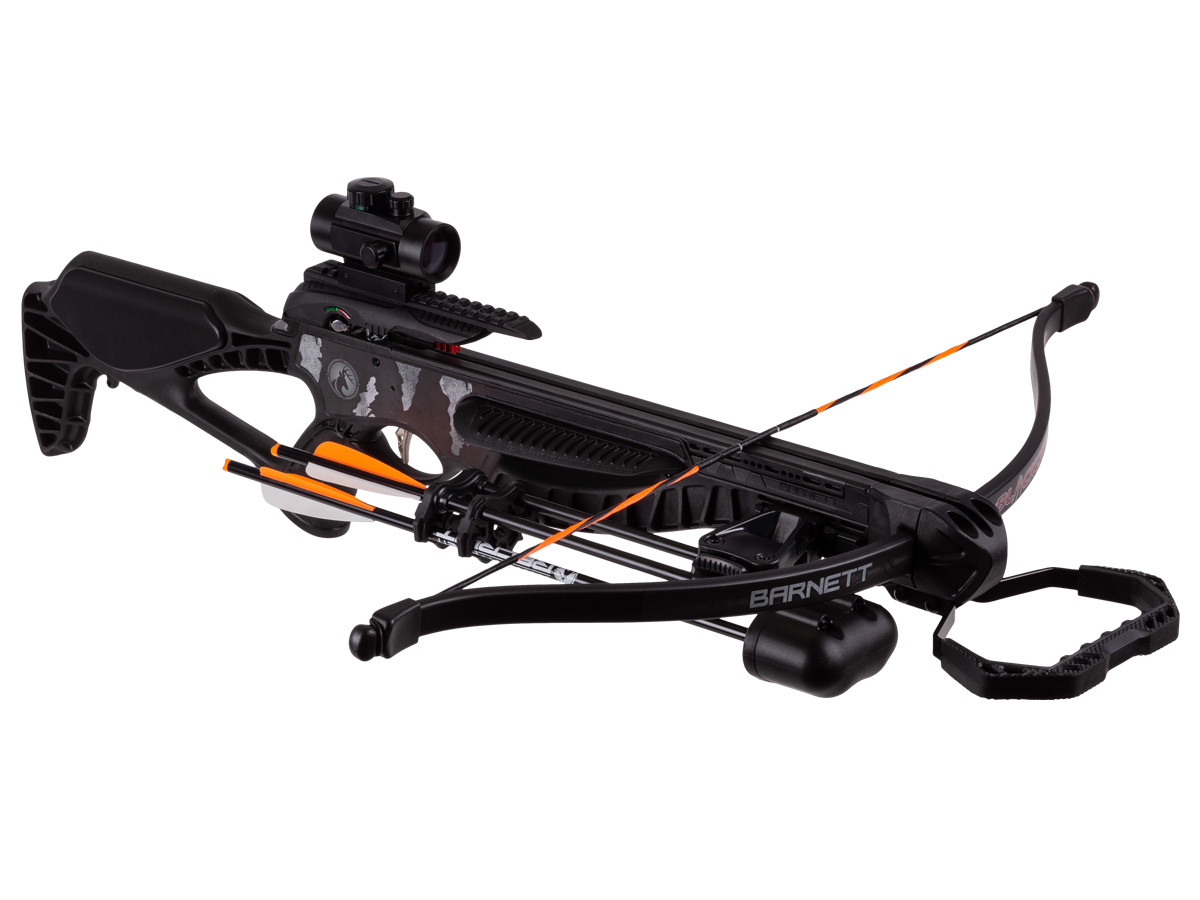 Product Details
A no-nonsense recurve with a minimalist design and easy operation, the Blackcat Recurve is Barnett's most affordable crossbow. It weighs in at a featherlight 4.8 pounds and reaches speeds of up to 260 fps. It features a pass-through foregrip and anti-vibration food stirrup and comes with an illuminated red-dot sight, side-mount quiver, two arrows, and lubrication wax for just $189.99.
Why We Like It
The Blackcat Recurve features fewer moving parts for easy assembly, operation, and maintenance, while three picatinny rails allow for accessory customization. Finger safety reminders, an anti-dry fire trigger system, and a Soft-Lok floating bristle arrow retainer keep hunters safe and shooting straight.
Things To Consider
The lightweight reliability of the Blackcat Recurve is a tradeoff for the fast speeds and performance you'd get with a compound crossbow. If you're looking for an affordable compound instead, check out the Explorer XP370.
Common Questions
Are Barnett crossbows any good?
While Barnett crossbows don't boast the same rifle-like speeds and ultra-compact frames as competing brands, they offer solid performance at a bargain price. Whether you're bowhunting bucks from a blind or running and gunning for birds, there's a Barnett to fit your needs. The company offers a variety of streamlined recurves as well as feature-packed compounds that hunters can customize with picatinny rails and adjustable components. Barnett crossbows come ready to hunt with all the accessories you need to hit the woods, and most are built to shoot right out of the box within minutes. Packed with safety features, they're especially great for kids and new hunters.
How do you load a Barnett crossbow?
With both recurve and compound rigs in the lineup, Barnett crossbow operation will vary slightly from model to model. In general, shooters should ensure they are in a safe shooting position and aiming the crossbow in a safe direction before loading. After the crossbow is cocked with your chosen aid, verify the safety is on and carefully slide the arrow --- odd color fletching face down --- into place, making sure it clicks onto the string. Keep fingers away from the string and moving parts as soon as the arrow is loaded. Crossbows are incredibly powerful, and shooters should always follow manufacturer directions to prevent serious injury.
Where are Barnett crossbows made?
Barnett crossbows are manufactured and built in the United States, and most components are American-made as well. The company is currently headquartered in Tarpon Springs, Florida. From straightforward recurve designs to robust compound constructions, Barnett crossbows are built to last and take a beating in the whitetail woods. Barnett has been manufacturing crossbows for decades, and the company has cranked out over a million to date. In addition to dozens of crossbow models, Barnett also makes vertical bows, slingshots, crossbow cases, and other archery accessories. Like all products from Pyramyd Air, Barnett crossbows are backed by our 60-day money-back guarantee.
Shop for Barnett