At some point in their life, every child has wished for a BB gun. They have been a thorn in the side of many parents but it is almost a prerequisite for moving from adolescence to pre-teens.
With proper safety instruction and adult supervision, and if the child shows maturity and has the ability to adhere to the rules of safe gun handling and the responsibility of what ownership of a weapon entails, it can be a very enriching experience for both the child and the parent.
For the last half-century the most common BB guns for kids sold in America have been the Daisy Red Ryder, the Crosman 760, and the Daisy 880. Today we will look at 10 of the best BB guns for kids, this list will cover many types of actions and styles of BB guns; one or more of them are sure to be on your child's want list.
BB guns for kids are perfect for:
Teaching kids about responsibility, gun safety, and proper marksmanship.
Enjoying time together as a family, even shooting safely around the house.
Collecting certain historical firearm or military collectibles as adults.
With so many choices it's difficult to narrow down our top picks, but here is where we would start.
Top 10 Best BB Guns for Kids
1. Daisy Red Ryder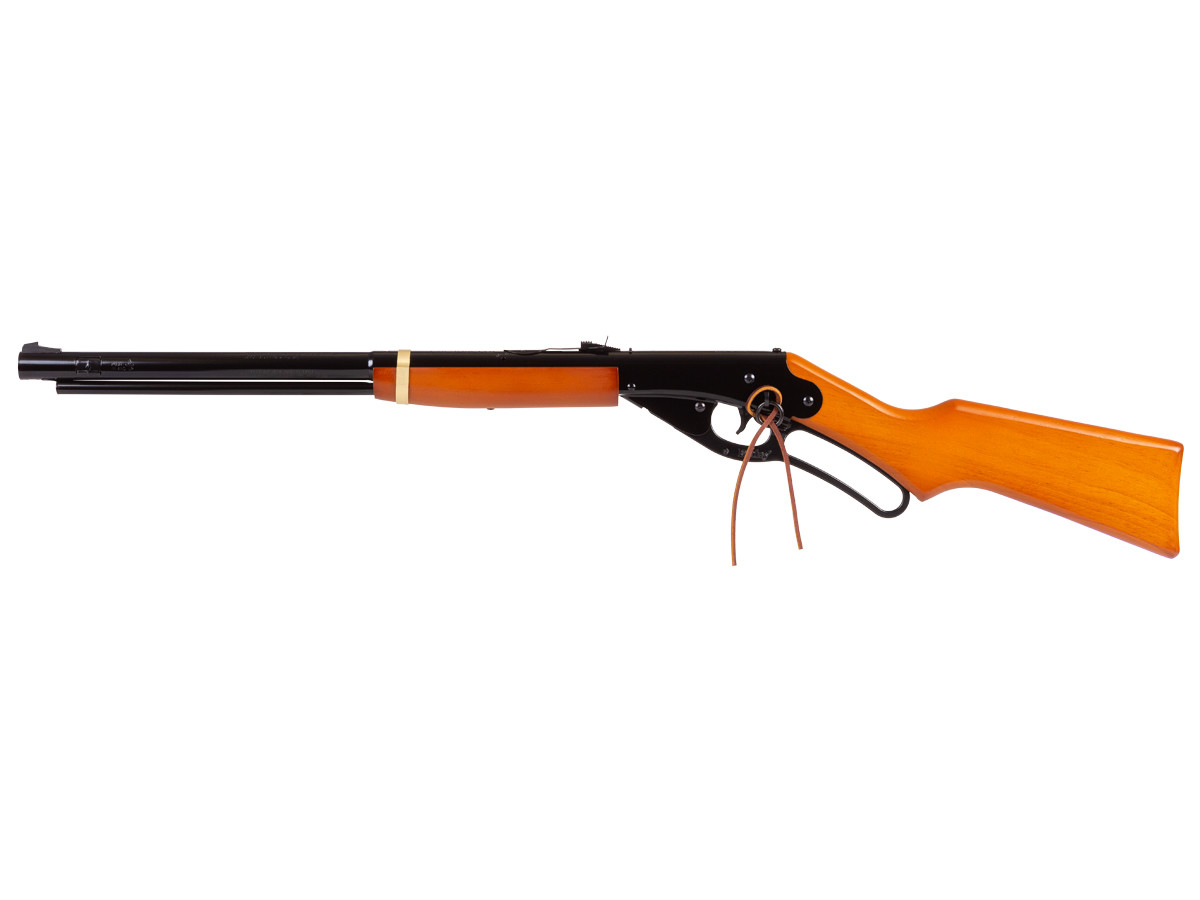 Product Details
Red Ryder was a western-themed comic strip that ran from 1938 until 1965 and spawned a couple of movies and a TV series in the 1950s. Cementing it into the fabric of American history.
The Daisy Red Ryder BB gun is still a favorite for both boys and girls and is among the top-selling BB guns every year and perhaps the best youth air rifle.
It is a lever-action repeater with a capacity to hold 650 BBs keeping the fun going for a long time between reloads. It has a wood stock and forearm with the Red Ryder image emblazoned on the right side of the stock.
The Red Ryder has a ramp front blade sight and an adjustable rear sight to aid in learning proper sight alignment. It also incorporates the new LASSO mount that once the shooter is ready to advance to optics, has an 11mm dovetail for smaller scopes or red dot sights.
The Red Ryder is perfect for plinking, informal target shooting, and training new shooters in the fundamentals of shooting.
Why We Like It
The build quality is very good with minimal use of synthetic materials. The air gun is appropriately sized for younger shooters, or shooters with a smaller stature.
The 650-shot capacity means fewer reloads to keep the fun going for hours. It is adequately powered with a max velocity of 350fps, so you can roll tin cans, and punch paper targets while still being low-powered enough for backyard or indoor enjoyment.
Things to Consider
Steel BBs can bounce back from hard targets such as wood or metal in unexpected directions, impact resistant eye protection is required for everyone in the area to prevent possible injury.
Make sure no pets are in the immediate area as they are attracted to the sound of the BBs hitting the target and could possibly be injured inadvertently.
2. Crosman M4-177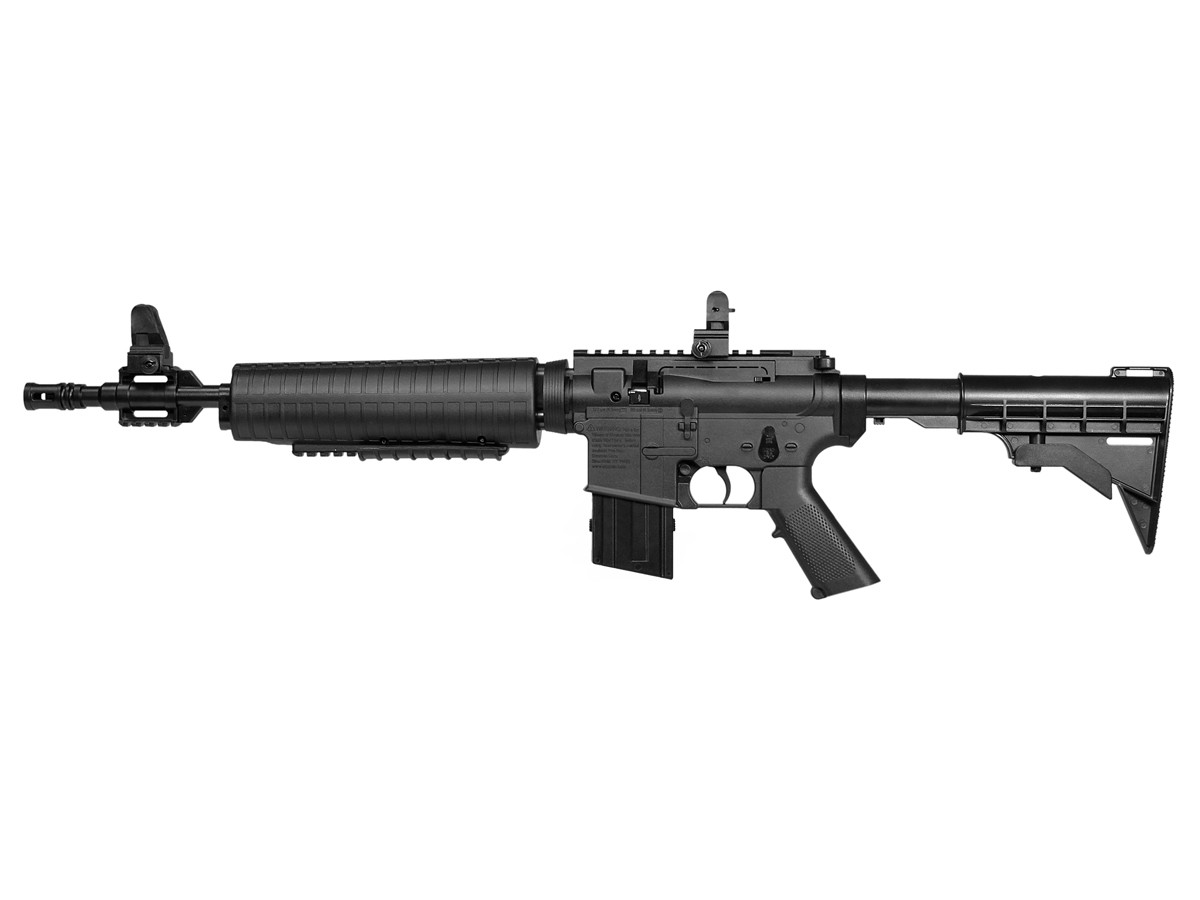 Product Details
Historically, kids like to play soldier, and throughout history, there has always been a market for airguns that replicated the look of a popular military rifle. That trend continues to this day fueled by both movies and now more than ever, video games.
The Crosman M4-177 is a multi-pump kids' air rifle that is capable of shooting both BBs and pellets at variable power levels, allowing you to choose paper punching or small pest elimination.
It looks like an M4 rifle, it handles a lot like an M4 rifle, just like the real firearm it has an adjustable length stock, the front sight is adjustable for elevation, and the rear sight is adjustable for windage. Both sights are removable if you wish to mount optics. It sports picatinny rails on top for optics, and on the lower pump arm for lights, lasers, and other accessories.
It feeds its 18-round BB mag that feeds from a 350-round BB reservoir, and it feeds pellets from a 5-round clip. It has a max velocity of 660fps with 10 pumps, power can be chosen from 3 pumps to 10 pumps.
Why We Like It
The M4-177 has adjustable power and a rifled barrel for accuracy. The fact that it comes with military-style aperture sights and the ability to mount optics on a standard rail system is a bonus.
The large capacity of the BB reservoir and the availability of extra pellet clips at a minimal cost keep the fun going for hours.
The adjustable length stock makes it perfect for younger shooters and will allow them to continue using the airgun as they grow. With a weight of less than 4 lbs, it is light enough for even the smallest shooters.
Things to Consider
The gun has a lot of plastic on the outside but has metal in all the right places. It has to be pumped at least 3 times and up to 10 pumps for every shot. Being lightweight, it doesn't have the weight that sometimes aids in accuracy.
It feeds pellets from 5 shot clips, it does not have the ability to feed pellets single shot.
3. Colt Peacemaker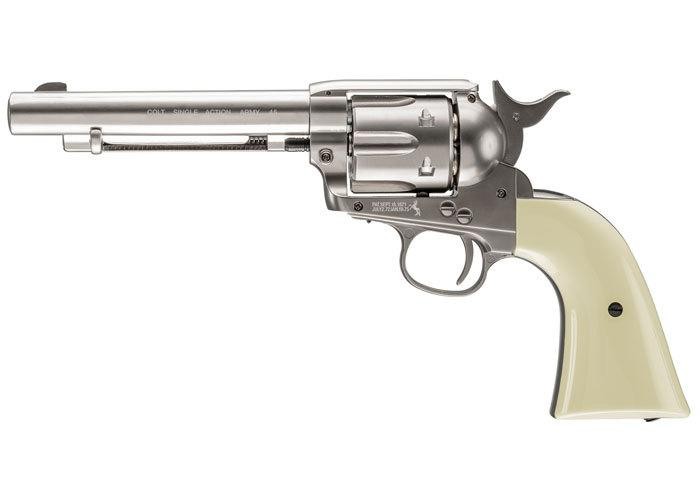 Product Details
The Colt Peacemaker is an American firearm from 1873 that no matter what continent you are standing on, show someone a photo of it, and they will tell you the name. It is one of two guns that tamed the wild west.
Almost 150 years after its inception, it is still one of the most iconic and collectible pistols in the world with originals fetching thousands of dollars regardless of the condition.
Umarex faithfully duplicates the look, feel, and operation of the original firearm, even down to how it loads the ammunition with reusable metallic cartridges, and ejects them just like the original.
It is a six-shot single-action revolver, which means you have to cock the hammer before every shot. It loads through a loading gate on the right side of the gun that opens allowing you to load one cartridge into each of its chambers, just like the original.
The Umarex Peacemaker is available in several finishes, it has a maximum velocity of 410 fps and will give you about 100 shots per 12-gram co2 cartridge. The sights are nonadjustable, just like the original, it is all metal other than the grips, and it is truly a well-made replica.
Why We Like It
Being single action you must cock the hammer before each shot, so you reduce the chance of a negligent discharge by not cocking it until it is pointed at the target, making it very safe for new shooters.
The trigger pull is crisp, and the gun feels good in the hand and points very naturally. The allen key to pierce the co2 cartridge is built into the grip panel so you will not lose this very important tool
.
The pistol is very accurate and can be shot with either BB or pellets, There is a manual safety located discreetly on the frame. Making it one of the best bb gun pistols for kids.
Things to Consider
There is not much to say against the Colt Peacemaker, some owners wish for a wooden grip option, while others wish the hammer sat flush with the frame.
The pistol only ships with six of the metallic cartridges, but more are available for a nominal cost, so you can have them preloaded to keep the fun going.
4. Umarex Legends P08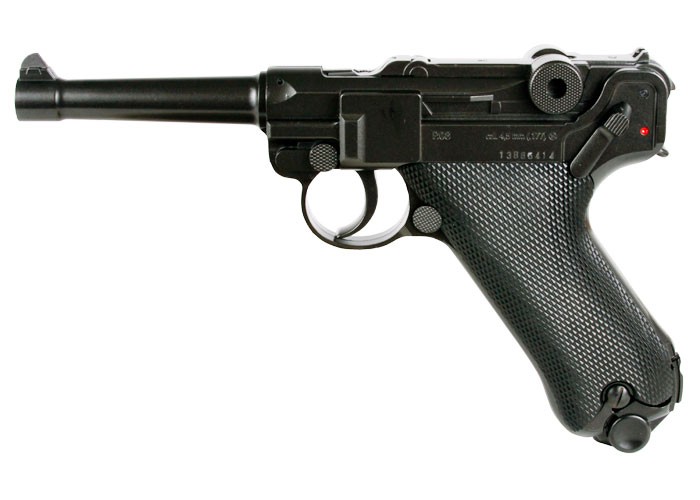 Product Details
The Legends P08 is another iconic and much sought-after collectible replica, this time of the German Luger P08 that was used in both World Wars and was a much sought-after prize from the battlefield.
The replica is full metal, (but has plastic grips) and uses a metal drop-out magazine that holds 21 bbs. The co2 cartridge is discretely housed inside the frame of the pistol.
The sights are nonadjustable, and the pistol uses a double-action trigger to load the BB from the magazine, then fire the airgun. Because it is a non-blowback action there is no sudden movement of a toggle that jumps up with every pull of the trigger, as a side benefit, you get over 100 shots per co2 cartridge, with a velocity of up to 410 fps.
With a loaded weight of almost 2 pounds, it replicates the weight, feel, and ergonomics of the original firearm.
This is a pistol that deserves a place in any collection and will be the envy of everyone who sees it.
Why We Like It
The P08 is almost all metal and is very well made. It also gives you many shots per disposable co2 cartridge. It replicates the weight, size, and looks of the historic firearm.
The non-blowback action simplifies the operation of the gun, making it more accurate, durable, and more reliable than a blowback co2 replica pistol.
Things to Consider
There is not much to say bad about the Umarex Legends P08. The sights are nonadjustable, some owners want a blowback mechanism, but that adds complexity, and expense to a pistol, it also uses more co2 gas per shot so it reduces your shot count and velocity per shot.
It comes with only one 21-round magazine, but more are available for a nominal cost.
5. Crosman 760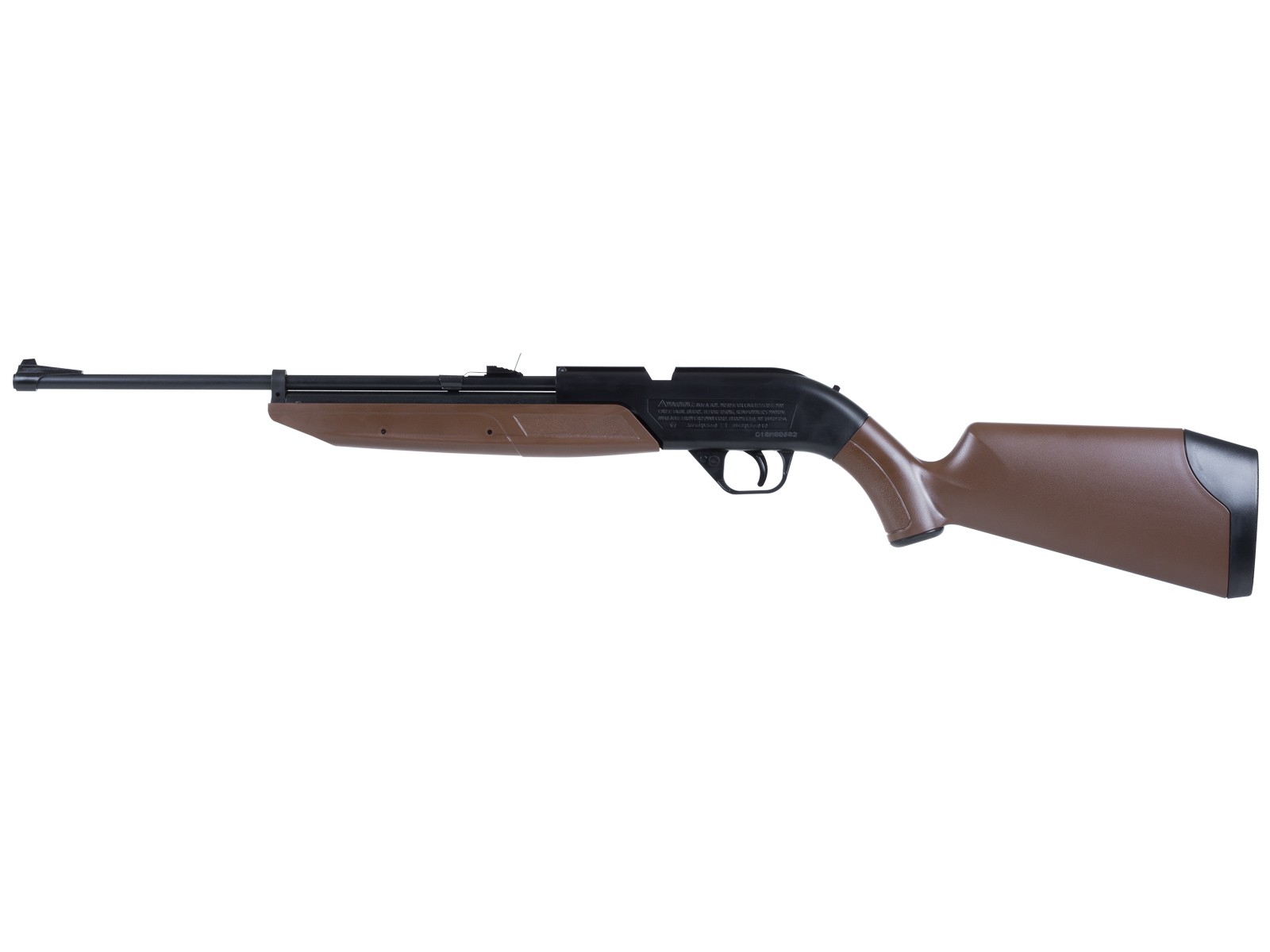 Product Details
When you sell over 10 MILLION of something you know you have a winner.
The Crosman 760 Pumpmaster Classic is that winner. It is a multi-pump kids' air rifle that can shoot both BBs and pellets. The BBs feed into an 18-round magazine from a 200-round reservoir and the pellets can be loaded one at a time directly into the chamber.
Being multi-pump you can choose the desired power level from as little as 3 pumps to a maximum of 10 pumps giving you a velocity of up to 625 fps.
The stock and pump handle are made from a tough synthetic material that can take years of use and still look good and has texturing on the grip, and the pump arm gives you a firm grip aiding in pumping and accuracy.
The stock is sized for younger shooters or shooters of smaller stature. Weighing in at less than 3 lbs, it is a great starter rifle for children or new shooters because of its ease of operation.
Why We Like It
The Crosman 760 comes with a fixed front sight and an adjustable rear sight. It also has a built-in 11mm rail to mount your choice of optics on the gun further increasing its accuracy potential.
The adjustable power and the ability to shoot either pellets or BBs allow the shooter to be flexible in the applications they can use the gun for. This is perhaps the best air rifle for kids.
Things to Consider
It is a multi-pump meaning you must pump it at least 3 times before loading and shooting it.
The pellets only load one at a time, as no magazine option is given. It is a very light gun weighing less than 3 lbs.
The sights are not fiber optic, some shooters prefer black standard sights, and some prefer fiber optic inserts. It is a user preference.
6. Crosman PSM45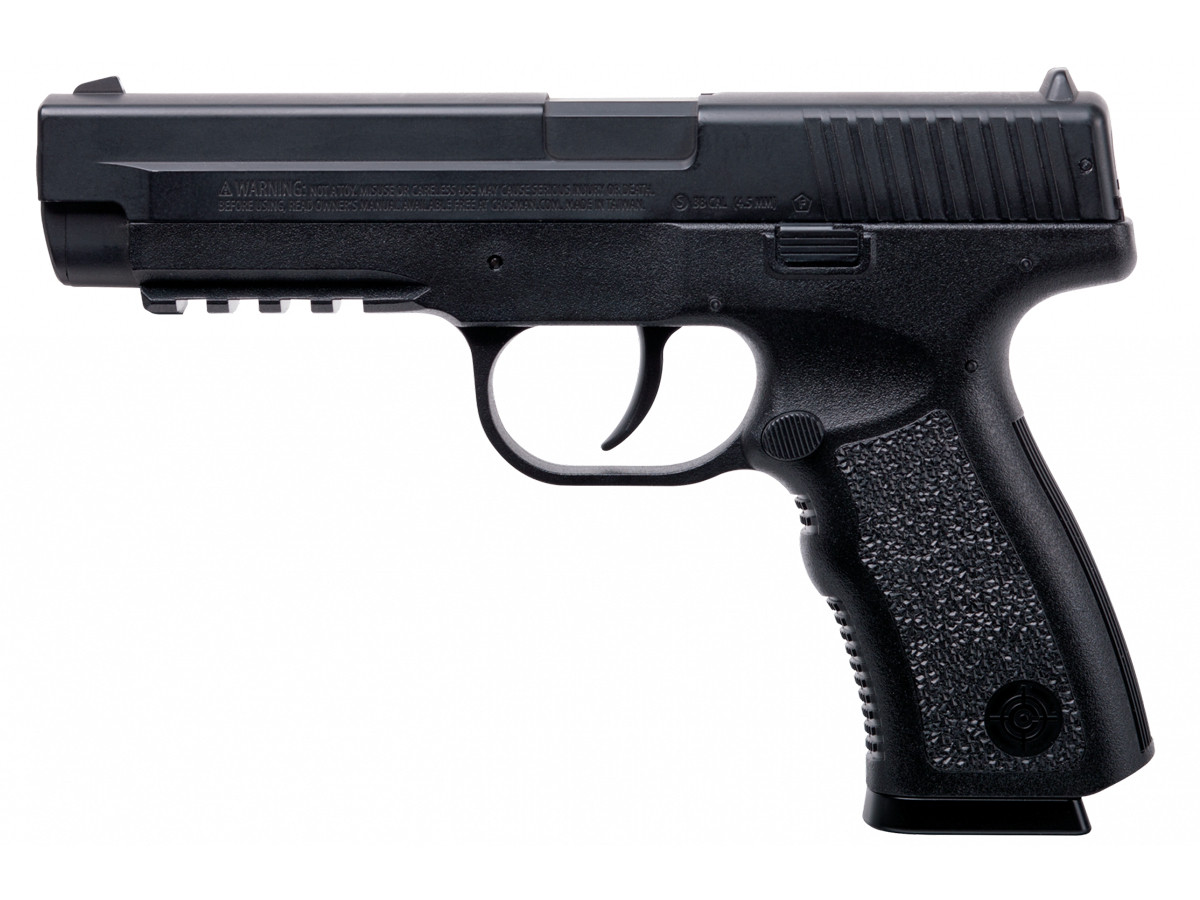 Product Details
The Crosman PSM45 is a spring-powered repeating air pistol that feeds from a 20-round detachable magazine.
The PSM45 is a pistol that seems to have some features inspired by SIG, and some from Glock, it is a rather nondescript modern semi-automatic style pistol.
The beauty of this pistol is its simplicity and ease of operation. Load the magazine with up to 20 rounds of BBs, insert the magazine, pull the slide rearward until it clicks, and let the slide return to its forward position, take the safety off, aim, and fire. It's just that easy.
It is excellent for teaching kids and new shooters proper gun safety and handling, as it needs to be manually cocked before every shot.
Why We Like It
The Crosman PSM45 sports a metal slide, and a polymer frame, with a frame-mounted manual safety. It offers good accuracy at typical BB gun distances and gives excellent value for the money spent.
The sights are fixed, and it has a white dot on the front sight to aid in proper sight alignment.
There is a picatinny rail on the frame to mount a light or laser to enhance your shooting experience.
The spring-loaded follower in the magazine locks in place to make the BB loading process easier. This is an easy bb gun pistol for kids to learn with.
Things to Consider
The sights and the power are nonadjustable, the velocity is about 190fps, more than adequate for paper punching and target practice indoors or on the patio.
While it is a 20-shot repeater, it is not semi-automatic; it must be cocked for every shot.
7. Walther PPK/s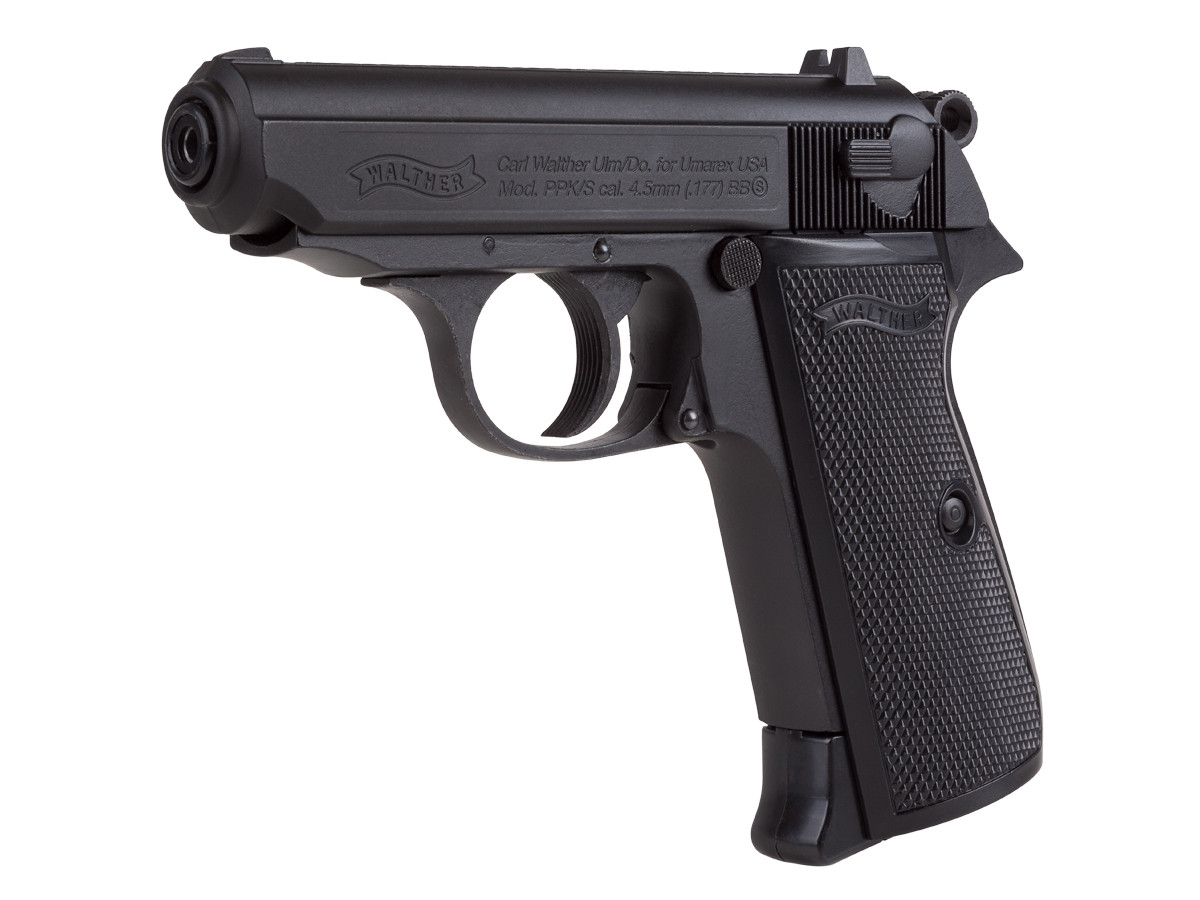 Product Details
Introduced to the world in 1931. "PPK" is an abbreviation for Polizeipistole Kriminal (police pistol criminal), referring to the Kriminalamt crime investigation office (the German Federal Police investigation office). It is a smaller, more concealable version of the Walther PP pistol.
The firearm version of the PPK was a favorite sidearm to be taken as a prize from the battlefields in Europe during WWII. It was made more famous in the 1960s by a certain fictional secret agent 007 in the service of Her Majesty the Queen.
The Umarex PPK replicates the firearm in many ways, with the same size, weight, and method of operation, it even has blowback so it cycles the slide in a realistic manner including locking back when you are out of ammunition so you know when to reload the magazine.
It uses commonly available 12-gram co2 cartridges, and the magazine holds 15 BBs.
Since it duplicates the size, weight, ergonomics, and cycling of the slide of the real PPKs it is an excellent training tool to safely teach new shooters what to expect when shooting a real semi-automatic firearm.
Why We Like It
The Umarex PPKs have a metal frame and slide, with plastic grips just like the real firearm. The realism continues with blowback operation, and last round hold open.
It can be fired double action for the first shot, then single action for subsequent shots, just like the firearm. The co2 piercing screw is hidden so it maintains the lines of a truly desirable piece of history.
Things to Consider
The sights are nonadjustable, but that's not a deal breaker. The pistol does have a manual safety, but it is located on the right side of the frame, the slide-mounted safety on the replica is nonfunctional, unfortunately.
The magazine follower does not lock in the open position for loading, so loading BBs into the magazine can be slow and "fiddly" sometimes.
8. Daisy 880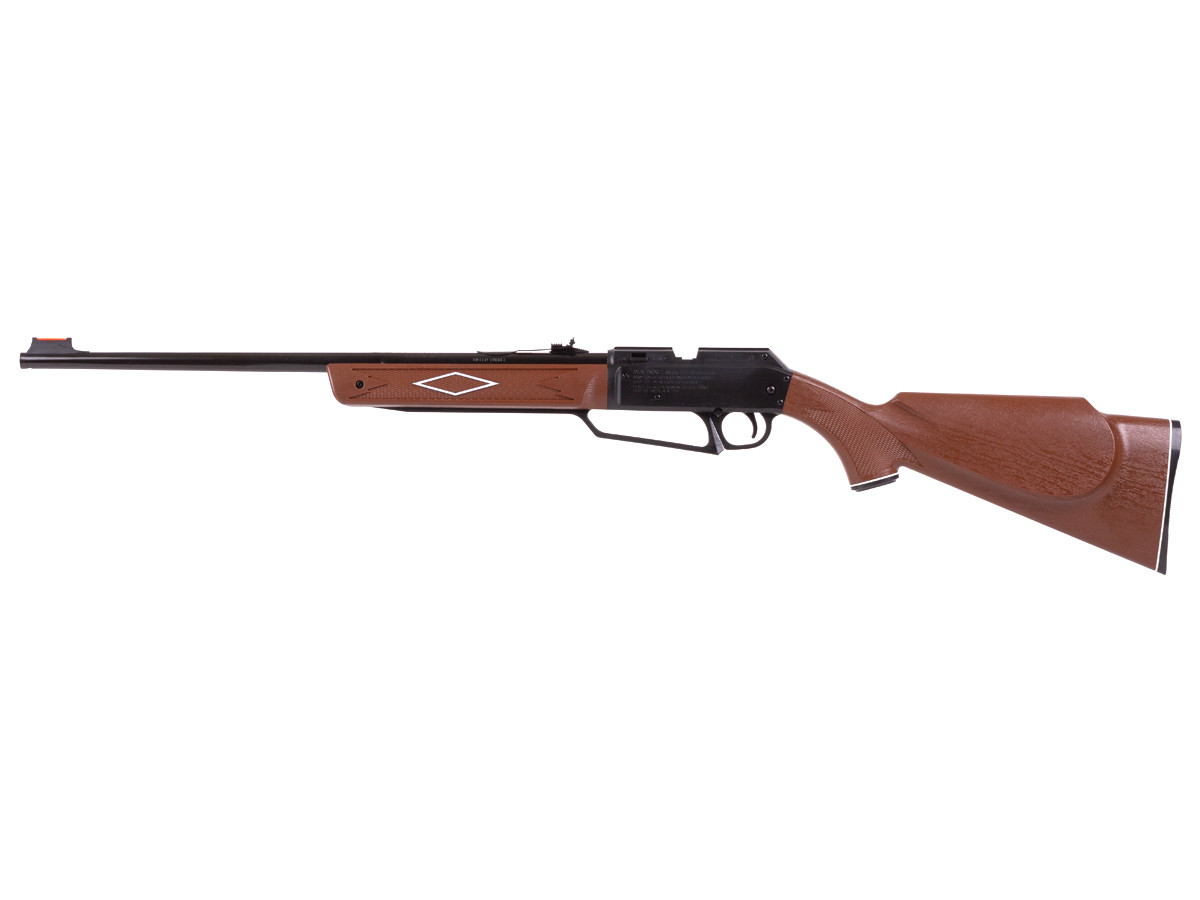 Product Details
The most popular air rifle Daisy makes is the 880 multi-pump air rifle. The Daisy 880 is a traditionally styled air rifle that has a plastic wood grain Monte Carlo stock with diamond-shaped inlays and checkering in the forearm, and white line spacers on the buttstock and pistol grip cap. It has a fiber optic front sight and a fully adjustable rear sight that is not fiber optic.
The receiver has an 11 mm dovetail for mounting a scope or red dot sight. The rifled steel barrel aids greatly in accuracy with pellets for target shooting, but it also does very well with regular BBs for just general plinking.
Generating over 750 feet per second with a maximum of 10 pumps makes the Daisy 880 a powerhouse in the BB gun arena.
The pump mechanism has a longer lever and stroke than most other multi-pump air rifles so it is much easier to pump than a rifle with a shorter pump handle which makes it perfect for younger shooters who are not as strong or lack the upper body strength of an adult.
Why We Like It
The Daisy 880 has very traditional lines and is perfect for someone looking for a sporting-style kids' air rifle for a new shooter.
The BB reservoir holds 50 BBs and one is automatically loaded when you cock the bolt, the steel BB is held to the bolt face by a magnet so it does not roll out of the barrel when the rifle is pointed downward.
The .177 caliber pellets are loaded one at a time into the loading tray allowing you to change pellet weight and shape as you change power levels for different circumstances.
The rifle is lightweight and easy to handle, perfect for a day at the range, or a day out in the field.
Things to Consider
While the stock is geared towards a right-handed shooter, it can be used by left-handed shooters as well.
With an overall length of just over 37 inches, the rifle is a little long, but it sports a 21-inch rifled steel barrel that gives it improved accuracy and more power than other similarly priced air rifles.
9. Remington 1875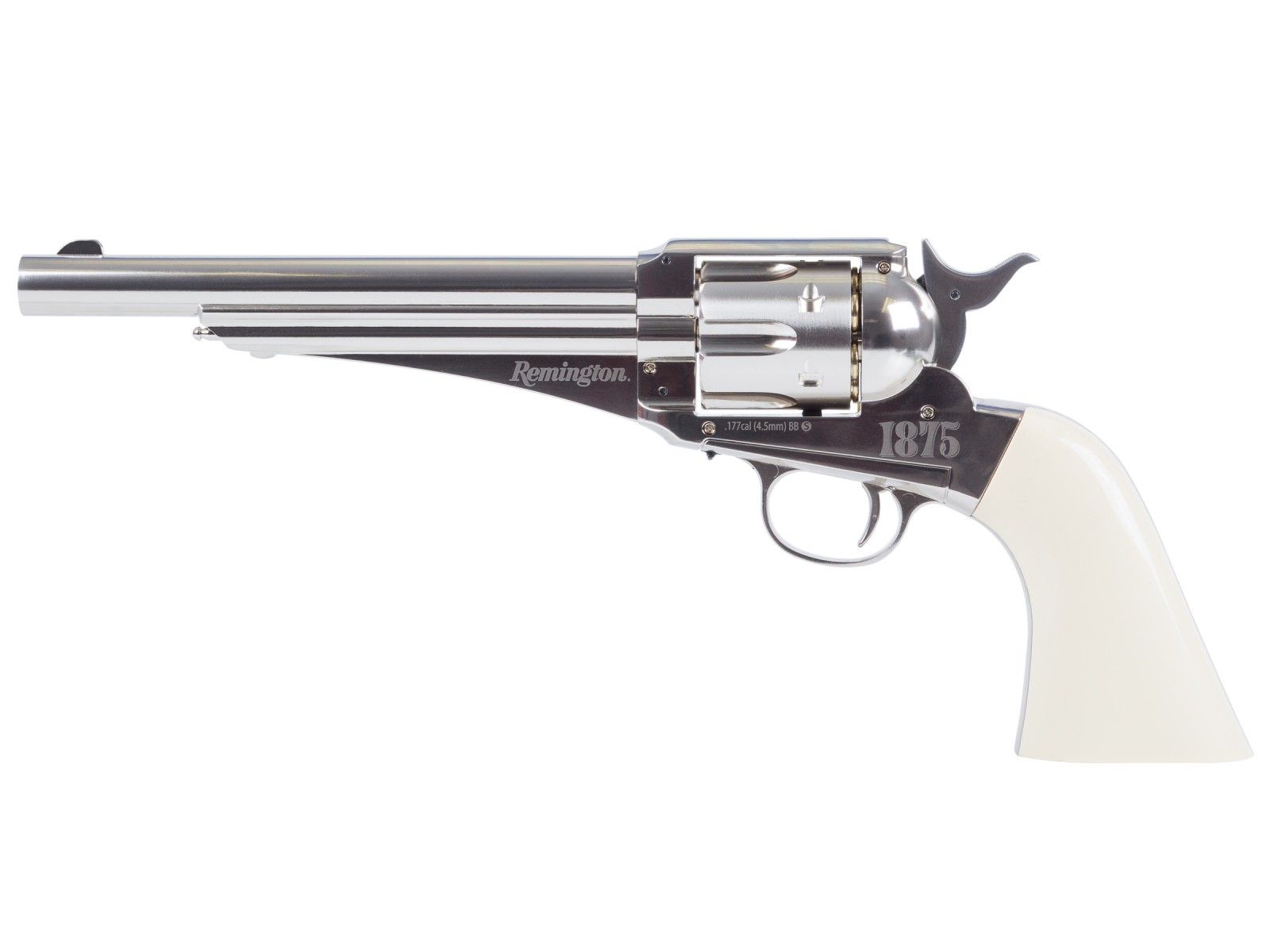 Product Details
After the American Civil War, the American firearms market was taken by storm by three newly designed revolvers using metallic cartridges after the expiration of a patent by Rollin White that allowed for cartridges to be inserted from the rear of the cylinder.
The Smith & Wesson top break model came out in 1872 and the Colt Peacemaker in 1873. Two years later in 1875 Remington & Sons released the Model 1875; it quickly became one of the most famous guns of the Old West, used by cowboys, lawmen, and outlaws, including being favored by Jesse and Frank James.
This famous six-gun is now available as a .177 BB/pellet co2 revolver. This nickel-plated replica joins the Colt Peacemaker and S&W Schofield No. 3 to create a trio of legendary arms from the American wild west that are available in co2 form.
The Crosman Model 1875 bears the Remington name and the classic lines Remington was known for at that time.
Why We Like It
The Crosman 1875 carries a one-year warranty, which is much longer than other replica airguns. The nickel-plated replica is full metal with faux ivory grips and has a hefty weight of over two lbs for added realism. This is another bb gun pistol for kids that's easy to learn with.
The 1875 ships with 6 cartridges for BBs, and 6 cartridges for pellets, but both cartridges can take either type of ammo.
The flowing lines of the Remington 1875 are different from those of the 1873 Colt, so it stands out in a crowd.
Owners have reported that it will also use cartridges made for other similar co2-powered replica airguns.
Things to Consider
It is a single-action air pistol, so the hammer has to be manually cocked before every shot.
The cartridges load one at a time through a loading gate on the right side of the revolver, so speed loaders are not an option, the only alternative is having more than 6 cartridges loaded at one time to speed up the reloading process.
Steel BBs can and will bounce back when fired at hard objects like metal, wood, or concrete, it is strongly suggested that everyone in the immediate area wears impact-resistant eye protection.
10. Hellboy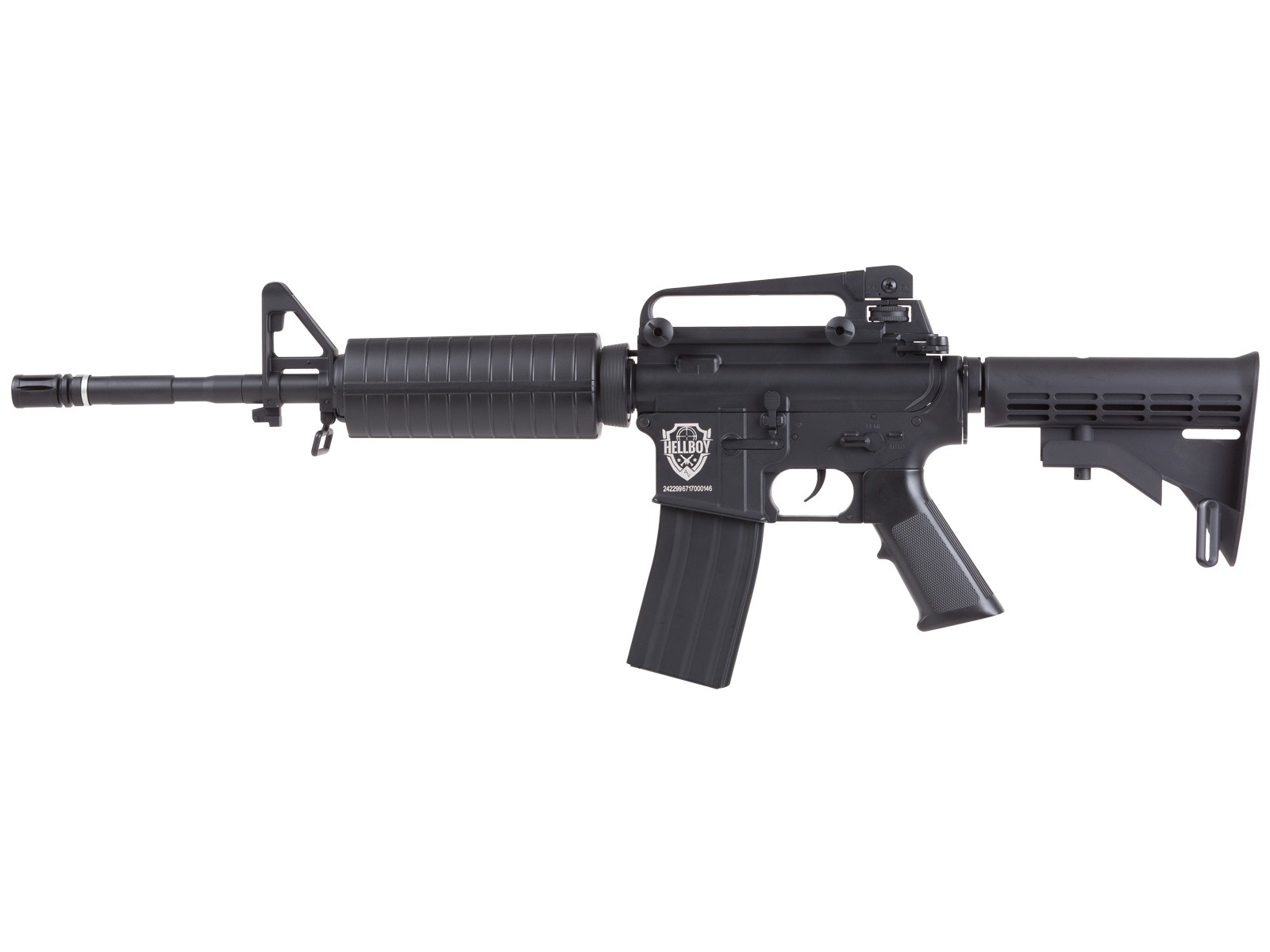 Product Details
We have looked at a multi-pump air rifle that has the styling of a modern M4 rifle, but now we have a semi-auto co2 powered air rifle that truly replicates a modern M4.
The Hellboy uses co2 to launch BBs from its 18-round metal magazine as fast as you can squeeze the trigger. With a velocity as high as 495 fps, it has the potential to engage targets far past the normal BB gun distances.
With full metal construction other than the handguards, pistol grip, and adjustable stock, the Hellboy gives you true M4 platform flexibility. Including the ability to field strip the rifle just like the real M4.
You also have the ability to change the military-style sights for an ACOG (Advanced Combat Optical Gunsight) or other red dot or scope to increase your accuracy by removing the carry handle exposing the integrated picatinny rail on the upper receiver, just like the real M4.
The adjustable stock allows you to change the length of pull for younger shooters and will adapt to longer lengths as they grow.
The Hellboy is the perfect way to introduce older kids to the operation, care, and maintenance of the AR-15 platform without the dangers and expense of an actual firearm.
Why We Like It
The Hellboy has full metal construction just like a real AR-15 and is even field-stripable to teach maintenance and care of the weapon.
It also has the ability to use any standard AR-15 optics or external accessories. It uses inexpensive and readily available 12-gram co2 cartridges to shoot 4.5mm steel bbs at a greatly reduced cost compared to what a single 5.56mm cartridge cost.
You can use it to practice marksmanship or self-defense drills out to 20 yards or so that other style BB guns do not allow. This is perhaps the best youth air rifle using co2.
Things to Consider
While it is a replica BB gun, it can not be distinguished from a real firearm at more than a few feet. Care should be used not to brandish or display this replica in public or to transport it without it being encased in a rifle bag.
Common Questions
What age should a kid have a BB gun?
There are no hard and fast rules as to the appropriate age for a child to have a BB gun.
That depends on the maturity level of your individual child, and how responsible they are with dangerous things.
Some pellet and BB guns are high-powered and can easily injure or kill a person. They should be used only under adult supervision.
In the United States, the Consumer Products Safety Commission recommends only kids 16 years of age or older use BB guns. While many manufacturers don't recommend BB guns for anyone under the age of ten.
Different models may have different age recommendations, check the box the airgun is packaged in to make sure it is deemed appropriate for your age child.
Are BB guns safe for 10-year-olds?
Again, that would depend on the maturity level of your 10-year-old child.
I would start by making sure they learn, understand, and abide by the basic rules of airgun safety.
That being said, I would start with closely supervised instruction and shooting. Once you are comfortable that they are adhering to the rules of safe and responsible handling of the weapon, you could allow them a little more freedom with the airgun.
I would start with a low-powered spring-powered airgun like the Red Ryder as they show more responsibility, maybe move up to a medium-powered multi-pump like the Crosman 760, and progress from there.
As their age and maturity level increase, you could move up the ladder of power levels and the "coolness" of the BB gun as a reward.
You wouldn't want to start a child out with a semi-auto multi-shot co2-powered replica that is sure to get them in trouble or hurt.
Can BB guns be lethal?
BB guns can kill a person. High-velocity BB guns, which have muzzle velocities higher than 350 feet per second, can increase this risk.
The U.S. Consumer Product Safety Commission has reports of about 4 deaths per year caused by BB guns or pellet rifles.
As the caliber and velocity increase so does the lethal potential of the airgun.
Also, airguns shoot metal projectiles, some shoot steel BBs, some shoot lead pellets, others shoot lead balls, and some BBs are made from sintered metal and SHOULD shatter when they impact a hard surface, but they don't always do so.
A BB can ricochet from impacting a hard or resilient surface such as metal, wood, rubber, or even water can cause a ricochet. These ricochets can cause irreparable eye damage or damage to other soft tissue.
It is recommended that everyone in the area of your shooting activities wear wrap-around impact-resistant eye protection at the bare minimum.
It is also suggested that all pets not be allowed in the area as they have a tendency to want to investigate the areas where the projectiles are hitting the backstop or targets.
As always, Shoot safe, and have fun!
Shop for BB Guns for Kids