Read the first part and the second part of my review of the Walther CP88 Tactical.
by B.B. Pelletier
Silencer
The muzzle of the pistol is threaded for a screw-in silencer. As noted in the last report, this is not a real silencer – it's just for looks. In a curious turn of events, this silencer actually sharpens and magnifies the report! A flat pop becomes a sharp crack with the can screwed on.
Being a functional guy, I don't go for eye candy, but a lot of shooters do, and the CP88 Tactical pistol was designed for them. To their credit, Umarex cut the foam inside the CP88 Tactical's hard gun case to fit the gun with the silencer mounted, as well as a special spot for it when it's taken off.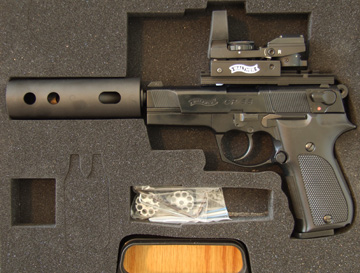 Pistol comes in a hard case. Foam is cut to accept pistol with all accessories installed, plus a separate cutout for the silencer (it now holds the Allen wrenches, rear sight and clips).
Shooting
The sweet trigger mentioned in the last report, plus the generous grip make this pistol a delight to shoot. I was glad I had loaded a bunch of Walther clips in the Speedloader report, because I went through them rather fast. I don't remember my first CP88 being quite as much fun to shoot as this one, and I'll attribute the difference to the trigger that I believe has gotten better over the years. I still prefer the M1911A1 trigger, because my hand fits that grip configuration better; but the physical performance of the CP88 trigger is probably just as nice.
Realism
The CP88 shocked the world with its realistic look when it first came out. Nothing has changed in that respect. This is still a pellet pistol that fools a lot of gun buffs. The weight, the feel of cold metal and the realistic finish all tell you this is the genuine article. Because it's made by Umarex – the parent of Walther, this REALLY IS a Walther pistol! Collectors need it to complete their roster of specimens from Ulm.
Accuracy
I got five-shot groups of 1″ at 10 yards when shooting H&N Finale Match pellets. That's about 1/8″ better than the other Umarex pistols with similar-length barrels, and I think I know why. Longer-barrelled pistols often give me tighter groups, a trait I must attribute to their longer sight radius, but the red dot on the CP88 Tactical does away with the sights altogether. The accuracy has probably always been there and it just took an optical sight to bring it to the surface. The regular rear sight blade is also provided, in case you want to revert back to the CP88 with open sights.
If you favor large 9mm service-type pistols, the CP88 Tactical is probably the gun for you.