UTG M4 – Part 2 Built in America!
by B.B. Pelletier
I've had something come up and have to go out of town for a couple days, so I won't be able to answer any questions until Friday. Plerase help out while I'm out of the loop.
The UTG M4 is an automatic electric gun (AEG), so the 8.4-volt battery has to be charged. That takes 16 hours the first time. After that, it takes about 4 hours.
The battery stores in the butt, balancing the rifle well. With the oversized handguard and the rifle's general stoutness, this gun feels big!
I started with 0.20-gram BBs, even though I thought they were too light for the powerplant. Sure enough, at 10 yards they gave groups in the 2.5″ range. That's not what you want in a battle rifle – not even a CQB gun. But I knew 0.25-gram BBs would make things better, and they did. I used TSD Competition Grade AEB BBs that I had laying around. As you can see, they worked quite well.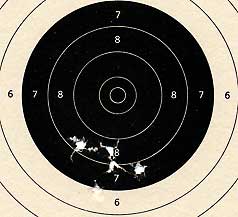 TSD 0.25-gram BBs did the trick! I was using a 6 o'clock hold, so they went just above the aim point.
Great open sights!
All shooting was done with the peep sight supplied with the gun. It works the same as an M4 firearm peep, and the front sight does, as well. Both front and rear sights have elevation adjustments, and the rear has windage, too. The top of the receiver is a Picatinny rail, so you can use optics if you like, but I wanted to see how good these iron sights were. They're great!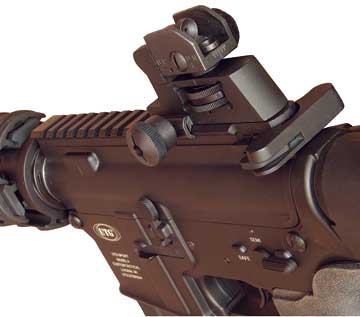 The rear sight is quite a piece of machinery! It's just like a firearm sight, because it was MADE for firearms!
Velocity
Next I tested velocity. I tested 0.12-gram BBs, though you'll never use them, because all the other AEGs report velocity with them. It's just for comparison.
0.12-gram=461 f.p.s.
0.20-gram=353 f.p.s.
0.25-gram=323 f.p.s.
Naturally you're only going to shoot the most accurate BBs, which are 0.25 grams. Remember that all BBs are not made the same, so do some comparison testing before settling on a brand. Don't just buy on price.
Let me get my thoughts together, and there might be one more part to this report. If not – please remember the most important thing. This airsoft gun is built right here in the U.S.A.!
Tom Gaylord, gunfighter
In college in the 1960s, Tom worked at Frontier Village in San Jose, California. He was a ride operator and a gunfighter. Some of you have asked us to post a picture, so here is one taken around 1968. Tom was the Deputy Marshal shooting it out with the outlaw, Dakota, who is Randy Mitchell (not the airgun hunter, though they do know each other).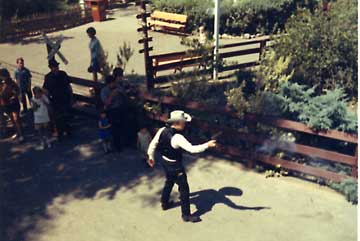 Back in '68, Tom had more hair and a shorter belt. Gunfighting at Frontier Village.
Tom Gaylord is known as The Godfather of Airguns™ and has been an airgunner for over a half-century, but it was the 
Beeman
 company in the 1970s that awoke a serious interest in airguns. Until then, all he knew were the inexpensive American airguns. Through the pages of the Beeman catalog, he learned about adult airguns for the first time. In 1994, Tom started
The Airgun Letter
 with his wife, Edith. This monthly newsletter was designed to bring serious reports about airguns to the American public. The newsletter and
Airgun Revue
, a sister magazine about collectible airguns, was published from 1994 until 2002, when Tom started
Airgun Illustrated
-- the first American newsstand magazine about airguns. Tom worked for three years as technical director at
AirForce Airguns
, the makers of the 
Talon, Condor, and Escape
 precharged air rifles. Today, he writes about airguns and firearms for various publications and websites. He also makes videos, and you'll find short clips embedded in some of his artices on Pyramyd Air's website. Tom is a consultant to Pyramyd Air and writes under the name of B.B. Pelletier.