by B.B. Pelletier
I started out as a child
I loved to shoot as a kid, but there weren't many opportunities before I turned 12. Once I had a paper route and could buy my own guns and ammo, my mother relented and let me buy airguns. But that wasn't when I became an airgunner.
Jump ahead 12 years
I served in Germany from 1974 to the end of 1977 and bought a Diana model 10 target pistol on a whim one day. I shot that gun the rest of the time I was in the country and I loved it, but that wasn't what made me an airgunner.
I am bitten
In 1976, I bought a copy of Airgun Digest, First Edition and read it cover to cover. That edition was written mostly by Robert Beeman. It opened my eyes to the world of adult airguns, but it wasn't what made me an airgunner.
Those darned catalogs
I also sent off for catalogs from Air Rifle Headquarters and from Beeman Precision Airguns. I read those from cover to cover, too, and that's what made me an airgunner. Robert Law, the owner of Air Rifle Headquarters, was a salesman in the same way as George Leonard Herter. He wrote lengthy descriptions that explained in detail why the guns he sold were the very best money could buy. By the time I got through his catalog, I wasn't wondering which gun I could afford, but rather how I could afford them all!
Beeman was the best
Robert Beeman was even more masterful with words, plus he showed the insides of airguns in his beautiful catalogs with their stunning color covers. With Beeman, I really did have to choose because he had such a wide range that there was no hope of buying them all. I finally settled on an FWB 124D breakbarrel, though I also wanted an HW35 almost as much. The FWB was faster than the 35; and in those days (the late 1970s), that meant breaking the 800 f.p.s. barrier.
You always want what you do not have
As an armor officer and company commander, I had at my disposal enough ordnance to command serious attention (we had Mod Deuces on all our armored personnel carriers, mortar carriers and scout vehicles); and though I shot thousands of rounds of ammo each year, precision adult airguns really sent me into orbit! Go figure! I had an arms room full of full-auto rifles, submachine guns and 1911A1s, yet I lusted after a .177 breakbarrel that might go 800 f.p.s.
Home again
When I returned to the U.S. in November of 1977, I did three things I had dreamed about for several years. First, I kissed the first patch of U.S. soil I came in contact with (it was the cement at the airport in San Jose). Second, I went shopping at a mall at 9:30 p.m. on a Sunday evening just because I could (Germany rolled up the sidewalks early Saturday afternoon and wasn't open for business again until Monday). Third, I drove up the peninsula, across the Golden Gate and on to the Beeman store, where I purchased my 124D. Forget the fact that Christmas was coming! I wanted it NOW! Anyone who has pulled several dozen 24-hour guard shifts, duty officer shifts, numerous alerts (short unannounced field deployments called without warning), annual two-week REFORGER field manuevers and too many month-long deployments to training centers such as Grafenwoehr and Hohenfels, will understand that a promise made to oneself at such times is sacrosanct.
That early pellet rifle was scoped with a Tasco 2-7×32 riflescope. It wasn't corrected for parallax, but it was accurate all the same. I tested it by shooting at a tin can hung on a tree branch about 50 yards from the back door of my government quarters at Fort Knox, where I was later stationed. I pounded the can every chance I got. The Diana M10 I had bought in Germany was used for shooting in the living room. I was an airgunner, but not yet complete in my conversion.
This really clinched the deal
In 1992, the airgun magazine I had just subscribed to (American Airgunner) went belly-up, taking half of my subscription money with them. I became very cranky until my wife suggested I start my own magazine about airguns. When we thought it through, we realized I wouldn't be able to write (or afford) a magazine, but a monthly newsletter would be very possible. So, we promoted it as best we could (there was no place to advertise!) and in March of 1994, we published the first edition of The Airgun Letter.
A lot more stuff happened after that, but that's how it started. Now on to the most accurate airgun I ever shot.
What's the most accurate pellet rifle I ever shot?
Easy! The most accurate airgun I ever shot was a loaner British Skan M32 pump repeater. It wasn't smooth to operate and changing the magazine was cumbersome, but it was easily the most accurate air rifle I ever shot. At 40 yards, I got 5-shot groups so small they would almost not allow pellets to drop through.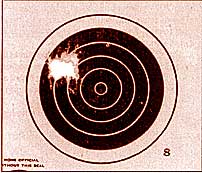 Five Beeman Trophy Hunters went through this hole. The pellets landed on a group measuring 0.181″ center to center of the two pellets farthest apart. Shot at 40 yards.
If you ask real nice, I might blog this gun for you some day.