by B.B. Pelletier
Okay, there's a lot of interest in the .25-caliber Walther Falcon Hunter. We know that it's made by Hatsan in Turkey and that a number of people who own the .22-caliber model like it a lot. We also know this is a very large air rifle. While it isn't the most difficult spring rifle to cock, it does take some effort, so don't buy it if you're looking for a plinker. My test rifle takes 44-45 lbs. of effort to cock. Compare that to a Webley Patriot that takes 48-50 lbs. or a Beeman Crow Magnum/Theoben Eliminator that takes 60 lbs. If the Falcon Hunter puts out equivalent power (26-28 foot-pounds), then we have a story. If it turns out to be accurate as well, we may have a BIG story.
The game is POWER!
The Falcon Hunter is sold on the basis of POWER. The lithographed box screams 800 feet per second at you, so you can't miss it. Now, the readers of this blog are experienced enough to know the difference between power and velocity, but they also know there's a connection. Therefore, we'll shoot the rifle for velocity with a 21-grain RWS Diana Magnum pellet and test it for power with several heavier pellets. Pyramyd AIR doesn't have the Diana magnum (they're probably obsolete) but they do carry the Webley Mosquito that weighs 19.3 grains, and should go even faster.
Breech seal
While conducting testing for this report, I was getting some large fluctuations in velocity so I tried to remove the breech seal to see if shimming might improve things. Unfortunately, the seal in my rifle was glued in and I ruined it while prying it out. Fortunately, I was going to attend the NRA Annual Meetings anyway, so I emailed Umarex USA, the importers of the rifle, and asked if they would bring me a replacement seal. At the show I met Danny Williams, the gunsmith at Umarex USA. He brought me a new breech seal and some RWS Diana shims that fit very well. They are 0.005″ shims and I tried both two and three. No difference between two and three shims, but with at least two behind the new seal, the rifle became very consistent.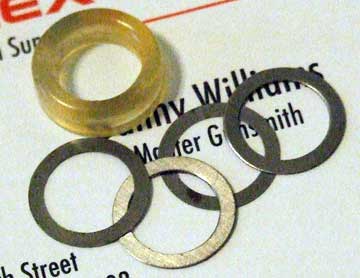 The new breech seal and four shims that Danny Williams gave me. Two shims did the trick.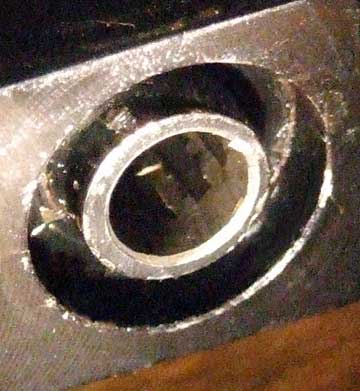 The Falcon Hunter breech with the seal removed. It still has to be cleaned before the new seal is installed. Notice the tapered leade (the entrance chamfer) in the bore for ease of loading.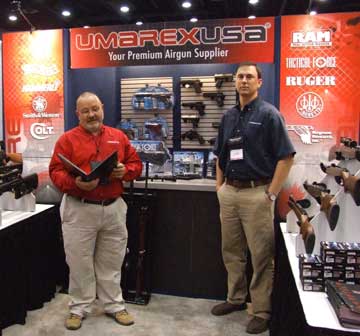 Danny Williams (left) of Umarex USA provided the breech seal and shims.
Trigger-pull
The trigger-pull is 4 lbs., 12 ozs. It feels like it's breaking-in very quickly; at first it seemed much heavier than it is now. It's not a standard design and probably can't be easily changed, in the same way that many Gamo triggers can.
Beeman Ram Jets
My rifle pops out 24.2-grain Beeman Ram Jets at an average 703 f.p.s. The spread was from 698 to 710, which is very tight. That works out to a muzzle energy of 26.54 foot-pounds. The Falcon Hunter is definitely in the Webley Patriot class.
Diana Magnums
I shot 20.1-grain Diana Magnum pellets at an average 707 f.p.s. That's no improvement over the Ram Jets, and with the lighter weight they produced only 22.31 foot-pounds. I would not recommend them for this rifle. The spread went from 700 to 715, which is good, but I think the piston may be too heavy for such a light pellet.
Beeman Perfect Rounds
Beeman Perfect Rounds do not fit in the bore, so I was unable to test them. I had several readers who were interested in their performance, but they're not for this rifle.
Beeman Kodiaks
The classic .25 caliber pellet is the 31-grain Beeman Kodiak. It's both accurate and consistent. I try it in all .25 caliber air rifles, regardless of their power. They gave an average of 616 f.p.s., with a spread from 613 to 618. The rifle felt very smooth when shooting them, so I'll definitely try them for accuracy, as well. Muzzle energy works out to 26.13 foot-pounds.
The rifle seems to be breaking in well. After I do the accuracy testing, I'll look at the velocity numbers again to see if anything has changed. While I'm not getting 800 f.p.s., it may still come. With all the great customer reviews I've read about this rifle, I wouldn't bet against it. If you're thinking of getting one, you need to know that this is a very big and powerful air rifle. It isn't made for shooting all day long. It's a hunting rifle, first and last.