by B.B. Pelletier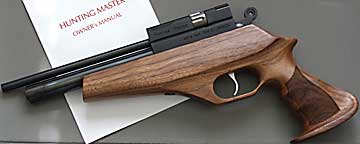 Renegade pistol is nicely styled and beautifully finished.
Hot on the heels of the Renegade rifle test, I'm now testing the Renegade pistol. In the photo, the pistol may appear normal size, but looks are deceiving. This is a very large air pistol. That said, it isn't any larger than the Falcon, Daystate or Air Arms PCP pistols that have sold over the past 15 years. To work at all efficiently, a pneumatic pistol needs some size for barrel length (to achieve acceleration of the pellet) and for reservoir capacity.
Because there may be some crossover interest in other Renegade guns, I'm giving you the links to all five reports for the rifle.
Part 1
Part 2
Part 3
Part 4
Part 5
The Renegade system is new to Evanix airguns, which until now have been the latest versions of the AR6 family of Korean pneumatic rifles and its associated relatives. The Renegade is a departure because, for the first time, the double-action trigger-pull is feasible to use. That means you get up to 6 quick shots by just pulling the trigger. How fast they happen is up to you.
Precharged air pistols have not been plentiful up until now, and the few that existed were nearly always very expensive – as in $700 and more. There has been an AR6 air pistol for at least the past 8 years, but for a long time it was based on the rifle and was little more than a cut-down carbine. On the plus side, it developed 50 foot-pounds. On the minus, it was as large as a small carbine. The current AR6 pistol looks very similar to the Renegade, with the difference being it is a little more powerful but doesn't have the double-action facility.
The Renegade pistol is sized as a real pistol, weighing a trifle over 3 lbs. without sights. The grip is sized for the average hand, though shooters having larger hands should find it handy because there is an abundance of gripping surface. Your fingers have places to go if they wrap around farther than average.
Appearance
You cannot fault this pistol for looks! The wood stock is finely crafted of light walnut with panels of fine checkering on either side of the grip. There are scalloped finger grooves on the front of the grip. The triggerguard is formed from the wood in a single piece, adding style to an attractive piece. All metal parts are polished and deeply blued in the equal of a good European finish. This is an airgun of which to be proud.
Function
As with the rifle, the trigger doesn't work properly until the rifle is pressurized. Since that is the state in which you should always maintain it, you won't notice anything except when the pistol is brand new or has just been received from a common carrier.
If you want to fill from a hand pump when the gun is empty, the hammer must be cocked first. Always put the safety on when you do this; and, for extra safety, remove the cylinder. Without the cylinder, the pistol cannot shoot anything but air.
The air intake port is at the front of the pistol under the free-floated barrel. It has a captive cover that simply has to be rotated open when you want to insert the fill probe.
Sights
There are no sights on the pistol, so either a scope or dot sight must be added. This is one time you will want to use a real pistol scope for the added eye relief. I don't have one, so I plan to use the Leapers UTG Tactedge 4×40 scope, whose long-eye relief will at least let me hold the gun 5″ from my eye. The pistol has a conventional 11mm dovetail on top of the aluminum receiver, and of course recoil is not a problem.
Performance
No shooting in this report, but let's all get ready for it. This is an air pistol, so it's not going to get a large number of powerful shots. Because of the small reservoir and short 10″ barrel (short compared to a rifle, that is), it will either get a few powerful shots or many low-powered ones. Knowing where this one came from, I'm pretty sure it will get fewer more powerful shots. The specs say 841 f.p.s. in .22 caliber with a 14-grain pellet. We'll compare our stats with theirs, plus I think we'll see a difference between single-action and double-action power. I'll document that, as well.
This pistol is meant for hunting, pure and simple. It's not for target shooting, and no formal air pistol sport will tolerate power like this Renegade delivers, but it's perfect for hunters. So, once again, the goal will be long-range accuracy.
This should be interesting!