by B.B. Pelletier
One of our blog readers apparently doesn't know how to leave comments on the blog, so he emailed them to Pyramyd AIR. If he is reading, the way comments are left is by clicking on the Post a Comment found at the bottom of the comments for each blog report. To get to the Comments section, click on the (number of) Comments at the bottom of each blog report. If there are no comments, each new blog has the Post a Comment at the bottom of the blog, itself. That brings up a window in which you write your comment and then scroll down and submit it. If possible, give yourself a name, so I can respond to you by name, and try to remember which blog entry you asked your question on. I see all the questions, but if you don't remember, you'll never find my answer. On some blog entries there are now over 200 comments, and in the comments window you have to also click on "Newest" at the top of the comments window to see your comment and my answer.
Just this once I will address his question without him commenting. Marc Wasserman asks if I'm going to ever do the additional report I mentioned in the third part of the Ruger AirHawk report – where I said I wanted to look at the trigger further. Well, Marc, you caught me! I'd forgotten about that promise until reading it today. I'll look at the AirHawk, which I still have, and see what can be done.
Please don't use this method as a means of bypassing the word verification that is required for every blog comment. Yes, it's clumsy and buggy – but that's Google, not Pyramyd AIR. This blog is so popular that if we were to take that off we would be flooded by spams that I would have to delete.
Pyramyd AIR Garage Sale
Many of you are interested in the Garage Sale Pyramyd AIR held last weekend. Owner Joshua Ungier took some pictures and asked me to share them with you.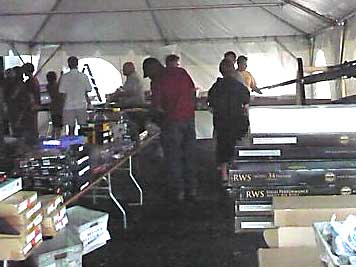 Lots of great deals at the garage sale.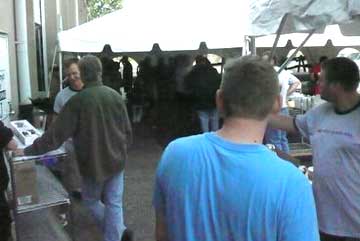 On Saturday, the crowd was large at times.
If you couldn't make this sale, don't forget Pyramyd AIR will be at the Roanoke Airgun Expo on Friday and Saturday, October 24 & 25.
Today, I'll look at the velocity of Wayne's HW 55T. From examining and shooting the gun, I'm getting lots of indications that is was recently tuned, and perhaps hasn't had time to break in, yet. The barrel latch is too stiff, like it was recently adjusted. And, the gun fires with just a "thunk." A factory 55 would vibrate just a little, so I anticipate finding either black tar on the mainspring or a super-tight spring guide. Finally, I've spotted a lot of moly paste at the pivot point, but the factory uses only clear petroleum grease. So, that was added later. It all adds up to a recent tune.
You may remember that I reviewed the HW 55 SF I found at Little Rock for you. I thought I'd compare the velocity of that rifle against this one, just as a baseline of expectations. Here are the 4 reports on that gun.
Firing behavior
I must say that I'm not pleased with the way this rifle performs right now. The barrel-locking latch is too stiff, as I noted, and there's a dragging of the cocking shoe over the mainspring that, while normal on some tuned springers, is distracting nevertheless. I'll see what can be done, if anything, when I go inside the rifle to examine the powerplant. I also don't like the trigger setup. This is a special Rekord, and it's capable of a very light release, yet this one is set up like an R1. Of all the Rekord triggers, the HW 55 trigger is special and deserves to be adjusted properly. I plan to make some adjustments, which I'll describe for you in detail.
Velocity with Meisterkugeln
My HW 55 SF averaged 543 f.p.s. with RWS Meisterkugeln wadcutter target pellets. The spread was just 18 f.p.s., which is pretty good for a springer. This Tyrolean averages 516 f.p.s. with the same pellet and the spread is 27 f.p.s. That's not too large, but it's a clue the rifle is still breaking in, as is the slower velocity. The barrel latch may have something to do with this because the breech seal appears to be mashed pretty flat.
Velocity with RWS Hobbys
My 55 averaged 631 f.p.s. with RWS Hobbys with a spread of 38 f.p.s. That's a little high, but at 10 meters you would never notice it. The Tyrolean averages 598 f.p.s. with the same pellet and exhibits a 40 f.p.s. spread. Not much difference except a little slower.
Velocity with Chinese blue-label target pellets
Back when I competed in 10-meter pistol, I found a Chinese target pellet that out-performed RWS R-10s and Beeman H&N Match pellets. They weigh a little less than H&N match pistol pellets, but since I don't have enough of those for testing, I used this 7.6-grain substitute. They're no longer available, so when my small stash is gone, I'll have to find a new pellet. I got an average velocity of 598 f.p.s., with a spread of 21 f.p.s., the tightest of the test. The H&Ns gave an average of 622 with an extreme spread of 19 f.p.s. in my SF.
So, what did I learn?
A pre-tuneup test like this is a very helpful diagnostic for an airgunsmith. I now have a list of things to look for and several adjustments to be made. I'll check to see if too much vibration-deadening grease has been applied to the mainspring. And, I'll check the breech seal carefully. I'll also adjust the trigger until it performs like I know a target Rekord can. And, I may adjust the barrel latch if it still seems too stiff when I get to it.
The next thing we'll do is dive inside the rifle.