by B.B. Pelletier

The .22 caliber Air Venturi HaleStorm is a good-looking PCP repeater that's also testing very well. We may have a major winner in this rifle!
Today, we'll look at the accuracy of the .22 caliber Air Venturi HaleStorm. And now I'll let you in on a little secret. When I tested this rifle back in March of this year, it didn't yet have a name. I just called it the Hatsan repeater, because the decision to import it hadn't yet been made. In fact, my test was required input for that decision.
Is this a worthy air rifle? Well, we saw in the velocity test that it has a good string of useful shots at a whopping 30+ foot-pounds of energy when heavy pellets are used. So, if it's accurate as well, then, yes, it's worth considering.
March in Texas this year was windy. In fact it's almost always windy here in Texas, but it was especially so this spring. All the shooting was done in the wind, pausing between gusts. That made things harder, because at no time was the wind entirely calm. Nevertheless, the rifle shot through like a champion.
I used the same Leapers 3-9×50 scope that I used on the Hammerli Pneuma, because, except for the HaleStorm's 10-shot rotary clip and the stock, the rifles are essentially the same. I used the trick of folding the rear sight forward to mount the scope. All you have to do is remove the elevation wheel and spring underneath the sight, and the rear sight folds forward to take up half the height as before. Then, there's adequate clearance for a 50mm objective bell.
Loading and firing
The clip-loading mechanism on the rifle is easy to use and very positive. Just remember that each time the bolt goes forward, it pushes another pellet into the barrel. I also found the circular clip itself to be very easy to load.
JSB Exacts
I tried the 15.8-grain JSB Exacts and Air Arms domes that day because both have a good reputation for long-range accuracy. I was on a tight time schedule and wanted to cut to the chase. These pellets would do it, I figured.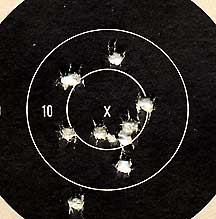 Ten JSB Exact 15.8-grain domes went into this 1.632″ group at 50 yards. While this group looks large, remember the wind was not cooperating that day. I was impressed.
Air Arms domes
The other pellet I tried was the 16-grain Air Arms dome that's also made by JSB. It looks like an Exact and it performs like one, too. However, it shot to a different point of aim.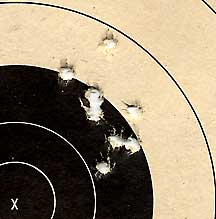 Ten Air Arms 16-grain domes went into this 1.361″ group at 50 yards.This pellet is essentially identical to the JSB Exact, but notice that it went to a completely different spot on the target with the same scope settings.
Final observations
The HaleStorm is a wonderful new PCP repeater. It's priced as a real bargain and delivers the features shooters and hunters want–power, shot count and accuracy. It's loud, but nowhere near as loud as a .22 rimfire rifle. You can't use it in a suburban backyard without drawing attention to yourself, but out in the woods and fields, it will be fine. This is a reliable 10-shot repeater. The airgun world has another good PCP buy for a reasonable price.