Beeman R1 update report
by B.B. Pelletier
Before I begin, don't forget that on April 8 at 8 p.m. Eastern I will have a special Facebook session on the Pyramyd Air page just for you. Please join me then.
And don't forget the Arkansas airgun show is fast approaching. Friday, April 30, and Saturday, May 1, are the dates, and this website gives all the particulars. I hope to see a lot of you there.
Today is Friday, and on Fridays I like to write about things that are of special interest to me. Do you know that I've been writing this blog for almost five years, and in all that time I haven't done a single report on the Beeman R1? I wrote a book about it, but I've never blogged it until today. I assume that veteran airgunners know the rifle well, but the newer readers may never have heard of it or given it a second thought.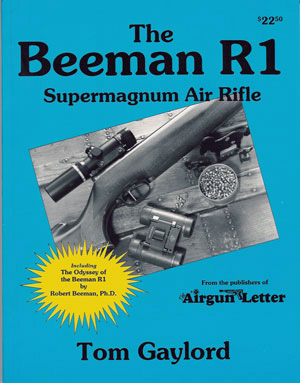 The R1 book has test results from two brand-new R1s.
To clear up a rumor that people used to try to spread, the Beeman R1 did not grow out of the Weihrauch HW80. In fact, it was just the opposite. The HW80 is copied after the R1. It came to market first because the longer R1 stocks were not ready in time to build the rifles. And the nomenclature HW 0 means that the piston stroke is 80mm. The R1 was the first air rifle to be designed in part by a CAD/CAM system, and those who attend the Arkansas show next month may well have the chance to meet the engineer who designed it for Dr. Beeman–E.H. Epperson.
History
Back when the R1 first came to market, the FWB 124 was the fairest in the land. It had broken the 800 f.p.s. barrier and nothing else could hold a candle to it. Then, the R1 burst on the scene, delivering 940 f.p.s. in .177 caliber. Before a year elapsed, the Beeman company had tuned the .177 R1 past 1,000 f.p.s. and every dedicated airgunner wanted one. I know I sure did.
The trouble was that I had recently bought an expensive 124, and as a family man could not justify spending that much more money for another new air rifle. Robert Beeman taunted me with the Rekord trigger, the beautiful stock and of course the power that I thought I needed to be complete. So, I pined for an R1 that would not be mine until more than a decade passed. Wife No. 2 turned out to be much nicer than No. 1 and gave me one for Christmas in 1991.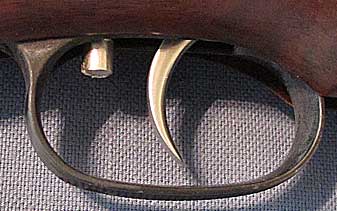 The Rekord trigger had a lot to recommend it in the early 1980s. It still does.
My new R1 was in .177 caliber, of course, because I wanted the speed. But I quickly learned what I now tell other new airgunners–velocity without accuracy sucks, and you give up too much power by getting a powerful airgun in .177 caliber. So, I decided that I wanted a .22. Enter The Airgun Letter.
Starting in 1994, I wrote a monthly newsletter about airguns. Then, I hatched a plot that I would write about an R1 and all the various tunes one could do to it. It would provide the newsletter with many interesting articles (more than nine in the final tally). To do that I would have to get a brand-new R1 that I could break in and report on as I did. Cutting to the chase, that R1 served as the platform for many newsletter articles and was the basis for my book, which was published in 1995.
For those who have never read the book, there were actually two R1s. The first one broke a forearm stock mount that Beeman had to weld back on, and in the process they "gave" me a free moly tune, because they had to clean out the compression chamber before welding. That was great except for one thing. I was in the middle of a protracted break-in and test, which they ruined by tuning the gun. So, after some discussion, they replaced the rifle and I got to break in a second .22 caliber R1. It's all in the book and the remarkable thing is how close the two rifles turned out after a 1,000-shot break-in.
That second rifle is the one I still have today, though I did trade it away for a period of three years. The same man got my Whiscombe rifle when we needed the money, but was glad to sell them back to me three years later because I included his (and my) favorite M1 Carbine in the deal. While he had the gun, he made a beautiful walnut stock for it, which is a bonus given the level of my woodworking skill. Although it isn't checkered, I leave it on the rifle for the beauty.

My R1 has undergone a huge transition from new. This is how it looks today.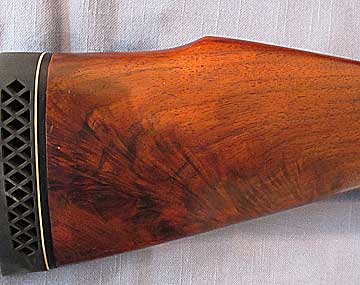 Isn't that nice figure in the butt?
How does a Beeman R1 differ from other magnum air rifles?
For starters, there are no synthetics visible on this rifle. None! The piston seal is synthetic and so is the spring guide in a current R1, but the guide in my rifle is steel. The trigger uses machined parts. The major stamped part is the box that holds the trigger components.
When I picked the rifle up to examine it, I was shocked by the weight. It's over 10 lbs. with a scope and Vortek tunable muzzlebrake. Yet it delivers only about 14.5 foot-pounds. I've detuned it for smoothness and because I simply do not need it to be a supermagnum air rifle anymore.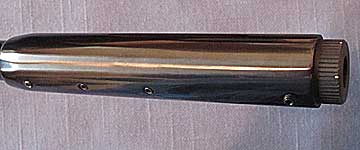 This muzzlebrake from Vortek has a moving weight that allows you to "tune" the rifle to the best vibration nodes. You can adjust the barrel vibration for every different pellet you shoot. This accessory is no longer available, though Vortek may still have a couple that were unsold.
It shoots smooth, though compared to a Bronco or Benjamin Legacy there's still some vibration. That could be cured by either tighter fitting of the powerplant components (mainspring, piston, spring guides) or with the application of black tar, but I haven't done either and I doubt I will.
The Rekord trigger on my rifle is adjusted about as light as I dare go. It releases under 8 oz., yet cannot be bumped off the sear. It's so light that my analog trigger-pull gauge cannot measure it. After a light first stage, the second is the equivalent of a target release. Paul Watts lightened the trigger return spring, which helped stage one, and he gave me a polished trigger blade.
The R1 was one of those rifles for which the artillery hold was developed. Without it, you're looking at five-inch groups at 50 yards. With it, the groups can be one inch and sometimes slightly less. All that I'm saying applies to the .22 caliber rifle, only. The .177 and .20 caliber rifles should be equally accurate, but I don't have enough experience to comment. The .25 caliber rifle was never as accurate as the other three calibers.
My dream gun
In the R1 book, I ended by telling the readers what my dream gun would be. Well, I never built it. And in the 15 years since the book came out, I've discovered that I really don't have a dream gun. I like to change the tunes of the guns I keep as the mood strikes me. So, the tune that's on this rifle now probably won't be there a decade from now. It had a gas spring before this, and now it has a light steel spring tune. If I could find the parts, I would go back to a Mag 80 Laza tune, but those parts aren't being made any longer. So, I'll get interested in something else and make it into that.
The R1 in 2010
The R1 design is getting old. It's like a '57 Chevy. It still goes fast and it still looks nice and we enjoy the nostalgia, but the R1 is a dated design today. However, like the Chevy, it's dated in the retro way that serious airgunners appreciate. The stock is real wood and the trigger hasn't been cheapened. The barrel is all steel and full-sized. While many magnum rifles today are more powerful, they only exist because they stand on the shoulders of this rifle that paved the way to the first true magnum spring gun status.
Whether you need an R1 or not is entirely up to you, but I don't think it's as essential as it once was. The TX200 is an essential airgun because nothing in the world can do the same job it can, as well as it can. But that's not true of the R1. For power, there are other spring rifles that overshadow this one. For accuracy there are several others that exceed it. But if you want to own a '57 Chevy, then this is the only game in town.
Tom Gaylord is known as The Godfather of Airguns™ and has been an airgunner for over a half-century, but it was the 
Beeman
 company in the 1970s that awoke a serious interest in airguns. Until then, all he knew were the inexpensive American airguns. Through the pages of the Beeman catalog, he learned about adult airguns for the first time. In 1994, Tom started
The Airgun Letter
 with his wife, Edith. This monthly newsletter was designed to bring serious reports about airguns to the American public. The newsletter and
Airgun Revue
, a sister magazine about collectible airguns, was published from 1994 until 2002, when Tom started
Airgun Illustrated
-- the first American newsstand magazine about airguns. Tom worked for three years as technical director at
AirForce Airguns
, the makers of the 
Talon, Condor, and Escape
 precharged air rifles. Today, he writes about airguns and firearms for various publications and websites. He also makes videos, and you'll find short clips embedded in some of his artices on Pyramyd Air's website. Tom is a consultant to Pyramyd Air and writes under the name of B.B. Pelletier.