by B.B. Pelletier
When I came home from the hospital, all my internet business was in disarray. Edith had been keeping up with my email, but she hadn't known about the various accounts I have, nor did she have the time to look at them. One of these was the Texas Gun Trader, an online in-state trading place where I meet others to buy and sell firearms. I had over 1,400 guns to look at!
One of those listings was a Webley Junior pistol, which caught my eye. It was priced close to the top of the market, but it seemed to be in very nice condition. So, I contacted the seller down near Houston and we negotiated. Normally, I meet the seller face-to-face, but in my current condition that was impossible, so we worked out a deal to ship the gun. Being an airgun, this was entirely legal.
When the pistol arrived, I had the pleasant surprise that the gun was in better cosmetic condition than I had imagined. The seller had posted photos, but a Webley pistol is all black and difficult to show any detail. I did the deal on trust that they were telling me the truth, and I feel they understated the fine condition. That made me very happy, because a vintage gun in beautiful condition always retains its value.
Edith had reprinted my Webley Junior article from Airgun Revue #6 in the blog while I was in the hospital, but that report was based on my brief examination of a Junior more than 10 years ago. Now, I own one, and can test it any way that I like. I especially want to try it with darts, for which it is ideally suited.
My new air pistol is a post-war Junior, where the one reported in May was a pre-war gun. And it's a very early version of the post-war gun, being made sometime between 1946 and about 1950.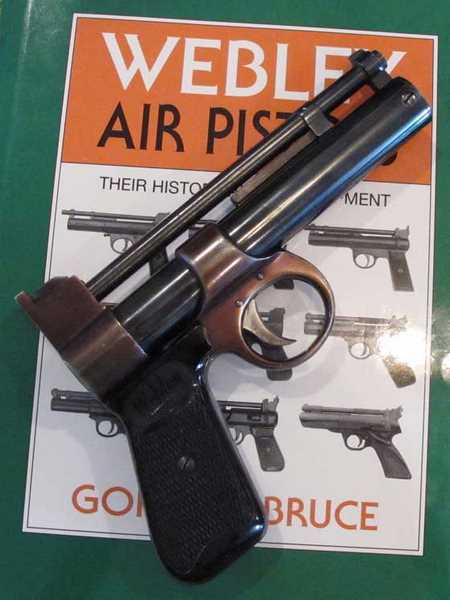 My new Webley Junior is in fine condition. The book is all about Webley air pistols and essential to collectors. It's out of print, so search the used book sites.
The clues to the age of my gun are the lack of an adjustable rear sight and the grips. From 1946 to '51, the Junior grip had an extra 1/4″ projection at the top. Gordon Bruce thought it might have been a thumbrest, but there's no proof. Also, the checkering was coarse at first and finer in the later versions.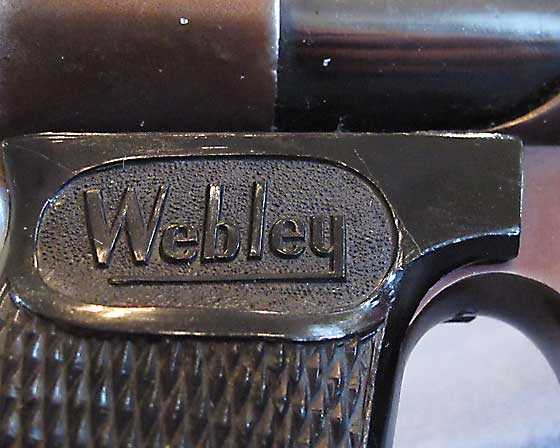 The Junior grip had a quarter-inch projection at the top that served an unknown purpose. It was removed after 1951. Also, the checkering is coarse. It got finer in '51.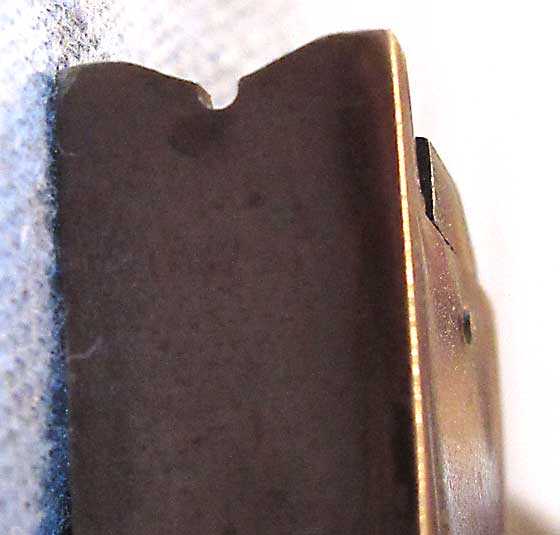 The early post-war Juniors had a fixed rear sight. And of these, only the very earliest had a rounded notch like this. They squared the notch in the 1940s, so this is a very early post-war gun.
The book says the Junior is for children, but I will confirm that the "kids" are probably in their teens because it isn't that easy to cock the gun, even for an adult. The price was the lowest of the Webley line, and most Juniors like mine have smoothbore barrels. Hence, my interest in shooting darts.
The frame is malleable cast iron, made outside the Webley plant but machined by Webley. That's why the finish appears so different between the frame and the spring tube, which is high-quality steel.
This barrel latch keeps the barrel closed during firing. To open for cocking, just push it back.
I'll enjoy getting to know this little (but heavy!) air pistol. I purposely have not yet fired it, so you and I will be only hours apart as I discover what kind of a gun I have.
Homecoming gift
When I returned from the hospital, a group of friends presented me with a fine single-action revolver. I hope to get to the range to shoot it one of these days, but I thought I'd share it with you today.
This beautiful Uberti single-action revolver was presented to me as a homecoming gift. I know you guys like fine firearms, too, so I wanted to share it with you.
Next time, we'll test the Junior's velocity.