by B.B. Pelletier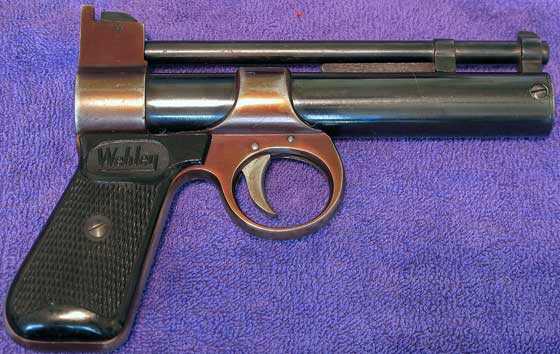 This Webley Junior is in fantastic condition for a 60+ year-old air pistol.
Normally Part 3 would be an accuracy test; but if you've followed this report, you know that my Webley Junior was shooting very slow when I tested it for velocity. So, I told you I would disassemble it and have a look inside to learn what I could about the shape of the powerplant.
The first clue I had took no disassembly whatsoever. I simply looked through the cocking slot on top of the gun and noticed that the mainspring was bone dry. I'd lubricated the breech seal and piston seal before velocity testing, but I left the mainspring alone. I'm glad I did, because I learned that this gun was really too dry inside for proper operation. But I'm getting ahead of myself.