by B.B. Pelletier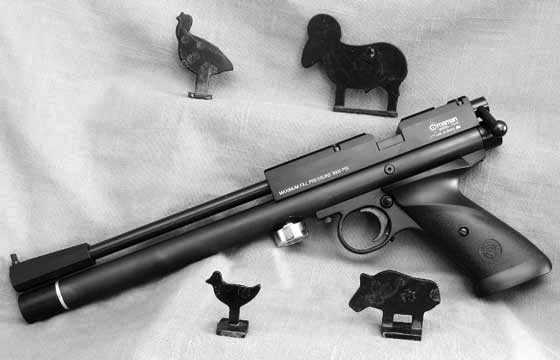 This is the new Crosman Silhouette PCP pistol. It'll send those light little airgun silhouettes into orbit.
I expect to get some negative feedback from this report. It won't come from airgunners, but from airgun manufacturers who think I'm in bed with Crosman, because these days it seems like I'm always praising their work. Well, sorry guys; here comes another one.
In a day when many manufacturers seem to think their No. 1 testing resource is their customer, Crosman turns the tables and actually listens to what people are saying. The pistol I'm reviewing today has been on the market for the past year, yet the model I place before you now is completely new for 2011. How can that be? Well, Crosman learned a few lessons over the past 12 months while selling the earlier release, and they did something about it. They took a well-designed successful air pistol and improved it.
You see, the original Crosman Silhouette PCP pistol was actually introduced at the 2010 SHOT Show. It was touted as an air pistol made on the 2240 frame with an improved trigger, a better barrel and the ability to operate on air instead of CO2.
I was among those who told Crosman that changes were needed to that first Silhouette pistol. In my fourth report, while praising the accuracy of the gun, I was critical of the "improved" trigger. If you take the time to read that report, you'll discover that I shot a quarter-inch five-shot group at 10 meters using an aperture sight! At the same time, I complained about the long, creepy second stage of the trigger.
And Crosman listened — not necessarily to me, but to all of you. The new Silhouette pistol has the same adjustable trigger that's found on the Benjamin Marauder PCP pistol, a trigger that's received a lot of deserved praise from those who've used it. I'm not going to report on that new trigger today, but I've tested it briefly and the praise is warranted.
My year-long illness, which began on March 29, 2010, created a time capsule that allows me to compare the first Silhouette pistol to the one I'm now testing. Because I never finished testing the first pistol before entering the hospital, I now have both of them on hand to examine side by side.
Something old, something new
The visible differences between the new gun and the old are very small. There are some lettering changes, a new muzzlebrake that serves as a base for the front sight and the front sight, itself. The old one was just a round post, while the new one is a square post that can be turned to vary the width. You can vary it, that is, if you plan to use a rear sight, which I don't think many owners will, because this pistol is more like a small rifle when it comes to accuracy. In May, Crosman will bring to market a new CenterPoint scope with multiple reticles that's well-suited to use on both this pistol and the Marauder pistol.

To adjust the width of the front post, loosen the locking screw on the right side of the base and swivel the front post until it's right. Then lock it down.
Just looking at the two guns doesn't tell you much. But shooting does. That's what you'll get from this report. For now, however, let me finish my assessment of the pistol as if you were seeing it for the first time.
General description
The Crosman Silhouette PCP pistol is a single-shot, .177 caliber target pistol based on the venerable 2240 frame. But it's nothing like the 2240, which is a budget .22 caliber CO2 pistol. The Silhouette is a precharged pneumatic that operates on 3,000 psi air (206 bar). While the 2240 has a plastic receiver, the Silhouette receiver is 6.25 inches of machined aluminum, with a scope rail that runs the entire length. It will accept open and peep sights, but it's really made for a scope and I suspect the majority of them will have one.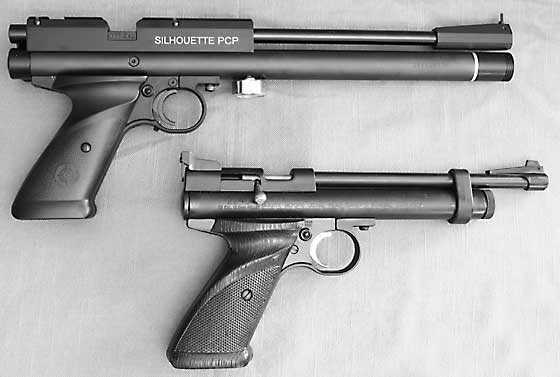 You can see the heritage of the 2240 pistol (lower) in the new Silhouette PCP.
The gun is made of metal and finished in a non-reflective matte black. Steel is used for things like the reservoir, where strength is needed, and aluminum is used where it works best. Plastic is reserved for the reservoir fill port cap and the grips.
This pistol was designed with input from Steve Ware of the International Handgun Metallic Silhouette Association (IHMSA), so it conforms to the rules for silhouette airguns. It has a 10.1-inch Lothar Walther barrel that not only gives great accuracy but also provides a long acceleration time for the pellet. So, the gun doesn't waste air. However, you have to face the fact that this is a pistol built for the sole purpose of silhouette shooting.
They didn't make it a magnum handgun for hunting, and it isn't a good starting point for those who modify, either. They made it powerful enough to send metallic silhouettes into space with a good hit, so it gets a great number of good shots, rather than far fewer high-velocity shots. Crosman advertises it as having 50 good shots on a charge of air, which is incredible when you consider the small size of the reservoir. If you read Part 2 of my report on last year's Silhouette pistol, you'll discover that I got over 60 good shots from it, so I expect to see at least as good from this gun. All of that is at an average of 450 f.p.s., which the first gun delivered, as well.
The pistol comes from the factory with the bolt handle on the left side, which is best for right-handed shooters. However, it can be switched to the other side, if you like. And, the bolt handle is longer than the one on the 2240, so cocking this pistol is smoother and easier.
Adjustable fill pressure
The gun comes from the factory set for a 2,900 psi fill (200 bar). You can adjust it from 2,500 psi to 3,000 psi. With a higher fill pressure, you get more shots per fill, but you also run your scuba tank out of air faster. Since we may see more shots than needed in the velocity test with the gun set at the factory setting (2,900 psi), a higher fill pressure would not make sense to me. A somewhat lower fill pressure might work just as well (give an adequate number of full-power shots per fill) and require less air from the scuba tank. Or, if filling from a hand pump, a lower fill pressure would make the job easier.
Why would you want this air pistol?
You would want this air pistol if you like to shoot silhouette in all kinds of weather and temperatures. The Crosman 2300S and 2300T pistols are both similar single-shot target pistols, but because they also both run on CO2, they're inoperable in cold weather. This pistol won't notice the cold nearly as much.
The trigger is great
I'll have more to say about the trigger in Part 2, but it's a winner. If you can live with about 450 f.p.s. in .177 caliber and great accuracy to boot, this might be the air pistol for you. However, don't get into the modification mindset with this one, because for only a few more dollars you can buy the .22 caliber Benjamin Marauder pistol that's both silenced and a repeater. Think of the Silhouette as a dedicated target pistol, and the Marauder as a do-all hunting pistol.