by B.B. Pelletier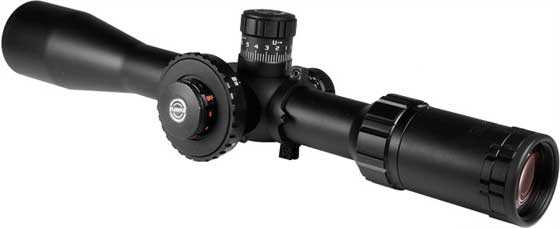 This Hawke 4.5-14×42 riflescope with sidewheel parallax adjustment has plenty other features to make it a premium sight.
I had to abbreviate the title of the Hawke 4.5-14×42 Tactical Sidewinder scope. If I wrote the entire thing, I'd be over my word limit for today's blog. Just kidding, but the truth is that this scope has so many features that are packed into the model name that you need to pay some attention to it.
In fact, you've already seen this scope in action. It was mounted on the Air Arms S400 MPR FT rifle when I tested it for accuracy. If you're curious, you can read that report here.
I've evaluated Hawke scopes only once in the past on this blog. At that time, I compared the image in a different and lower-priced Hawke scope to the same image seen through a Leapers scope of identical power and specifications. The image through that Hawke scope was definitely sharper. So, I told Edith I wanted to test one of the best scopes Hawke offered, to see if there really was a benefit to the higher price tag. That's what we'll look at in today's evaluation.
Where to begin?
This scope has so many innovations that it's hard to determine a good starting point. In fact, I'll admit to being overwhelmed when I first unpacked it. I'm going to show you what I saw to see if it has the same effect on you. When you first open the cardboard box this scope comes in, you don't see a scope. What you see is an elegant travel case with wire bale closures and a handle. It appears to be a piece of equipment that you carry to the field separate from your rifle.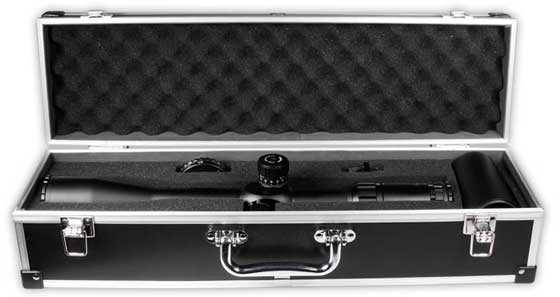 The scope comes in an impressive case, but it's unlikely you'll ever put it inside again after you first install it.
Now, I know that nobody's going to do that. You don't take the time to sight in a scope, only to detach it from the rifle and put it in a carrying case — no matter how cool that looks. And, lest you think that quick-detachable mounts that remain on the scope are the answer, let me tell you there's no room for them in the case. Once the scope is mounted, you've got an extra case for carrying your airgun stuff.
General specs
The scope itself is exactly what the title implies. It's a 4.5-14x variable with a 42mm objective lens. That allows it to lie low on the rifle, which many airgunners value highly. The mil-dot reticle is divided into half-mil increments and looks unlike any other reticle I've seen. The way it appears, I believe it would be useful for aim-off shots where the intersection of the crosshairs doesn't work.
The reticle is illuminated in red and green colors, with five levels of brightness for each color. Only the reticle lights up, and the lower levels of illumination are so subtle that they should be perfect for dark woods situations. Also, Hawke has cleverly mounted the illumination switch on the left sidewheel turret that also has the adjustable objective.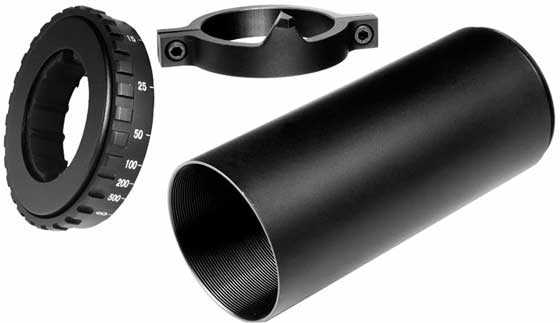 The sidewheel, pointer and sunshade are included.
The scope comes with an enlarged adjustable objective wheel. It's not large enough for a serious field target competitor, but for a hunter it's perfect since it doesn't get in the way like a large sidewheel.
It also comes with a sunshade, so there's nothing more to buy. The scope caps are metal threaded caps that screw into both ends of the scope. This is a quality touch that isn't often seen. The big sidewheel even has a metal pointer you can attach to the scope as a reference.
Adjusting the reticle
Unless you read this report or the owner's manual, you'll be out of luck when you try to adjust the reticle. Because there is a secret to doing it, I became frustrated at first (I didn't bother reading the manual first, as I'm now telling you to do). The secret is that you have to pull out on the adjustment knobs to unlock them. Once I got it sorted out, I like this feature. I remember once at an airgun show where I had my Career 707 on display and a guy came over, picked up the rifle off my table and immediately started cranking on the scope adjustment knobs. "Hey!" I shouted. "What are you doing?"
"Oh, I'm sorry. Was it sighted in?"
Yes it was, of course. But not anymore, since Roger Ramjet decided to tweak both knobs to tune in Mexico City.
This scope would have prevented that, plus it also offers the ability to slip the scale to zero, once you have it sighted in, so I could have restored the setting, had the perp been intelligent enough to figger it out. I really like this feature!
The view through the scope
The image downrange is very bright and clear. I'd like to own a scope as nice as this one, because I was able to bisect those tiny bullseyes at 50 yards with the crosshairs. That's where the hair-splitting extra accuracy comes from when you own an instrument as nice as this one.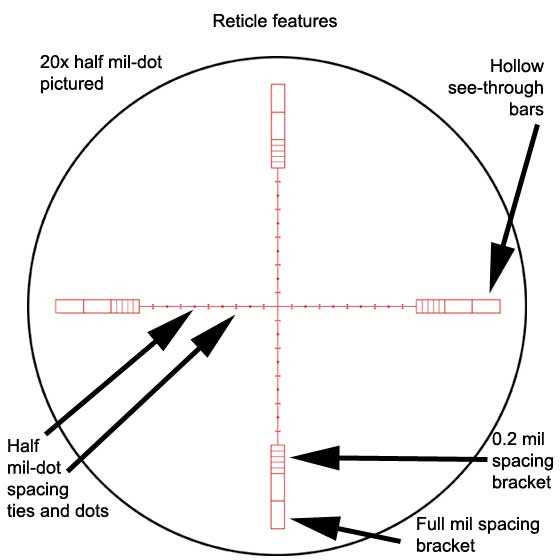 Here's a different reticle. It's a thinking man's analog ballistic calculator, somewhat reminiscent of a World War II tank gunsight reticle.
I think I'll shift this scope to a couple other accurate rifles when the test of the MPR FT is completed, because I have the feeling that I haven't seen all it has to offer just yet.
The ocular bell adjustment has a locking ring, so your buddy, Astigmatism Andy, can't screw you up unless you permit it. The adjustment sharpens your view of the reticle, of course, and once you get it right it never needs to be adjusted again.
The sidewheel
You have the option of not using the large sidewheel if you don't want to. Why would a deer hunter ever want to? Focus the objective and take the shot. You can estimate the range to the target close enough for a .270 Winchester shooting 130-grain spitzers. But, for the airgunner who's battling the parallax problem at under 50 yards and wants his pellet to pass through the same hole time after time, the large sidewheel is the perfect way to estimate range quickly.
The sidewheel mounts on the scope without tools. It has a rubber bushing at its center and two cutouts to fit over the left turret knob until it stops in the correct position. Then, you go through a procedure (I won't bore you with it here) to align the large wheel to the smaller inner knob. When you're satisfied, you lock the outer wheel in position and the scope works as expected.
The bottom line
This is an expensive scope, considering the other models Pyramyd Air offers. Of course, if you put it into perspective against the scopes it rivals like Leupolds and other premium brands, it isn't that costly. It has a lot of nice features, but the most important is the clarity. Because seeing far is what a scope does, and with this one you can do that with ease.