by B.B. Pelletier
Announcement: Some time soon, Pyramyd AIR will change the log-in process for comments. I'm hoping it'll be active no later than Thursday of this week. We're getting hundreds of spam comments every day, and the blog now requires 24-hr monitoring to delete the spam so it doesn't overwhelm the legitimate comments.
If you've been a reader of this blog for a while, you may remember that we had a spam attack when we used Blogger software to write the original blog. We ended up tightening the comment process and stopped much of the spam. We're going to use the same process for this blog. It involves entering a randomly supplied word when you log-in. If you decide to not log-in and just write your name anew every time you post a comment, you'll have to go through the same process each time you make a comment. Obviously, logging in will save you time and effort. Thanks for your understanding.
Now, on to today's blog!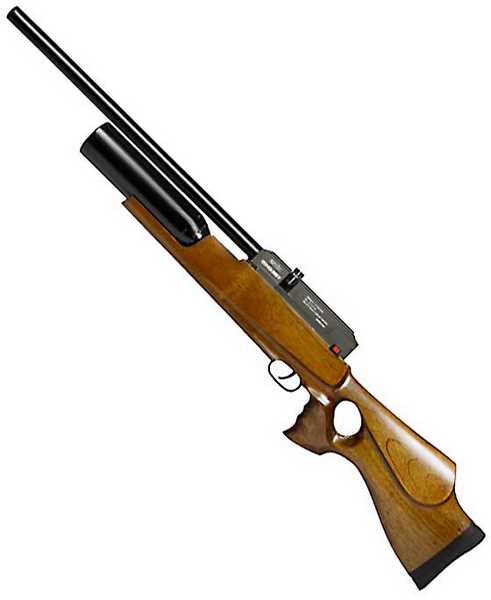 The Evanix Conquest has set the bar very high for air rifles. It looks great, but let's see how well it does in testing!
Well, new year, new gun. I'm surprised I haven't been besieged with questions about this latest offering from Evanix — the Evanix Conquest PCP air rifle with thumbhole stock — especially, in light of the YouTube videos! What you'll see on YouTube is a semiautomatic pellet rifle that is also capable of full auto! We'll discuss that feature at length in this review.
The first thing you will note about the rifle is the price. This one is not intended for those just starting in airgunning. At $1,700 ($1,759 for .25 caliber), this rifle has got to be serious enough to hold its own in the world of pellet rifles. Here's what I think that means.
What is has to be
The rifle has to be accurate. It cannot afford to be any less accurate than any high-priced pellet rifle or any lower-priced rifle, for that matter.
It has to be quiet. It must have the best sound reduction technology commensurate with its power level, which is advertised as 35.50 foot-pounds in the .22-caliber gun I'm testing for you.
It has to deliver a reasonable number of full-power shots. We'll see what this one has to offer in the velocity test.
It has to be beautiful. It is, and I'll comment on that some more in a little bit.
It has to have a fine trigger. It should be adjustable at this price; but if it's fine, I really don't need that feature.
It has to be reliable — as in absolutely and without equivocation. So, I plan on testing the sample rifle more than the average pellet rifle.
It should be straightforward, and I will comment on this today. I think the builders could have done things a little differently to get a better reception from the established airgun market — because that's where all the sales will come from.
The rifle
Okay, when you open the box on this one, there are many surprises inside. The first is the need to charge the batteries for at least 8 full hours before installing them in the butt.
BATTERIES?
Yes, this rifle has an electrically driven action that runs on rechargable batteries. They drive the semi-/full-auto feature. Don't complain about them, because in the world of airguns there's only one conventional full-auto .22-caliber rifle and it isn't for sale — yet (or perhaps ever)! That's the M16 made by Mark D. (Doc) Schavone, and it shoots only round balls — not pellets. Then there's also a belt-fed full auto .22 submachine gun made by Air Ordnance. The SMG 22 is full-auto and can be run on high-pressure air, but the primary fuel is CO2. When I tested one for Shotgun News last year, I found the air-powered version was slower than the CO2, which is odd, but there you are. At any rate, other than these two guns, the new offerings from Evanix are the only full-auto pellet rifles available.
There are actually two models, the Conquest I'm testing and the Speed, which is a lower-priced ($1,400) model that shares many of the same features, including the semi-/full-auto action. But I asked for a Conquest, because I know you guys want to see what is entailed in the best of the best, as do I.
Because the action is electrically driven, you don't really have to cock the gun. The electronics do that for you. Personally, I plan to shoot the gun a lot more on semiauto than full auto, but I'll put it through its paces on rock-n-roll to test the reliability factor.
You get quite a few accessories with the gun. For example, the battery charger comes with all the adapters needed for most national power grids. Naturally, you need to select only the correct one for your country and stick the rest into a drawer with all the other stuff you never use.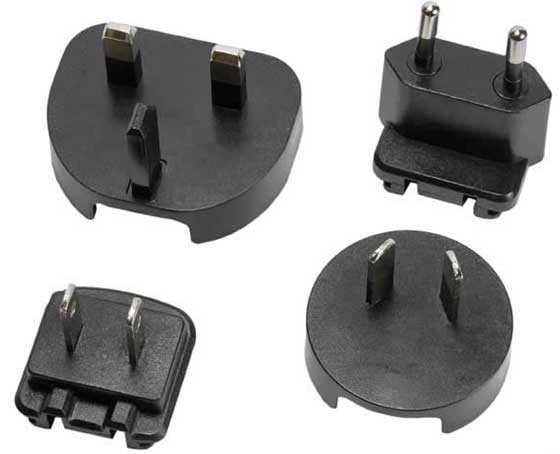 You get a selection of electrical adapters for the battery charger.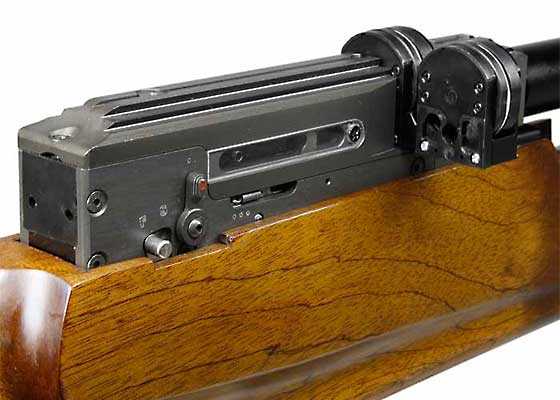 Here you can see the two switches that operate the action. The one in back is for "fire" and "safe." The one in front is for "semiautomatic" and "full auto." It is set to semiautomatic in the photo. Full auto is represented by the three dots seen at the bottom of the action.
Another feature I want to call attention to is the magazine. Each side of this two-sided circular mag holds 12 .22-caliber pellets, so this is a 24-shot rifle. Whether you get all 24 shots on a single fill remains to be seen. (edited 1/4/12: the gun does not include the 24-rd double magazine) In the video, they had the gun tethered to a scuba tank, but I'll make this one perform on its own. In .177, the rifle is also a 12/24-round gun (edited 1/4/12: 12-rd mags only; edited 2/26/12: all calibers of the Conquest have 10-rd mags). In .25-caliber the numbers change to 10 and 20 (edited 1/4/12: 10-rd mags only).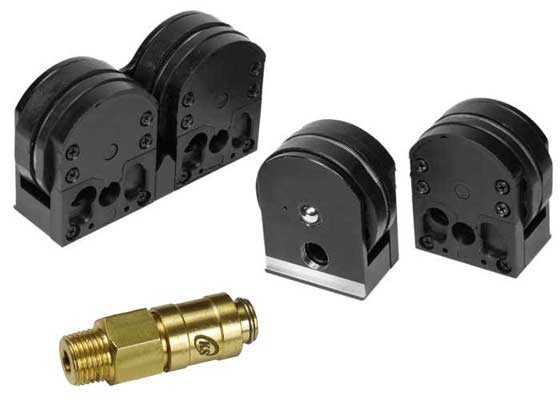 With the rifle, you get one 24-round magazine, (edited 1/4/12: the 24-rd double-mag is not part of the package) two 12-round mags (edited 2/26/12: 10-rd mags) and a proprietary quick-disconnect fill probe.
You can also see a window in the right side of the receiver. I'll have to find out it's purpose, but I'm sure they put it it there for a good reason.
The woodwork is stunning! In fact, the rifle I'm testing (serial number 1111H012441) has even better wood figure than the rifle shown above. The stain is dark and rich, like a medium-dark chocolate. And the checkering on the grip (one panel each side) is flawlessly executed — as befits machine checkering. The stock is completely ambidextrous and needs no apologies. Since most of the high-end European air rifles get their stocks from Korea or Turkey, it doesn't surprise me that this one is the equal of anything they produce.
This rifle is short and relatively light for an air rifle. It's just 40 inches long and just a shade under 8 lbs. It's ever-so-slightly longer than a carbine, which I think will appeal to hunters. So, is it a hunting air rifle? Well, with all the power on tap, hunting is what it will do well. At this price, it'll probably appeal to a broader group of owners. If it's as accurate as I hope, it could become another long-range legend. But that's yet to be determined.
You also get a quick-fill adapter, and this one is proprietary. I wish they'd used the male Foster hydraulic fitting that has become the airgun standard all over the world, but they didn't. Fortunately, their adapter works easily enough once you get used to it. Knurling on the part that moves to unlock the fitting would be an improvement, because there's precious little room in the stock where the fitting has to be attached and detached.
The manometer (onboard air pressure gauge) reads in bar! Hallelujah! No more learning some other pressure quantification, this one is something we all understand. I filled the rifle to 200 bar, and the job was straightforward.
The barrel is fully shrouded, so I'm looking forward to a reasonably quiet operation. At 35 foot-pounds, it has to make some noise — but it shouldn't be a bear.
I'm going to stop here, because there's so much more information to cover that this introduction will take place in two parts.
Let the games begin!