by Tom Gaylord, a.k.a. B.B. Pelletier
Announcement: Captain Steve Hardy is this week's winner of Pyramyd Air's Big Shot of the Week on their airgun facebook page. He'll receive a $50 Pyramyd Air gift card. Congratulations!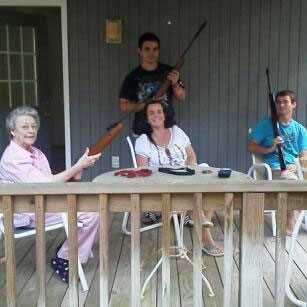 Captain Steve Hardy submitted this week's winning photo for BSOTW.
Today, we have a guest blog written by Steve Daugherty. He submitted this piece some time ago, and it fell through the cracks. My apologies to jim for the delay.
If you'd like to write a guest post for this blog, please email us.
One more piece of the early Daisy No. 25 puzzle
by Steve Daugherty
When I bought my new Chinese Daisy No. 25, I remembered that the No. 25 I had as a kid seemed to have had a lot more power and was built much better. So, earlier this year, I began looking for an early '60s gun and soon found one in pristine condition on Jim Manning's website. He gave me a great deal on that gun — which was exactly like the one I got for Christmas 1963 — and he got me interested in the older No. 25 guns by selling me a Variant 3 from his personal collection. In a short time, I'd acquired some very nice wood-stocked 25s, including the subject gun.
This very early No. 25 came to light recently in a classified online St. Louis ad that had been listed for a few weeks. Though the ad photos were poor, I enlarged the image and could see that the front sight was adjustable. I didn't have a gun made that early. It didn't shoot and wasn't in the greatest condition, but it was a Variant 2 "straight stock" Variation 5 that I didn't have. (See the Daisy King website for clarification). For less than $100 with shipping, I couldn't go wrong. When the gun arrived, I saw that all of the parts were original, though the gun had seen a lot of use.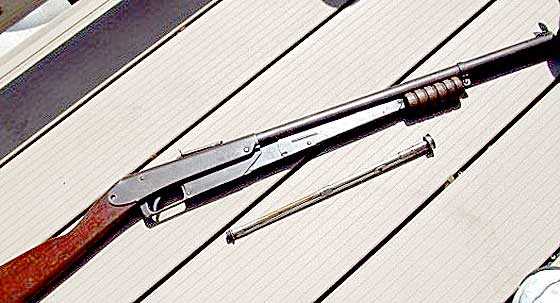 My seemingly ordinary Variant 2 No. 25 with solder patch-style claw and adjustable front sight.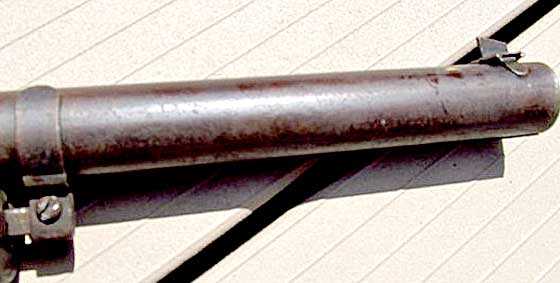 The front sight is adjustable for windage.
Someone long ago had tried to stretch the worn-out shot tube follower spring, and the tube now had a slight bend and some tool marks. When I broke down the gun, I noticed that they'd also tried and failed to remove the plunger assembly, but they didn't get the mainspring back in place properly. Since someone had already begun to take it apart, I figured that I might as well try to disassemble the gun and check out the seals.
The plunger assembly was pretty much frozen in place. I had to dump a lot of 3-in-1 oil around it to get it to slowly budge. While working on freeing the plunger, I noticed that the 3-in-1 was seeping out of the underside of the barrel, which would have normally been weld-sealed. Finally, the plunger assembly came out — but it didn't look as complicated as photos of other assemblies I'd seen. The simplified plunger assembly eliminates the air tube of the standard No. 25 plunger assembly, which was probably the Achilles heel of this design. Though I may never know for sure unless I reseal and shoot the gun, it was, most likely, a relatively weak shooter. Regardless, I'm not reassembling the gun for now. I'm mounting it in a display case, as-is.


The mainspring and plunger assembly of the subject gun.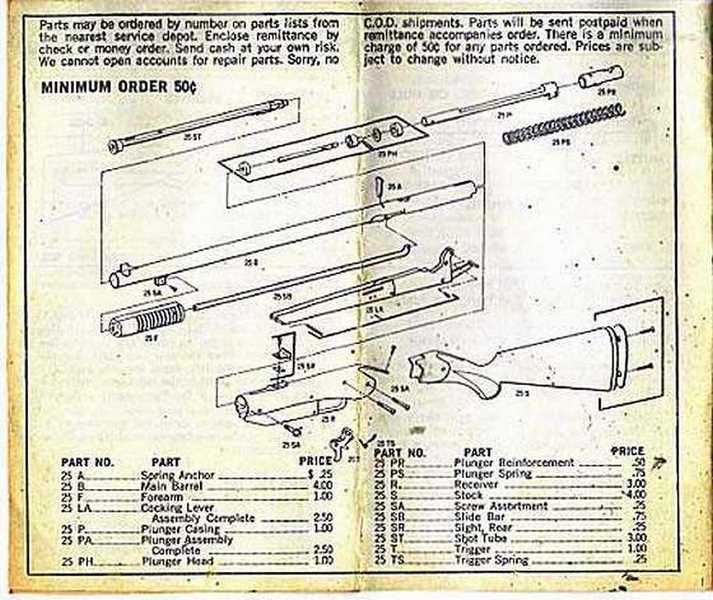 This schematic is for a production Daisy No. 25.
Compare the simple mainspring/plunger assembly of my gun to the one in the diagram of a normal No. 25. Among other parts, my plunger is missing the air tube — the "solid-rocket-booster" — of the No. 25. The lack of an air tube had to decrease the gun's power. [Editor's note: The air tube Steve refers to projects up from the head of the piston. When the gun fires, it pushes the BB off its seat and accelerates it to an initial 50-80 f.p.s. before the compressed-air blast from the piston shoots through the hollow air tube, boosting the velocity up over 300 f.p.s.]

Also, there appeared to be a brass sleeve that was also moving out of the barrel behind the plunger. I spent a good while carefully working it out of the barrel.
When I got the brass sleeve removed, I noticed that it has a female threaded fitting on the end that the shot tube directly screws into. This gun didn't have a welded-barrel air chamber like every other No. 25 — it had a separate internal air chamber! The shot tube screws into the 6-inch brass air chamber's end-fitting instead of the normal threaded abutment that's supposed to be permanently located in the barrel. One worn-out seal was on the end of the plunger; the other was friction-fit inside the brass tube, behind the screw fitting.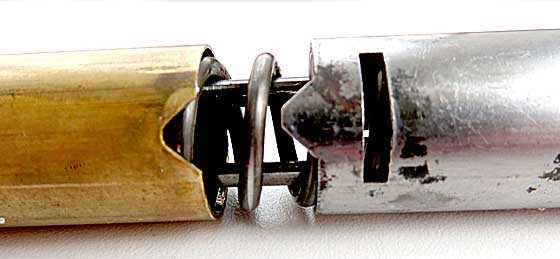 The brass air chamber and plunger assembly have a notch and matching protrusion to align them during assembly.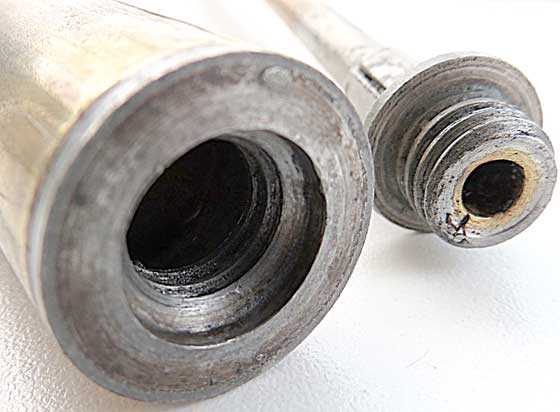 The shot tube screws directly into the end of the brass tube.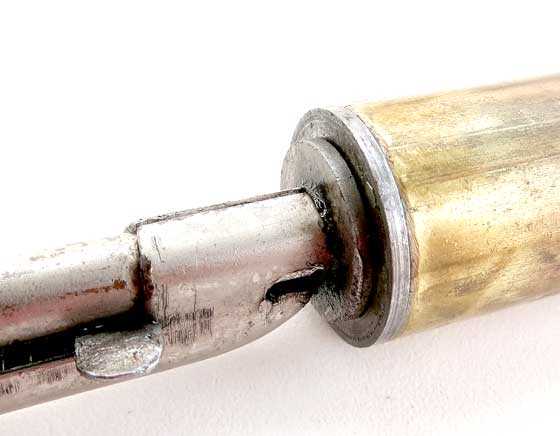 The shot tube is attached to the brass compression chamber tube.
I was more than a little stunned by finding all of this. In addition to the abnormal inner mechanism, the gun has an oak stock that was a very unusual feature for the No. 25 airguns. They were normally stocked with black walnut. For more info on vintage Daisy No. 25 wood stocks, go here.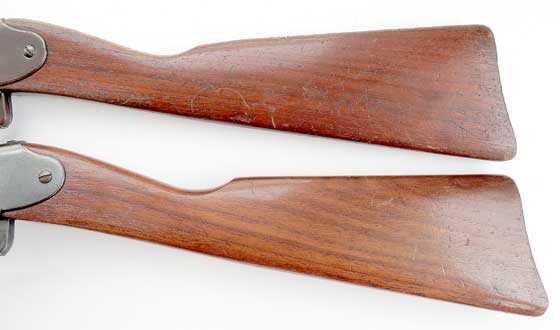 The oak stock of this Variant 2 No. 25 is on top. My Variant 3 is below. Both are pretty unusual, as most straight stocks were black walnut. Could the non-standard oak indicate that this gun was a special build?
Over the next few days, I wrote Dr. Robert Beeman, co-author of the Blue Book of Airguns, who remarked that it was rare, but couldn't tell me much else. He referred me to Gary Garber, author of An Encyclopedia of Plymouth Daisy Airguns. It also stumped him, so he hooked me up with Bill Johnson, author of Bailey and Columbian Air Rifles — and the ultimate authority on No. 25 guns. He was confused at first by the photos of unfamiliar parts, but quickly realized that it was made at the Plymouth factory. He told me, "I'm pretty convinced this is a factory experimental piece."
The obvious question at this point: Where did the original air chamber abutment go? The sleeve you see in the barrel is part of the abutment and is factory spot-welded in place. The only conclusion is that the abutment was never there! I believe it has to be factory. As I believe you said, this was an experiment to avoid the tedious butt-welding of the barrel seam.
This gun is either a prototype, an experiment or a very short-lived transition model — perhaps made between the time when Daisy quit soldering the barrel seam and started butt-welding it — which was necessary if they were to blue the barrels (bluing won't stick to solder). They may have wanted to see if a separate air chamber would be easier and/or cheaper than welding the barrel seam, which was very difficult with such thin steel in the early days of arc welding. As seen in the photo (from the muzzle-end down the barrel), the spot-welded abutment tube is there — but the welded-in abutment itself (that the shot tube normally would thread into) is not. The edges of the brass air tube's fitting rested on the end of the spot-welded abutment tube.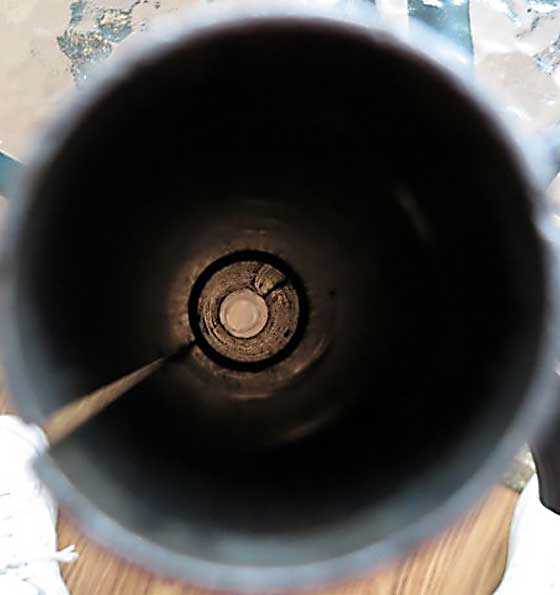 The abyss of this unusual 25's barrel from the muzzle end — no abutment to obscure your view!


The collective parts of the brass air-chambered No. 25 — one-off trial build or short production run? Crazy-rare, either way!
Dennis Baker also saw my gun photos and replied, "I wonder if it's a factory prototype or a 'home brew'? It might be one of the improvements/inventions that Lewis Hough encouraged employees to bring in to him."
Reknowned Michigan airgun expert and avid Daisy collector Wes Powers commented, too: "What an odd piece. I can't say I have ever seen one of these. I think it was a short run production gun and not a prototype or a tool-room gun. It is a very rare variation gun. It looks like the only way to tell what this gun is from the outside is if the air chamber has no patch and also is not welded."
If you happen to have an old No. 25 with an adjustable front sight, there's one sure way to tell if it has the same inner mechanism as this rare gun: it won't have an air tube. Shine a light down the barrel, and you should see the tube. It makes shot tube installation a pain at times — a situation that was corrected, by the way, on the new Chinese guns. I haven't seen any photographic evidence that any other Daisy No. 25 like this exists. Since there are no differentiating external features from other No. 25s of that era, there may be other examples out there — perhaps in your own collection! If you know of any similar No. 25, by all means, post your info here!
I know that disassembling old guns is a collector's mortal sin, but I'm glad that I took this one apart. As someone relatively new to collecting, I'd say that a find like this proves that one can still find his/her holy grail out there…but some disassembly may be required!