by Tom Gaylord, a.k.a. B.B. Pelletier
Announcement: Captain Steve Hardy is this week's winner of Pyramyd Air's Big Shot of the Week on their airgun facebook page. He'll receive a $50 Pyramyd Air gift card. Congratulations!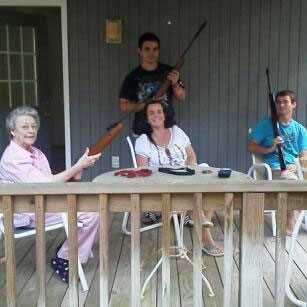 Captain Steve Hardy submitted this week's winning photo for BSOTW.
Today, we have a guest blog written by Steve Daugherty. He submitted this piece some time ago, and it fell through the cracks. My apologies to jim for the delay.
If you'd like to write a guest post for this blog, please email us.
One more piece of the early Daisy No. 25 puzzle
by Steve Daugherty
When I bought my new Chinese Daisy No. 25, I remembered that the No. 25 I had as a kid seemed to have had a lot more power and was built much better. So, earlier this year, I began looking for an early '60s gun and soon found one in pristine condition on Jim Manning's website. He gave me a great deal on that gun — which was exactly like the one I got for Christmas 1963 — and he got me interested in the older No. 25 guns by selling me a Variant 3 from his personal collection. In a short time, I'd acquired some very nice wood-stocked 25s, including the subject gun. read more