by Tom Gaylord, a.k.a. B.B. Pelletier
I've written about firearms in this blog from time to time. Even though it's about airguns, there are so many lessons we can learn from firearms that it's a shame to turn our backs on them — as if by using explosive gas instead of compressed air they're somehow different. Once the projectile gets out of the barrel, it acts the same regardless of what starts it on its way.
Many of you understand why I do this. Blog readers Kevin and BG_Farmer, for example, know that a precharged gun acts the same as a black powder arm, in that they both require a long barrel for optimum performance. The longer the barrel, the greater the velocity you can expect — all other things remaining equal. That was demonstrated clearly in the test of the Talon SS, when I switched from a 12-inch barrel to a 24-inch barrel. Velocity increased dramatically and the shot count remained the same — proving that a longer barrel gives greater performance in a PCP.
Today, I want to discuss another similarity I've discovered. I didn't really "discover" it. I more or less tripped over it, cursed a bit; then, as I was picking myself up and brushing myself off, I happened to reflect on what had happened and was enlightened.
The idea first crossed my path in the book Yours Truly, Harvey Donaldson, by the author of the same name. He noticed that some of the shells he reloaded grouped their bullets very well, while others that had the same headstamp and were purchased at the same time, threw their shots wide of the mark. That phenomenon is so common in my experience that I thought it was the way things always were, but old Harvey had a different idea. He started setting aside the cartridge cases that threw the wild shots, keeping only those that tended to group their shots together. In time he was left with a smaller batch of shells that all wanted to put their bullets into the same hole — as long as everything else (powder type and weight, bullet weight, seating depth, primer type, etc.) stayed the same.
In the end, Donaldson wound up with a batch of shells he could count on to group their shots together and others that couldn't. He then shot groups with cartridges made from the good shells and from those that were not as good and demonstrated that the good shells grouped much better.
My shooting buddy, with whom I recently commiserated about the lack of success we were having with some firearms, pointed out that we were both shooting cartridges with mixed headstamps, and we weren't paying attention to the things that were staring us in the face. That was a wakeup call for me!
So, I've just begun doing the same thing as Donaldson with a couple of my firearms — but I don't have any real results to show, yet. However, the initial examination does look promising. I say that because within any group of 10 shots with certain rifles there's usually a smaller group that hints that there may be a difference between the shells, since everything else is exactly the same.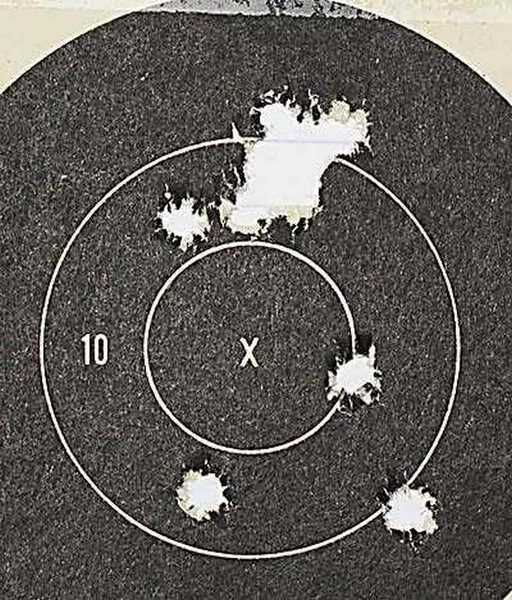 Ten shots from a 250-3000 Savage at 100 yards. If you were sorting these shells for reloading, which three would you exclude from the good pile? The x-ring is 0.90 inches in diameter.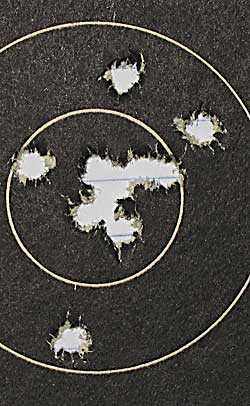 Ten shots from a .22 Hornet at 50 yards. Can you tell which 6 cartridges are of interest?
But how can this information help me as an airgunner? Edith pointed out that once the trigger is pulled, the pellet goes downrange and there is nothing left to be sorted for the next time.
But what if I could sort BEFORE the shot? And, of course I can! If I weigh and visually inspect each pellet, I'll have the most uniform group of pellets possible. I can then shoot them against a random selection of pellets straight from the tin and also against a group of pellets that were specifically rejected during the selection process. There should be a noticeable difference between those three groups — no?
Oh, I can hear the gears turning, now! In your analytical minds, you're creating universes in which all pellets go in the same hole at a ridiculously long distance. Well, cut it out! It often doesn't work as simply as that. It may sound good when you read it in print; but when you attempt to test it, the results may not be what you expected. There are many reasons for this.
The gun
If you're doing this with an accurate airgun, there's a chance you'll succeed. But if you're doing it with a gun that vibrates like a jackhammer and kicks like a mule, any difference in accuracy may be overwhelmed by the slop of the test instrument (the gun).
Your shooting technique
I was at the range last week and observed a man who couldn't hit a 12-inch paper plate at 100 yards every time with an M1 Garand. Was that the rifle's fault? No, it wasn't. The guy closed his non-sighting eye by squinting and refused to try holding it open. So, the round peep hole his sighting eye looked through was scrunched up into a deformed hole that nobody could hope to sight through. He could not be convinced to try holding both eyes open, and I bet this is a person who blames "old eyes" on his inaccuracy when it is nothing more than technique. If you don't have good shooting technique, you'll never be able to see subtle differences in accuracy in a test like this.
Range conditions
I've seen shooters complain because their rifles were not giving them one-inch groups at 100 yards. But they were shooting on a windy day and disregarding the wind entirely. As if a bullet isn't affected by wind! Granted, bullets shot from firearms buck the wind much better than pellets — but, even so, there are limits. And a 15-mile-per-hour crosswind is not the time to be expecting one-hole groups. On a day like that, you either wait out the wind and shoot during the quiet times, or you do something else. But don't expect to set records.
Distance
You need to shoot at a distance at which the groups start to open. I like small groups like everyone, but you don't learn anything from them in a test like this. So, the 22-foot range in your basement is out. You need to get some distance between you and the target. For me, that distance is 50 yards. That's where I have to do all of the things mentioned above correctly on every shot, and any mistake I make gets magnified greatly, to my embarrassment.
And why do you need open groups? What you really need is to clearly see the smallest deviations your pellets are making. The farther you shoot, the more visible they become.
So, Grasshopper, before you can benefit from today's lesson, you must first prove that you can shoot tight groups to begin with. This is the reason I push so hard for new shooters to acquire certain models of airguns — because I know those models will give them a modicum of accuracy. What kind of Formula One racer would you be if all your driving experience was on a tractor?
I have done this test — once
I actually did do this test one time — twice if you count once with target sights and once with a scope. Some of you may remember that I was goaded into shooting groups at 50 yards with an FWB 300S target rifle. I did get better results from weight-sorted pellets than from random pellets taken straight from a tin. None of the groups were especially small, but those shot with weight-sorted pellets were the smallest in both the test with open sights and again with a scope.
But I haven't done a test specifically to evaluate the benefits of sorting the pellets. That would be new.
I'm going to do it, so please give me your thoughts.