by B.B. Pelletier
Announcement: Charly Arias is this week's winner of Pyramyd Air's Big Shot of the Week on their airgun facebook page. He'll receive a $50 Pyramyd AIR gift card. Congratulations!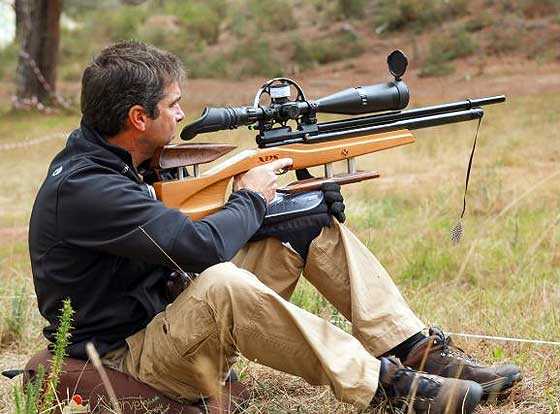 Charly Arias is this week's Big Shot of the Week on Pyramyd Air's facebook page.
I seem to be on a kick talking about finding great vintage guns these days, so today I thought I'd share a couple secrets that really work. In the past, we've talked about making the rounds of pawn shops and small gun stores. You readers have told me your tales of miracle acquisitions, and I've shared mine with you.
My Texas shooting buddy, Otho, said yesterday, "A lot of fellers sit on their couch in the cabin and talk about deer hunting. But only the ones that actually get out into the woods seem to get deer." Another way of saying that is the old salesman's proverb, "If you want to make the sales, you have to make the calls."
What does this have to do with you? Well, perhaps you would like to acquire a nice airgun — an old one or maybe something relatively new — but maybe you don't think you have enough money. Or you don't know where to look for such a gun. Or you've looked and found nothing. That's what I want to talk about today.
Trading is up
Let's start with the money issue. Almost none of us have enough money to satisfy all our desires — especially if some of those desires are for airguns. What can you do? Well, consider this. In the last three years, I've noticed that trading has increased to the point that it's a booming business today. The economy is one big driver of this trend. As it becomes worse, people have to barter more to get the things they need. There's craigslist.com and other websites where bartering goes on, but you don't even need a computer to do a trade. All you need is something the other guy wants. Then, he needs to be convinced to give you what you want for it.
Often, the barter is an item for a like item — for example, my airgun for your airgun. That's one-dimensional trading, and it is so basic that I believe we're all genetically coded with it at birth. But you can do even better if you start thinking in more dimensions. For example, my camera for your airgun or my bass boat with trolling motor for your 10-meter target rifle. The way to find deals like this is to talk to people and let them do 75 percent of the talking. My friends Otho and Mac are both highly skilled at this. As a result, they both have firearm collections that make mine look like a starter set. But only in Texas! In California, my collection would be called an arsenal!
Make it a game!
What I'm about to tell you is the absolute truth. You veteran readers know that I owned a Peabody dropping block rifle a few years ago. Here's a picture of it: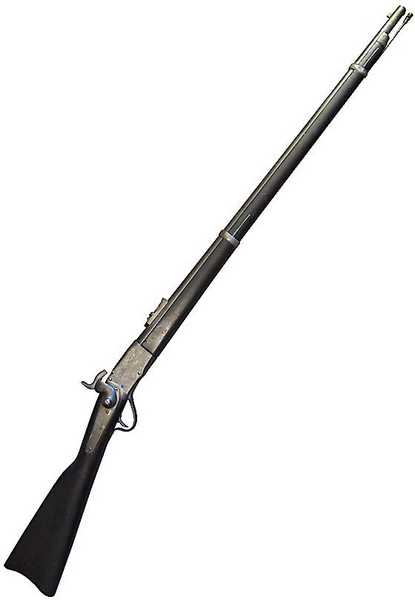 Peabody dropping block rifle.
I'd acquired that rifle just after returning home from the hospital, and I wrote one or two blogs about it. Then, at the 2010 Roanoke airgun show, Mac needed some cash to make some kind of deal and I bought a collectible rifle from him. And finally, while browsing through a local gun store, I picked up a Winchester model 72 semiauto in .22 short that was chrome-plated. Not nickel — chrome. I thought some good old boy had buggered it up, and so did the store owner, but a little research revealed that it was a very rare gallery model of the gun that was made in the first year of production.
Long story short, I was able to trade all three guns for the Marlin Ballard. Here's what that one looks like.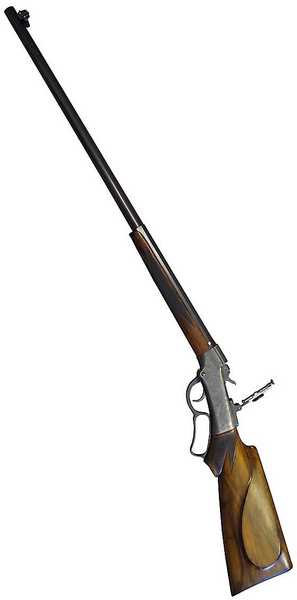 Marlin Ballard.
The bottom line is this: Through these trades, I have just over half of the asking price in the Ballard. The store owner felt he got a good deal and so did I. It hurt me to let go of the Peabody, but I wanted the Ballard a lot more; and as I told you the other day, I have to own these things sequentially.
The lesson is that you can turn that unused drill press, canoe and two-wheel utility trailer into the nicest Weihrauch or Feinwerkbau gun you ever saw. But you have to leave the cabin to do it.
Hunting for buried treasure
I used to be a fairly regular treasure hunter. I used several different metal detectors to find my treasures in a segment of the hobby known as coin shooting. One day, I got bored with just finding modern money and the odd silver coin, so I decided to change my searching technique. I told Edith, who accompanied me on these hunts, that this day we would cover an area just 20 feet by 30 feet. We would lower the discrimination on the detector to reject only rusty ferrous metal and pick up everything else. And we would search the ground very slowly instead of covering a lot of ground fast.
We found all the aluminum pull tabs, chopped-up soda cans, pop bottle caps and wadded up tinfoil from chewing gun that had been dropped on that college ground over the past 60 years. We also found plumbing fixtures, odd bits of metal and other stuff too weird to identify. At the end of our two-hour search, my trash bag was full of this kind of garbage.
We also found a handful of American nickel coins — coins I almost never found before. Two of them were Buffalo nickels, and one of those had a date. I also found a small silver earring, a silver mezuzah and three small silver rings.
A photo of all my garbage would have turned off most inexperienced treasure hunters, but several photos of my good finds made it into the first magazine article I ever published — A Carpet of Nickels. That hunt opened my eyes to what's possible; but because there was so much trash, it also wore me out!
Several months later, while hunting the same college campus, I asked Edith if she wanted to try that technique again. She did and within an hour we had another pile of garbage and the first gold ring Edith ever saw come out of the ground. I'd seen others, but never as small as this 10-karat woman's class ring.
If you change your search strategy, you'll find things others missed. Here's how doing exactly that worked for me this month. I was looking for a nice .22 Hornet rifle with a modern .224-inch bore. I have a vintage Savage 23D with a .223-inch bore, but today's bullets are so superior that I wanted a rifle with a .224-inch bore to shoot them in. I did a long involved trade that landed me a Winchester model 43 in .22 Hornet that I intended to scope and use. But after examining it, I could not bring myself to ruin this pristine and collectible Winchester by drilling and tapping it for a scope. So, I kept looking for a modern Hornet on GunBroker.
I looked there every day until I'd memorized all the Hornets they had. Each one had something wrong or was too much money for me to pay, and they didn't want to trade anything for it. Then, on a whim, I did a search on the name Weihrauch. I knew there would be some airguns and a few cheap revolvers under the Arminius brand. I also knew there were two .22 Hornets that were built on Weihrauch HW 52 dropping block actions. They were both too expensive for me, and I had already seen them during my earlier searches for Hornets. But I hadn't seen the one HW 52 in like-new condition and .22 Hornet caliber that was listed at HALF the price of the others — because, for some reason, it hadn't come up. The auction was one without a reserve and I was the only bidder — probably because I was one of the very few people who could see the listing.
In case you're wondering where all my money comes from to buy these guns, this year it came from selling a bunch of airguns for cash at Roanoke. I sold them for what I had in them or at a loss. Yes, I said a loss. I got the cash, plus I added a little to it when I got back home by selling another firearm at a loss, too. But the loss I suffered was more than recovered in the one purchase of this HW 52.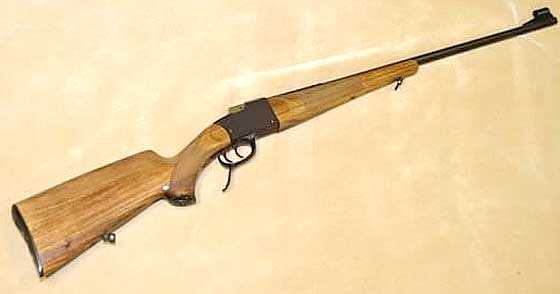 An HW 52 falling block rifle in .22 Hornet caliber.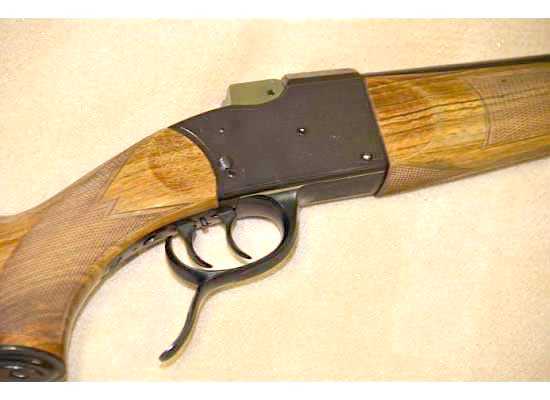 I don't yet know how many HW 52s were made in .22 Hornet. I plan to ask Hans Weihrauch, Jr., at the SHOT Show.
Other strange searches turn up great results
My success with the HW 52 prompted me to try some other odd searches on GunBroker. You know how some people pronounce Anschütz as Anschults? I searched on that spelling and came up with a short list of guns. The only people who will see them are those who also misspell the company name that way. Since that worked, how about Leopold instead of Leupold? It works! Try it and see.
Most airgun collectors know that a great many people spell Crosman as Crossman. Do that on GunBroker, and you'll get a very long list of guns. But most airgunners know to do that, so it isn't a great advantage. Nor is misspelling Daisy as Daisey.
But here's something that REALLY works! Try searching on just the name of a scope, like Lyman. Among the hundreds of scopes you find, there will be guns listed with Lyman scopes mounted on them. And every once in awhile, you'll find something like a Mossberg 44US that has a Lyman Super Targetspot scope on it. You've found a $200 rifle with a $800 scope. And the listed starting price will be $175. I'm not kidding about this. I found a Winchester model 52 with a Super Targetspot listed at $800 and the seller obviously felt bad because the target sights were't included. I also found a Remington model 37 target rifle with some kind of scope on it (and the original target sights) that was stated at $700 for the package. The rifle with sights is worth $1,200-1,500 by itself!
Look for the rebadged guns
When it comes to airguns, I find better-known models that are usually overpriced because gun dealers really don't know the airgun market. I doubt you'll get a deal on an Anschütz 250 target rifle these days. But a Diana model 27 that sells under the name Hy Score 807 or Beeman Original 100 might just be a bargain.
Buy collections
This is something I've done only once, but I did quite well with it. Mac and I went together and bought two collections that we sold off for a handsome profit. But I know guys who make a great business of buying and reselling collections as individual airguns. The problem with doing this is what keeps people like me away. It takes a large amount of money up front. But you do get your money back with a great profit as long as you buy the right things. You have to know your market and know where you can sell most of the things you buy or be willing to sit on the guns a long time to make the full value on them. When Mac and I did it, we both plowed the profit back into our personal collections so there was no money left for any future deals, had they come along.
My Texas gun buddy, Otho, does this mass buying in a rather interesting way. Besides guns, he also buys related stuff. Here in Texas, Otho has a reputation as a hobby gunsmith; so when someone has a pile of gun-related things to get rid of, his name often comes up. This year, he bought over 50 rifle barrels along with holsters and other gun parts in one such collection. He made his money back on about half the barrels, then had a field day selling holsters, revolver cylinders and gun barrels at several gun shows. Of course, that brings not only buyers but also more people who are looking for an outlet for what they have to sell. So, it's sort of self-perpetuating.
Sporting goods stores
Some of the big sporting goods stores do a brisk trade in used guns. They're one of the first places where the estate lawyers know to go when the widow of a gun collector is looking to cash out. These places employ some pretty savvy people, so most of what you'll see there will be priced at or above fair market value. You can offer them less for anything and if they have had it too long, they usually will sell it. And every once in awhile they will let a diamond slip through. I bought my Winchester High Wall in .219 Zipper Improved at a local store for about half of what it's worth. But like Otho says, you won't kill any deer just sitting on the couch! You actually have to go to thee stores and go frequently enough to catch the buys when they come through.
Pawn shops
Last bit of advice also comes from Otho. He hits the pawn shops like a biker hits a roadhouse! He actually has a route that he runs frequently. Here's his tip. The pawn shops that are owner-operated are far less likely to have a good find than the big chain pawn shops. We have a chain called Cash America here in Texas. The little dealers take the time to research what they have, but the chains are operated by employees who don't do as much research. They mostly sell things based on what the store paid for an item. Sure, everybody knows what a Colt Python is worth and is unlikely to sell it for a bargain price, but how many would be familiar with an HW 50S? I've made some real scores on lesser-known airguns in pawn shops that couldn't be bothered to check out "BB guns."
That was on my chest for the past few weeks, and I had to tell you about it today. If you do decide to do some of these things, or if you've been doing them all along, I'd sure like to hear your story.