by Tom Gaylord, a.k.a. B.B. Pelletier
Announcement: Pyramyd Air's Big Shot of the Month for February is Albert Kong. He'll receive a $100 gift card. Congratulations! If you'd like a chance to be the next Big Shot, you can enter on Pyramyd Air's Facebook page.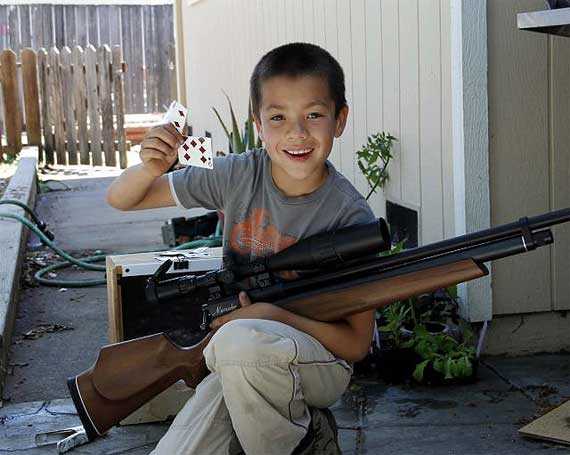 Albert Kong is the March Big Shot of the Month on Pyramyd Air's facebook page.

This past week, I was in Ft. Smith, Arkansas, the home of Umarex USA, to participate in some of the filming of the new American Airgunner television show. The show will start airing on the Pursuit Channel in July, and from what I saw during the filming, it's going to be very fast-paced and interesting. They selected Rossi Morreale as the host, and I don't think they could have made a better choice. Rossi's resume includes hosting shows like Belly of the Beast, NBC's Escape Routes and my favorite — Junkyard Mega-Wars. A former wide receiver for the Arkansas Razorbacks, he's just as nice and genuine off-camera as he is on, and he really puts a lot of energy into his work.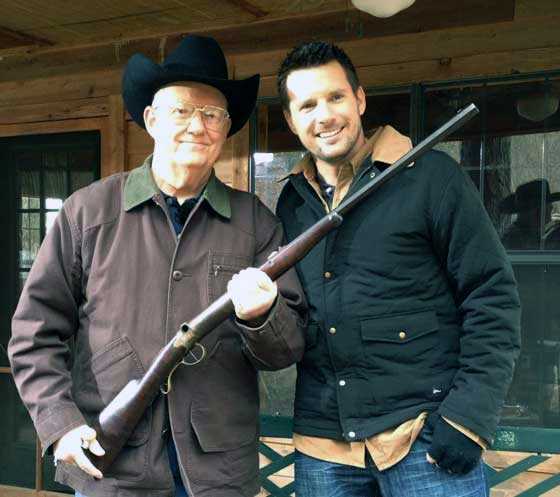 Rossi and I filmed some outdoor show segments at the cabin in the hills above Ft. Smith.
Rick Eutsler and Jim Chapman joined me for the filming, so we all got to hang out and talk airguns for several days. I love this job! On camera, the three of us participated in something called the Round Table, which will be a regular show segment. Our perspectives on each topic are different, and it was nice to hear what the other guys had to say about the issues.
We also toured the facility while I was there. I got to see their warehouse (which they've now outgrown), their quality control facility, their technical department (where all your questions get answered), the offices of their corporate staff and last — but far from least — their indoor firing range.
The warehouse is "just" a warehouse, except that it has narrow aisles with cables laid beneath the floor to guide electronic pickers through the maze. The one thing that impressed me was the cleanliness and high level of light in these spaces. They're growing so fast that they had to expand the warehouse into other space that was originally reserved for manufacturing. Because large shipments pass through the warehouse all the time, things have to be maintained shipshape and organized — and believe me, they are!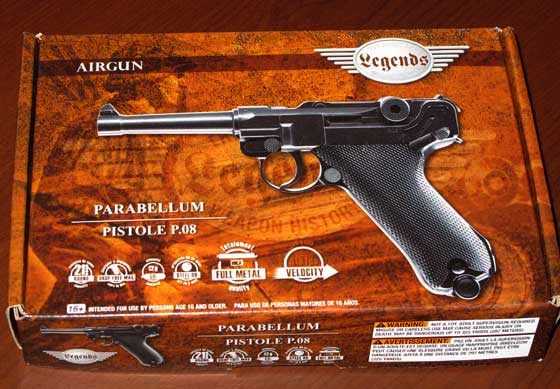 Marketing director Justin Biddle showed me the lithographed box for the P-08 BB pistol I recently tested for you. The P-08 joins the Makarov in the Legends line marketed by Umarex.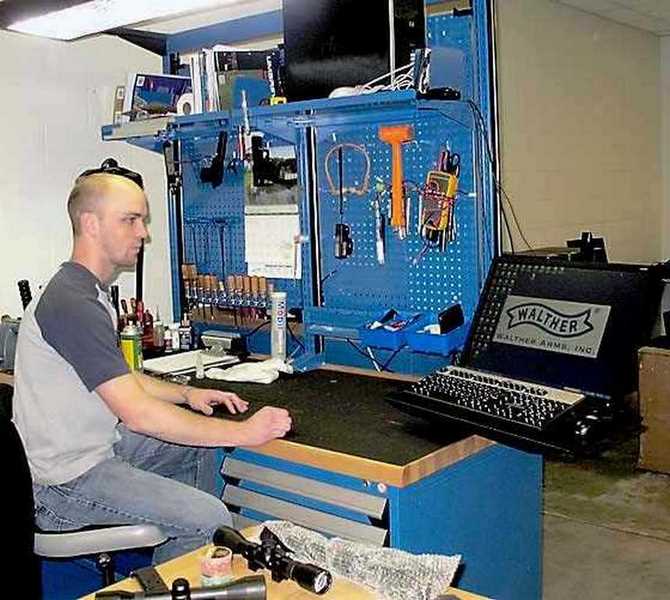 Quality technician Rustin Bates is responsible for testing the quality of all products that pass through the doors. He pulls samples from incoming shipments and inspects them to make sure they meet corporate quality standards.
Quality control at Umarex USA is an ongoing task, not just because they continually receive products from many manufacturers that must be checked, but also because they watch for product changes that might not have been announced. They do plan on manufacturing at Ft. Smith in the future, so the QC space is much larger than even the current high traffic volume demands.
Besides the QC lab, they also have a large space reserved for returns from commercial accounts. Large customers, such as the big discount chains, have varying policies regarding returns, and Umarex USA has to take all this product back. Some companies allow returns for any reason and spend no time looking at them before shipping them back. They just return them for credit. Other chains have stricter policies, plus they do some evaluation of the returns before sending them back. But whatever comes back must be checked — whether or not it was ever opened.
Everything that comes back from the commercial accounts flows through the returns department, where it's restored to new condition and repackaged by service technicians. I don't know about you, but I hate putting a gun back into the box exactly the way it came from the factory, and these guys and gals have to do it with dozens of different guns hundreds of times each day.
The consumer side of the house
After seeing the commercial side of their operations, we were taken through the consumer side. This is where all of you interface with the company; and after seeing it, I have great confidence that you'll be well-served.
Our first stop was in the service department, where the technicians work on customer repairs and modifications. Department head, Glenn Seiter, showed us through his shop.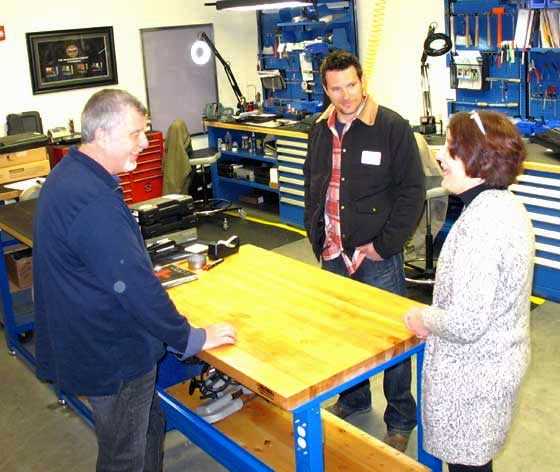 Janice Raab, Walther's Director of Marketing for Competitive Shooting, talks with Jim Chapman (left, and Rossi) in the Umarex repair shop.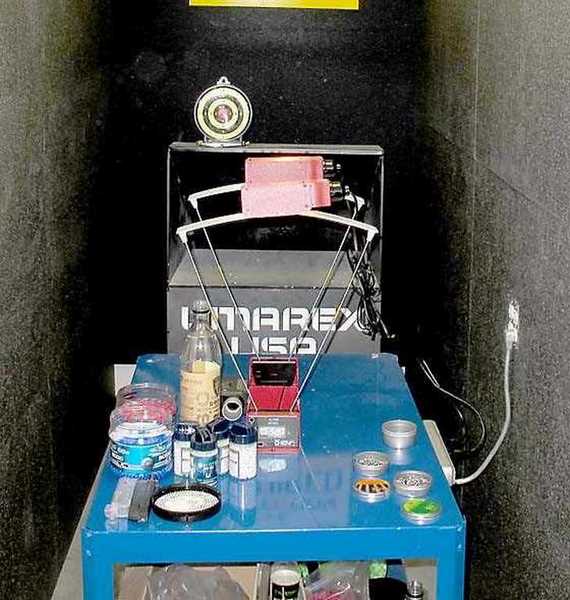 One of two chronograph ranges in the repair shop. This one is for pellet guns and airsoft. The other one is for firearms and has a snail bullet trap and an expensive air filtration system.
Glenn then took us to his call center, where the technicians handle all the service calls. He monitors every call for the time it takes to answer, the time spent resolving the problem and so on. Those statistics are displayed for each technician on a large monitor in the hall outside the call center offices so everyone can see how they're doing. Glenn uses this information to know that his shop is keeping pace with demand or if he needs to add a person to maintain turnaround time.
Also in the hall is a large cabinet with every model gun currently in the Umarex/RWS inventory. When someone calls with a question, the technician can go get the same gun the caller has, so they can talk about it in detail. That's a wonderful idea!
The indoor range
The tour ended at the company's indoor range, where Rick Eutsler and I were offered the opportunity to shoot several Umarex airguns, BB guns and Walther firearms. The range has two 50-yard lanes with automatic target carriers, so we each took up a position and opened fire.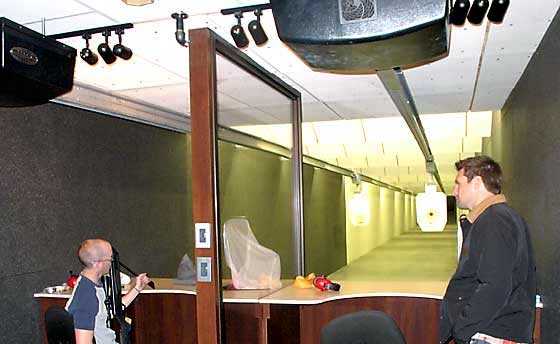 Rossi looks on as Rustin checks the lane for us. Before the range went hot, we all donned safety glasses and hearing protection.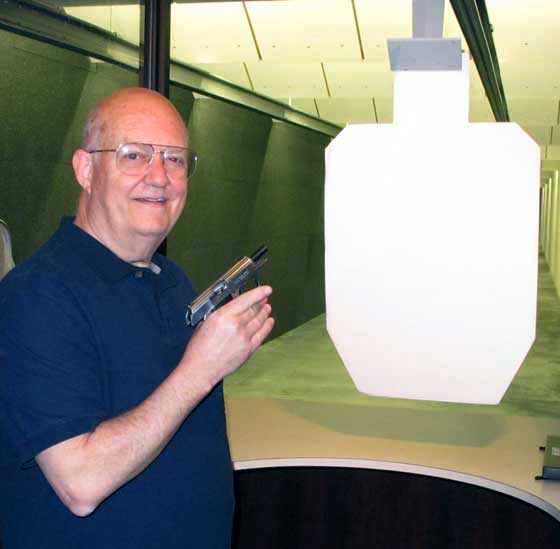 Would I like to shoot the new Walther .22 rimfire PPK/S? You betcha!
Rick and I spent considerable time on the range while Rossi traveled to a cabin in the hills to film more segments for the show. I made sure Rick got to try the new Walther LGV rifle, and he liked it just as much as I.
We both enjoyed shooting Walther's new 9mm PPQ and PPX pistols. I found them both to be as accurate as my 1911s, plus they recoil about the same even though they're a pound lighter because of their synthetic frames.
Things yet to come
At dinner one evening, I sat next to Martin Wonisch, a managing partner of Umarex. When I thanked him for bringing out the P-08 pistol this year, he asked me what other guns I would like to see in their Legends lineup besides the Makarov. I mentioned the C96 (Broomhandle) Mauser, and he told me that it's in the works. He also confirmed that it will have blowback.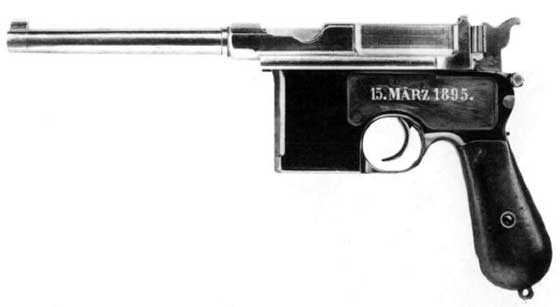 The C96 (Broomhandle) Mauser pistol is coming. It will have blowback!
Then, I said the Colt Single Action Army, and we discussed the challenge of doing that. The SAA grip is too short to accept a 12-gram CO2 cartridge, but I mentioned that the Colt 1860 Army grip is a half-inch longer and might work in its place. He said they would look into it. But did I have any more iconic handguns I'd like to see?
I thought for several moments and started to suggest things most of you wouldn't recognize — like the S&W Triple Lock and the Colt New Service revolvers. Then it hit me — the most iconic double-action revolver of all — the Colt Python! Because Umarex can now put a mirror finish on their pellet guns, I felt they could nail the Colt Royal Blue finish found on many of the Pythons. So, I spoke for all of you and recommended they look at producing the Python soon. I know I will buy one!
Wrap-up
The trip to Ft. Smith was a success in all respects. We got a tremendous amount of film in the can because of the super-professional film crew from 5-Star Productions, and I got to work with some wonderful people both on- and off-camera. The tour of Umarex USA was an eye-opener for me, plus it gave me a number of ideas for future articles and blogs.
Best of all, I was able to communicate my appreciation for the new Walther LGV rifle. I told them I was prolonging the test(s) of the new rifle until the first shipments arrive for U.S. sales (so they will sell me the test gun) and was told they would be here in about one month. It won't be that long before some of you can join me in celebrating the best new spring gun of this century.