by Tom Gaylord, a.k.a. B.B. Pelletier
The art of collecting airguns: Part 2
The art of collecting airguns: Part 6
The art of collecting airguns: Part 7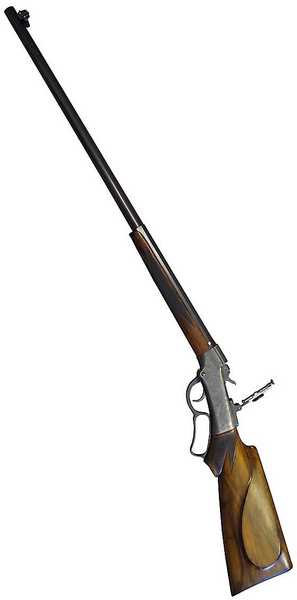 My Marlin Ballard was made in 1886 and still looks almost new.
Today is for blog readers Kevin, Robert of Arcade and for all airgunners who love more than just airguns. You love the shooting sports, and everything that goes with them.
This is an airgun blog and believe me, today's report actually does relate to them. This is the ongoing report of a Marlin Ballard rifle I acquired right after I got out of the hospital in 2010. As you can see in the photo above, the rifle is beautiful; but more than that, it touches the lives of all my friends — my late friend Mac, my shooting buddy Otho and Kevin, who often comments on this blog! In fact, Kevin is the one regular blog reader who has actually seen this rifle in person.
Kevin was so taken with this rifle when I originally reported on it that he sent me a gift of the book Ballard — The Great American Single Shot Rifle by John T. Dutcher. But he went way beyond just sending the book. He went to Mr. Dutcher personally with prints of the photos I showed in the first report and spent two hours with the author, examining the rifle through the photos. I was asked to take the rifle apart and photograph all the serial numbers plus various details inside the gun, which I did. From what he sees, Dutcher thinks this is a special-order, factory-made rifle, which is a specific category of Ballard made for high-volume retailers like John Lower of Denver.
I started shooting the rifle almost immediately after getting it, though I've always been very careful not to load it too heavy. As well-made as the Ballard action is, the metallurgy is not up to modern standards. So, it gets only reduced loads that develop low pressure and only lead bullets alloyed with a small amount of tin. The way I'm loading the gun, it should hold up for 100,000 rounds or more, only a few of which will be fired by me.
I wrote a couple reports on my early progress, which are in the links listed above. But I stalled out and stopped reporting on the rifle several years ago. Today, I will bring you up to speed with what's been happening; and, no, I haven't had a breakthrough in accuracy — yet.
I continued shooting the Ballard with commercial cast bullets, then I purchased a Lee mold and cast some bullets of my own. My bullets did as good as the commercial ones, even though they're not perfectly round. It's not uncommon for cast bullets to be out of round by a thousandth of an inch or sometimes more, but it would be better if they weren't.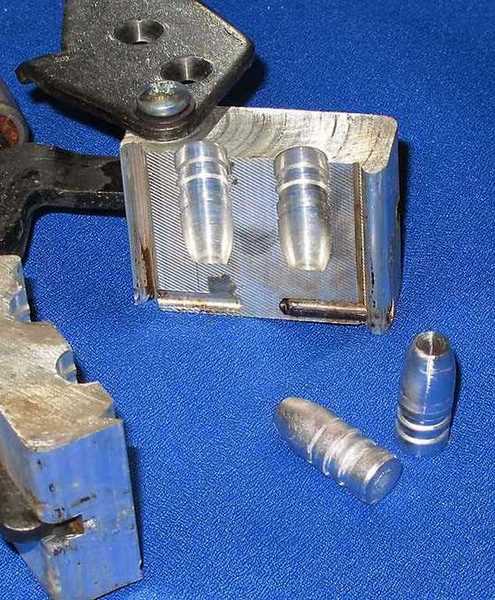 Lee bullet molds are inexpensive, but they do make fine bullets.
Schützen shooting
One thing I tried with the Ballard was loading it like a schuetzen rifle. Schützens are extremely accurate target rifles that held most of the world's records for groups out to 200 meters until recently. They're single-shot rifles whose cartridges are loaded one at a time at the range. A schützen shooter sets up his reloading equipment right on the rifle range. His powder measure is set to throw a single charge of powder. If he wants to shoot more than one rifle, he has a powder dropper for each of them, and only a single powder charge is used.
The bullets he has cast and kept in order as they fell from the mold. He doesn't worry about weighing the bullets because he uses a mold that is so perfect it never varies by more that one-tenth of a grain in weight, as long as he keeps the lead alloy the same. But to guard against any variation, he shoots the bullets as they dropped from the mold…so the alloy will not be that different. And you thought airgunners were anal! Schützen shooters make benchrest shooters look like weasles on caffeine.
They use a single cartridge case that gets fired and reloaded hundreds of times. They file a notch into the edge of the rim of the case, and that cartridge is always loaded into the chamber with the notch pointing straight up so there's never any variation. The case is never resized because it doesn't hold the bullet. It's just filled with powder and a wad and then loaded without a bullet. Because the brass isn't worked and is always fired in the same chamber, it lasts a very long time!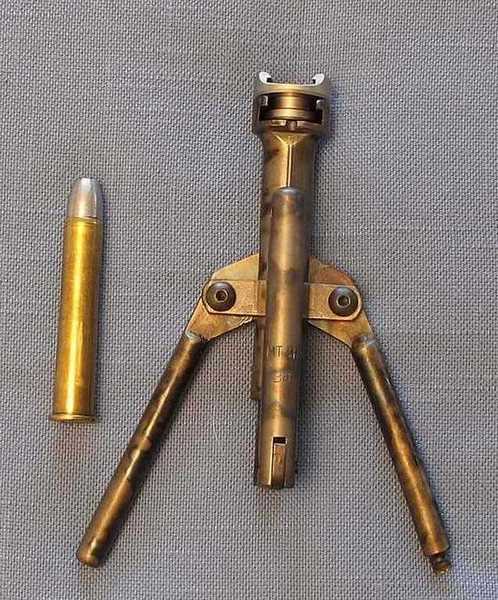 This simple tool is all you need to load cartridges at the range: A Pope capper-decapper.
The bullet gets loaded into the bore and positioned 1/16 of an inch ahead of the cartridge case, which is loaded after the bullet. A special mechanical bullet seater is used to do this because it's difficult to push a solid lead bullet into rifling. Airgunners know this because loading solid pellets into a barrel is a nightmare! Only AirForce Airguns designed their barrels to accept solid pellets, and even then, they're still hard to load.

This is a simple bullet seater. The bullet fits into the mock cartridge on the end of the seater. The seater is then pushed into the breech, and the bullet is pressed directly into the rifling. Higher grade seaters are mechanical with good leverage.
I tried loading my Ballard the schützen way, and I can report the following. Doing it this way, where you reload the cartridge after each shot, slows down your shooting to one shot every five minutes, or so. I suppose you could do it faster, but that's one of the real benefits of doing it this way. You don't have to be fast. I can shoot a 10-shot group in the same time another shooter arrives at the range, sets up, goes downrange to put up his targets, shoots several boxes of commercial ammo, retrieves his targets, knocks down, packs up and leaves. It takes us both about an hour; but at the end of it, my heart is beating 55 times a minute and I feel like I've been sitting on the veranda drinking a mint julep!
Schützen shooting is relaxing! I enjoy it very much, so I figuratively bit the bullet and bought a top-quality handmade bullet mold from Hoch so I could seat the bullets properly and do it right. That mold was not cheap, and it took about 6 months to be made to my specifications.
A breech-seated bullet has two different sizes to its body. The forward part is sized to ride on top of the rifling lands, and the rear part is exactly as wide as the grooves. When I measured my rifle, I found the lands measured 0.376 inches across (one side of the bore to the other) and the grooves were 0.384 inches across. Those two measurements were what I gave to the mold maker, along with the lead alloy I intended using (40 parts lead to 1 part tin). The mold he sent to me throws a bullet that measures exactly those dimensions, plus it's uniformly round. Those of you who worry about pellet head sizes know what I'm talking about!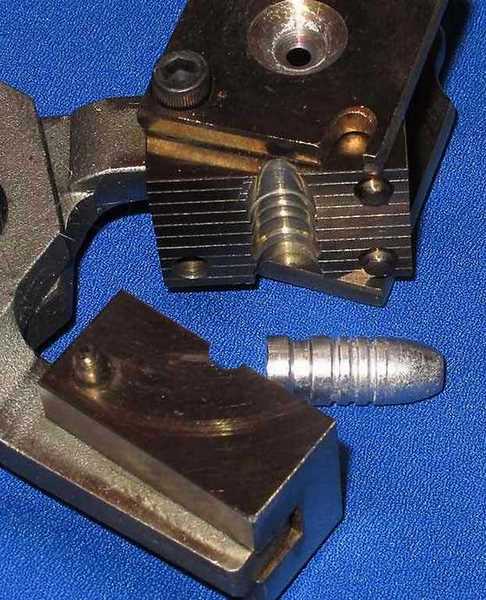 This custom bullet mold from Hoch is a nose-pour design, like Harry Pope used to make. This breech-seated bullet has two base bands that are 0.384″ wide and three nose bands that are 0.376″ wide. The nose bands are supposed to ride on top of the rifling — not be engraved. That makes the bullet easy to seat into the rifling.
Oh-oh!
But when I went to the range to try my new bullet — IT DIDN'T FIT! The nose was too fat and was being engraved by the rifling, which prevented me from seating the bullet in the barrel with anything short of a hammer. Obviously, I wasn't going to do that! I pouted instead. I lost interest in the rifle for several months. But I always come back, and this time I remembered what the black powder shooters say: Black powder is better than smokeless when accuracy is on the line.
The bullet from my Lee mold is a little too small for the barrel, but black powder upsets the base. So, I reckoned that might work. I loaded some cartridges with black powder and the Lee bullet and went back to the range. With black powder, I had to clean the bore after every shot, but working with the Nelson Lewis combination gun trained me to do that, so it wasn't a problem. Alas, these cartridges were no more accurate than the smokeless rounds I'd been shooting. I probably didn't spend enough time perfecting my loading technique and was getting frustrated. And a frustrated B.B. doesn't make good decisions.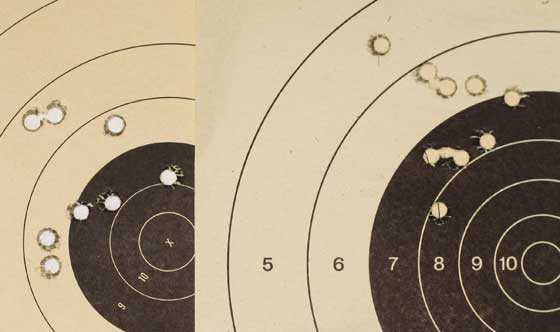 Over the past 2 years, I've shot many targets like these with the Ballard. All have groups around 3 inches at 100 yards.
Over two years have passed since I acquired the rifle, and I was still stuck in the same place. I couldn't shoot even one of my new bullets from my expensive new mold, and the best I was able to do wasn't as good as I've done with other more mundane rifles shooting lead bullets. If I was a golfer, this would be where I wrap my expensive drivers around trees and take up drinking.
A strange encounter
Then something happened. Just a few months ago I was out at the range for another round of humiliation, and I happened to meet a real schützen shooter. I'd met him there before, but never when I had the Ballard with me. He was putzing around with one of his exotic thundersticks, and we got into a discussion of my frustrations. Well, maybe not a real discussion. Actually it was more like I went over and started sobbing on his shoulder about all my woes. But you get the picture.
He told me about another mold maker — the guy I should have gone to in the first place. Long story short, he sold me on trying another new mold. This one will be ready in 3 weeks, plus he told me all the schützen shooters go to this guy for their molds. I was straight on everything else. I was making my loads with the same equipment and in the same way he was. So, the mold must be the answer. Right? Please tell me I'm right because I've spent even more on this new mold than on the last one!
Oh, maybe I should also tell you this. I slugged the bore of the rifle again, to find those critical dimensions for the new mold. And this time I asked my shooting buddy Otho to check my measurements. I'd been two-thousandths off on the first mold, so it was engraving the rifling where it shouldn't. We not only confirmed that fact, we measured the slug with several different measurement devices this time.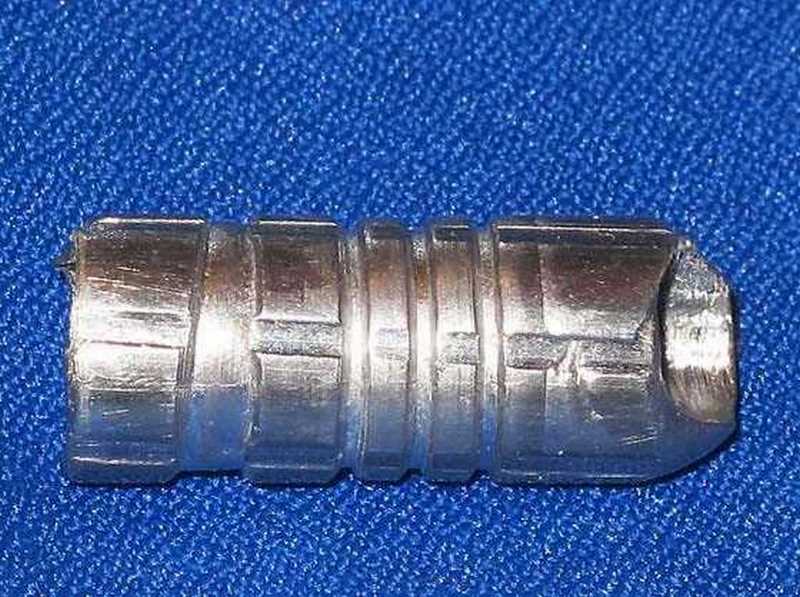 The internal dimensions of the bore are determined by upsetting a lead slug in it so it completely fills all space. Then drive it out and measure it. The grooves measure 0.385″ across and the lands measure 0.374″ across. Two people used different measuring devices to arrive at the same dimensions, so they should be correct.
The moral of the story
I like giving you guys good news. Who doesn't? But not everything turns out the way we want it to, and there can be a lot of value in reporting the failures, too. I don't mean so we can go spray-paint the names of the evil airgun manufacturers on overpasses, but so we can better understand this shooting thing we all do.
So, for Kevin and Robert and everyone who's interested in the rest of the story, that's what's been going on with my Ballard. I've had visions of showing you impossible half-inch 10-shot groups at 100 yards from this rifle, all the while realizing with bitter irony that my AR-15 — a rifle I've publicly criticized for over 40 years — can actually do it. I'm not there yet (with the Ballard). Maybe I never will be, but the pursuit of excellence is what keeps me going. And the days spent with air rifles like the Walther LGV are what keep me sane.
Big Shot of the Month
Pyramyd Air's Big Shot of the Month is Chris Ennis. He'll receive a $100 gift card. Congratulations! If you'd like a chance to be the next Big Shot, you can enter on Pyramyd Air's Facebook page.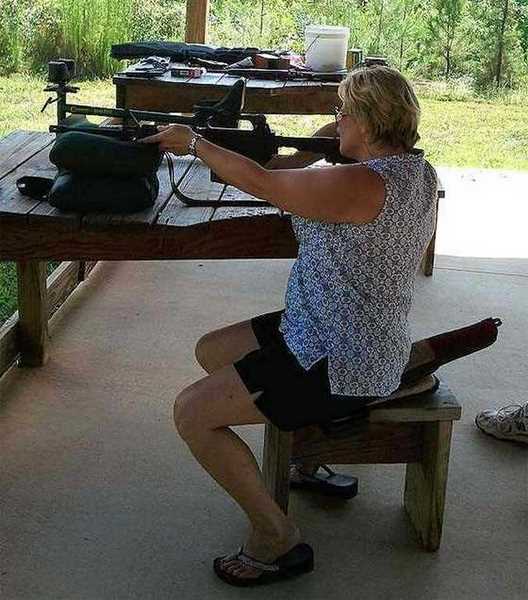 Chris Ennis is the Big Shot of the Month on Pyramyd Air's facebook page.