by Tom Gaylord, a.k.a. B.B. Pelletier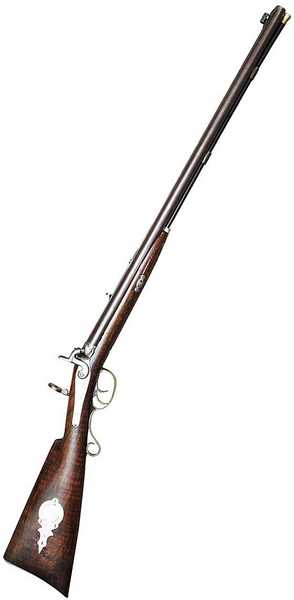 Nelson Lewis combination gun is both a rifle and a shotgun.
It's been a while since I last wrote about this gun. Blog reader Kevin asked if I was going to write anything more and I answered yes, but what I did not tell him or any of you was that in October of last year I blew up the gun.
Blew it up?
That's not entirely accurate. What happened is the nipple that accepts the percussion cap was blown out of the barrel and right past my face. When it went, it sheared off the hammer lug that connects the exposed hammer to the sear. I never found the nipple, but the hammer was lying on the shooting bench next to the gun. When my shooting buddy, Otho, asked me if I was okay (he was standing behind me, having a premonition that something bad was about to occur), I answered, "NO" for the first time in my life. Usually, guys will say everything is okay right after they've sliced off their thumbs with a circular saw, but this event was so startling that I wasn't really sure what my condition was. "No" just popped out.
What happened?
Okay, get ready to criticize and tell me what I did wrong because I haven't got a clue. Do you remember me telling you that airgunner Mike Reams can make swages to make conical bullets of almost any caliber? I learned that at the 2012 Roanoke airgun show. And do you remember that I wanted him to make a set for the Nelson Lewis gun? Well, what I did this day on the range was called a "proof of concept" test. I loaded a conical bullet in the rifle — partly to confirm the diameter requirements for Mike and partly just to see if the gain twist rifling really would stabilize a conical. But the only conical bullet I had was a 250-grain lead bullet for my 38-55 Ballard, which coincidently has almost the identical size bore as the Nelson Lewis rifle.
I'd been shooting a patched .375-caliber swaged round ball in the rifle up to this point. That ball weighed 80 grains. So, 250 grains would be heavier — about 3 times heavier. What I did was load a proof load into my 160-year-old gun and shoot it. Nothing wrong there, right?
When the gun fired, it recoiled more than usual (no kidding!), but that wasn't what I noticed. I noticed a jet of fire about a foot long coming out of the nipple hole that had been so recently vacated. Then there was the verbal exchange between me and Otho, and then he cautiously walked around to my front and looked at my head — mostly to see if it was all there.
I'd been wearing shooting glasses, which I always do whenever I shoot a black powder arm (and after this event, when I shoot anything else, too), so my eyes were fine; but above my right eye was a large patch of black powder that embedded itself in my skin. I looked like the "murdering coward Tom Chaney" from the movie True Grit, who coincidentally had a black powder Henry rifle blow up on him. The powder had to be picked out of the skin with tweezers over the next few weeks and there is still some of it in there today, more than 4 months later. But I was okay.
My Nelson Lewis gun, on the other hand, was broken. And, as far as I know, Nelson Lewis doesn't work on his guns anymore, having been deceased for the past 135 years or so. What was I going to do?
Otho to the rescue
Now you need to know something about my buddy, Otho. He's a retired Airframe and Powerplant (A&P) mechanic who has worked on turbine engines and airframes since Vietnam. One of his skills (he has skills — and people like me need to know other people with skills) is welding. And I don't mean trailer-hitch welding, either. I mean the ability to — well, let me tell you what he once did. His father stored a Gen-1 Colt Single Action Army revolver improperly, and it rusted badly. Rusted as in deep pits all over one side of the gun. So, over the course of a year, Otho spot-welded each and every pit, then worked it down with a file until it was flush with the rest of the metal. When it was perfect, and by perfect I mean perfect, he had the gun re-case-hardened so that today it looks new. All the factory lettering was preserved so you cannot tell that any work was ever done. Or at least I cannot tell, and I know Gen-1 Colt SAAs.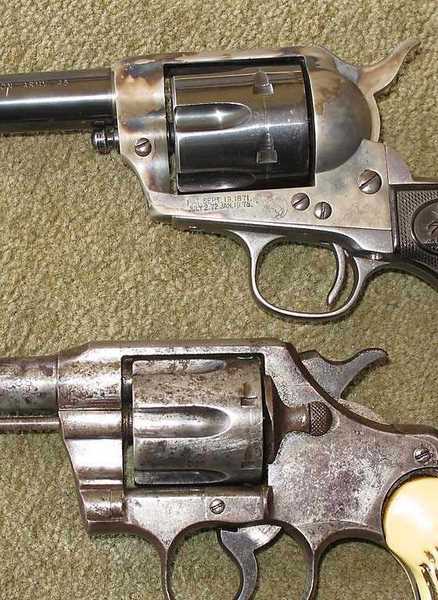 Both these Colt revolvers were stored together and rusted equally. Otho welded every rust pit and refinished the Single Action Army on top. This is a master at work!
So, Otho looked at the sheared hammer lug on the Nelson Lewis gun and says he thinks he can fix it. He thinks he can weld the hammer lug back up and file it to fit the hammer. This news sounds wonderful, coming as it does on the heels of the gun's destruction. Let me show you what is involved.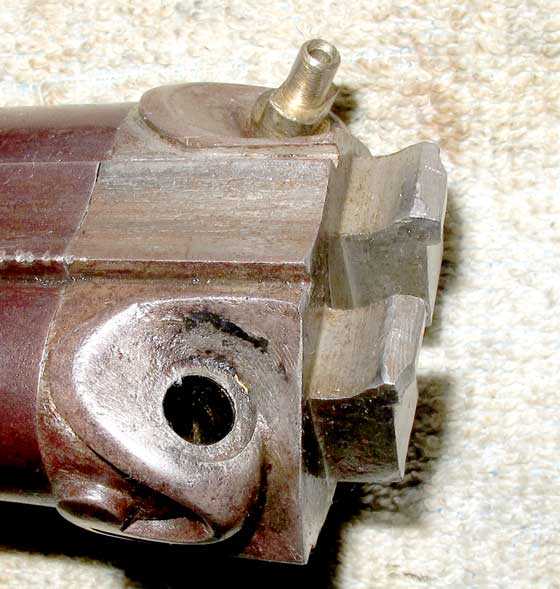 The nipple is gone. All the threads are, too.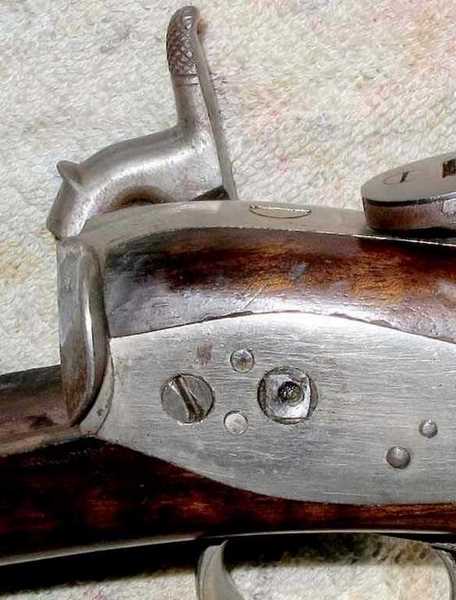 The hammer was sheared off at the lock plate. The other end of that square lug is the rifle's sear.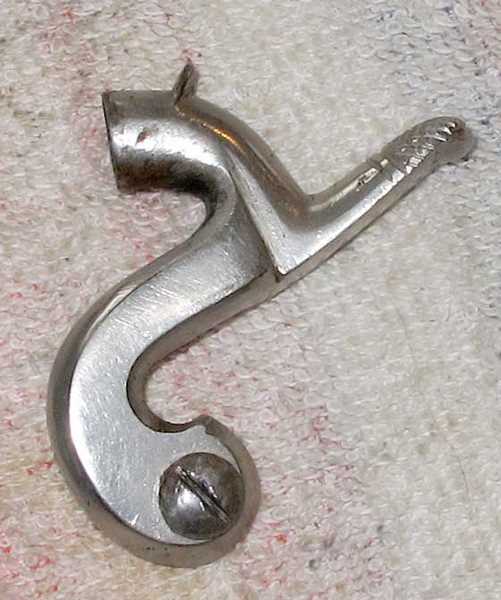 The hammer was sheared off the lock as neatly as if it had been properly removed.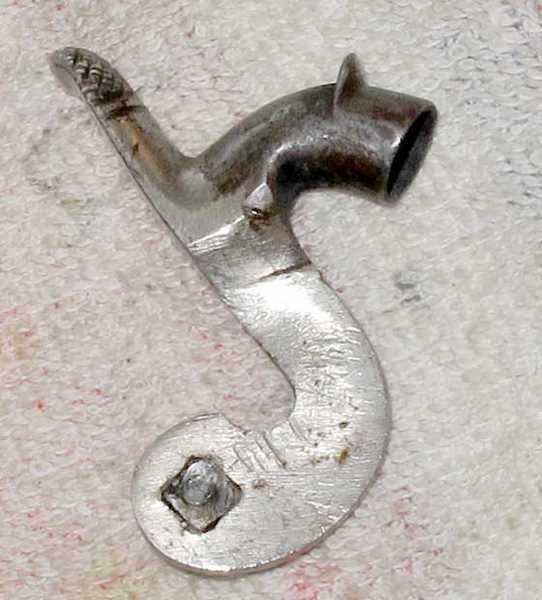 The flip side of the hammer shows the lug that was sheared.


See the part with the leg sticking out? That's the sear. It also has the lug that the hammer used to be connected to — or at least it is supposed to.
I disassembled the lock and looked at the sear carefully. Surely, it was made in two pieces because how did Lewis put a square lug on a complex sear otherwise? You know what? He cast the part in one piece. Out of steel. In 1850! They wouldn't have automobiles for half a century and here was this gunsmith in upstate New York making complex parts from cast steel! I thought Bill Ruger invented the casting of gun parts. (Just kidding. Please don't hit me with comments. I am aware that the lost wax casting process is very ancient.) But seriously, did you know that gunsmiths in 1850 were casting parts from steel? That's not the paradigm I've been given to believe.
And one thing was certain because of how the part was initially produced. It would either have to be welded or made entirely new. Otho's plan now sounded very good.
In November, I gave him the lock pieces and he began to study them. His task wasn't just to weld the lug, but also to maintain the correct orientation so the hammer would fire a percussion cap again. And that brought up the other thing — there was no nipple for the cap. It was blown off the gun and never found. And the threads in the hole where it was were completely stripped. Otho had an idea about that. Use a Heli-Coil. When I balked, he told me that a Heli-Coil is approved by the FAA for threading stripped holes. And the FAA is about as anal as they can be when it comes to parts' integrity and safety. So, I guessed it was okay.
He began welding small amounts at a time. Welding and welding, and then filing when he got close to the right dimensions. Then it was weld and file, weld and file. This went on until January. I think he finished the job while I was at the SHOT Show. Then he told me about his worry. He had been worried that the sear metal might vaporize as he welded, but that hadn't happened. So the steel was good. Now he was concerned that all the heat from welding had taken all the hardness out of the part.
He took the part to a knife-maker friend of ours to have it Rockwell tested. But the part was too odd-shaped and small to fit in this guy's tester. So, he drew a file across it and made a guess what kind of steel it was based on the date of manufacture and how it took the file. Then, he hardened it in his kiln until it was hard as glass. Next, Otho did a complex series of tempering heats that drew the hardness down to approximately Rockwell 38, which the knife-maker guessed was the hardness of the original part. Do you think this is too much guesswork? How do you think Nelson Lewis did it in 1850? He heated it on his forge until it glowed brightly enough, then quenched it in whatever oil he had (possibly sperm whale?), then he drew the temper the same way.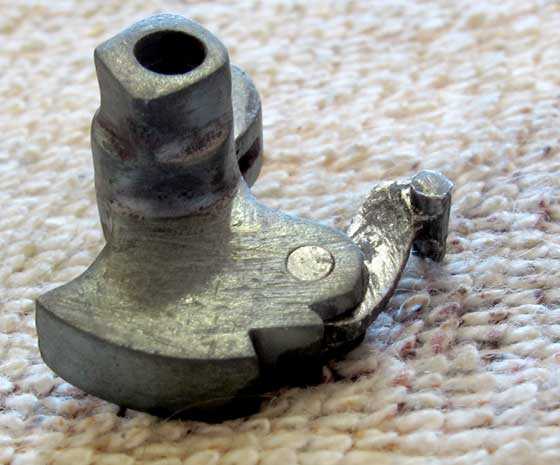 The hammer lug (the square projection standing up in this picture) has been restored to the sear. No, the lug isn't perfectly square. It's shaped exactly like the hole in the hammer. The hole for the hammer screw was even drilled off-center and threaded exactly like the original.
The proof of the pudding
Otho installed the Heli-Coil and a new nipple I gave him, then the both of us reassembled the rifle. He was very concerned about the hammer, so I test-fired just a percussion cap in my garage and everything was fine.
I went to the range to test the rifle with a full charge of powder and a correct bullet. First, I shot off another cap, to clear the path in the nipple. Then, I loaded about 20 grains of powder and tamped just a wad on top. That was fired okay, so now it was time to load the rifle for real.
I loaded the rifle the same way I'd loaded it before — with a patched round ball ahead of about 20 grains of 3F black powder. I tied a 10-foot cord to the trigger and carefully cocked the hammer. I pulled the trigger with the rifle sitting in the rest and it fired without incident.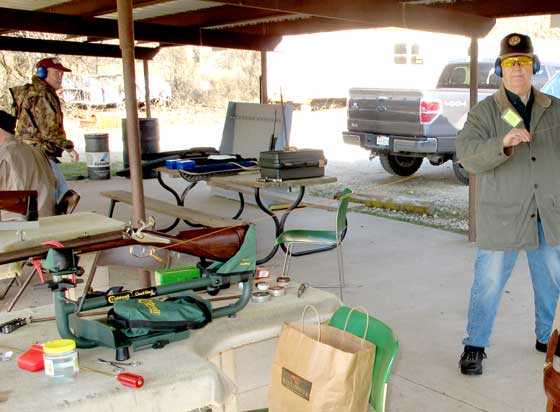 This shot was posed. I was 3 feet farther back when I fired the gun for real.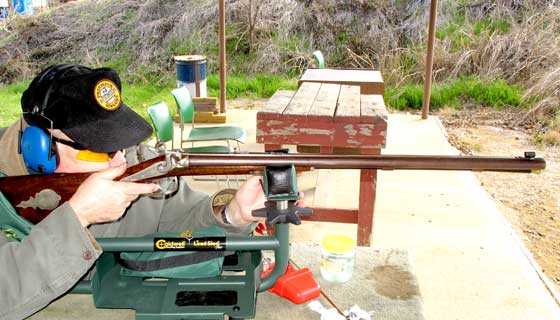 Once I knew the gun was safe, I shot it like I had before the accident.
Once the gun passed the test and I knew it was safe to shoot again, I settled down and shot a quick 5-shot group at 50 yards. It shot to the same point as before the accident and grouped about the same.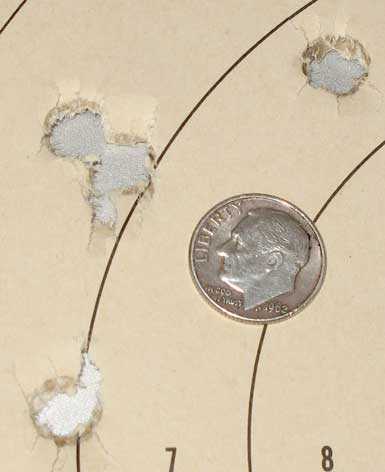 Five shots at 50 yards made this group. It's in the same place and the same size as before.
How does the gun look now?
I'm sure you're curious how the gun looks after this trauma. The fact is, apart from a small dent in the top of the pistol grip where the hammer spur hit the wood, you can't tell anything ever happened. I thank the Lord for my safety, and I thank Otho for being so skilled. I'm so fortunate to have my gun back and whole again.
No moral
There is no moral to this story. And I hope you readers are all smart enough to not need to learn anything from my misfortune.
I will continue to shoot the rifle, but not a lot. I think, given the circumstances, this rifle has done enough for me. It deserves a rest and, except for an occasional day or two, that's what I intend to give it.