by Tom Gaylord, a.k.a. B.B. Pelletier
With the Christmas season approaching, I'm on the fast track to test several new airguns this month. Today, I want to begin our look at the Crosman MTR77NP scoped air rifle. It's a .177-caliber -only copy of the M16. When I saw this one at the 2013 SHOT Show, I couldn't believe my eyes! I actually had to break it down to prove it was a breakbarrel spring rifle because the M16 look is so authentic. But for a couple small clues, you would say the same thing.
And now that I own an AR-15, I'm no longer the barnyard Bubba whose last recollection of a military rifle is a Garand or a Mauser. I know what a black rifle looks and feels like, and I tell you — Crosman has nailed it with this one. And, when the barrel is closed, it's just as solid as the firearm it copies. But the one thing I could not do at the show was cock the gun because the SHOT Show doesn't allow firearms or airguns that are capable of firing to be displayed. So, the spring unit was out of the gun on display. I've been waiting all year for the opportunity that is now before us.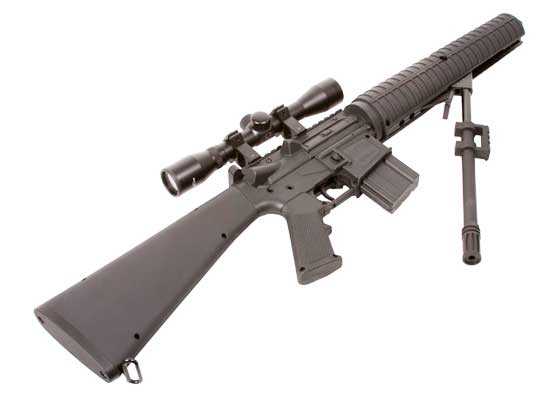 And here it is, broken open during cocking.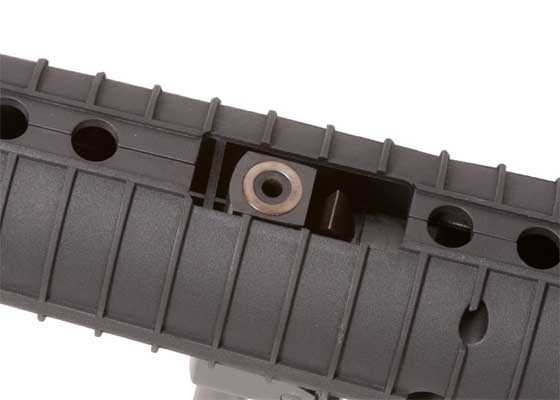 The top of the handguard has a slot that gives access to the breech when the barrel's broken open.
Before I continue, let me tell you this rifle comes in 2 versions — one is the flattop scoped version that I'm now testing, and the other is a version with a carry handle and conventional M16 sights (peep and post). That one is just $10 less than the scoped model, and both of them have Crosman's Nitro Piston (gas spring) for their powerplant.
This rifle is most like the M16A1 that I remember from my days of "owning" several in Germany. The stock is the triangular A2 that I prefer over all others. Crosman missed an opportunity by not putting a storage compartment in the butt like a real A2 stock has — this one has a solid checkered plate. The handguard is the web-reinforced, tapered cylinder that grips your hand so well — even when wearing gloves! Naturally it has a cocking slot on the bottom and a slot on the top to allow access to the breech when the barrel is broken open. But you can't see either one from more than 10 feet when looking at the profile.
Not only is the look right on, but the weight is, too. The rifle weighs 7 lbs. on the money without the scope, so you can't tell it from the firearm. Most of the controls such as the selector switch, charging handle, ejection port cover and bolt release are simply cast into the synthetic receiver, but these days that doesn't detract much. They still look very realistic. The forward assist is more of a hint than an actual copy, but you don't pick up on it because of the rifle's non-reflective finish.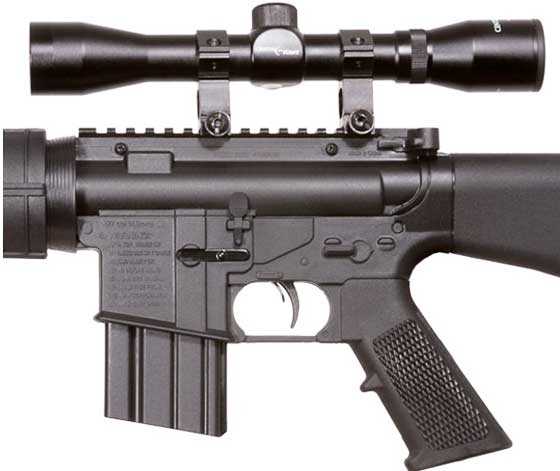 The controls are mostly cast in, but look realistic.
The one thing that's different is the safety switch that's located ahead of the trigger. It's a MANUAL safety — thank you very much, Crosman! You decide when to put it on and take it off.
They advertise the cocking effort at 45 lbs., which seems pretty close to what I'm experiencing. This is a gas spring, so you can expect that resistance from the moment the barrel is broken open. That makes the MTR77NP an adult's rifle, for sure, and the adult had better be ready to work!
One thing I admire about Crosman that hasn't changed over the years is their institutional memory. They have a morgue of airguns. It's really a large closet filled with many of their old models, prototypes and some other guns, as well. But it allows them to look at the past and choose what was good for their future endeavors. On this rifle, it was the magazine. They copied the M1 Carbine BB gun magazine that was a removable container for BBs; only on the MTR77NP, it's for pellets and it's much larger. Of course, the rifle's magazine release button is fully functional.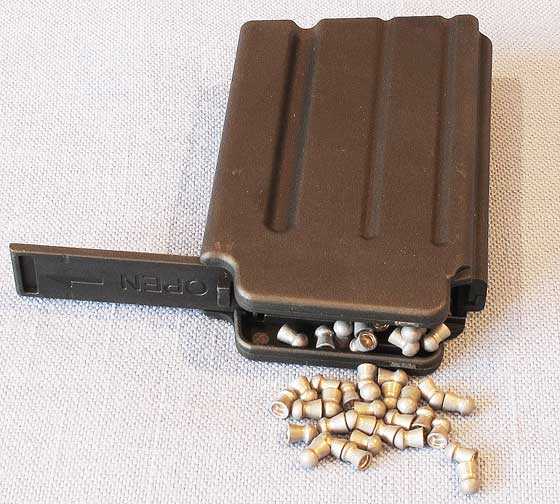 The magazine provides storage for pellets.
The rifle comes with sling swivels built in, which is probably good, for many hunters may reach for this rifle. Given its potential power, which is rated to 1,200 f.p.s., I think it could be a great hunting gun if the gun is also accurate. Remember, you can leave a gas spring cocked for hours without degradation.
Scope
This rifle has no sights, so of course it comes with a Centerpoint 4X32 scope and mounts. The scope appears clear and bright upon initial examination, but I'll give you a more detailed report when I test the gun for accuracy. It has a duplex reticle with mil-dots.
It also comes with scope rings. But unlike the photo that's lithographed on the box, the rings have 2 screws per cap instead of 4. And everything clamps to a 1913 Picatinny rail that will accept Weaver mounts, as well.
Initial reaction
Of course, I tried the gun. I cocked and fired it a couple times just to familiarize myself with its operation. The Nitro Piston causes a heavy lunge forward on firing, but there's very little vibration. The report is a bit louder than many powerful spring rifles. That may be due to the gas spring that always sounds a little snappier than rifles that have coiled steel springs.
The 2-stage trigger is crisper than most, though stage 2 does have some travel. But there's very little creep in the movement. I believe I can do good work with this rifle.
This should be a fun gun to test because it's so different from the rest of them. It's a blend of the good old days of lookalike airguns and modern magnums. Let's hope they chose the best of both worlds!