by Tom Gaylord, a.k.a. B.B. Pelletier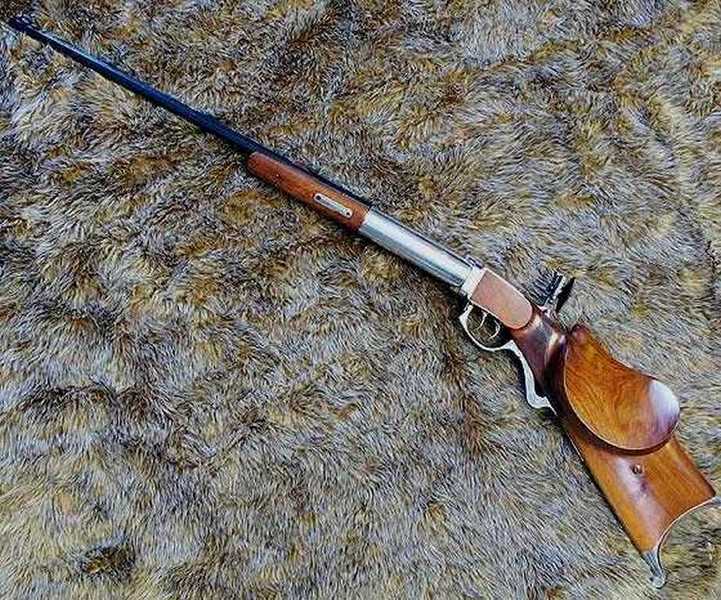 B.B.'s bügelspanner.
Today, I have a story for you. A couple weeks ago, one of our blog readers — a man named Eric — emailed me a link to a local craigslist.com posting. Eric met me at a gun show last year, and I sold him a Winchester model 427 (Diana 27) air rifle. He already knew about fine vintage airguns, and the 27 had been on his wish list for a while, but I don't think he was a blog reader. Well, we fixed that right away! Since then, he's been reading the blog and becoming more familiar with his new rifle and airguns in general
The listing he sent me showed a Tyrolean air rifle with the traditional high-cupped cheekpiece and hooked buttplate. What was even more fascinating were the double-set triggers and the large aperture sight located at the rear of the receiver, as well as the sporting sight mounted on the barrel.
The gun was a bügelspanner, or loosely translated, a triggerguard (lever) cocker. I've owned 2 bügelspanners in the past, but neither was as nice as this one. And the funny thing is that this was posted on craigslist! That's funny because guns are sold on gun websites — not on a general website like craigslist.
But this posting had lasted for a minimum of 2 weeks before I saw it. So, I contacted the seller and, glory be, he still had it! We met last Sunday, did the transaction and this was one of those rare times when the gun was exactly as represented.
The gun is a smoothbore .25-caliber gun. The seller, named Joe, told me he had owned it for the past 34 years and had gotten it at the age of 8 as a gift from his father. The gun is much older — probably dating back to around the 1920s or '30s.
It's a spring-piston gun that has 2 opposed volute springs that compress against each other. They push a leather-covered piston in the same way that a coiled steel mainspring does in a conventional spring-piston gun, so this is just an odd form of spring-piston airgun.


Two volute springs push against each other when compressed.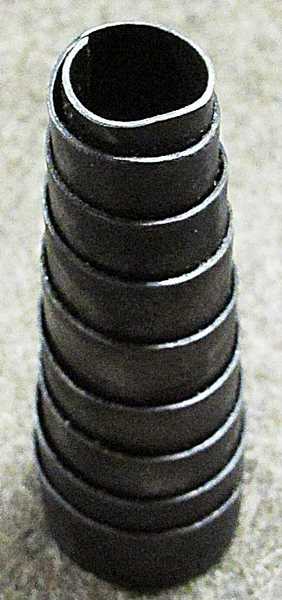 The volute spring is a flat spring that's been coiled and stretched into this shape.
Zimmerstutzen style
I was attracted to this airgun because of a long, abiding interest in zummerstutzens — indoor gallery or parlor guns used for target shooting. I've been fascinated with them since I was a teenager and first read about them in Guns & Ammo back in the early 1960s.
The zimmerstutzen rifle is usually found in the Tyrolean style, but not always. It's nominally 4mm, but there are more than 20 specific calibers for which the guns were bored. They fire either fixed ammunition (a cartridge) or separate ammo with a percussion cap and round lead ball loaded separately. Rather than get into the full description here, I invite you to read my full article about them. I normally don't like giving homework assignments; but if you read that article and look at all the pictures, you'll have a much better understanding of the gun we're examining today.
The subject gun
I was inclined to believe the subject gun is a dart gun, but what little historical documentation there is mentions using pellets as well. I thought it was a dart gun because it's set up for extreme accuracy, and I didn't think that pellets could be that accurate in a smoothbore barrel. But we did do a test of the Diana 25 smoothbore at 10 meters and established that it is, in fact, very accurate at that distance. So, I really don't know if I'm supposed to shoot darts or pellets in this gun. For the present, I only have pellets because .25-caliber darts are not that common. But I could certainly make some.
This type of gun either fits or doesn't fit — there's no in-between. I'm lucky that it fits me pretty well. But that sporting rear sight does get in the way of seeing the front sight. I would have to remove it to use the rear sight.
Why a sporting rear sight? Shooters in the US are not familiar with how European airgunners view target shooting. They use their guns for both precision target shooting and also for sporting use. I guess the best comparison would be to the Hunter Class of field target. Therefore, European target guns often have both a precision rear peep site and a second sporting rear sight located somewhere on the barrel. The subject gun has both.
The front sight is a fine post and bead, which is typical of all zimmerstutzens and, indeed, of many target guns from the 19th century. This sight is very fragile, so it's protected by steel "ears" on both sides.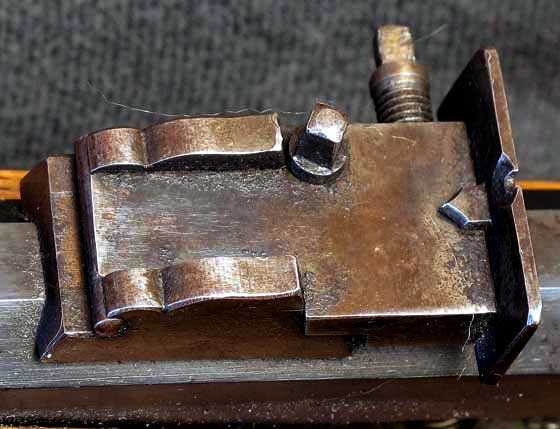 The sporting rear sight is adjusted in both directions by a clock key.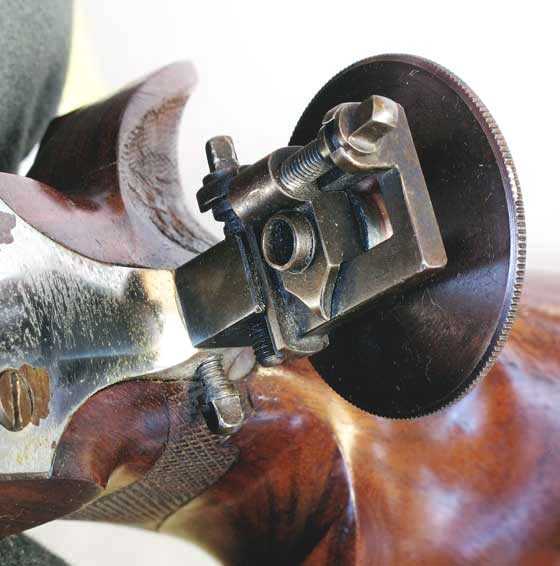 Rear peep sight is also adjust by a clock key and can be removed to use the sporting sight, only.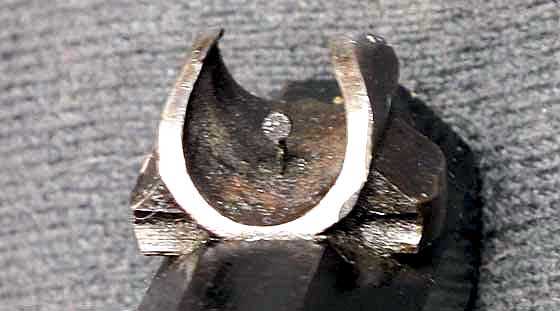 Front post-and-bead sight is delicate, so two steel ears protect it.
The gun has an octagonal barrel, which dates its manufacture to before World War II. It's impossible to get a more precise date than that because these guns were made from the beginning of the 20th century until the early 1950s. The octagonal barrel also suggests a time before 1940. Most likely this gun was made in the 1920s or 30s, but I have no way of proving that.
The name Original is engraved on the barrel. Several sources say that this is a name used by Oskar Will in Zella Mehlis, Germany; but one source says that name, by itself, was used only by his competitors, and all of his guns also have the word Will on them, as in Original Will.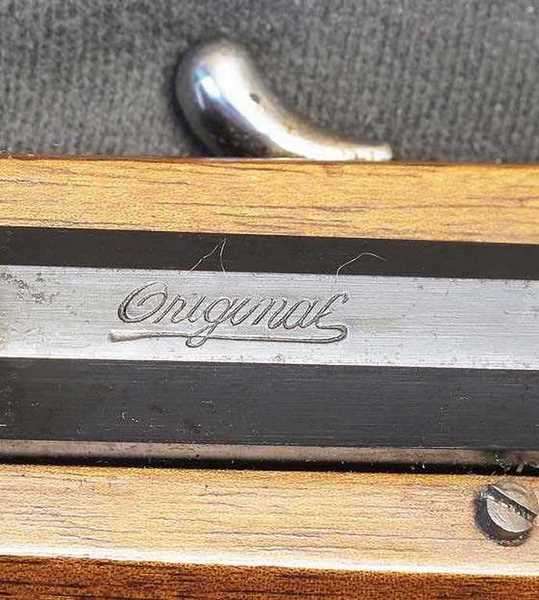 The name Original may mean this gun was made by Oskar Will of Zella Mehlis.
The gun is cocked by pressing down on the triggerguard, which is actually a long lever pivoted near the bottom rear of the butt. You can see the pivot pin sticking through the rear of the buttstock. A linkage pulls the piston back, compressing the two springs. To load the gun, you press a catch forward on the right side of the forearm, and the rear of the barrel can then be tipped up. You could call this a breakbarrel, but the barrel doesn't have anything to do with cocking the springs. In that respect, the gun is like the breakbarrel Whiscombe rifles.
The cocking effort is pretty demanding. It's on the order of 40 lbs., at least. I can't see how a boy of 8 was able to cock this gun, but maybe his father cocked it for him until he grew into it.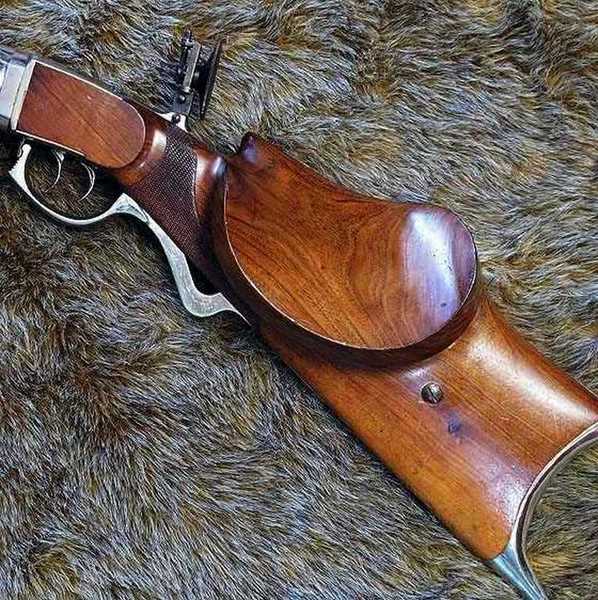 Triggerguard is shown up…in the firing position.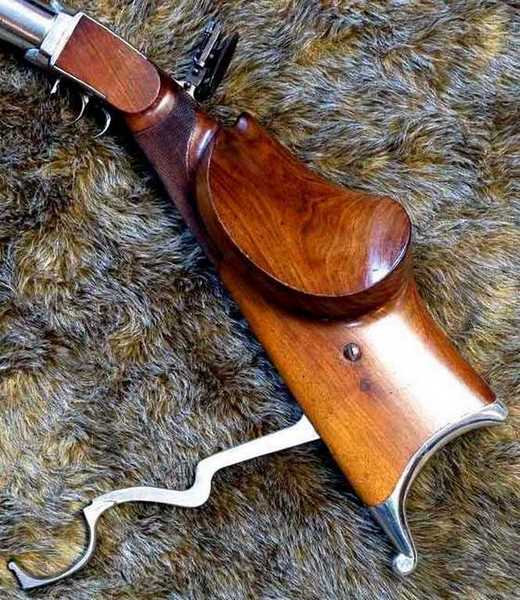 Triggerguard is pulled down to cock the springs.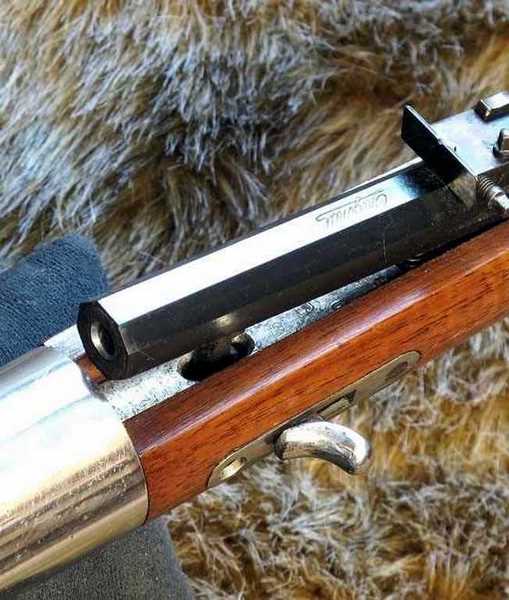 Push the catch forward, and the barrel can be tipped up for loading.
The double-set triggers on this gun are interesting. They work in the normal way — the rear trigger is pulled to set the front trigger and the front trigger fires the gun. However, there's one difference. Many guns with double-set triggers will also fire when the front trigger is pulled without being set. This gun will not. If the trigger is not set, the gun cannot be fired.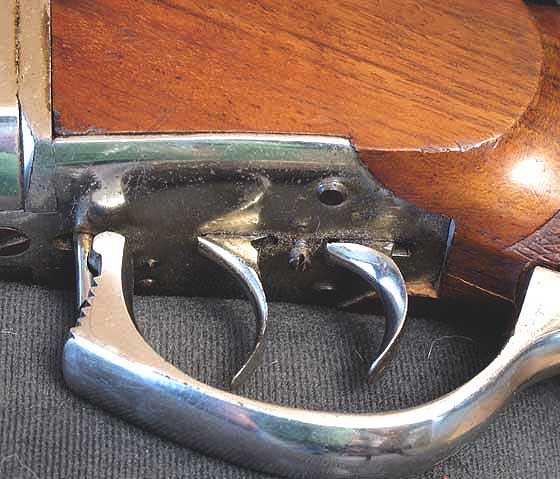 Double-set triggers function normally, except the gun won't fire unless the trigger is set. Many double-set triggers will fire when the front trigger hasn't been set, but not this one.
Joe told me he shot the gun, so I figured it would be okay for me to do, too. First I dumped about 20 drops of 3-In-One oil down the air transfer port and gave it an hour to soak into the leather piston seal. The, I loaded an obsolete 20-grain Diana Magnum pellet and shot it into the trap from just a few feet away. The firing cycle was very harsh, so I won't be doing that, again, until I can examine the condition of the powerplant. I could hear how slow the pellet moved, which leads me to suspect I'm right about this being a dart gun.
The gun is stocked with a light-colored walnut that's checkered on the straight pistol grip. Also typical of the Tyrolean stock is the thumbrest that protrudes from the right side of the grip. That makes this a definite right-hand rifle!
This top view shows how thick the buttstock blank had to be to begin with!
The gun's metal is finished with a combination of heavy nickel plate and hot-tank bluing. I would put the finish at 80-85 percent, which is to say…a lot! There are pepper tracks of rust scattered around the blued barrel, but an application of Ballistol and steel wool has begun to remove them. I'll keep this up for as long as it takes to get down to smooth metal.
The future
This report will not follow the traditional pattern of velocity testing followed by accuracy testing. For starters, I think the gun is too fragile to shoot that much, plus it does fire harshly. I need to find out what's going on inside before I do much of anything.
I made this Part 1 so I could come back to it with a second report, though I have no plans for that right now. But as I learn more about it, there will be enough information to make an interesting Part 2.