by Tom Gaylord, a.k.a. B.B. Pelletier
Part 1
Part 2
Part 3
Part 4
Part 5
Part 6
Part 7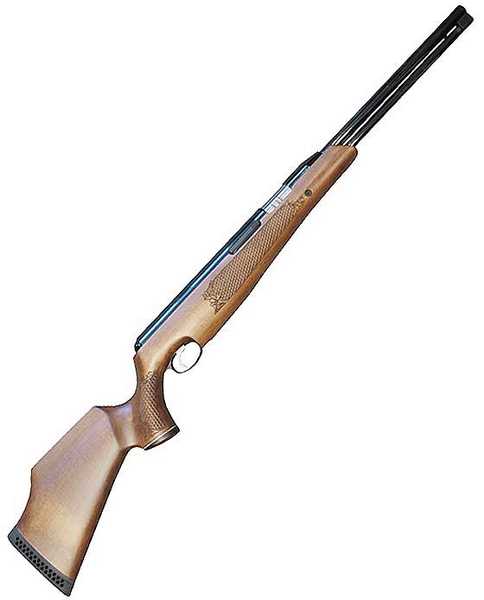 Brand new TX200 Mark III. It's very similar to my TX, but the checkering is different and the line of the forearm is more scalloped.
This is the second look at the brand-new TX200 Mark III that Pyramyd AIR sent to me for this test. We've been looking at my older TX200 Mark III until recently, but now we're looking at the gun that comes when you order it today. Over 40,000 TX200 air rifles have been sold since the model was first introduced in the late 1980s, and today's version is probably the best of all.
Today's look will be a traditional Part 2 velocity check because that's one of the things you readers have been asking about for many years. I keep telling you that the rifle comes out of the box shooting slower than it's rated; but as it breaks in, the velocity continues to climb. Today, we get to really look at the gun right out of the box. I've purposely held off shooting the rifle more than just a few shots, so this test can be as accurate as possible. Here it goes.
The TX200 Mark III is rated to shoot 930 f.p.s. in the .177 caliber we're testing. That's not an advertiser's claim. That's based on my testing the guns over the past 20 years. And it's also not with lead-free, lightweight pellets. It's with Crosman Premier 7.9-grain lites. In other words, 930 f.p.s. or more is what you can expect from your TX200 with Premier lites, as long as it remains original. But it doesn't start out that fast. It's been my experience with TX200s that they start out shooting Premier lites around 875-890 f.p.s. I've written these words before doing any testing of today's gun, so I'm going to find out what actually happens right along with you.
Crosman Premier lites
Well, shut my mouth! Imagine my surprise when the first Premier lite came out of this new rifle at 936 f.p.s.! Boy, was I off the mark on this one!
The first 10 Crosman Premier lites averaged 926 f.p.s. The spread was broad for a TX — from a low of 917 to a high of 936 f.p.s. That's 19 f.p.s. difference across 10 shots. And there was a smell of burning oil in the room, so I know combustion had something to do with both the higher velocity and the larger spread. At the average velocity this pellet produces 15.05 foot-pounds of muzzle energy.
H&N Baracuda Match
Next, I tried H&N Baracuda Match pellets. They weigh 10.65 grains, making them a heavy pellet in .177 caliber. They averaged 830 f.p.s. in the test rifle, with a spread from 821 to 835 f.p.s. At the average velocity, this pellet produces an average 16.30 foot-pounds of energy at the muzzle. That's uncharacteristic of a spring rifle — when a heavier pellet produces more power than a lighter one. But that's what this rifle did.
RWS Hobby
Whenever airgun manufacturers wanted to show how fast their guns were in the days before lightweight lead-free pellets, they invariably tested them with RWS Hobbys. At just 7 grains, this wadcutter is one of the lightest lead pellets around and should give the highest practical velocity the rifle is capable of.
Hobbys averaged 1011 f.p.s., with a low of 1000 and a high of 1022 f.p.s. Right there you have proof that Air Arms is being very conservative in their velocity estimates. At the average velocity, Hobbys produced 15.89 foot-pounds of energy at the muzzle.
This TX is shooting much faster than I anticipated. It's doing essentially its advertised velocity right out of the box — with Crosman Premier lites! What will happen as it breaks in? My thinking is that it will continue to get faster like the other rifles I've seen, but this one may not get that much faster. It may be closer right now to where it will end up after 10,000 shots have gone through it. My well-broken-in TX now averages 963 f.p.s. with Crosman Premier lites. It started out around 875 out of the box. I think this one will eventually be just as fast, but not proportionally faster.
Cocking
I mentioned some noise when cocking the rifle in the first report. That has already begun to decrease with just the few shots in this test. I think it may disappear entirely in a few hundred more shots.
The cocking effort is at 34 lbs. right now, but I can feel some stiffness in the linkage. I think that's going to smooth out and drop by several pounds over time.
Trigger-pull
Of course, the TX trigger is extremely adjustable, so this is just a measurement of how it came from the box. In the next installment, I'll discuss adjusting the trigger in great detail.
The trigger breaks crisply at 1 lb., 12 oz. as it's currently set. That's 28 oz. It feels heavier than the trigger on my TX, which it should, since mine is releasing at just  9 oz., or roughly one-third the weight of this one. The point is that when it comes to triggers, TX200s are so refined that almost no other sporting spring airgun has a trigger in the same category.
Observations thus far
So far, the new TX is performing pretty much as expected, with the exception of shooting way faster than anticipated. Everything else is right on the money, so I know the elves at Air Arms are still making these airgun the same old way — which is very good.
I have a couple of other experiments planned for the TX after the final accuracy test, and I was going to go back to my own rifle after I tested this one for accuracy; maybe I should do them all with this one. One test was requested by blog reader Mannish from Mumbai, who asked me how dot sights do on springers. I had planned on testing that on a TX, so perhaps I might use this one. Blog reader duskwight wondered if the group size will change when switching your scope from 4x to 16x. I'd planned on testing that at 50 yards with a TX; and with that particular test, we'll get a bonus — seeing if the point of impact changes as the power changes. Good stuff!
But the trigger adjustment is next.