by Tom Gaylord, a.k.a. B.B. Pelletier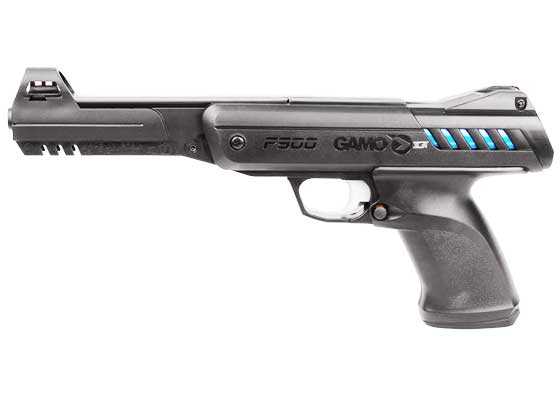 Gamo P900 IGT air pistol
This report covers:
• Description of the gun
• Trigger
• Ambidextrous
• Power
• Overall evaluation
This report on the Gamo P900 IGT air pistol was requested by blog reader RidgeRunner, who became suddenly enthused by gas-spring technology a few weeks back. I saw this pistol in the Gamo booth at the 2014 SHOT Show; but since there was nobody there to tell me about the gun, I only knew what I could read in their static display.
The P900 isn't the first pellet pistol to use a gas spring. That honor goes to the Benjamin Trail NP pistol I tested for you last year. Before testing that pistol, I wouldn't have thought I could like an air pistol with a gas spring; but that one showed me there was a lot to like.
RidgeRunner asked me to test this pistol partly because of the relatively light 30-lb. cocking effort. Gamo is usually pretty correct when it comes to measuring the cocking effort of their airguns, and 30 lbs. is still within the capability of most adult men. This is not a youth airgun, though.
Description
The P900 has an auto-pistol profile, but a size that exceeds any firearm short of a Desert Eagle Magnum. It's entirely synthetic on the outside, and that makes it a very light 19 oz., so almost anyone can shoot it one-handed without a strain. Besides the Inert Gas Technology (Gamo's trade name for their gas spring), this gun also features their two-stage Smooth Action Trigger (SAT), which they say is smooth and crisp. I'll test the trigger for you in the next report, but for now I can tell you they're not exaggerating. It is two-stage and there is no creep. I can feel the trigger move through stage two, but there's absolutely no creep.
The sights, on the other hand, are not easy to use. The rear sight is a light yellow piece of plastic that's so bright that it makes the front bead difficult to see. The target will have to be lit brightly and the firing point will have to be dark. Otherwise, that yellow rear sight will make aiming difficult.
The rear sight adjusts for windage, only. A screw on the right side of the sight is turned to move the notch left and right. The manual shows this being done by hand without the use of a screwdriver, and I found that it's possible to do. No tools are needed for sight adjustments. The adjustments are smooth and without clicks. There's no scale on the sight to reference when adjusting, so you watch the rear notch. Move it in the direction you want the pellet to move.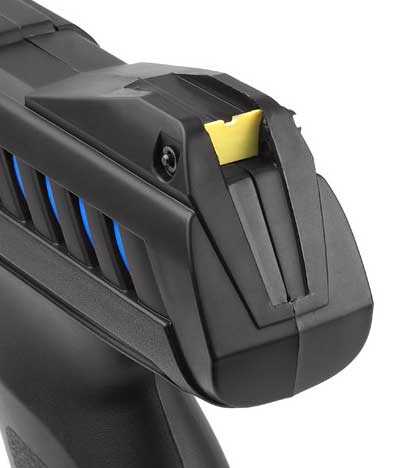 The rear sight is yellow and so bright that the front bead is difficult to see. It adjusts for windage, only, with a screw on the right side.
The front sight is a red fiberoptic bead housed in a wide plastic globe that protects your hand when cocking. The globe is handy for protecting the hand when cocking, but it stops a lot of light from reaching the fiberoptic element.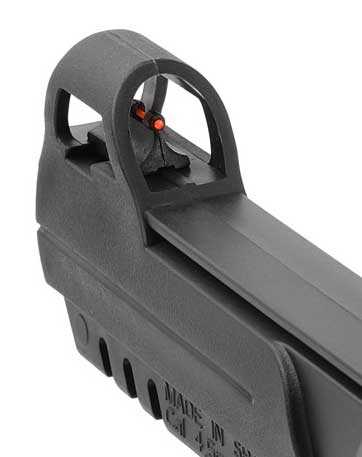 The front sight is a red bead under a wide plastic globe. The globe protects your hand when cocking, but it also shades the bead from a lot of light. In bright indoor light, the front bead is difficult to pick up; but in direct sunlight, it glows bright red.
What may appear to be an 11mm scope dovetail on top of the barrel really is just decorative. This pistol is not suitable for optical sights.
The cocking linkage is a two-piece articulated arm. It probably has to be to provide the length needed to cock the gun at a reasonable effort. When the pistol is cocked, the barrel is broken beyond 90 degrees.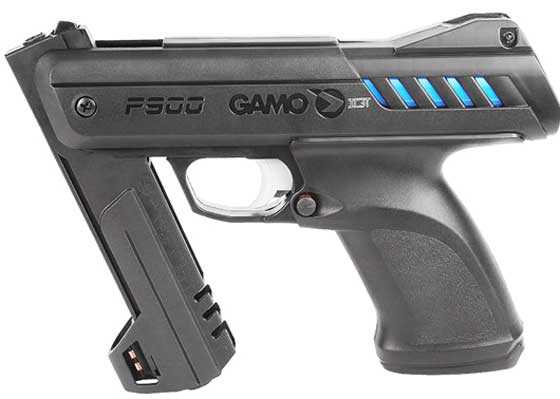 The barrel comes down past 90 degrees when the pistol is cocked.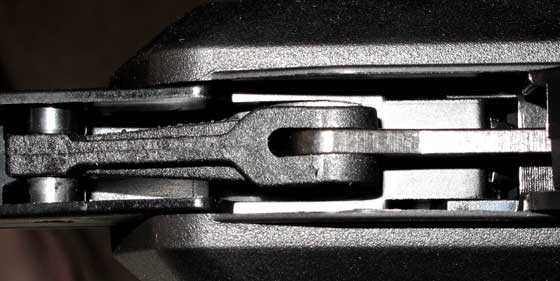 The cocking linkage is in two pieces that articulate in the middle.
Trigger
I see the customer reviews are rating the P900's trigger as not good, but they fail to elaborate. Sure, it isn't as nice as the trigger on a Beeman P1, but this pistol sells for a lot less. For the price, I don't see how this trigger could be much better. And, to their great credit, Gamo did not make the safety automatic. When the gun's cocked, it's ready to fire.
However, there is some confusion about this trigger. Gamo says it is a Smooth Action Trigger (SAT), but this one is not adjustable. On other Gamo airguns, the SAT is adjustable, so that adds some confusion to this pistol's description.
Ambidextrous
The P900 is 99 percent ambidextrous. Only the safety button favors right-handed shooters more.
Power
Gamo says the velocity is 345 f.p.s. with lead pellets and up to 400 f.p.s. with their PBA ammo. We'll test that in Part 2, but for now I'll say this is a smooth and gentle pellet pistol. It's going to be fun to shoot. The impulse upon firing is a solid thunk with no vibration. I had to tune my P1 to get it as good.
I also read some reviews that suggest the P900 is hard to cock, and the barrel should be longer. I don't agree. Yes, it's harder to cock than some other pellet pistols, but 30 lbs. or whatever it turns out to be is hardly debilitating. I wonder if these critics have ever tried to cock a Webley Hurricane?
Overall evaluation
I really like this air pistol so far. I had no preconceptions coming into this test, other than the gun might be hard to cock because it has a gas spring, but that didn't turn out to be the case.