by Tom Gaylord
Writing as B.B. Pelletier
This report covers:
• New toys!
• A job well done
• Many new developments
• Competition
• Field target
The Pyramyd Air Cup was held in Ohio this past weekend, and more than 70 shooters showed up to compete. I met people who drove in from Georgia, New York, Wisconsin and other states, and many of them came just to learn about airguns. That worked out well because there were world champion field target shooters there, plus celebrities like airgun hunter and writer Jim Chapman and Airgun Reporter Paul Capello, and many of the staff from Pyramyd Air and Crosman.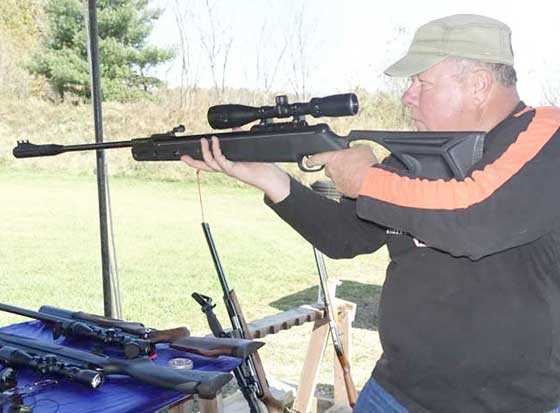 Chuck was brought by his buddies to try some airguns. He had a blast!
Day one was for getting acquainted with the range and sighting in. I  got to shoot wonderful airguns like Crickets, Hummingbirds, a highly-modified FX Independence and even some one-off custom guns many of us never get to see.
Ray Apelles of the A Team, who just placed second in the World Field Target matches in New Zealand, let me try his 22-lb. custom Diana 54 bullpup. It has an electronic trigger and a knee rest that's highly articulated and looks like a transformer in action.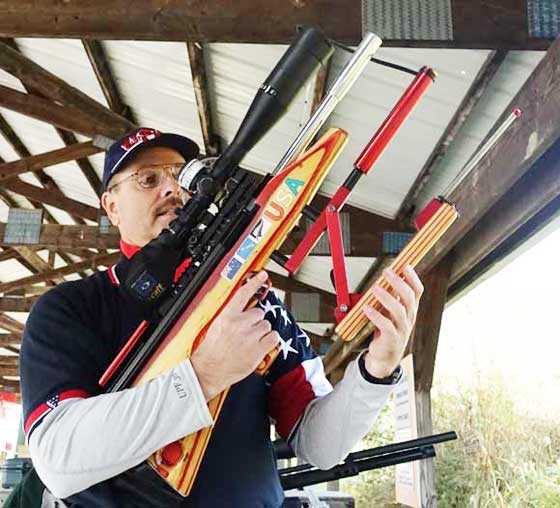 Ray Apelles shows me the 22-lb. custom Diana 54 he shot to take second in the world in the spring gun class. It's a bullpup with a 1.6-oz. electronic trigger, a bubble level and an inclinometer to measure the up-down angle of the shot. He's unfurling the knee rest that drops down more than another foot!
The public was invited to come and shoot a variety of airguns provided for free by Pyramyd Air. There were pellets galore and targets at all ranges. Also, the competitors where quite generous with their time and airguns. If you were at this event you could shoot just about anything you wanted!
Crosman came with their company shooting team, and they brought their new Benjamin Armada Magpul rifle that's sold exclusively by Pyramyd Air. It features a popular Magpul stock and accessories. They were helpful with answers to questions about their guns and advice to anyone who asked. I'll test this gun as soon as it becomes available.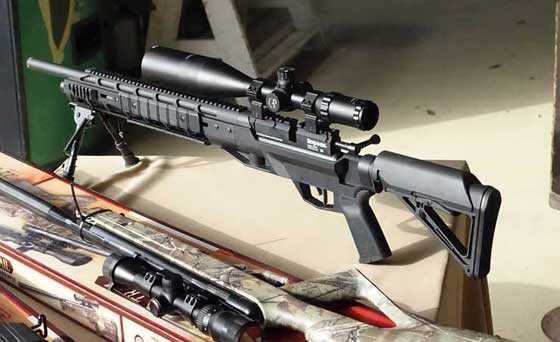 The new Benjamin Armada was shown!
The neatest thing for me is when I get to meet the readers of this blog. For example, Ron and his wife from Georgia drove all the way to Ohio from Georgia just to see different airguns and talk to people. I spent some time with him on day one, talking about air tanks and compressors, and I'm sure I must have facilitated something!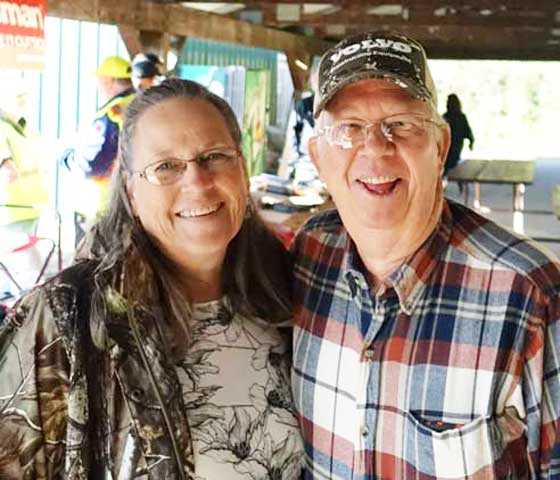 Ron and his wife drove up from Georgia, just to sample all the airguns!
I met many more readers of the blog, and talking with them gave me a good perspective of what needs to be looked at. They were not shy about their ideas, and I coming home with a bundle of new things to think about, as well as several new products to test.
New toys!
You may think that I have a handle on the airgun community in the U.S. But events like this is where I learn about all those things that aren't placed directly in my path. There are more small airgun developers out there today than at any time I can remember, and they're advancing the technology at a rapid pace. I have to remain mum on several specific developments for now, but suffice to say there will be some exciting things to reveal in the world of spring guns and multi-pumps in the near future! I would have missed most of these if I hadn't attended the Pyramyd Air Cup.
A job well done
I would also like to say thanks right now to the folks at Pyramyd Air for all the hard work they did to make this show a success. I was treated like royalty — and so was every other attendee What really blew me away was the large number of people who told me they were brand new to airguns and had come to this event just to learn more. I don't think Pyramyd Air could have done more than they did to answer all their questions and give them the opportunity to shoot any number of exotic airguns as much as they desired.
Many new developments
What the public did not necessarily get to see was the undercurrent of new product development that was happening at the show right in front of everybody. A lot of it was pointed out to me, and I got to hear the plans of some of the hopefuls. From what I heard, I can tell you that we're living in the golden age of airgunning right now! Let me give you one example.
While preparing for the field target match on Saturday, I was surprised to see a man pumping a multi-pump rifle! Usually multi-pumps don't compete in field target unless there's a character like Ron Robinson behind the trigger. It's not like they're competitive. But when Steve, who runs the Yellow Forum, and I saw this gun, we asked the owner what he was shooting. It turned out to be a Benjamin 392 that he told us gets MOA accuracy at 50 yards. That's half-inch groups at that distance! I never got that from a multi-pump in my life!


Greg Lundy from Ballistic Enterprises #1 made this fabulous Benjamin 392! He shoots field target with it!
Competition
The Pyramyd Air Cup was held at the Tusco Rifle Club, a private gun range in Midvale, Ohio, that has beautiful facilities nestled against a steep wooded ridge. They hosted all activities and provided safety officers for the entire affair, plus they took care of catering. They even provided a campground that several shooters took advantage of. Attendees remarked on the beauty of this club and wished they had one as nice near them.
The Pyramyd Air Cup is based on a suite of airgun competitions. The first was the Payday Challenge, where shooters shot three rifles that had been pre-sighted for them. Two shots at field targets were taken at 50 yards, three at 75 yards and five at 100 yards. The kill zones were only 1.50 inches! If the target dropped, you got a point. All shooting was done off the bench. The winner was a 17-year old young lady named Sidney who showed all the old fogies how it was done.
Next was an offhand silhouette match for all who wanted to try their hand at the sport. The ranges were unique to the match — chickens at 15 yards, pigs at 25 yards, turkeys at 40 yards and rams at 60 yards. What a challenge that is to shoot at those distances while standing!
Field target
The main event was the field target match that was spread over Saturday and Sunday. There were several classes of shooters, which works out well for duffers like me. Next year, I have to convince them to have an over-68 year-Texan class. But I did compete in this one — if only to hold down the combined average so the other shooters could feel good about their achievements.
Instead of flying to Ohio with an airgun of my own, Pyramyd Air set up a beautiful Air Arms TX200 Mark III for me. It was set up for the Hunter Spring class; and even though I never shot it before Friday, I found it to be easy to shoot. I missed the targets as often as I did only to encourage the others shooters.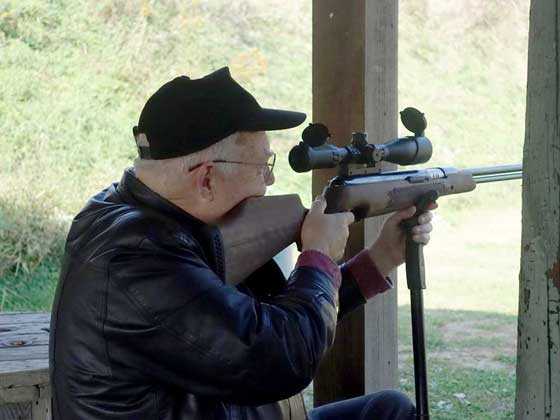 B.B. shoots a TX 200 in the Hunter Class.
On Saturday, the attendance swelled beyond expectations, and the field target match was loaded with competitors of all skill levels. One brand-new shooter was doing very well shooting a new AirFroce Airguns Condor SS he dialed all the way down. One of the beauties of the AirForce brand of sporting rifles is their adaptability to almost anything, and shooting field target proves that very dramatically.
The neat thing about this match was that spectators could stand behind the lanes and watch everything. Many people took advantage of this. The turnout to compete was so large that two 12-lane ranges were used and competitors shot on one range on the first day and switched to the other one on the second.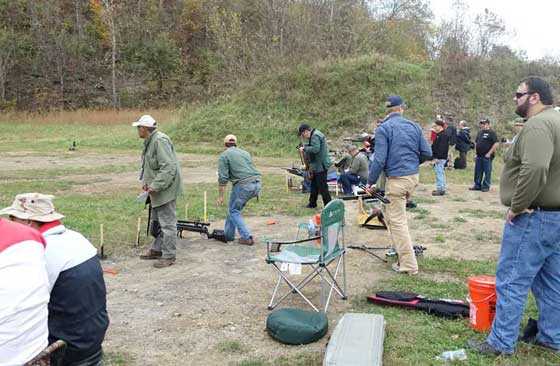 One of two field target ranges needed to handle the crowd that showed up for the competition.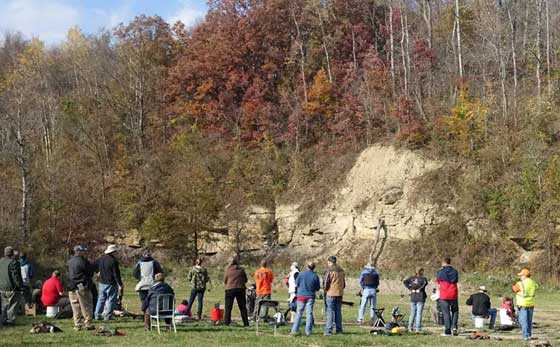 The field target match was shot against a wooded ridge that provided safety for everyone. Most clubs would kill for an arrangement like this!
I have so much more to tell you, and an entire day of the event to cover. But, it's late now, and after shooting all day (poor me), I need my beauty rest. More later this week!