by Tom Gaylord
Writing as B.B. Pelletier
Good morning and Happy Day After Christmas. I thought today that we could all share some of the special gifts we got for Christmas. I know some of you don't celebrate Christmas; but from the comments, I can see that many of you have been rewarding yourselves with holiday gifts, nonetheless. So, join in if you want.
My first gift
The first gift of the season was a Sears BB gun that's an 1894 model made by Daisy. My brother-in-law, Bob, picked it up in an antique store. It doesn't work, but I read online that these often do go bad after storage for several years. I'll attempt repairs on my own; but if I'm not successful, I'll probably get another working 1894, because I know many of our readers really love this gun. It was Daisy's first Spittin' Image BB gun, with production starting in 1961 and continuing until 1986. This variation was made for Sears from 1969 until 1973. One way or another, you'll probably be reading a review of the 1894 Daisy in 2015.


My Daisy 1894 is a variation sold by Sears.
What B.B. wanted
This year, I asked for an M40 Swedish Lahti 9mm pistol — the Swedish Luger. I've known about this gun for several decades and been fascinated by the background. It's a Swedish military handgun made from steel that isn't up to the task, because of wartime shortages. It has a bolt accelerator that turns out not to be needed because the cold doesn't affect semiautomatic handgun operation quite as much as the Swedes feared. So many of the accelerators were removed, so the bolts wouldn't crack the receivers from too much speed. It's said to be very accurate; but, as always, I'll be the judge of that — with you looking over my shoulder.
You actually saw this gun a few days ago in my report on why guns wear out and break. I used a photo from Gun Broker, since at the time I had not opened my present.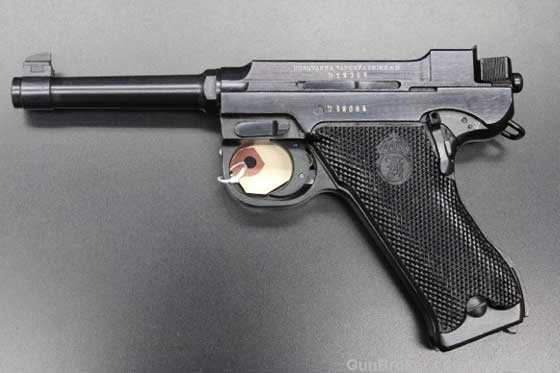 I'll test my new Lahti M40 pistol for you next year.
A gun I didn't ask for, indeed did not know I was getting, was given to me by a combination of my wife, Edith, and friend Otho. It's a Mossberg model 42M-B .22 rifle. That would be nice enough, but this one says United States Property in 2 different places. And while that is wonderful, this rifle has one additional feature. It also has British proof marks, because this rifle was loaned to the United Kingdom on the Lend-Lease program! So, this little .22 has a bundle of history attached to it.


This Mossberg rifle was U.S. property and was loaned to the UK during WWII.
I'll review all of these guns for you in the coming year, so don't fret — they're coming. But, now, I'm going to turn over the blog to you. Tell us what you got this year!