Best of B.B.: Remembering Smith & Wesson's pellet pistols
By Tom Gaylord
Writing as B.B. Pelletier
Today is Christmas day, and I'm entertaining my family. Instead of writing a new report, I went way back in the archives and dug up something interesting from the past. This is about a pellet pistol (actually two, since they came in both .177 and .22)  that's a beautiful replica of a firearm S&W made at the same time.
Remember, as you read this, I originally wrote it in 2005. And to all my readers to whom it applies — Merry Christmas!
Remembering Smith & Wesson's pellet pistols
Pyramyd Air gets a lot of inquiries about vintage pellet and BB guns. While they sell the ammunition and gas needed for these guns, they don't sell the guns, themselves, so the most commonly asked question is, "What's it worth?"
Use Blue Book of Airguns as your price guide
The fifth edition of the Blue Book of Airguns, a wonderful used airgun price guide, will be available soon [Note, the 11th edition is the current one], but I thought I'd look at a vintage gun from time to time just to keep the collector juices flowing for all of us.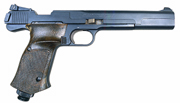 Smith & Wesson 78G
These S&Ws are REAL
Many gun makers have sold airguns with their name on them, but few actually made the guns. Smith & Wesson, however, was an exception. In the 1970s, they produced the model 78G (.22 caliber) and 79G (.177) target pistols that were copies of their very popular model 41 target pistol in .22 long rifle. These guns were made in Springfield, Mass., for a short time, then in Florida for the remainder of the time they were produced.
The two pistols are identical except for caliber. They are single-shot and have adjustable sights (all models), and a few early ones had adjustable triggers. Their frames were made from cast potmetal, with steel used where it mattered. They were just as heavy as the firearm they copied and gave their owners a great feeling of satisfaction, similar to the Drulov DU-10 target pistol I wrote about last Friday.
A 78G or 79G should cost you about $125 in excellent condition. Some gun dealers are asking more than $200 for them, but they really don't know much about airguns. These are the same guys who think "Benjamin Franklin" airguns are also worth more than $200. Shop the airgun classified ads to buy vintage airguns at the right prices.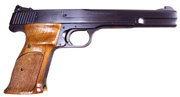 Smith & Wesson M41
They may be old, but they're accurate!
An S&W 78G will be more accurate than the 79G and can rival a Ruger Mark II Target pistol at 50 feet. They aren't quite as accurate as the S&W 41 they copy, but few guns are. The adjustable-trigger version can be adjusted to let off nearly as nice as the model 41. The non-adjustable trigger always has a little creep in the second stage.
They use the same CO2 powerlets as today's airguns, and Crosman Pellgunoil can often get a leaky one working again. If not, there are airgunsmiths who can reseal one for a reasonable price.
Thirty years ago, when these airguns were made, the technology was not up to today's standards. An S&W 78G isn't as finely finished as a Drulov, nor does it have a five-shot semiautomatic mechanism. These guns may not have all the bells and whistles of modern airguns, but they're very accurate and will serve you well. The weight and feel is as good as anything made today. If you have a hankering for a vintage airgun, one of these would be a great place to start.
Tom Gaylord is known as The Godfather of Airguns™ and has been an airgunner for over a half-century, but it was the 
Beeman
 company in the 1970s that awoke a serious interest in airguns. Until then, all he knew were the inexpensive American airguns. Through the pages of the Beeman catalog, he learned about adult airguns for the first time. In 1994, Tom started
The Airgun Letter
 with his wife, Edith. This monthly newsletter was designed to bring serious reports about airguns to the American public. The newsletter and
Airgun Revue
, a sister magazine about collectible airguns, was published from 1994 until 2002, when Tom started
Airgun Illustrated
-- the first American newsstand magazine about airguns. Tom worked for three years as technical director at
AirForce Airguns
, the makers of the 
Talon, Condor, and Escape
 precharged air rifles. Today, he writes about airguns and firearms for various publications and websites. He also makes videos, and you'll find short clips embedded in some of his artices on Pyramyd Air's website. Tom is a consultant to Pyramyd Air and writes under the name of B.B. Pelletier.