by Tom Gaylord
Writing as B.B. Pelletier
This report covers:
• Gamo
• Umarex USA
• Hatsan USA
• Big news at Leapers!
Gamo
I'll pick up where I left off. Let's finish Gamo first. They have a new PCP under the name Gamo Coyote. The barreled action is made in the UK by BSA, and the stock is made in Spain. That means you get a dead-accurate BSA barrel, which a lot of folks will like.


Gamo's new Coyote has a BSA barreled action in a Gamo wood stock.
Umarex USA
Okay, someone wanted to see some springers, and Umarex has a pair coming out this year. The Walther Terrus is a sleek-looking breakbarrel that's available in either a wood or synthetic stock. This is one I want to test as soon as it comes out — just because it looks so svelte. It reminds me of an FWB 124. I see fiberoptic sights, but a scope can also be mounted.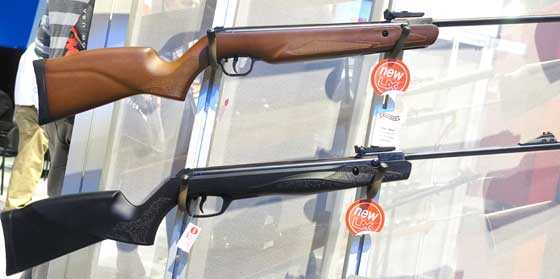 The new Walther Terrus comes in either a wood stock or synthetic. Both stocks have identical lines that can be seen here.
The other new springer from Umarex this year is the Umarex Torq. This is a lower-priced breakbarrel in a synthetic thumbhole stock. It has similar lines to the Fuel, but there are no bipod legs in the stock. It also has fiberoptic open sights. This one has a paramilitary look — well, at least to me.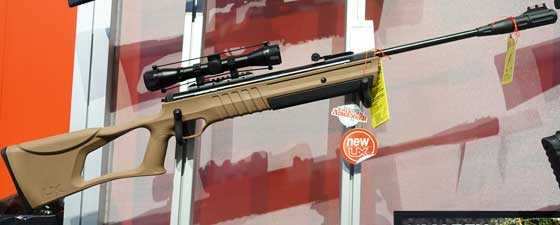 Umarex Torq is a new breakbarrel at a low price point.
You PCP fans will be getting a repeating bolt-action rifle called the Walther Rotek. It features a wood stock and has the lines of a sleek Hammerli 850 Air Magnum, but this one runs on air — not CO2.


The Walther Rotek is a repeating PCP that will come in .177 and .22.
Hatsan USA
To finish the report on Hatsan, all their PCPs will now come with the Quiet Energy shrouds — even the big bores! And Hatsan USA President Blaine Manifold was kind enough to show me the new Galatian in a Turkish walnut stock that has a precision adjustable comb. Someone asked if I would test a Galatian this year, and this is the one I pick!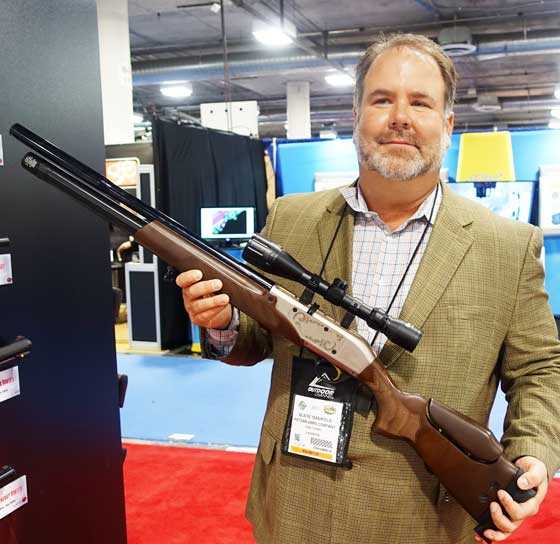 Hatsan USA President Blaine Manifold holds the new Galatian in its walnut stock with adjustable comb.
Manifold was also excited to show me the new SuperTact breakbarrel pistol that now comes with their Quiet Energy silencer. This is the first application of this unit to a spring gun.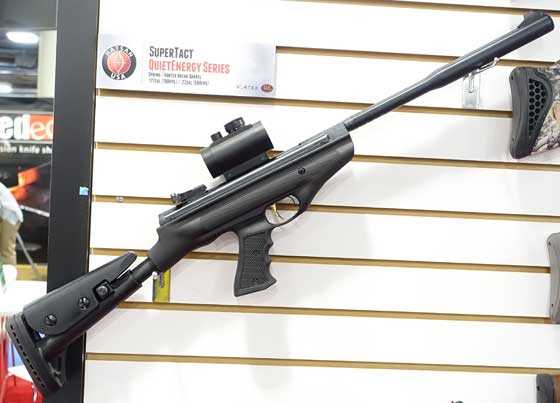 Hatsan SuperTact pistol/carbine now comes with a QE silencer.
Big news at Leapers!
I'll finish this report with what I learned at Leapers. First of all, and by far the most stunning news of the entire SHOT Show, is the fact that Leapers will begin U.S. production of scopes this year! As you probably know, nearly all optical manufacturing takes place in Asia these days. But Leapers' founder David Ding has been bringing the manufacture of his products back to his Livonia, Michigan, operation piece-by-piece. This year they, started in-house injection molding of plastic parts for mil-spec stocks, plus a full Ceracoating capability that exceeds ASTM standards in all categories.
Optics are next. Leapers has manufactured its optics in Asian plants under their control, but now they intend bringing that technology into their U.S. operation. They know this will give them greater control over quality while shortening the supply chain. This is huge news. It's as big as General Motors announcing they intend making 100 percent of their cars here in the U.S.
But that's just the teaser. What it means for you, the shooter, is that there's a big push in optics going on at Leapers this year. First up and top on my personal list will be the new 4-16x scope that has an internal bubble level. I know they aren't the first to the market this, but they spent 4 years getting it right. This scope is extreme high quality, and the bubble is ultra-easy to center.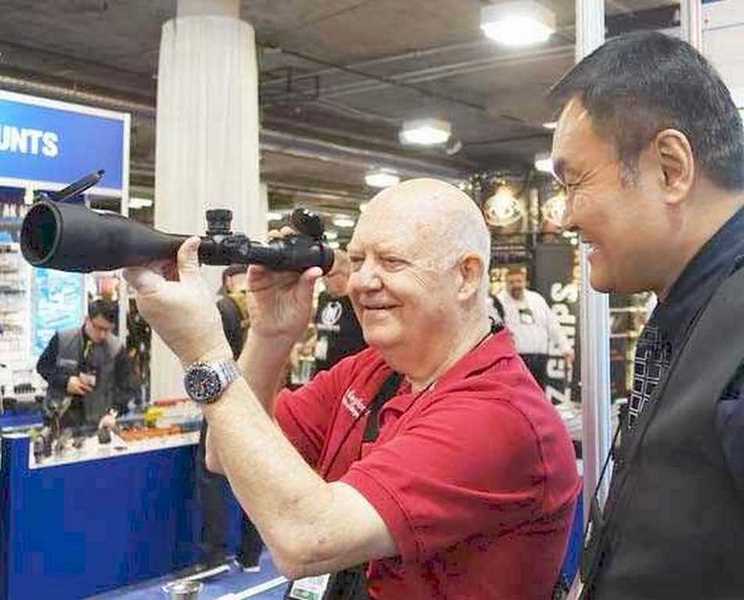 I was delighted to look through the scope that has an internal bubble level. This has been 4 long years in development!
But even that paled to what I was told next. Last year, Leapers brought out a scope that has a 1-8x range. Until they did, the few scopes that could do that wide a range cost thousands of dollars. They brought the price down below $500. But that wasn't enough for them.
This year they will bring out a scope that has the same range of magnification, only this one goes from 2x to 16x! That hasn't been done by any other scope manufacturer — ever! That one will be out this year, and you'd think they would have stopped there! But no — they went past even that. How about a scope that goes from 3.5x to 28x? That has not only never been done — most scope manufacturers will tell you it's impossible! That scope has a 35mm tube for the light transmission they need, and it's a larger scope. But the 2-16x is smaller than most 3-9x variables!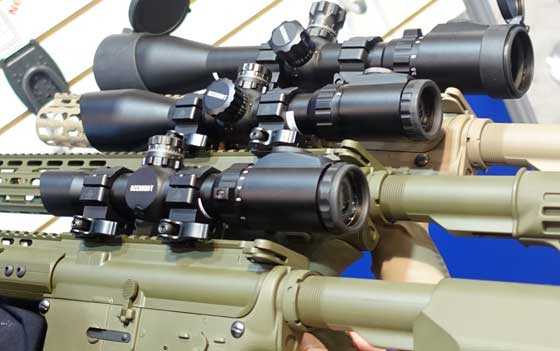 From the bottom scope to the top: 1-8x, 2-16x and the 3.5-28x scopes from Leapers!
There's at least one more report and probably two more coming, but I'm skipping a day tomorrow to give myself a break. Tomorrow's topic will give me a chance to regroup and collect my thoughts. I have so much more to share with you about what's coming this year.