by Tom Gaylord
Writing as B.B. Pelletier
This report covers:
• Media Day
• Hatsan USA
• Gamo news
• Custom Action Trigger
• Umarex USA
Media Day
Monday was Media Day at the range, and I was out there shooting as many guns as possible. Of course, I shot the AirForce Texan. But since yesterday's report was about the Texan, how about I tell you about some guns in the Crosman booth?
The Benjamin Bulldog is a .357 repeater that's made in a bullpup style, which, by the way, seems to be a most popular style for airguns in 2015. Normally, bullpups have lousy triggers, but this one seemed very crisp and responsive. The rifle is a repeater with respectable power for a .357-caliber big bore. I shot one with 148-grain Nosler Ballistic Tips and was pretty easily hitting the target at 50 yards.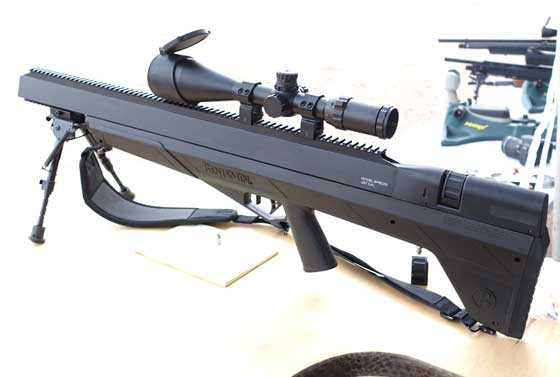 Benjamin Bulldog is a bullpup repeater in .357 caliber.
Naturally, you want all the technical data on the gun, but that's going to wait until I can actually test one for you. I will say this is going to be the year of bullpups and big bores (I stole that phrase from Crosman, but I like it so much I'm claiming it as my own!).
I also sampled the new Benjamin Armada, which is basically a Marauder dressed up with Magpul furniture and a Picatinny rail on top. I liked the adjustable buttstock they had on the rifle I shot, and the accuracy for that .22 caliber was standard Marauder, which is to say very good. We've tested Marauders in all 3 calibers in this blog; so if we test an Armada, it'll have to be in some new way that hasn't been done.


Benjamin's Armada offers all sorts of tactical furniture options on a solid PCP rifle platform.
I did a lot more shooting at Media Day. Perhaps the strangest thing I saw was a silenced 12-gauge shotgun. Since the range sounded like a firefight all the time and I was wearing earplugs, I have no idea how loud it was; but I would guess it sounded about like a .22 long rifle.
I also saw a neat-looking chronograph that works by induction. No light is needed! Just attach it to the barrel of your rifle and shoot! It's from a company named MagnetoSpeed in Austin, Texas!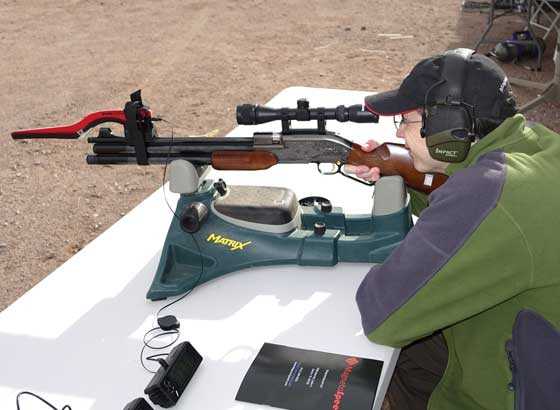 The MagnetoSpeed chronograph works by induction!
Hatsan USA
The first booth I hit on day one of the show was Hatsan USA, where I had lots of questions to ask about the Big Bore BT65 Carnivore QE. Of course, the QE stands for quiet energy, so that's one question out of the way. This is a big bore with a little sound — something that will please many of you. And, I know from watching a video made by Rick Eutsler that the rifle he tested was very accurate. That's question 2 out of the way.

Hatsan President Blaine Manifold offered to ship me the rifle to test as soon as possible, so that was question 3. All we have to do now is wait. This will be a test I anticipate eagerly.
I did manage to pin down the exact bore sizes for the 2 big bore calibers. Their .30 is 7.62mm, so that's a .308, and their .35 is a 0.356 or 9mm. That tells me what size lead bullets I need to find. But he did tell me that Hatsan has contracted with H&N to make special pellets just for these rifles, and I got to see one.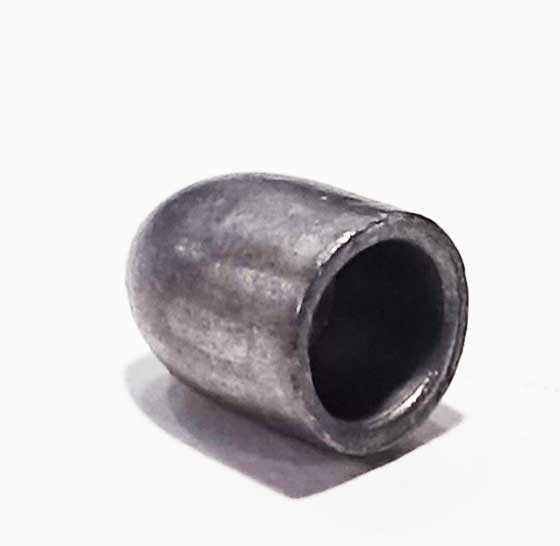 Manifold also told me that this year all their pneumatics will be available with QE (quiet energy), which will certainly please many shooters. There's more news about Hatsan in Part 2.
Gamo news
At Gamo, I found several new air rifles that include youth rifles for the first time in a long time. Gamo Vice President of Marketing Norvin Hornberger told me the company has made the decision to go after the highly competitive youth market with a trio of pneumatics. Two are multi-pumps, and the third is a single stroke. All 3 apparently shoot both pellets and BBs.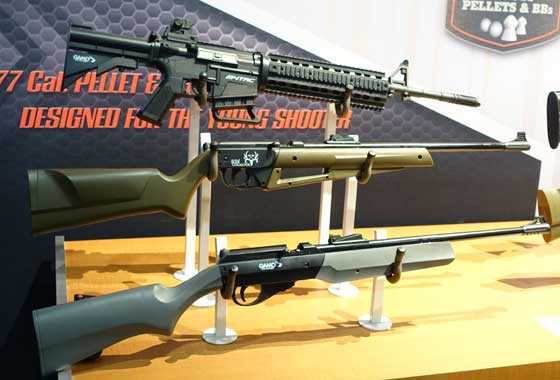 This trio of Gamo guns falls into their new Youth Action Airguns category. I will test them for you as soon as they come out.
Custom Action trigger
In other Gamo news, they've come out with a new Custom Action Trigger, or CAT. This is similar to their Smooth Action trigger (SAT), only the CAT allows the independent adjustment of the first and second stages. Hornberger was very proud of the advances they've made in their best triggers, and I hope to test a rifle with the CAT as soon as I can!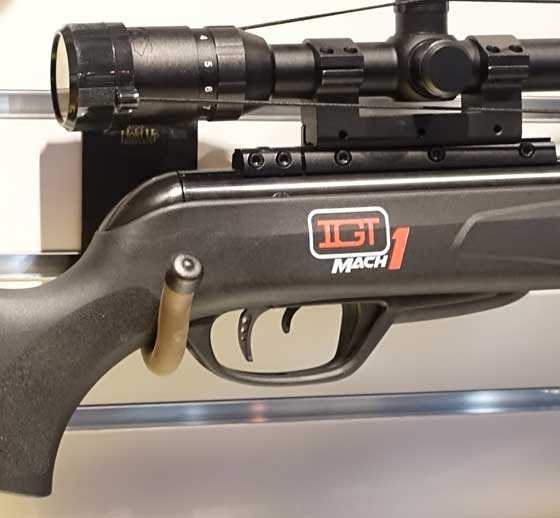 This Mach 1 IGT has Gamo's first CAT trigger unit. It adjusts for first and second stage pulls independently.
I'll have more Gamo news for you in a future report.
Umarex USA
Of course, Umarex USA has been bubbling over with new products this year, so SHOT Show was like another day on the farm. But — and this is an extremely important for those who like the Single Action Army revolver — they did showcase a special weathered single action they made for the U.S. Marshall's Museum.
It looks like a period piece and all you plough-handle lovers will have to get one. There are only 500, and they limited each dealer to just 30 guns. So sign up when you see them appear on the site, because these will not last.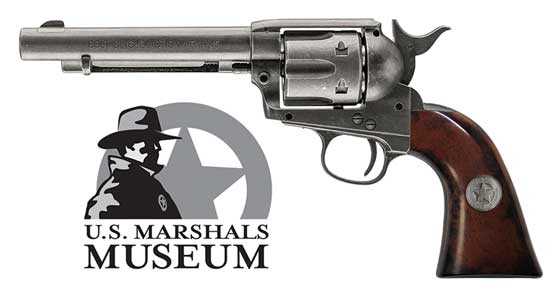 A special weathered single action was made for the U.S. Marshal's Museum. There will only be 500.
Was there more? Of course! I'll fold it into the day two report tomorrow, and there will be enough to spill over to a third day, at least. But I'm just 90 minutes away from the midnight posting of the blog, and Edith needs time to edit what I've written.