by Tom Gaylord
Writing as B.B. Pelletier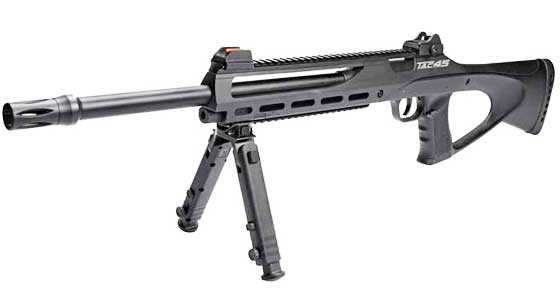 The TAC-4.5 from ASG is a 21-shot BB repeater.
This report covers:
ASG Blaster BBs
Daisy BBs
Air Venturi BBs — silver
Air Venturi BB container is the best!
Air Venturi BBs — copper
ASG velocity for the TAC-4.5
This BB gun is quiet!
Shot count
Trigger pull
Overall evaluation
Today is the velocity test of the TAC 4.5 BB gun. This airgun operates on a single 12-gram CO2 cartridge that is housed in the grip. In Part one I showed you how the spring-loaded backstrap flips back to reveal where the cartridge goes.
I noted there was very little gas escape when I pierced the cartridge, and the gun seems very quiet. But a hole in the backer cardboard told me the gun definitely shot.
ASG Blaster BBs
I'm going to get right to it today. The first BB I'll test is ASG's Blaster steel BB. I measured 5 of them, and the diameter ranged from 0.171 inches to 0.173 inches. One of the five was out of round by a thousandth of an inch. The other four were regular. This BB is on the smaller side of what is normal for BBs today (0.171 to 0.173 inches), and the variation in size is greater than I have seen. We will see what that means, as far as accuracy is concerned.
These BBs averaged 364 f.p.s. The high was 407 and the low was 344 f.p.s. That's a 63 f.p.s. spread. The decline in velocity was very linear, despite my waiting a minimum if 10 seconds between shots.
Daisy BBs
Next to be tested were Daisy Premium Grade BBs. They are the standard BB I use in many of my tests, because they are so uniform and accurate — I thought. I measured 5 of them and got a range of 0.1695 inches to 0.172 inches, which is both smaller and a lot greater spread than I was expecting. They averaged 355 f.p.s., with a high of 370 and a low of 350 f.p.s. The velocity drop was steady until they hit 350 f.p.s., then they stayed there. The spread with this BB was only 20 f.p.s, so they are much more consistent, if not quite as fast.
Air Venturi BBs — silver
I noticed that Air Venturi has brought out a line of BBs, so I ordered some and decided to start testing them with the TAC-4.5. The silver (zinc-plated) BBs measure 0.1715 to 0.172 inches, which is more uniform than the first 2 BBs tested. They also measure as perfect spheres. In the TAC 4.5 they averaged 375 f.p.s. with a high of 405 f.p.s. and a low of 363 f.p.s. The high was in the middle of the string — the first shot after I had to take an unscheduled break from testing, and more than 5 minutes had elapsed, so the 62 f.p.s. spread was artificially high. The velocity dropped on each shot as it had with the first 2 BBs, but it seemed to bottom out in the mid 360s. I will also include this new BB in the accuracy testing.
Air Venturi BB container is the best!
Before I move on, I want to say a word about the plastic bottle the Air Venturi BBs come in. It is the best BB container I have ever seen! It has a pour spout that comes to you already open, so there is no need to cut stiff plastic and risk cutting yourself. And the pour spout is just the right size to allow BBs to pour out. Some spouts are the right size for the BBs to jet jammed in the opening and release one at a time, causing no end of frustration. Also, the cap screws on the bottle instead of just popping on with pressure. That gives you positive control over opening and closing the bottle and it will never pop open on its own if it falls off a table. I have has each of these problems with other BB containers. Well done, Air Venturi!
Air Venturi BBs — copper
I also tried the copper-plated Air Venturi BBs. They measured 0.1715 to 0.172 inches — the same as the zinc-plated BBs. Air Venturi has brought out two superior BBs that you really should try. These BBs averaged 370 f.p.s. with a high of 385 and a low of 356 f.p.s. That's a spread of 29 f.p.s. The decline in velocity was very similar to the Air Venturi zinc-plated BBs, but I didn't have to stop in the middle of the test this time.
ASG velocity for the TAC-4.5
ASG says the velocity of the TAC-4.5 is 417 f.p.s. The highest seen in today's test was 407 f.p.s., which is close enough. But some of you may be confused by the velocity report. Why is this gun rated at 417 f.p.s. when it only averaged 350-360 f.p.s. for several strings of 10 shots? The answer is liability. Manufacturers state the highest possible velocity for their airguns, so the buyer knows what he is getting. An easy way to think of this is to ask yourself the question, "What is the worst it can do" or how dangerous is it? The rated velocity tells the buyer how powerful the gun can be at its maximum.
Many people think manufacturers purposely over-state the velocities of their airguns to get more sales, and in some cases that is true. The spring gun makers who rate their guns at 1600 f.p.s., when that speed is impossible to achieve without a detonation of some kind, are doing that. With the TAC 4.5, though, the stated maximum is both real and correct.
This BB gun is quiet!
I see where the sound level of the Pyramyd AIR website is set at a 4 out of 5, which is pretty loud. In truth, the gun I am testing is on the low end of a 2. But let's not go on the warpath about that, because Edith is the one who makes those changes. It may be a while before she can fix that. That is one of the benefits of my testing airguns, because any time I encounter something that doesn't line up with the description, I just tell Edith and she fixes it in minutes.
This gun is so quiet that it is perfect for apartment dwellers and those wishing to shoot in small suburban yards. I just want you to know that, because for some buyers it makes a very big difference.
Shot count
Another place I was surprised in this test was by how many shots I got on a single CO2 cartridge. Given the average velocity and the fact the gun does not have blowback, I guessed it might get something around 100 shots. In fact, the gun was still shooting Air Venturi copper-plated BBs at 356 f.p.s. on shot number 116. Shot 178 went out at 314 f.p.s. and I stopped shooting at 201 shots, when the velocity had dropped back to 272 f.p.s. That makes the TAC-4.5 the second most gas-conservative CO2 BB gun I have tested since I started testing airguns in 1994! Only the Czech APP 661 pistol got more shots (from an 8-gram cartridge, no less!), but it only shot BBs at 250 f.p.s.
Trigger pull
The trigger pull is double action only, since the trigger is pulling the striker back against a spring. It does not have to advance a cylinder, which decreases the effort a lot, but its still a double action pull. The effort required is a pretty consistent 5 lbs. 6 oz. I found it pleasant and very light for double action.
Overall evaluation
So far I think this BB gun is a winner. I think it's what a lot of you BB gunners have been looking for. Accuracy testing comes next, but like I told you un Part 1, I'm not looking for a target gun