by Tom Gaylord
Writing as B.B. Pelletier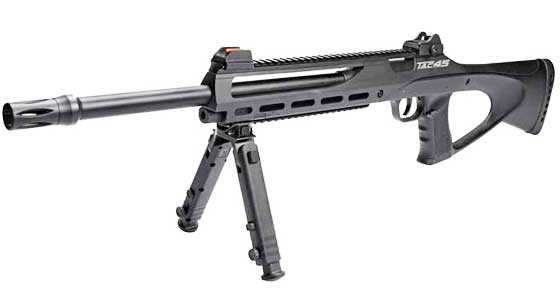 The TAC-4.5 from ASG is a 21-shot BB repeater.
This report covers:
Accuracy day
Air Venturi zinc BBs
Daisy BBs
ASG Blaster BBs
Air Venturi copper BBs
The 2015 Texas Airgun Show
Door prize
Big bore match
Raffle prizes
Action pistol competition
A firearm show — too
Reception

Accuracy day

Today we learn whether the TAC-4.5 BB gun from ASG can shoot. We already know it is quiet, has a nice trigger and is very conservative with gas. Accuracy is the cherry on the sundae. The distance was 5 meters.

Air Venturi zinc BBs

The first BB tested was an Air Venturi silver (zinc-plated) BB. Seven of them went into an incredible 0.727 inches at 5 meters. The other 3 BBs opened the group to 1.877 inches. I think those 3 shots were caused by aiming errors, because the front sight has an red fiberoptic bead that is larger than the entire bull on a 10-meter rifle target.