by Tom Gaylord
Writing as B.B. Pelletier
This report covers:
AirForce Airguns
What's next?
Hatsan USA
Hercules Bully
Price point Hatsan
Sortie Tact
Air Venturi
A new IZH 61?
Multi-pump
One last thing!
Here we go! I go to these shows thinking that nothing can get me excited anymore, and that ends at the first booth, Today that happened before the show opened. AirForce Airguns has been keeping a secret for many weeks that they promised to reveal just before the doors opened.
AirForce Airguns
A few minutes before the doors opened, AirForce revealed that they are incorporating the Theoben Rapid line of PCPs into their lineup. Formerly known as Rapid Air Weapons (RAW), the Rapid lineup is on the cutting edge of pneumatic quality. The only drawback they have is the long wait time when an order is placed. AirForce will bring their manufacturing prowess to bear on shortening the lead time between ordering and shipping, while maintaining the high level of quality the brand has become known for.
The four models they will begin selling are the Theoben Rapid Mark II Plus, the HM 1000X, The HM1000X LRT and the BM 500. The previous owner, Martin Rutterford, will assist AirForce for the next several years to ensure the transition goes smoothly and that quality doesn't change.

These four Rapid PCPs were in the AirForce booth on opening day. They look to streamline the manufacturing process while maintaining the level of quality that made the brand famous.
What's next?
This announcement will no doubt create a thousand questions like, will they bring back the Theoben gas spring rifles? I asked that and was told everything is still in flux. The most important thing right now is to streamline the manufacture of the current models to meet demands. But I am assured that everything will be considered.
The AirForce booth was crowded, so I will return to cover their other models.
Hatsan USA
Hatsan will be offering an air compressor that looks similar to one we have seen. But this one has a digital gauge for setting the fill pressure.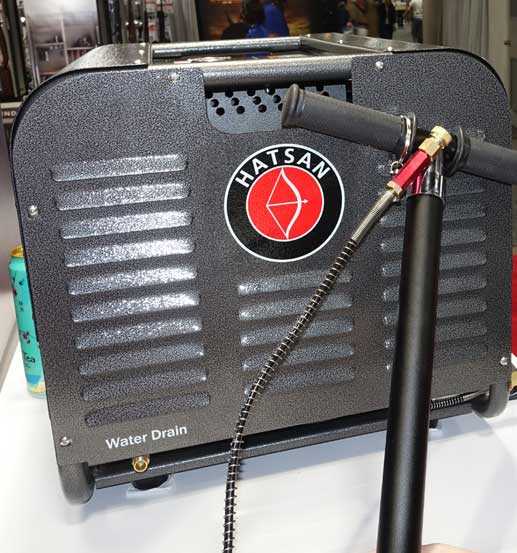 Hatsan's compressor looks familiar, but has some different features. The retail price will be around $1,300. In front is the Hatsan 3-stage hand pump that will be budget-priced.
Along with the compressor Hatsan will also be offering two new hand pumps. Their 3-stage pump has an MSRP of $120 and will realistically sell for around $100. The 4-stage pump has an MSRP of $150 and will sell for a little over a hundred. These should boost entries into the PCP world!
Hercules Bully
They have turned the Hercules big bore into a bullpup and given it a carbon fiber reservoir, shaving off 4 pounds of weight and considerable length.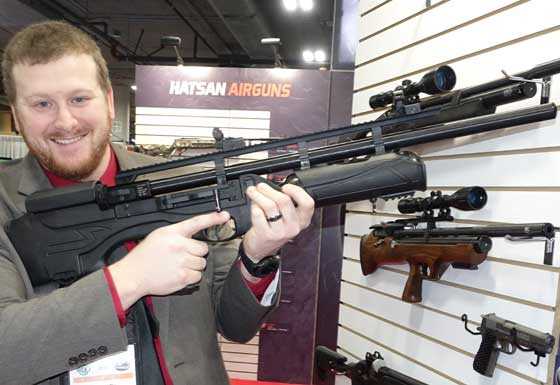 Hatsan rep. Daniel Settle holds the new Hercules Bully — a much smaller and lighter big bore.
Price point Hatsan
Hatsan has joined the race for a budget-priced PCP with their new Flash. It generates the same energy as their AT44 for a price of under $300. Best of all — this rifle is lightweight! It weighs about 6 pounds and feels like a feather in your hands. I predict hunters will love it.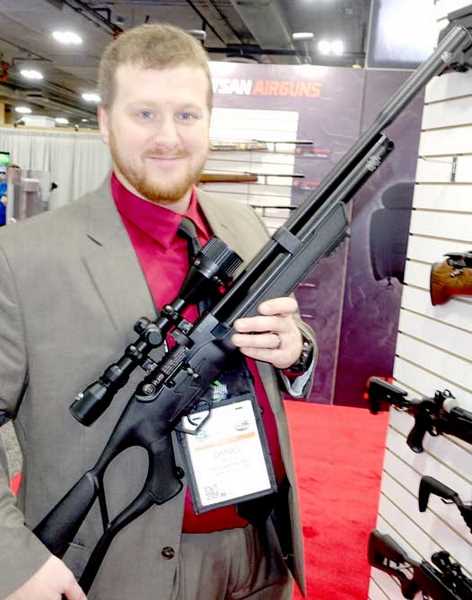 Settle holds the new Hatsan Flash — a price point ($300) PCP.
The Flash will also come in a bullpup configuration they call the Flashpup. The one I saw had a beech stock and weighed a little over 6 pounds, which is still quite light for a PCP.
Sortie Tact
You asked for a stock on the Sortie pistol and Hatsan listened. The Sortie Tact has a folding stock that can be detatched from the pistol. It won't add much to the pistol's price and it folds to the side when it's not needed.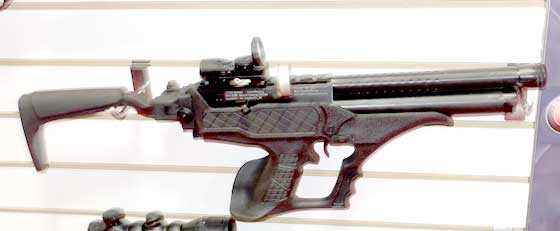 Hatsan Sortie Tact has a folding stock.
Air Venturi
Over at the Air Venturi booth I saw several new things. First was a double-barreled air shotgun called the Double Shot. It gets 4 powerful shots on a fill and a patent-pending switch controls which barrel will fire. Like the Wing Shot, this one will shoot shot, arrows and slugs.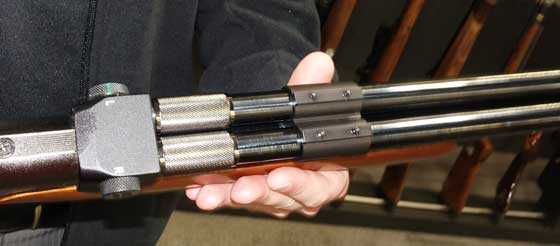 Two breeches and two shots. The Double Shot is the first double-barreled air shotgun — I think.
A new IZH 61?
I also saw what amounts to a new IZH 61. It's called the TR5 and it looks just like the 61, except this one has some new things like a groove for a rail attachment under the forearm. The butt now adjusts, too. It accepts 5-shot magazines and works just like the old 61 that many of you remember.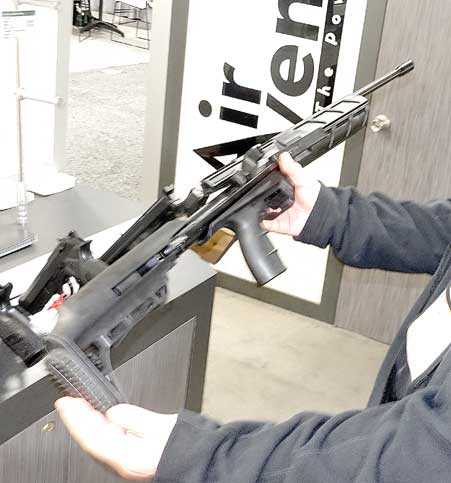 The TR5 looks and functions a lot like the IZH 61.
Multi-pump
The Dragonfly multi-pump is another new product in the Air Venturi booth. It's a wood and steel multi-pump that harkens back to years gone bye. And, to answer your question, it only gets one shot when it's pumped.


The Dragonfly is a retro-looking multi-pump.
One last thing!
You know how I said "they" are listening? Well, the last thing I will share with you is something I have asked for for many years. I will show you first.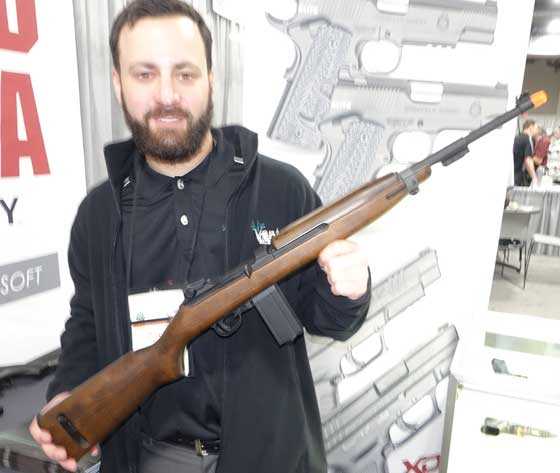 Tyler holds an M1 Carbine. This one is airsoft, but I'm assured there will be a BB-shooter to follow.
Air Venturi has entered into a licensing agreement with Springfield Armory to produce replicas of their firearms. The first ones will be airsoft, but BB and pellet models will follow. The M1 Carbine shown here is extremely faithful to the firearm's design and feel, and when it comes out as a BB gun, old BB will be right there.
That's it for today. But tune in tomorrow. There will be more to see.