by Tom Gaylord
Writing as B.B. Pelletier
This report covers:
Gamo
Big bores?
Daisy
Gamo Urban
Winchester big bores
Diana
Umarex USA
Cowboy Lever Action
Single action
But wait…
And the show goes on…
We're back at it today. I'll start with Gamo
Gamo
Gamo is the one company that never gives me any information about their products. A few years ago their VP of sales was very helpful, but in the last 20 years of attending the SHOT Show, that was the only time anyone helped me. So I just read the signs and try to make sense of it.
Big bores?
Gamo has a line of big bore airguns this year. They look like Bizarro copies of AirForce guns — where the size and shape are similar but nothing is quite the same. These single shots are called the TC 35 and TC 45, indicating their calibers. They have carbon fiber air reservoirs that serve as the butt of the rifle.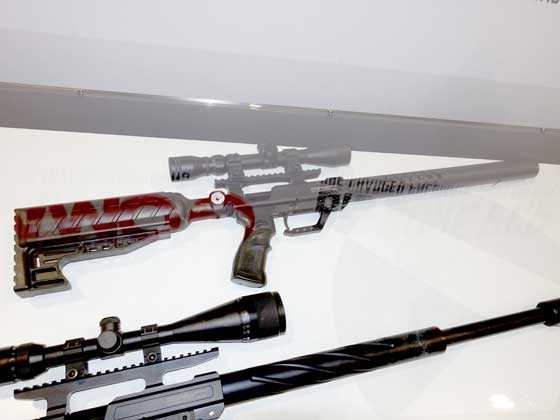 Gamo's TC 35 (.357 at the top) and TC 45 are similar in appearance to the AirForce Texan and TexanSS rifles. Sorry about the photo, but the guns were under glass.
In the .45 caliber they claim 406 foot-pounds when using a 350 grains "pellet" which is a bullet by another name. They also claim this rifle gets up to 900 f.p.s., but they don't mention the projectile that does it.
Going with the Bizarro theme, they also offer sound suppression that resembles the AirForce TexanSS model. I doubt very much if we will see very many of these, as there is too much competition in this sector of the market.
Daisy
There was nothing new in the Daisy portion of the Gamo booth. A large wall mural of the Red Ryder character told me they are banking on that single product to sustain the line. Daisy hasn't attended the SHOT Show in many years, so the Gamo display was at least an attempt to keep the name in front of the market.
Gamo Urban
I was really interested in the Gamo Urban, as it is a price point PCP (sub $300 with lots of features) that fits into the 2018 theme for airguns. Of course it's not brand new, having been offered for sale since late last year, but the Urban is a significant rifle that I do need to test for you. I had hoped to learn something new about it, but the display was identical to what you can read on the Pyramyd AIR website.
Winchester big bores
When Gamo acquired Daisy they also got the Winchester brand, and this year they showed two Winchester big bores. They are also .35 and .45 caliber and also inside glass cases that make photography difficult.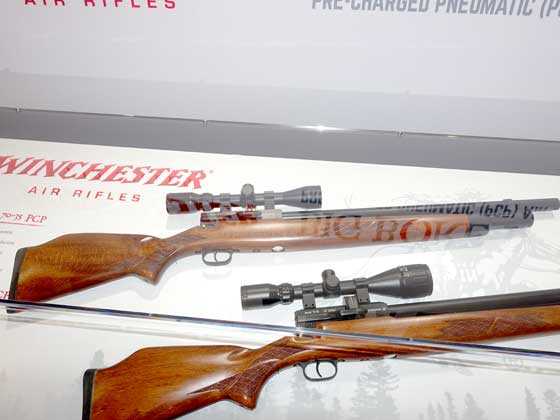 Winchester big bores.
These are conventional looking sidelever repeating rifles that aren't bad looking. No one was available for comment, so I can't tell you anything about them, and I don't know if we will see them for sale later this year.
Diana
I usually give you news about Diana airguns in the Umarex USA report, and I will do that, but I also visited the Diana booth in the German pavilion, just to see if there was anything interesting. Then, as luck would have it, I had dinner with the Diana sales manager and with one of their engineers — the man who designed the K98 Mauser rifle that I tested for you! So I know a LOT more than I can say here. You ain't seen nothin' yet!
You know how I have praised what Diana has been doing in the last few years? Well, in their booth I saw some guns they are wanting to bring out. One is a CO2 pistol that looks like Crosman's 2240. I think it was designed to compete with it.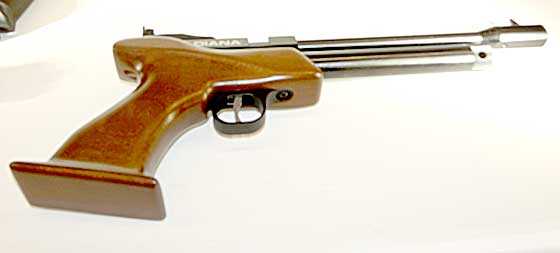 Diana C02 pistols designed to go after Crosman's 2240. This one has a wood grip, but the production grip will be synthetic. Picture taken through glass.
Umarex USA
I covered the Umarex Hammer big bore rifle and the Gauntlet on my Media Day At The Range report. But there was more in their booth.
Cowboy Lever Action
The Cowboy Lever Action is a 10-shot lever action BB gun that's powered by 2 CO2 cartridges in the butt. Unlike the pellet-firing /product/legends-cowboy-lever-action-co2-bb-air-rifle?m=4566, the butt of this rifle is the same size as the one on the 1894 Winchester carbine.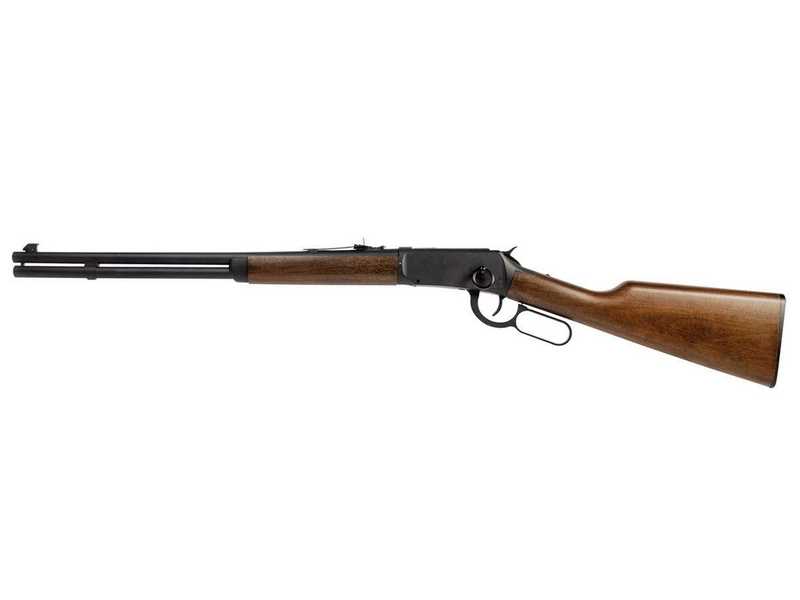 Cowboy Lever Action.
I watched them load and then lever the cartridges through the action, and feeding was smooth. I'm thinking this gun and one of the new single actions will really popularize Cowboy Action Shooting with airguns.
Single Action
Speaking of the old thumb buster, I saw the new Ace in the Hole Shopkeeper or Sheriff's model in the Umarex booth. It sports a worn finish and a 3-1/2-inch barrel with extractor rod, which is correct for the model. I can't wait to try both of these BB guns with the new Dust Devil BBs!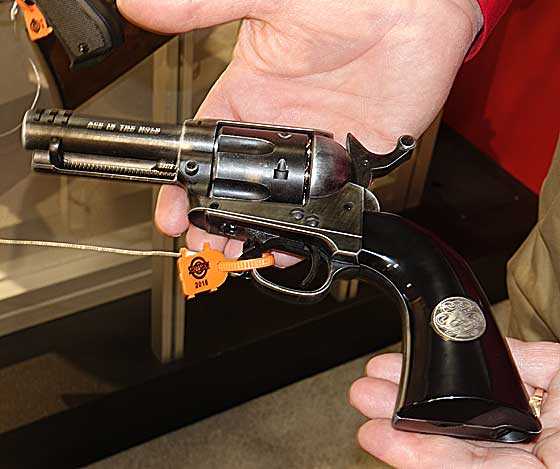 The Ace in the Hole shopkeeper's single action is available now.
But wait…
There's more! I was shown two spring piston air rifles called the Diana 3400 and the Diana 3500. Both are similar in size and appearance, but the 3400 has a coiled steel mainspring, while the 3500 has a gas spring. So far not such a big deal, but when you learn that these rifles are both assembled in Ft. Smith Arkansas from parts obtained from Germany, you begin to see the big picture.



Diana 3400 will be assembled in the U.S.


Diana 3500 looks like the 3400, but it has a gas spring.
Finally there is the new Diana Skyhawk bullpup PCP. I don't know a lot about it yet, but it's now on my radar.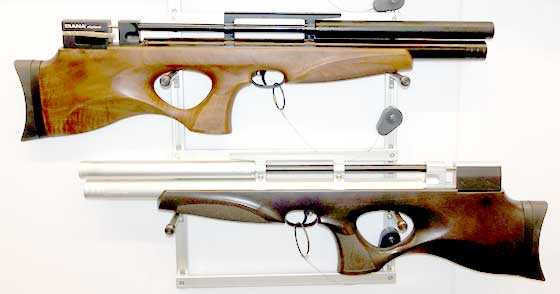 Diana Skyhawk bullpup comes with a wood or synthetic stock. Now you know all that I know about it.
And the show goes on…
There is so much more to see! I will show you the next part tomorrow, then give you a break on Monday with another historical article. But there is a lot more to come!