by Tom Gaylord
Writing as B.B. Pelletier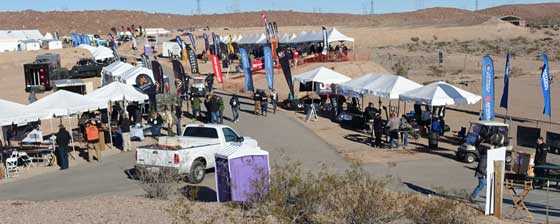 The upper range at Media Day has about 50 ranges and vendors. Because of crossbows, the ranges go in both directions.


On the lower range there are more ranges, also going both directions, with shotguns on the right.
This report covers:
SHOT Show
A great find!
My interest
My collection
This BB gun
Cocking
Takedown
Number 25?
Sights
Summary
Media Day at the Range is an event for gun writers and video makers, only. About 2,000 of us are taken to the Boulder City range where we are allowed to shoot and use some of the newest guns and accessories.
Umarex Hammer
We waited all last year for the Umarex Hammer to come out. From what I saw and sampled this year, I think we will see production guns by mid-2018.
The Hammer is a repeating .50-caliber big bore that gets 4 powerful shots on a fill ton 4,500 psi. The regulator drops the firing pressure to 3,000 psi, and the first 3 shots are all at the same pressure. Shot 4 drops below 3,000 slightly, but at 40 yards all the bullets should stay in a tight group.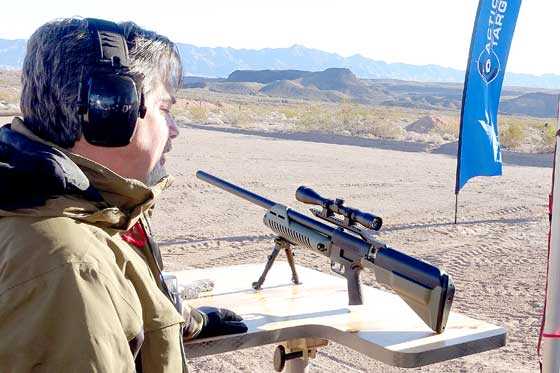 The Umarex Hammer looks smaller than last year. It's a 2-shot .50 caliber big bore repeater.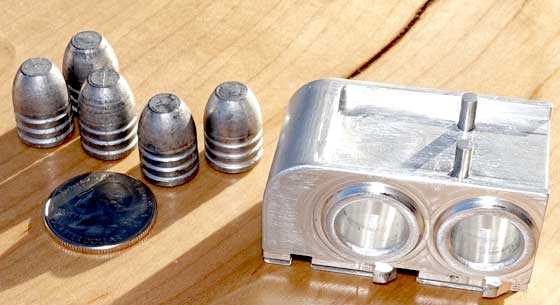 Some 330-grain Hammer bullets with a quarter for scale. That's the 2-shot magazine.
The biggest news this year is the magazine went from 3 shots to 2. I like this one much better. Two shots are all a good hunter needs, and the rifle comes with 2 mags. Swapping is now very rapid. Coincidentally, there are 4 powerful shots on a fill.
I shot it several times and hit the 40-yard gong every time. Cocking is surprisingly easy, and the 2-stage trigger is extremely light for a big bore. The recoil is sharp but not that heavy — maybe like a .223 Remington in a light bolt action rifle. Can't wait to test a Hammer!
Gauntlet
Next to the Hammer was the new Gauntlet. This one has already been released, but I haven't shot it since last year, when it was still a prototype. They say there are 60 good shots in .22 caliber on one fill of this regulated rifle and Steve Criner told me it is so quiet you wonder if it is working. Media Day is a sustained firefight, so I couldn't hear the discharge of either rifle that well.
I found the trigger light and delightful and I never missed anything I shot at. Of course I need to conduct a thorough test, but this Gauntlet looks exciting!
A cheaper alternative to buying a compressor
I will be showing you several new air compressors this year, but at the Umarex range I saw something completely different. It's a regulator and hose that connects to a 6000 psi bulk tank, and will fill an airgun many more times than even the largest carbon fiber tank. Look at it and them I will tell you about it.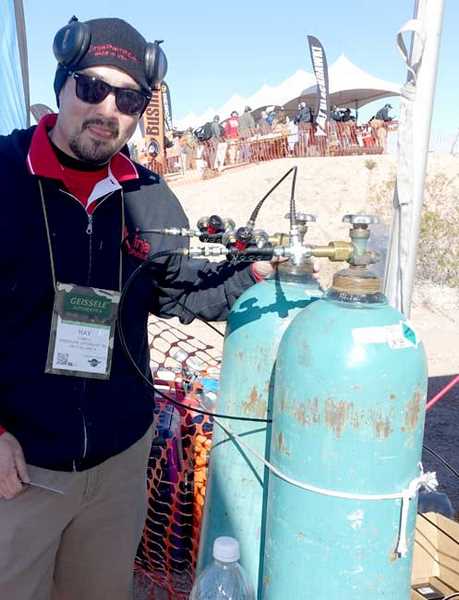 Ray Trimbel stands next to his cascade system of huge air tanks that kept the Umarex range running all day. With this configuration he can keep one of the tanks topped off all day at above 4,500 psi. An airgunner only needs a single tank and hose/regulator setup.
Ray Trimble of Pressure Specialist, Inc. in Crystal Lake, IL, offers the regulated hose that outputs either 3,000 psi or 4,500 psi from a 6,000 psi nitrogen tank (it holds air, too). And here is the beauty. You buy the regulated hose that's ready to attach to a large nitrogen tank for $400. Then you rent the tank for $100 a pop and fill your guns hundreds or even thousands of times (depending on the guns) before the tank needs refilling. Five hundred dollars is less than you will pay for a reliable air compressor. This is for those guys who don't yet have a compressor and may not want to invest.
Frank also showed me a quick fill setup he provided Umarex so they could top off the Hammer tank in seconds. Just press down on a button and the gun's tank is filled!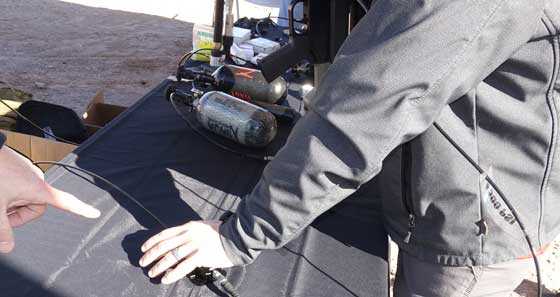 Kyle from Umarex fills the Hammer tank quickly. He kept the Hammer and Gauntlet running all day wit this setup!
No other airgun companies!
Umarex was the only airgun company that attended Media Day this year. So I went looking at other products, because I never have enough time to do that at the SHOT Show. And — boy, did I find them!
Mission Crossbows Sub-1
When I saw this crossbow I was captivated. It has a 200 lb. draw, yet with a cocking assist I cocked it easily. Starts out at 100 lbs. but tapers to just 20 pounds at the end.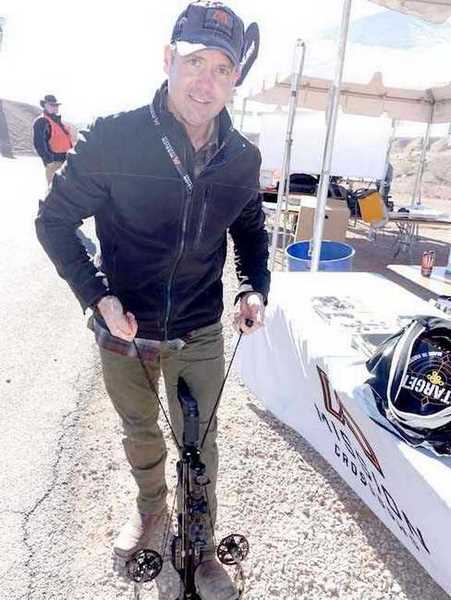 At the end of the cocking stroke the Sub-1 takes just 20 lbs.!
But that isn't the big story. The Sub-one is the only crossbow on the market that can be uncocked! A button on the side allows for this, and it's just as easy as cocking.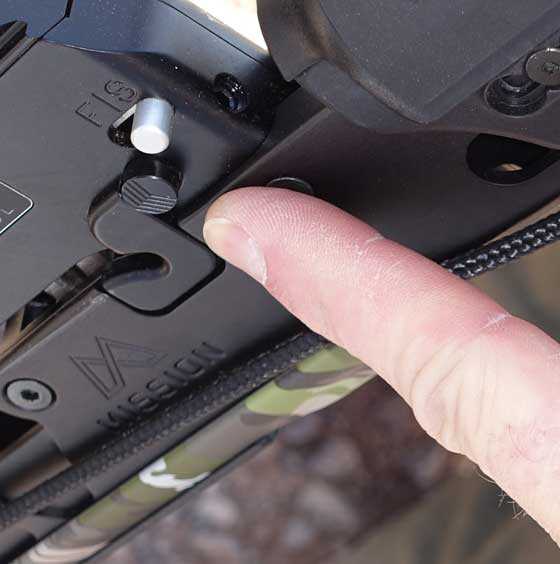 That button allows you to safely uncock the crossbow.
Even that isn't the whole story. The reason this is called the Sub-1 is because it put 5 arrows into less than one inch at 100 yards! Yes, I didn't believe it, either. So they let me shoot at a target 90 yards away. I nailed it both times. The 425-grain arrow goes out at over 300 f.p.s., and a 400-grainer does 350!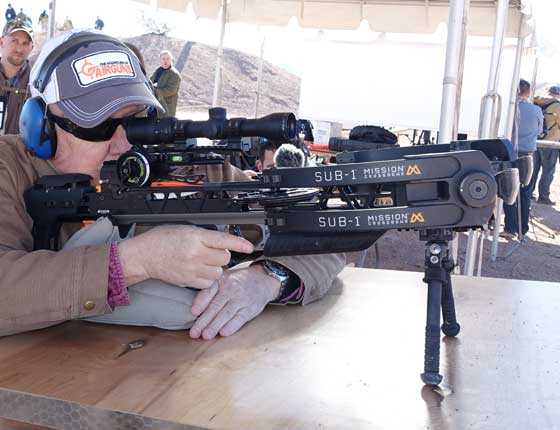 I nailed the 90-yard target on both shots!
Not only is the Sub-1 accurate — it has what they call a match trigger. It isn't as good as a 10-meter rifle match trigger, but it is about as nice as the Marauder trigger. The sad news is the Sub-1 retails for $1,795, but if you want the best you have to pay for it.
Safety glasses
I looked at safety glasses in the sales pavilion next. Edge glasses withstood a direct hit from a 12-gauge shotgun blast! They meet military specs for ruggedness, which is a projectile traveling 660 f.p.s.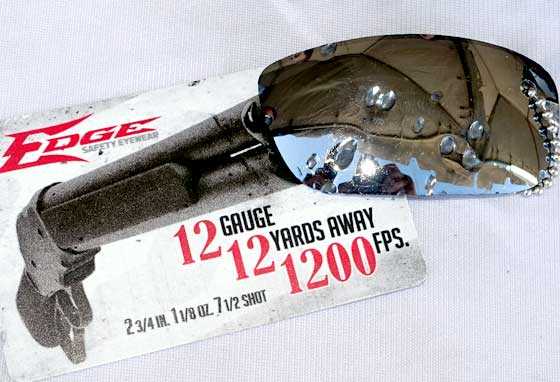 These Edge safety glass lenses stood up to 12-gauge shotgun shot at 12 yards!
But I think the biggest story will be the new Gatorz Magnum Z glasses that meet ANCI Z87 specs. These have aluminum frames and are the first American-made safety glasses with metal frames to meet the spec. They can be bent and shaped to fit your face. They are used by law enforcement, U.S. elite forces, and now, by the Godfather of Airguns. Expect a report on these glasses sometime soon.
DOA Shooting Bench
I will end this report with the DOA Shooting bench that I not only saw in their booth, but also on several of the other ranges. It is a collapsable bench that is so sturdy old BB could tap dance on the tabletop — not that he's going to!
How nice is it? Nice enough that I am buying one! I cannot let a good piece of shooting equipment like this go. Expect a report soon!
That was Media Day. There were a thousand things I didn't report on, but I had to rush back to my hotel to write and publish this report before attending a hosted dinner party at 6:30. Tomorrow the show opens and BB will be the red and blue flash seen ripping through the aisles — trying to remember all that I was asked to cover!