by Tom Gaylord
Writing as B.B. Pelletier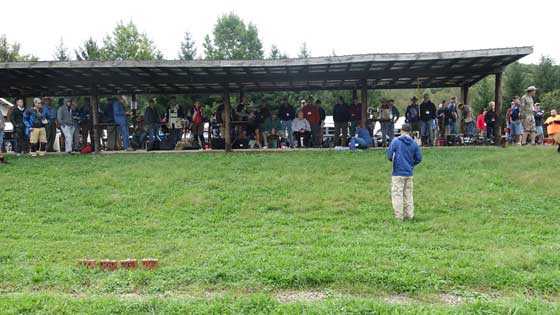 A record 104 shooters receive their orientation briefing from Tyler Patner on the first day of the field target match.
This report covers:
The vendors – H&N
The vendors – Leapers
Public range
Gauntlet and Fortitude
Sig ASP20
More interesting airguns to come
Field target
Pistol match cancelled
World-class airguns
More to come
The Pyramyd AIR Cup is a public event that combines airgun competitions, a public range, a chance to meet many of the vendors who make the airguns and accessories you read about and, most importantly, a chance to shoot airguns you have seen and heard about but could never try. A day at this event is worth a year of reading on the internet — this blog included.
The Cup was held at the Tusco Rifle Club in Midvale, Ohio, which is about midway between Cleveland and Columbus. It's convenient to people living in a 500-mile radius, and this year I saw people from all over the U.S., including Florida, California and Hawaii. People had come from Canada and the UK, as well. The H&N general manager, Florian Schwartz, was there, and Tobias Schmidt represented Diana. Both men had come from Germany to be there.
The Cup is not a SHOT Show, where you are inundated with thousands of vendors representing hundreds of thousands of products. It is a rather the possibility of getting to see, hold and shoot airguns that you have only read about up to this point.
The vendors – H&N
Herr Schwartz was kind enough to give me samples of a brand new H&N Baracuda pellet the company has just started to make. It's called the Baracuda FT, and as the name implies, it is made for field target. The pellets are hand selected for uniformity and no flashing. The weigh 9.57 grains, making them about a grain lighter than the regular Baracudas. The center of gravity has been moved forward in this pellet.
I was given samples of .177 pellets in two head sizes — 4.50 and 4.51mm. Each pellet came from one of five different production lots that relate to the specific dies they were formed in and other variables. This allows me to test them and feed the company very specific results. Naturally you will be watching over my shoulder! I wish more companies operated this way.
I would normally say more about this new pellet, but I will save that for the report that will start soon.
The vendors – Leapers
Leapers was also there and I got to see their UTG Reflex Micro Dot sight that I hope to try on the Beeman P1. I talked with Leapers engineer Nakagawa Kiyo about the sight and told him I will see if the UTG Weaver-to-11mm adaptor will work on the P1 that has a dovetail rail on top. If it does we are in business. This sight accepts bases of different configurations, but they haven't made one for 11mm dovetails yet, so I will try to make their Weaver base work.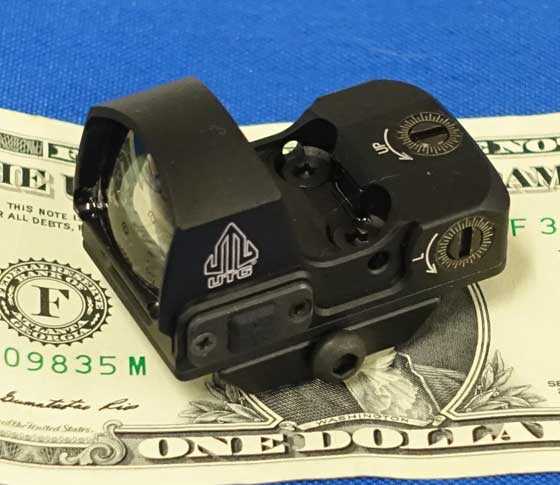 The UTG Micro Dot Reflex sight is small enough for air pistols.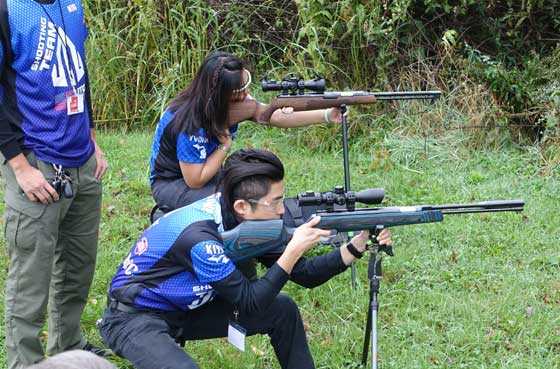 Leapers came to both show AND shoot!
Public range
Competitors checked their zeroes on the public range before the matches started, and some even rechecked on the morning of the start. After traveling many miles in a car, sometimes the optics are not where you left them. You have to check!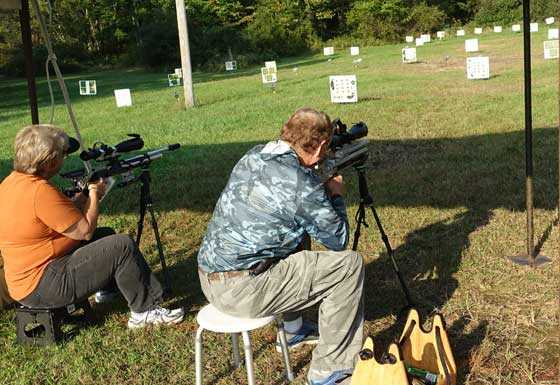 Most competitors checked their zeroes on all their guns before the matches began.
The most interesting part of the public range is the "try-it-and-buy-it" portion. You can shoot any of dozens of airguns Pyramyd brings out and there is no cost nor any obligation to buy. They supply everything. If you want to buy something you have to go to their booth that's set up indoors with all the other vendors and they will accommodate you with an online order at a 20 percent discount. They do have a few airguns to actually sell outright, but as large as their catalog is, there is no way they can bring it all — or even a reasonable portion.
Gauntlet and Fortitude
For example, there was an Umarex Gauntlet and a Benjamin Fortitude set up side-by-side on the same table at the public range. Shooters were able to shoot one after the other to decide which suited them best. The "hard" trigger complaint of the Fortitude melted away when shooters admitted they were comparing it to the triggers on thousand-dollar airguns. And the Gauntlet that was on the line was shooting very well from the magazine. Being at the show gave you a chance to shoot them rather than just reading about them.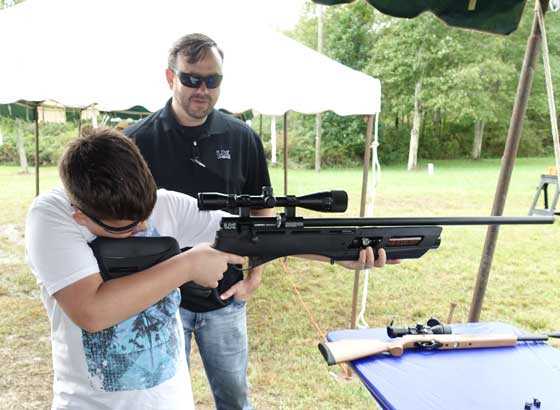 Umarex marketing manager, Justin Biddle, coaches a young man who wanted to shoot the Gauntlet. Maybe it's a little large for him yet?
Sig ASP20
Sig was there and Dani Navickas had the ASP20 gas piston rifle in .22 caliber on the line. This one is one of the first rifles Sig made on the production line that I showed you back in July, and they had also run it through a 5,000-round endurance test. So it was well broken-in. And the results of all that use were fabulous!
This rifle now cocks with around 30-33 lbs. of effort. It is less effort than I remembered because it is so well broken in. They chronographed it after the endurance test and it was still pushing .22-caliber pellets out at 23 foot pounds.
I watched as person after person tried the rifle and all but one praised it. One man found it too difficult to cock, but he was also unable to cock the Benjamin Marauder. He was not an experienced airgunner, as far as I could tell, and this may have been his first time shooting airguns of this quality.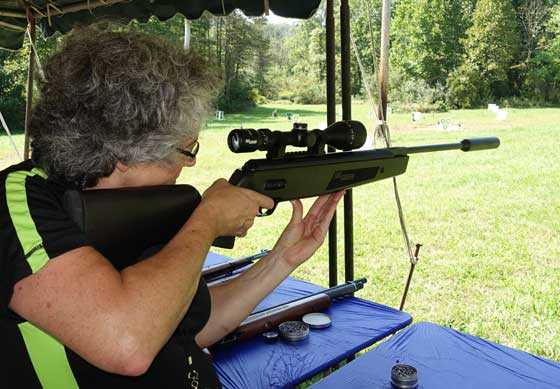 Ruth Kass, one of Pyramyd's top salespersons, shoots the Sig ASP20 rifle. She has to know how all the airguns work and feel to talk to her customers.
0

The flanges at the top of the breech (yellow arrow) contact the flanges at the top of the spring tube forks (red arrow) to make the Keystone breech tight. The barrel can be loose during cocking and still lock up like a bank vault because of this.
Dani told me Sig expects to start high rate production soon, so the wood guns aren't far off — maybe November. They aren't sure about the synthetic stocks yet, but hope to have them in this year.
She also told me that Sig hopes to have the new Sig Super Target pistol available  in November. I had hoped to see one at the Cup, but it's not quite ready.
More interesting airguns to come
There are more interesting airguns to come in this report, but if I don't at least start the field target report, we won't get to it today. That means my report series on this show will stretch into extra innings!
Field target
Well, for starters, the Pyramyd AIR Cup was over-subscribed for competitors this year. Because of the available resources, they had to limit the field target match to 104 competitors, which means that some people who tried to sign up got in too late. The facility at the Tusco Rifle Club is large, but it's not unlimited, and time is also a constraint. Many more people came to the Cup than competed in the Field Target match, but in several key places the facilities were strained. Pyramyd AIR is looking for a larger venue to hold the Cup, so more shooters can compete.
I suggested they hold a one-day airgun show concurrently, because that will really break the gates down! Maybe the Midwest airgun show can team up with them to host it?
Pistol match cancelled
The weatherman predicted violent thunderstorms for early Friday afternoon, so the field target pistol match was cancelled for that day. The weather held off longer than expected, but it did arrive at 6:30 p.m. that evening and doused the region with unwanted rain and hail. It was unwanted because that part of the country has had a very wet September.
The rifle match was held on Saturday and Sunday, with 104 shooters shooting on 13 lanes of 2 targets per lane. Since they shot 2 shots at each target each day there were a total of 52 shots per day (13 x 2 x 2), for a match total of 104. There were three classes — Hunter, Open and WFTF (World Field Target Federation). I didn't compete, but if I had it would have been in the Hunter class. I shot Open class when I competed in the '90s, but no longer have the flexibility to get into position and hold steady enough — especially with a 12 foot-pound rifle.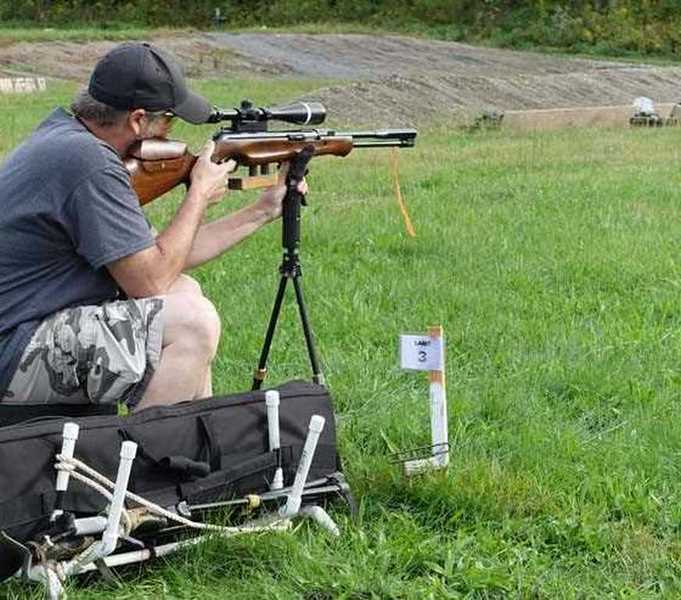 In field target, Hunter Class allows the shooter to sit for most shots and to steady his rifle on shooting sticks. This broadens the sport's appeal.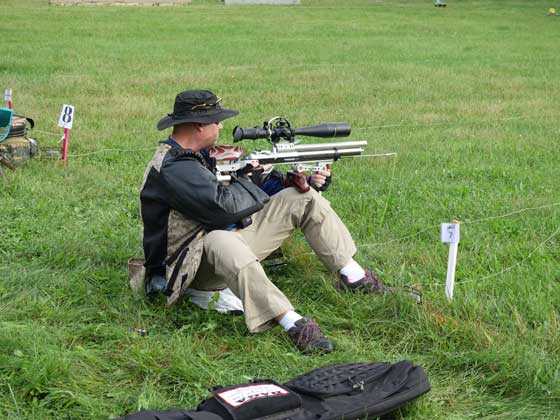 When you get into the Open and WFTF Classes, the competition gets fierce! Many shooters wear custom-tailored shooting jackets to hold them steady.
World-class airguns
I listened to the public's reaction to the fancy field target rifles and gear. Many were overwhelmed by the cost of the rifles — some exceeding $3,000, and their scopes — often above $2,000. Throw in the ancillary equipment and gear and a shooter can carry $8-10,000 on the range! Even the Tusco range safety officers who ran safety for the match were unaccustomed to guns priced so high, and certainly not airguns. Is it any wonder a shooter thinks nothing of driving 1,500 miles at compete at this level?
More to come
I'll stop here, but there is much more to follow — more guns, more shooting and even some hints at things to come. Stay tuned!